Work Begins on Island Gardens with Goal of Mega Yacht Show
Jul 25, 2014 July 25, 2014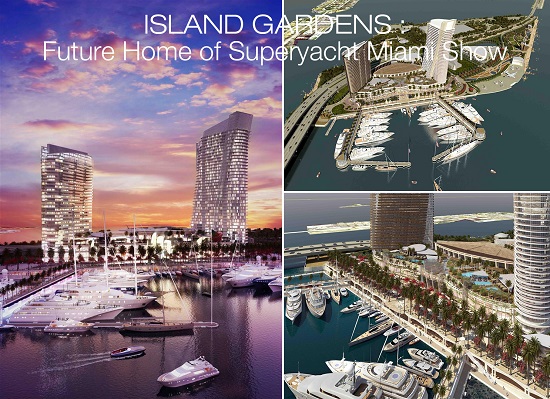 Developers of the Island Gardens resort and marina have not only begun work on their project, but they claim they they will be ready to host the yearly mega yacht show in 2015.
Brian May, representative for Flagstone Island Gardens LLC, has presented plans for the project, including their goal of a new seawall and finished bulkheads in time for the 2015 Miami Yacht & Brokerage Show. May believes that bringing the first mega yacht marina to South Florida is a great feat, but they are committed to it.
The city of Miami owns the 6.5 acre plot on Watson Island, which voters approved to lease to Flagstone in 2001.
Flagstone composed many environmental reports on the project, and has already secured four major permits for the work. One such permit is for marina dredging, that is, cleaning the bed by scooping up seaweed and mud for easy construction. They obtained their dredging permit from the Army Corps of Engineers on November 2005, and it is good until October 2015.
May revealed four stages for construction:
· Their Mitigation Stage will last from May 22, 2014, to February 2015.
· The Bulkhead Stage starts on July 22, 2014, and ends November 30, 2014.
· The Dredging Stage, begins August 4, 2014, and goes until February 5, 2015.
· Finally, the Pierwork Stage starts January 2015 and ends August 2015.
Pilings should be delivered to the site by July 22.
The Miami Yacht and Brokerage Show announced Island Gardens' Deep Harbour Marina as the venue earlier this year. The show will hold its Superyacht Miami portion of their event at Island Gardens. It will show some of the largest yachts, measuring over 150 feet long, including a few over 400 feet long.
Source: miamitodaysnews.com
Photo credit: Island Gardens - exmiami.org, Logo - charterworld.com
Share your thoughts with us
Sign up now
Get news and updates delivered to your inbox