You Won't Recognize Hollywood Beach after Related Group's Two New Condo Projects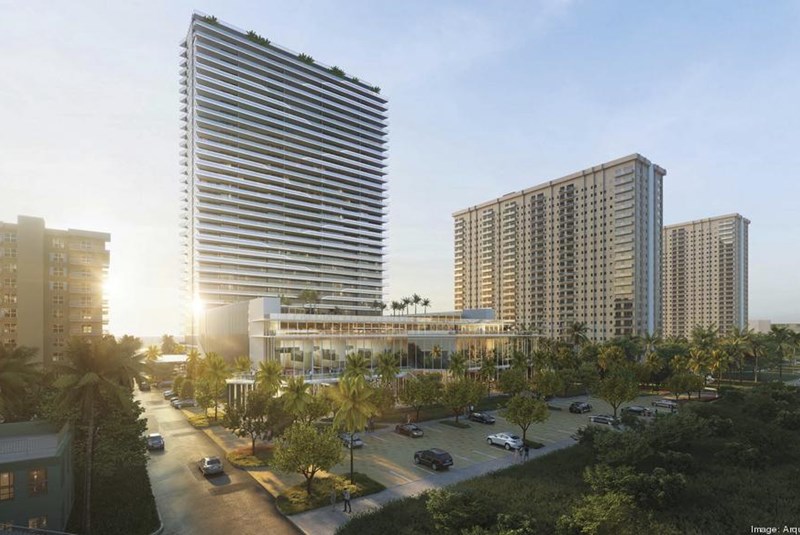 Mar 22, 2023 March 22, 2023
With Related Group's latest purchase of the Diplomat Beach Resort and its public-private partnership on the Hollywood Arts Residences mega-project, the quaint little town of Hollywood Beach, Florida, is in for a major revitalization with almost 1,000 new residential/condo-hotel units planned.  
Hollywood Beach, perched right between Miami and Fort Lauderdale, has long been known as one of the coziest stretches of oceanfront for a vacation and for those wanting to find a charmed life close to the beach, close to Miami, but away from the city's traffic. This charming little slice of South Florida is known for its one-of-a-kind Broadwalk (also named one of 'America's Best Beach Boardwalks' by Travel+Leisure Magazine), an old world downtown where art fairs still happen every month, a quaint little Arts circle and market, lovely golf courses, and plenty of oceanfront hotels and resorts for a serene lifestyle – but, all that's about to level up! Read on to find out what one of the country's biggest developers, The Related Group, has planned for Hollywood Beach, Florida…


---

— The Diplomat Beach Resort, Hollywood Beach Redevelopment Plans: Two New Towers & 850 Units 

This February, the 1000-room Diplomat Beach Resort was purchased by Honolulu-based Trinity Real Estate Investments and Credit Suisse Asset Management for an astounding $850 million - one of the most expensive price tags for a hotel deal in Florida to date. The Related Group and BH Group further have a deal to acquire a part of this oceanfront hotel for redevelopment for two new condo developments in Hollywood Beach.
Perched at 3555 S. Ocean Drive, Related and BH Group plan to add two new luxury towers adjacent to the 19-acre resort property – bringing a total of 850 brand-new residential units to the oceanfront. Earlier this month, the JV submitted plans to the City of Hollywood for the two towers to be built at 3210 - 3690 South Ocean Drive. Neither of the buildings have names at the moment, but plans show a 38-story condominium tower with 350 units, and the second tower will rise 43 stories with a total of 500 condo-hotel units. Both towers are being designed by CFE Architects based in Miami.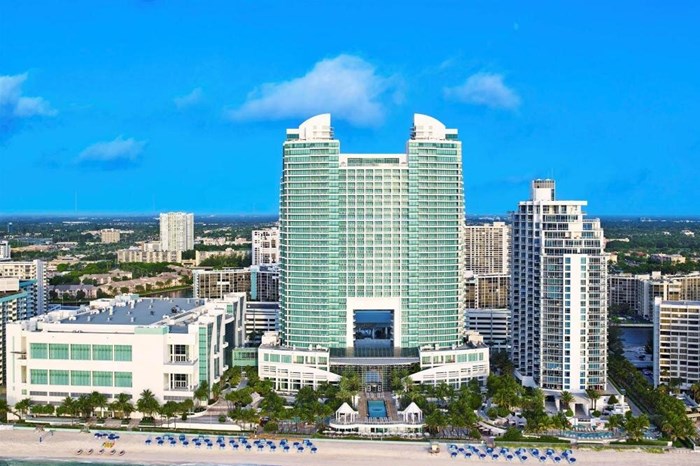 The 39-story Diplomat Beach Resort, built in 2002, is also pre-approved to allow more guest rooms and a public plaza to be built along the Intracoastal Waterway, as part of its Local Activity Center designation.
Looking to elevate the way visitors stay at Hollywood Beach, Trinity REI plans on transforming the Diplomat Beach Resort, already a top-rated destination hotel, and into an even better go-to, luxury resort destination. It is expected that the additional hotel rooms will all be condo-hotel, and when paired with the hotel's amenities and high-demand beachside pools, they will prove to be an excellent investment for future owners.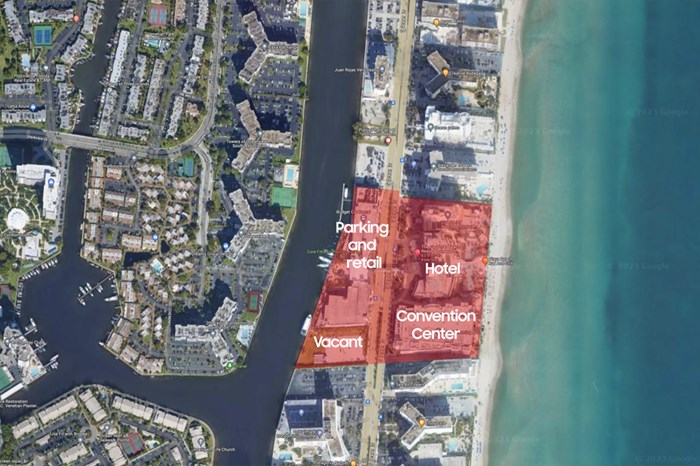 ---

— The Hollywood Arts Residences Condo & City Project

The Diplomat Beach Resort deal comes just about a year after The Related Group won approval (in March 2022) for one of its most ambitious oceanfront projects planned for 1301 S. Ocean Blvd, in a deal with the City of Hollywood, Florida. 
To be built on 4 acres of waterfront, city-owned land, the mega project will not only add a 30-story luxury condo to the oceanfront, but also preserve the pristine beachfront, drastically improve public amenities, add a new community center, enhance green spaces, and add millions of dollars to the city's fund by way of revenue generation and annual tax revenues.
Here's a quick breakdown of what the Related Group plans to build as part of the Hollywood Arts Residences Condo & City Project in return for its 99-year lease:
The Hollywood Arts Residences Condo
A 26-story condo, built to a maximum height of 313 feet.

135 luxury condos with rentals restricted to twice a year and a minimum stay requirement of 4 months.

LEED Gold certified, sustainable building designed by Miami-based Arquitectonica, with amenities and private parking for unit owners.

Tower designed with a set back of 513 feet from the beach to preserve view corridors, as well as to stay clear of current sea-level rise projections, and preserve the beach habitat. 

Future residents will be 10 minutes from Fort Lauderdale, 40 minutes from Brickell, and 35 minutes from either Miami International Airport (MIA) or Fort Lauderdale International Airport (FLL).
Prices are expected to range from $625,800 for a one-bedroom to approximately $1.29 million for a three-bedroom residence.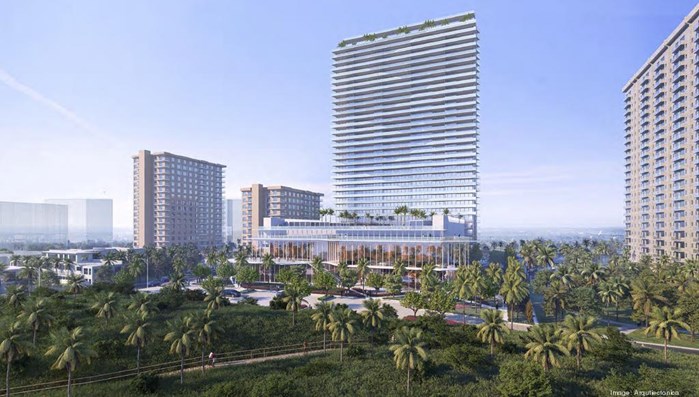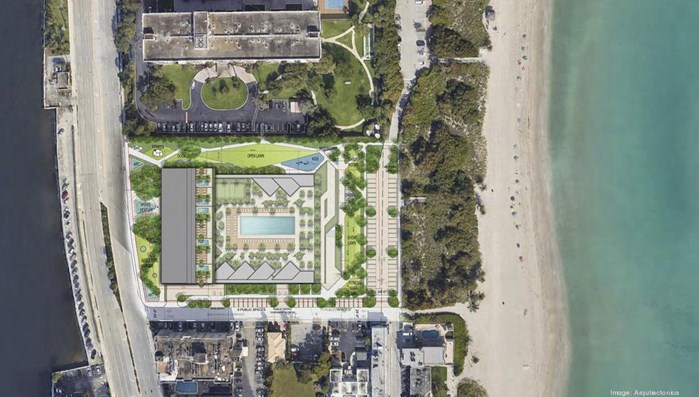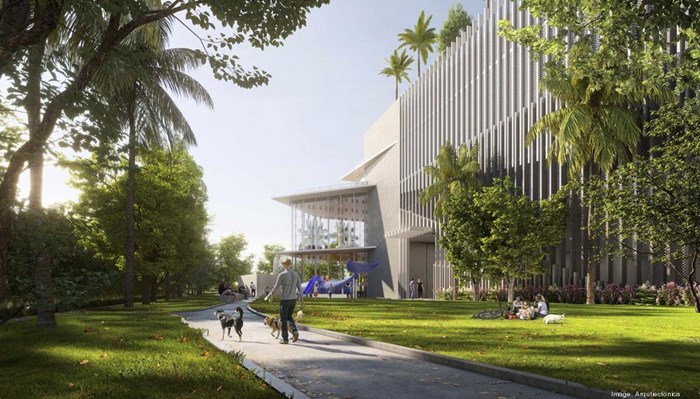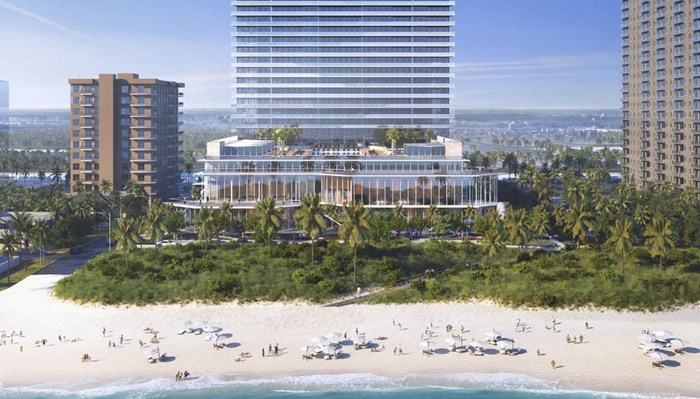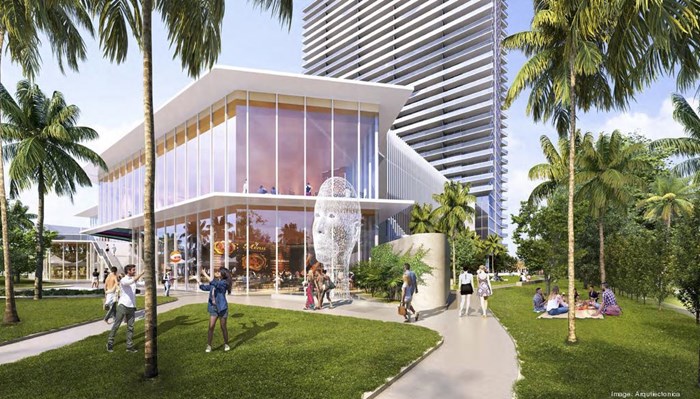 ---

— This is what Hollywood Beach will look like in 5 years…

Other Related Group-funded Public Improvements for Hollywood Beach include:
A brand-new, 25,500 square-foot oceanfront community center, including a 2,385 square-foot public restaurant/café/snack bar, a 5,025 square-foot ballroom, a conference space, a fitness center, a public library, and about 8,800 square feet of additional public space

2,630 square feet of elevated outdoor, oceanfront terrace

43,065 square feet of a redesigned Harry Berry Park, including an addition of 24,565 square feet of park space, a children's playground, outdoor showers, and modern public restroom facilities.

A 12,150 square-foot public plaza and event lawn

A 13,125 square-foot, landscaped sculpture park along Ocean Boulevard/A1A

Preservation of dunes with ADA-accessible beach crossovers

Expanded sidewalks plus a pedestrian path to the beach

Additional community parking, including 148-158 public parking spots with about 80 covered garage spaces and an additional 68-78 on-street spaces
Here's a breakdown of the economic benefits the City of Hollywood is likely to receive from the Related Group's Hollywood Arts Residences Condo & City Project:
14% of gross condo sales at Hollywood Art Residences with a $10 million initial rent payment to the city at the beginning of construction

About $10 million worth of public improvements and additions

About $16 to $35 million in closing rent payment

$400,000 per year in ground rent for the 99-year lease period

An estimated $1.9-$2.3 million in property taxes every year

An estimated $67,500 - $95,000 of annual revenue from a 0.25% fee levied on condo resales

Plus, additional revenue from parking fees, restaurant rent, and facilities rentals
With significant improvements to public amenities and a regular flow of funds over the lease period, the City of Hollywood is in for a major revamp – ready to reveal a new way of living to residents and visitors alike. 
What do you think of Hollywood's revitalization by the Related Group? Drop us a comment on Instagram, Facebook, or YouTube - we'd love to hear about it!





Looking for an oceanfront home in Miami, Hollywood, or Fort Lauderdale – call, chat, or email us directly and have a local condo expert guide you to your perfect match.
Share your thoughts with us
Sign up now
Get news and updates delivered to your inbox