Car-free in Miami: How to Give Up Your Car for Lyft and Uber . . . and Love it.
Nov 29, 2016 November 29, 2016
This is a story of how one Miami condo dweller (that's me, Sep Niakan) gave up his car at the end of his lease and gained freedom (and $$) in its place. If you have been thinking of getting rid of your car or know someone who is, read on.
Why I Got Rid of My Car
It all started when my lease was up, and I didn't feel like car shopping anymore. I don't drive terribly often, and we already have another car that my wife drives primarily. We are both real estate brokers (I also run this Miami condo web site and blog), but she has many buyer clients she needs to drive around town. On the other hand I typically work with sellers, and most of my listings are within walking distance of my residence.
Due to my profession, I need to be seen driving a luxury car, or no one buying a big ticket Miami condo will listen to my real estate advice. (Hey, I didn't make the rules, I just follow them). But people don't seem to care what car you are getting driven in.
In addition to all that, Miami neighborhoods are becoming more and more walkable. I am talking about places like Edgewater, Downtown Miami, Brickell, Midtown, Wynwood, South Beach, etc.
So it was an easy decision for me to try my luck without a car and replace it primarily with Lyft and Uber rides.
Prior to this, I had used Uber and Lyft for nights out on the town, especially when I thought I might drink and/or be too tired to drive home. But that's as far as I had taken it.
Now, I decided to go all-in, and so far the experience has been awesome in so many ways.
Big Savings
My last car was a Mercedes E-350. It cost me a cool $1000/month (see the table below).
Want to know how much I spent monthly for Uber and Lyft instead? $237 at the most, a whopping $763 monthly savings!
Monthly Car Costs for My Mercedes E-350 Sedan
| | |
| --- | --- |
| Expense Type | Monthly Costs |
| Lease Payment | 550 |
| Insurance | 150 |
| Gas | 80 |
| Parking | 120 |
| Maintenance | 100 |
| Total | 1000 |
Monthly Costs of Riding With Uber and Lyft
| | | | |
| --- | --- | --- | --- |
| Month | # Rides | Cost/Trip | Total Cost |
| Sept | 20 | $5.00* | $100 |
| Oct | 25 | $9.48 | $237 |
*Uber had a special flat fee pre-pay option that month
Just a few notes. For the trips above, I always took the standard rides. I never took the shared or lux rides. A majority of my trips cost me the minimum $5-6 fare, and most of the others were just barely above that in cost. I only took a small handful of longer (10 mile +) trips each month. When I was going longer distances, it was usually a social event, and so we would typically be in my wife's car for those trips.
Should You Go Car-free?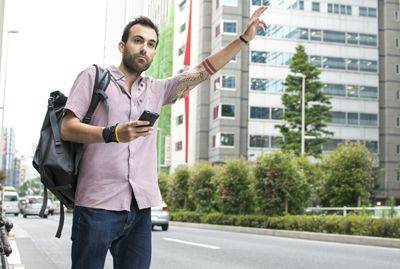 I am the perfect candidate for going car-free. First, we still have a family car due to the fact that we have a toddler that we would like to drive around safely. So basically we just became a one-car family. Also, as I mentioned before most of my business is pretty close to where I live, and my trips are both short and infrequent.
I got to thinking who else might be a good candidate to go car-free:
Like my family, a 2-car family becoming a 1-car family, especially if one person works from home or has an office job.

You work within 5 miles of your office and you have no more than one out-of-office appointment a day on average.

Second-homer who is here only part of the year. I know many second-homers that have a luxury car parked in their condo garage in Miami, and most of the time the cars turn out to be a headache. If you are only here a few months out of the year, consider ditching your Miami car. The reward is that you don't have that extra potential headache, AND you essentially trade it in for a driver-for-hire whenever you need it. If you have the need to ride in luxury, then go for UberLux for a more luxurious car riding experience.

You just f'ing hate driving. You will live a more peaceful life without driving, and everyone else will be appreciative they don't have to sample your road rage.

You stink at driving. Thank you for getting off the road and keeping our streets safe :)
Of course, all of those make a lot of sense if once you get home you live in an area where you can get many of your basics done within walking distance or short drive from your house. For example, I can walk 3 blocks to the grocery store, have a large handful of restaurants I can walk to, a park next door, and dozens of places for food, entertainment, shopping, etc, within a $5 minimum ride.
Who Shouldn't Go Car-free
These are probably pretty obvious, but just to get it out of the way . . .You shouldn't go car-free if you:
own your car outright, and it has little maintenance issues and reasonable insurance costs.

are in a business that requires you to travel regularly to client sites.

are a social butterfly that travels by car far and wide for a good time (although if you drink then it's worth considering).

live very far from your work, and public transportation isn't a feasible alternative.

don't live in a walkable neighborhood or at least a neighborhood where you can get to key destinations like grocery stores within a short ride.
Things You Might Not Like About Using Uber and Lyft
There are times when not having a car can get pretty inconvenient, and you have to be ok with this.
When your phone runs out of battery, so you can't call Uber or Lyft to pick you up.

Many drivers are pretty new to your area, so they strictly rely on GPS. It's fine, but it always feels better when you know someone knows the lay of the land.

Occasional you get a cruddy drivers or cruddy car. I feel bad giving them less-than-stellar reviews since this is their livelihood.

You realize that all these drivers will be out of a job in a couple years when these companies come out with driverless fleets. Sad.
Things You Will Love About Not Having a Car
Getting rid of my car has done wonders for my life in so many ways. First, I feel like my life has gotten that much simpler. It's just one less material thing I have to worry about maintaining and taking care of. Second, it has given me more incentive to walk, which helps me get to know my city better and get a little exercise to boot.
Here are a few benefits of using Uber and Lyft instead of driving. You:
don't have to pay attention to the road

can get work done, or read a book

can meditate (yes, I do occasionally do this)

can get to know someone. Some drivers have pretty interesting stories, and everyone can be interesting if you are curious. And if you take the sharing options (which I have not done yet), you will end up in a car with other riders and can possibly spark a short but interesting conversation.

have a bit more incentive to walk places.

don't ever have to worry about finding a parking space. It's an amazing feeling to know that no matter how hectic of a place you are going to, once you get there you don't have to pay $20 for parking or drive around the block 5 times looking for a space. You just hop out of the car and head into your destination.

don't have a big expensive thing to maintain or worry about.

know exactly when you will arrive. The Uber and Lyft phone apps tell you the approximate time you will arrive. They uses special GPS software that also takes into account traffic, etc, so you will usually know when you will arrive.
So what's stopping YOU from embracing the car-free lifestyle?
Share your thoughts with us
Sign up now
Get news and updates delivered to your inbox