Design Miami/ 2021 - Your Global Design Showcase
Nov 15, 2021 November 15, 2021
All design, interior and furniture collectors are on high alert this year as Design Miami is back with its full lineup of premiere international galleries, designers and talks for all to enjoy. If you're a collector, or are looking for that one stand-out piece for your home or condo, you won't want to miss the offerings of gorgeous one-of-a-kind furnishings, textiles, ceramics, and art objects. 
This year, you'll have an opportunity to pick from the most cutting-edge furniture, lighting design, interior décor, and collectable art objects at the world's premier showcase for global design, Design Miami/, coming to Pride Park in Miami Beach for Miami Art Week 2021. Founded in 2005, Design Miami/ has grown into the world's most important design forum, bringing together the most influential players in the field of design from around the globe.
Returning to its original location at Pride Park, located on 19th Street and Convention Center Drive, across from the Miami Beach Convention Center, Design Miami/ re-opens for in-person participation with a new Curatorial Director, Wava Carpenter. The fair will present over 35 Gallery and Curio exhibitions in a hybrid in-person and virtual format. Following the Press and VIP Previews beginning on November 30, Design Miami/ will open its doors to the public from December 1st through 5th at various Miami venues, and online at https://shop.designmiami.com/.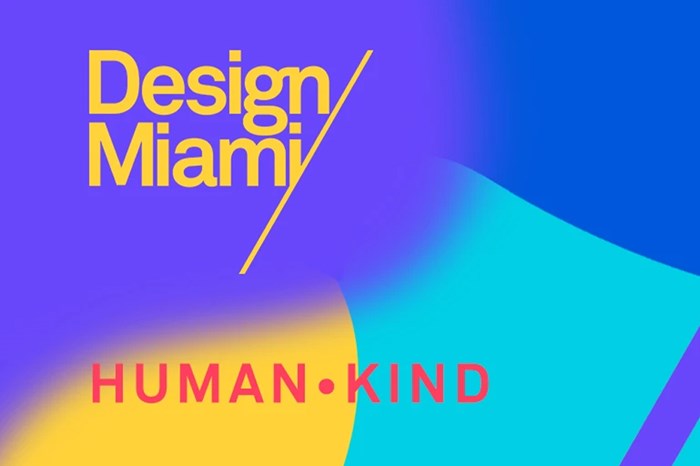 "The 17th edition of Design Miami/ brings a myriad of reasons for celebration - from returning to our home in Pride Park to our Human Kind theme, which will look at how design can play a role in shaping the world for the better," stated Jennifer Roberts, CEO of Design Miami/. "As we continue to see the collectible design market grow, in both physical and digital spaces, we're pleased to also welcome many new members to the Design Miami/ family - galleries, curios and partners - all of which are bringing thoughtful contributions to the fair."
The 2021 edition of Design Miami/ aptly centers on the theme of Human Kind and explores the ways in which design can impact the world for the better in light of the global challenges currently facing humanity. Design Miami/ showcases the work of designers whose work explores what it means to be human in contemporary society, through an eclectic program of exhibitions and events exploring architecture, fashion, collectible objets d'art, film, furniture, and interior design.  All works exhibited at the fair will be available for purchase for a limited time at designmiami.com.
Wava Carpenter, the new curatorial director for the fair, noted, "The practice of design, at its heart, has always aimed to create a better future. But in recent years, as the global challenges that humanity faces have approached existential proportions, the future that designers envision increasingly demands a fundamental reorientation of what it means to be human in this world, calling on all of us to become better stewards of nature and of each other."

Can't Miss 2021 Design Miami/ Exhibitors
Design Miami/ participants include galleries that represent the cream of today's collectible design market, featuring both vintage and contemporary finds. Among the 20th century design masterpieces will be works by such renowned designers as Harry Bertoia, Pierre Jeanneret, George Nakashima, Verner Panton, Charlotte Perriand, and Joaquim Tenreiro. Featured contemporary designers included Daniel Arsham, Katie Stout, and the Haas Brothers, among many others. Some of this year's galleries include:

Moderne Gallery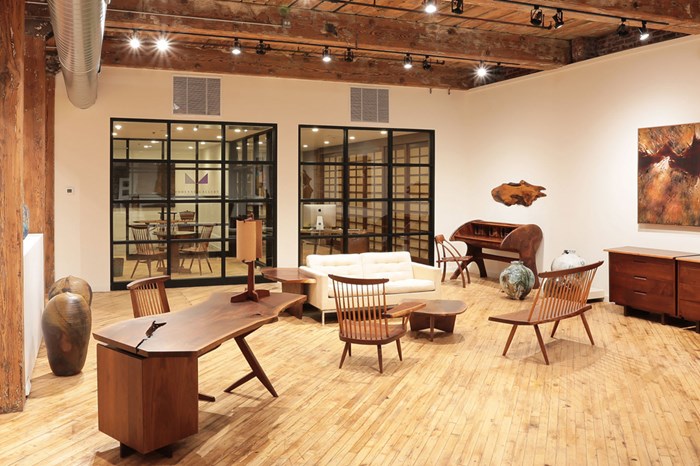 Exhibition highlights include such unique pieces as George Nakashima's Karuizawa chair (1935) at Moderne Gallery, representing the artist's first design piece created for St. Paul's Catholic Church in Karuizawa, Japan, and an evident precursor to his 1944 grass-seated chair, which went on to become his signature work. Ceramic works by contemporary and 20th century artists are also featured, including Glazed Ceramic Globe (2021) by Japanese ceramicist Hashimoto Tomonari.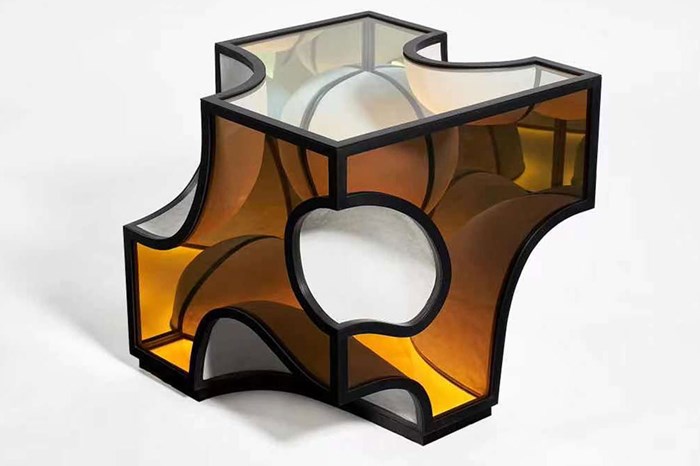 The Cube Variations Part 1 (2021) - J McDonald

At Objective Gallery, the work of Brecht Wright Gander, Fernando Mastrangelo, J McDonald, Vincent Pocsik, Eny Lee Parker, and Charlotte Kingsnorth are featured in 'Reincarnation,' an immersive installation that celebrates pre-Industrial artisanal processes and the mastery of materials.  

Jason Jacques Gallery

Jason Jacques Gallery presents the transcendent 'CEREMONY', depicting an Ayahuasca ceremony from a fictitious planet, and featuring Amerindian-inspired tapestries depicting spirit animals and medicinal plants. Volume Gallery features an exhibition of new weavings from renowned craftsperson Tanya Aguiñiga expressing the grief, gratitude, rage, and exhaustion that the pandemic has imposed on contemporary society, as well as the trials that the artist has experienced as a member of the BIPOC community.

R & Company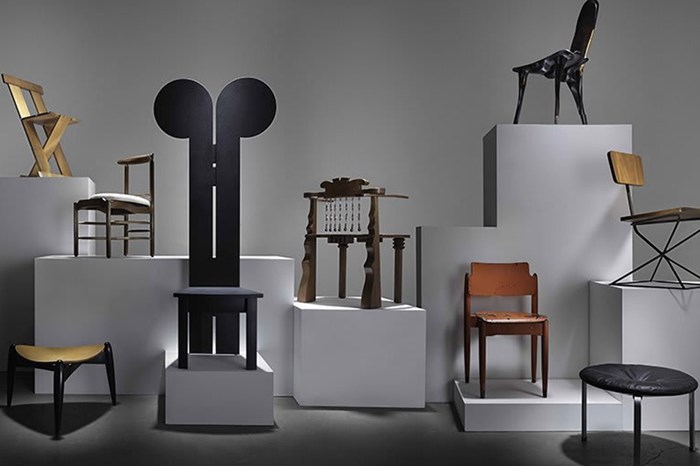 Founded in 1997 by Zesty Meyers and Evan Snyderman, R & Company is an anchor exhibitor bringing the best of 20th century furniture design, particularly in Brazilian Modern, Italian Radical, American Modern design. Highly respected for its gallery mission of promoting a closer study, appreciation, and preservation of 20th and 21st century design, R & Company develops exhibitions and publications encompassing a diverse international program of works produced between 1945 and today. 

Mindy Solomon Gallery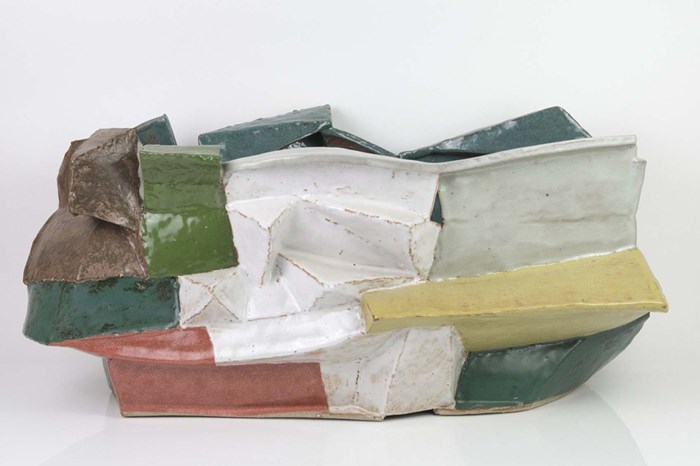 Miami's own Mindy Solomon Gallery will feature Free Flowing Geometry, an eclectic exhibition featuring vibrant, colorful sculptural and ceramic works by John Gill, Kelsie Rudolph, and Minkyu Lee. 

Hostler Burrows Gallery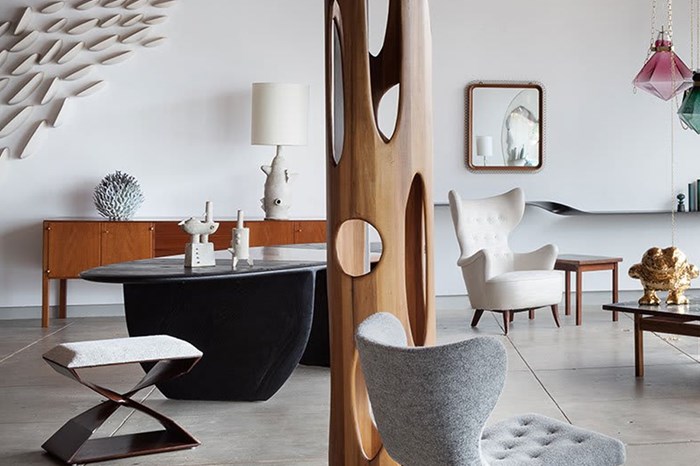 If Nordic design is your thing, don't miss the curated selection of Scandinavian ceramics at Hostler Burrows Gallery, where works by Steen Ipsen, Martin Bodilsen Kaldahl, Taher Asad-Bakhtiari, Bjorn Friborg, Marta Palmieri, Frida Fjellman, Maren Kloppman, and Torbjorn Kvasbo are also featured.


Southern Guild Gallery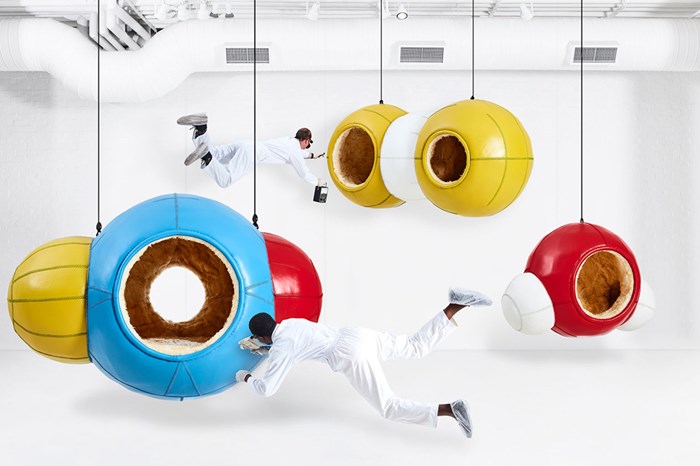 Porky Hefer - Fluoroheliate Monoxide, Dihydrogen Monoxide (Water), Hydrogen Difluoride

Southern Guild Gallery will also feature an impressive exhibition of clay sculpture commissioned specifically for this year's fair by four of South Africa's most renowned contemporary artists: Andile Dyalvane, Zizipho Poswa, Madoda Fani and Chuma Maweni.  These designers use the medium of ceramics to explore their traditional Xhosa culture and spiritual practices. African-inspired design will also be featured at Friedman Benda Gallery, with an exhibition by Nigerian-American ceramicist and sculptor Ebitenyefa Baralaye, exploring his experience as a Black man in the U.S.

Design Miami/ Curio 
Carpenters Workshop Gallery

Design Miami/Curio is an exhibition platform that features immersive environments in which furnishings, objects, artifacts and textiles, presented by the world's leading designers, architects, curators, innovators, and gallerists, provide a comprehensive view of today's global design landscape. A total of 19 curios will be featured, responding to the theme of HumanKind, and including 13 new exhibitors this year: Apical Reform & ZEEL Studio, Bohinc Studio, James de Wulf, Objective Gallery, PELLE, Tuleste Factory, and Miami-based Bea Interiors Design.

Ancillary Events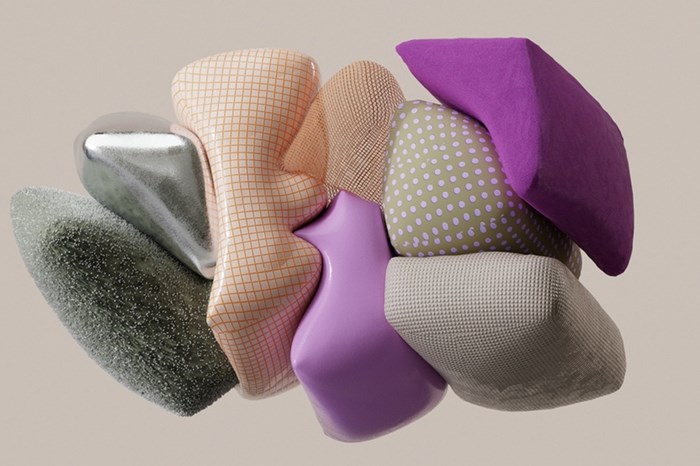 Studio Proba - Louis Vuitton 200—Animated

In addition to the fair at Pride Park, Design Miami/ will also transform Miami's Design District into an interactive playground featuring a set of playful public sculptures, seating, and ornaments. The entire area will be designed by Studio Proba and Enjoy The Weather, two studios selected as this year's winners of the Design District's highly anticipated 2021 Annual Design Commission.

About Design Miami/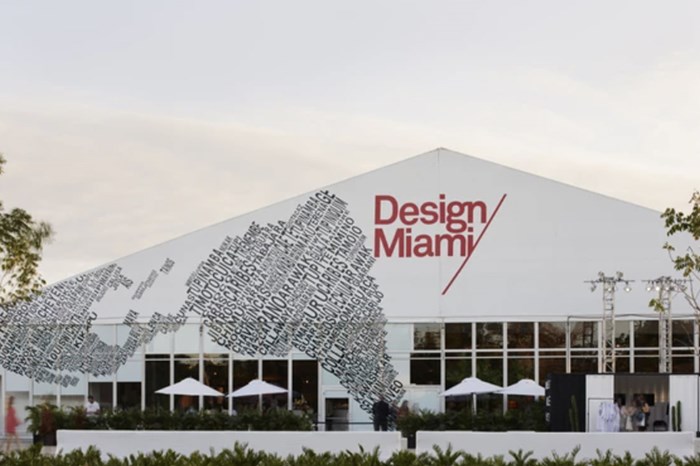 Design Miami/ is an international platform that connects the world through the experience of extraordinary design, with live fairs and experiences on four continents. Design Miami/ also combines the world's most celebrated design studios, galleries, brands, collectors, experts and enthusiasts into a vastly diverse and unique digital marketplace featuring museum-quality 20th and 21st century furniture, lighting, and objets d'art from around the world.  In addition to its home fair in Miami, Design Miami/ presents fairs in Basel, Switzerland, and Shanghai, China.  Design Miami/ is also accessible for shoppers interested in purchasing one-of-a-kind, limited edition, and small batch furnishings, textiles, lighting, ceramics, and objects d'art at designmiami.com.


Cover art by Chen Furong & Vega Zaishi Wang - Raw Bench
Share your thoughts with us
Sign up now
Get news and updates delivered to your inbox