Top 10 Best Miami Beach Parks
Aug 24, 2020 August 24, 2020
Miami Beach is one of the coolest locations in the South Florida area to spend time outdoors - heck, it's one of the best places in the world, to be honest. With cross-breezes blowing from both the Atlantic Ocean and Biscayne Bay, as well as waterfront access nearly everywhere, it's one of the area's most pleasant areas in which to have outdoor fun. We've listed 10 of our favorite Miami Beach parks and recreation areas by neighborhood, starting in South Beach and heading north.


1. South Pointe Park,
South Beach
1 Washington Ave., South Beach


In the posh South of Fifth neighborhood, where many of South Beach's most luxurious condos can be found, at the southernmost tip of South Beach where Biscayne Bay meets the Atlantic Ocean lies the beautiful South Pointe Park and South Pointe Pier. With cool waterfront breezes, gorgeous sunsets, and relaxing views of the water with Downtown Miami in the distance, it's one of the Beach's most popular spots to spend a relaxing day.  
The park features waterfront walking paths, a children's playground with interactive water features, a dog park where your dog can run off-leash, and a concession stand where you can enjoy snacks and ice cream, as well as the classic Smith & Wollensky steakhouse for those who work up an appetite surfing at the Third Street Beach, which spans about three blocks. A favorite spot for yogis, the park features full moon yoga on the beach, as well as yoga on the park lawn during the day.


2. Flamingo Park,
South Beach
11 Street & Jefferson Avenue, Miami Beach




Flamingo Park is a South Beach icon, established in the 1950s, and spanning over 36 acres. Flamingo Park serves the South Beach community with youth and senior programs, as well as a recently renovated running track, a children's playground, a football field, and a recently upgraded tennis complex featuring 17 courts that are lit up at night.
If that's not enough, Flamingo Park has long been a favorite for its handball and racquetball courts. In fact, sports activities abound, including soccer fields, a baseball stadium, and basketball courts. There's also an aquatic center featuring an Olympic lap pool and a children's interactive water playground.


3. Lummus Park,
South Beach
1130 Ocean Dr, Miami Beach




When you think of iconic images of South Beach, with bikini-clad volleyball players and rollerbladers zooming by, the backdrop is likely Lummus Park. An incredible swath of Miami Beach parks and recreation space, the beach park borders the Atlantic coast in South Beach and spans 74 acres, stretching from 5th to 15th Street along Ocean Drive. 
The park features sandy beach access, two children's playgrounds accommodating both younger and older kids, paths for walking, jogging, and skating, and several beach volleyball courts. There are also two outdoor fitness areas: Muscle Beach on 9th Street, where you can work out using bars, rings and other equipment, and structures known as the Leopard Tree and the Beast that offer multi-level workout opportunities. 
On Saturdays the park offers a free HIIT the Market 60-minute workout between 13th and 14th Streets, and there's an Art Deco Artisan Market on weekends, where you can buy arts and crafts as well as specialty foods. Lummus Park also hosts special events such as Art Basel satellite fairs during Art Basel and Miami Art Week, the Grand Tasting Village during the yearly Sobe Wine and Food Festival, and the annual Hyundai Air & Sea Show.


4. Maurice Gibb Memorial Park,
South Beach
18th St & Purdy Avenue, Miami Beach




In the walkable neighborhood of Sunset Harbour in South Beach, and within walking distance of the Venetian Islands, a favorite spot to catch a breathtaking sunset is Maurice Gibb Memorial Park, named after the beloved BeeGees band member who often took breaks from recording in this balmy waterfront spot. This 3-acre neighborhood park features paved paths for walking, biking and skating, and a relaxing view of Biscayne Bay and the Venetial Causeway.
A shady playground area accommodates kids of all ages, with swings for older and younger children, spring riders, and arch climbers. Meanwhile, parents can relax at the picnic benches or take a short walk for a Dr. Smood fresh juice elixir or smoothie, a Panther coffee and more in Sunset Harbour Shops. There's a wooden boardwalk bordering an ongoing mangrove restoration project. And park renovation plans have been approved that will include fishing piers and an observation deck, adding to the park's appeal and proximity to the boat drop in the same parking lot as well as neighboring the nearby marina. Open until 8:00 pm, this park is available to rent for private events and gatherings.


5. SoundScape Park,
South Beach
400 17th St., Miami Beach


Photo courtesy of !melk

One of Miami's most unique attractions is the gorgeous SoundScape Park, an architectural and landscaping wonder designed by the Dutch firm West 8, known for its cutting-edge urban & landscape architecture design. SoundScape Park is a 2.5-acre urban park adjacent to the New World Symphony building, designed by Pritzker Prize-winning architect Frank Gehry, in the heart of South Beach's arts and culture district, and consists of winding pathways adorned with gracefully curved steel structures that serve as a home for climbing bougainvilleas and subtropical vines that provide both shade and visual interest.
The park was designed primarily as a showcase for people to be able to enjoy broadcasted New World Symphony concerts while sitting outdoors, as well as Wallcast film screenings on the park's giant outdoor screen. But it's also a great place to sit and relax, check your phone, chat with friends, sip a cooling beverage, or just take a break from the hustle and bustle of South Beach. For yoga fans, Jackson Health System provides a series of free monthly morning yoga classes for people of all skill levels.


6500 Collins Ave, Miami Beach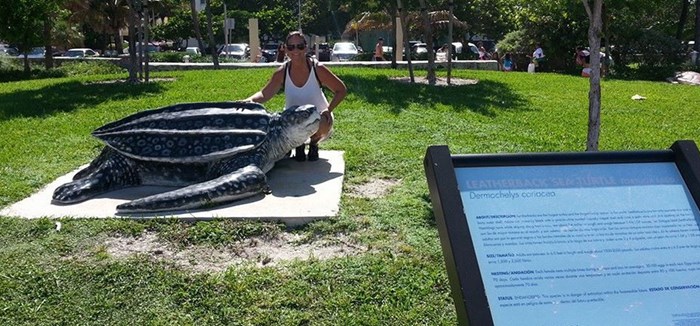 In addition to its array of whimsical life-size sculptures of sea turtles, Allison Park is the home of Miami Beach's first ADA accessible, adaptive and inclusive playground. The playground is designed to accommodate children of varied skill levels and abilities, including children without sight or hearing abilities, as well as children with spinal cord injuries and other disabilities.
Accessible to residents of both Mid-Beach and North Beach, the park also features outdoor fitness equipment, a tailored dune that provides beach access, and showers for those who need to wash the sand off after a good swim in the Atlantic. The park hosts the Cohen Foundation's Adaptive Beach Days program that celebrates an all-inclusive, family-friendly play environment in which everybody can be included. Allison Park is located along the paved walkway that extends from North Beach to Mid-Beach and provides opportunities for walking, running, skating and biking.


7275 Collins Ave, Miami Beach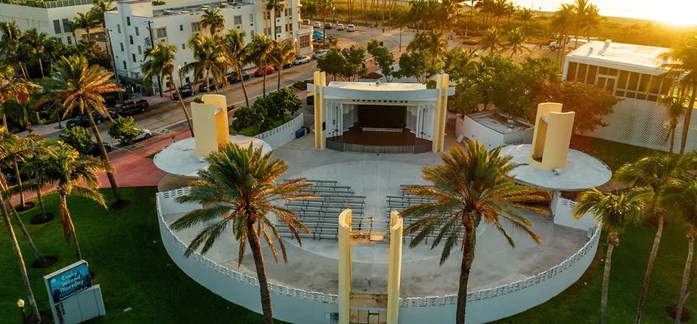 With its stage and amphitheater hosting frequent community events & concerts, as well as a community center serving local youth and seniors, Bandshell Park is a community gathering place in the heart of North Beach. Located beachfront on the Atlantic Ocean, in the North Shore Historic District, the Bandshell itself is an open-air amphitheater built in 1961 and restored in 2011.
Known for its consistent lineup of concerts by musicians from all over the world, the Bandshells is managed by Miami's popular Rhythm Foundation, accommodates gatherings of up to 1,350, and is available for performance and event rentals. The park features shady pavilions where you can sip a cafecito and enjoy a game of dominoes, as well as an art installation made of glass tiles. The park also has direct beach access, beach volleyball, showers, and access to the paved walking and bike path.


8. Normandy Isle Park & Pool,
North Beach
7030 Trouville Esplanade, Miami Beach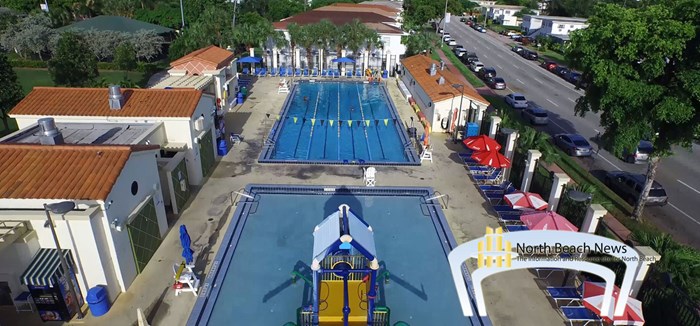 Tucked away on Normandy Isle in North Miami Beach, is the neighborhood favorite Normandy Isle Park & Pool. Many think this recreational area is private, but it's open to the public and is best known for its four-lane lap pool and children's interactive water playground and splash area. If that's not enough, the park also features open areas, two basketball courts, a soccer field, a children's playground, and a party pavilion that you can rent for special events.
The city also provides year-round programming for children as well as adults, including yoga and zumba classes, and stays open until 9 pm, providing rare opportunities to play and swim after dark.


9. Oceanside Park,
North Beach
8328 Collins Ave, Miami Beach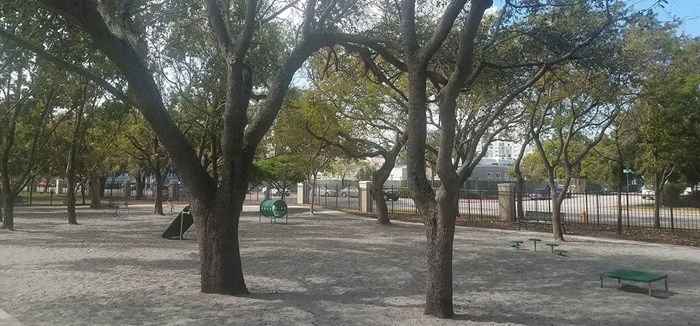 Photo courtesy of Maika Moulite

One of the natural jewels of Miami Beach is the tranquil North Beach Oceanside Park. One of the largest parks in Miami Beach, this park amassess 28 acres and stretches along Collins Avenue from 78th Street to 87th Street, and features an ample leash-free dog run that separates big dogs from little dogs.
For the little tots and family fun, there's a children's playground for kids of all ages, picnic tables and barbecue areas with grills, and party pavilions with barbecue grills and electricity that you can reserve for special events. There are winding bike and walking trails, restrooms, and sandy beach access with showers.
The park is a natural oasis planted with native floridian species including a forest of sea grapes that provides plenty of shade.  There's also an outdoor fitness challenge course with workout stations along the pathway so you can get a good workout in while taking a walk. For those who want to perfect their skateboarding skills, check out the new North Beach Public Skate Park directly across the street at 82nd Street. On full moon nights, enjoy the long-standing Miami Beach tradition of the Full Moon Drum Circle on the beachfront at 79th Street.


10800 Collins Avenue, Miami Beach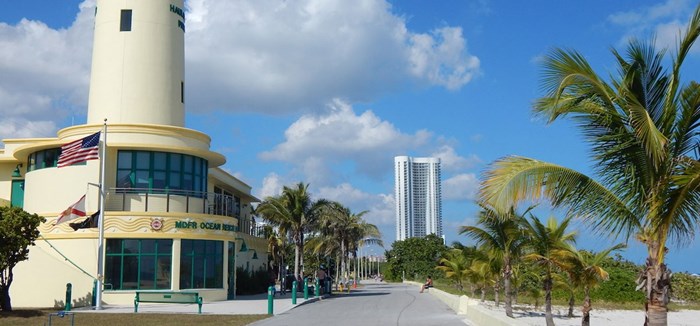 One of the most beloved parks in all of South Florida is Haulover Park, a 177-acre urban park just north of Bal Harbour and south of Sunny Isles Beach. Located on a narrow shoal between the Atlantic Ocean and Biscayne Bay, the park offers one of the breeziest locations along the Atlantic Coastline, with access to both the Ocean and the Bay.
Haulover is known as one of Miami's best spots for kite flying, as the open space and cross-breezes help keep kites in the air and kite culture alive and thriving. The Skyward Kites concession has been operating at Haulover for over 20 years with the area's largest selection of kites, windsocks and wind spinners starting at $5 and up. You can even have them create a custom kite for you to your desired specifications.
Haulover Beach is also known as one of Miami's few clothing-optional beaches, so if you can't stand bikini lines, or prefer going topless, you're in luck. Also, with a valid fishing license, you can enjoy fishing in designated areas along Baker's Haulover Cut as well as along the shoreline of the Intracoastal Waterway on the Bay. There's also a marina and ample parking.
In terms of jetting about, you can rent either a standard or electric bicycle and enjoy a ride around the park and nearby areas. There are walking and bike trails, as well as a skate park and a Velosolutions asphalt pump track for cycling enthusiasts and all kinds of wheeled vehicles. While the park has concessions where you can buy snacks and ice cream, Tuesday nights bring out the Food Trucks from 5:00 to 10:00 p.m. with music and family-friendly entertainment.


---

So put away your excuses, and get out and have some fun in the sun - or in the moonlight, as the case may be. With all of these great outdoor options in Miami Beach, there's really no reason for you to stay home.
Share your thoughts with us
Sign up now
Get news and updates delivered to your inbox