Love Miami Vice? Mid Century Modern? Miami's Most Luxurious Vintage and Retro Condo Buildings are Calling
May 18, 2020 May 18, 2020
While many of Miami's bold, new constructions are unequivocally gorgeous, the city has a long-standing reputation for charming and delightful architecture, earned by the many fabulous design visions from our colorful, subtropical past. In fact, there are still many Miamians and design aficionados among us who, in fact, prefer the classic and timeless appeal of living in a historic or vintage edifice over the temptation of the super luxe and brand-spanking-new buildings sprouting up. 
Older buildings also come with time-tested, solid construction, combined with the aesthetic charm of architectural design, complete with materials and finishes, from a bygone age. Another bonus of some of Miami's art deco, mid century modern and retro condo buildings is they often have larger floor plans. 
For those interested in learning more about Miami's top vintage condo buildings, read on…


Art Deco: A Miami Beach Legacy (1930's - 1940's)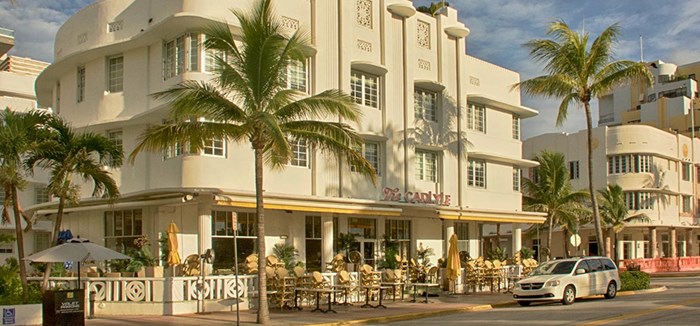 The Carlyle Condo Hotel - Miami Beach, FL - Photo courtesy of Valerie

Among Miami's most prized architectural treasures are the legendary Art Deco constructions that have made Miami Beach famous among locals and tourists alike. While there are many art deco properties located in smaller boutique buildings, we've listed our favorite and perhaps Miami Beach's most iconic art deco condo building, as well as a few of the most loved boutique buildings.
The Carlyle Condo Hotel

, at 1250 Ocean Drive in Miami Beach. Designed by German architect Richard Kiehnel, the Carlyle opened in 1941 as a hotel.  In response to contemporary demands, the property has been converted into a private residential building with condos available for

short-term vacation rentals

as well. The Carlyle is a boutique building of only 5 stories and 16 exclusive residential units, listed at an average of $1434 per square foot.


MiMo: Mid-Century Modern Charm and Soul (1950's - 1960's)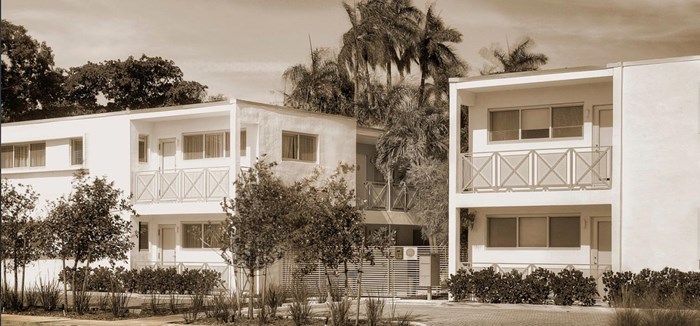 1818 Meridan House - Circa 1956. Photo courtesy of 1818meridianhouse.com


The term "MiMo" is used to refer to Miami Mid Century Modern architecture, an architectural movement that flourished in South Florida from about 1950 until the late 1960s. A natural outgrowth of Art Deco, MiMo architecture is a part of mid century modern architecture characterized by a streamline style that embraces the "machine aesthetic" of the 1950s, marked by rounded corners, space-age features, and aerodynamic surfaces inspired by cars, boats, and airplanes. Fortunately, you can still live in one of these spacious and sleek constructions reminiscent of the Jetsons and their ultra-modern world. We've listed some of our favorite available mid-century modern and MiMo condo properties here:
1818 Meridian House

, located in

South Beach

, is a 2-story boutique apartment-hotel with 31 residential units originally completed in 1956 and recently remodeled. Set around a lush tropical courtyard, this mid century modern condo building recalls the lavish living of the mid-century period amid verdant tropical landscaping. Listings average $464 per square foot.
Belle Towers

, at 16 Island Ave in Miami Beach's Belle Isle neighborhood is another boutique 9-story building with 46 exclusive condo units set amid the tranquil Venetian Islands. Built in 1958, this classic MiMo landmark was designed by architect Robert Swartburg (who also designed The Delano Hotel) and is located directly across from the Standard Hotel & Spa and walking distance from Sunset Harbour and Lincoln Road. This exclusive MiMo condo building boasts a cantilevered car parks, koi pond, extra large floor plans, a bay-front pool, dock space and listing average about $876 per square foot.
Belle Plaza

, at 20 Island Ave on Belle Isle, this iconic MiMo condo building, complete with a mid-century

porte-cochère

and an expansive lobby overlooking the bayside pool deck, was built in 1962. The recently renovated 18-story building sits on the bay and offers 226 units ranging from studios to large 3-bedrooms. The pool also features a hexagonal mid century modern pool house. Amenities include oversized balconies with historic "boomerang" design details, dock spaces, a gym, a card room and library, and a tennis court. Units in the building average about $645 per square foot. 
The Crystal House

, located on Millionaire's Row at 5055 Collins Avenue, this iconic MiMo condo building was designed by the famed Ukranian architect Morris Lapidus, and built in 1961, with 184 units spanning over 12 stories. The condo offers breathtaking ocean views. The average listing at The Crystal House is $348 per square foot. 
Terrace Towers

located at 3 Island Avenue on Belle Isle in the Venetian Islands, is another South Beach masterpiece by Morris Lapidus completed in 1962, featuring 15 stories and 144 units. Residents will find typical mid-century details, including terrazzo floors in the lobby that overlooks the bayfront. Amenities include a bayfront pool deck. Intracoastal access and gorgeous views. These units list for an average of $348 per square foot.
Island Terrace

at 5 Island Avenue again on Belle Isle in the Venetian Islands is yet another Lapidus design, completed in 1967, that consists of 16 stories housing 139 units with spacious living spaces and classic, mid-century modern flourishes, with an average price of $481 per square foot.
Seacoast 5151

at 5151 Collins Avenue in Miami Beach, is another modernist masterpiece by Lapidus. Completed in 1968, the luxurious Seacoast features 17 stories and 444 units, with gorgeous ocean, bay, and city skyline views, as well as valet parking and a host of other amenities. These units list for an average price of $602 per square foot.


Miami Vice: The Recovery Years (1970's - 1980's)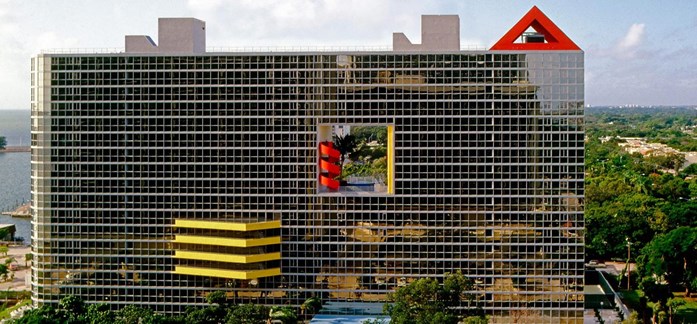 Atlantis on Brickell. Photo courtesy of Arquitectonica

Following its heyday as the playland of the rich and famous in the 50s and the 60s, the '70s saw the South Florida area languishing under a wave of crime and poverty, during which many of our most beautiful buildings fell into neglect. Luckily, the 1980s television show Miami Vice put Miami and its iconic, subtropical architecture on national display, spurning renewed interest in revitalizing the architectural gems of the Magic City. As the show's opening credits flashed the pastel-colored, mirrored façade of Arquitectonica's famed Atlantis tower, the firm's bold, new architectural designs with more than a little Latin influence became the face of the new Miami. If you'd like to live in one of the iconic buildings that sprang up during this rapidly-changing period in Miami's history, here are some of our top choices:
Atlantis on Brickell

, at 2025 Brickell Avenue, designed by Arquitectonica and completed in 1982, may be Miami's most popular building façade, thanks to its starring role in the opening credits of

Miami Vice

. Inspiring many would-be architects, this iconic condo building features 21 stories and 96 residential units, and is notable for its abstract glass façade, primary color scheme and large, red cut-out circular staircase spanning several floors. Listings are Atlantis average around $501 per square foot.
One Grove Isle

,

2 Grove Isle

, and 

3 Grove Isle

in Coconut Grove, designed by architect Ronald John Gee, a London-born transplant to Coconut Grove and member of Gee & Martinez Architects, the towers were built between 1979 and 1981. Each tower features 18 stories and 169 oversized units, with amenities such as direct ocean access, private dock, marina, picnic area, library, bike and jogging path, fitness center and spa, and a tennis club. The average price per square foot at Grove Isle is between $407 and $467.  
Tropicana

, an exclusive boutique building located at 15645 Collins Avenue on the beach in laid-back Sunny Isles is another exquisite Morris Lapidus creation. Designed later in Lapidus' life, and completed in 1983, the boutique building features 9 stories housing 48 units overlooking mangrove forests and Intracoastal waters. The exterior is unmistakable with its oversized circular concrete balconies. Units in the building have an average price of $810 per square foot.
1000 Venetian Way

, 1000 Venetian Way, on the Venetian Causeway in Miami Beach, is a boutique building consisting of 22 stories with 122 ultra-luxurious residential units listing at an average price of $829 per square foot. Building amenities include tennis courts, a swimming pool, spa, state-of-the-art fitness center, basketball court, and a dog park.


Whether you want to invest in the timeless elegance of Art Deco, the practical comfort of Mid-Century Modern, or the bold and abstract lines of the post-70's Miami aesthetic and Miami Vice history, we can help you find the condominium home of your dreams. Contact us to take a virtual tour or more details of some of our most interesting and iconic Miami area listings.
Share your thoughts with us
Sign up now
Get news and updates delivered to your inbox