The Most Luxurious Buildings in Fort Lauderdale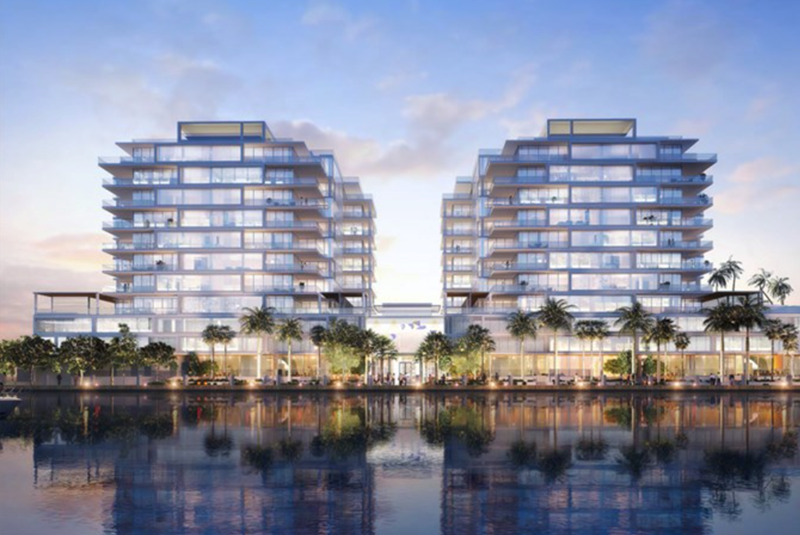 May 24, 2023 May 24, 2023
Looking for the absolute most luxurious buildings in Fort Lauderdale? Well, here's your personal guide to the most exclusive and best condo buildings in Fort Lauderdale ranked from least luxurious to most luxurious (and most expensive condo buildings in Fort Lauderdale) according to price per square foot at the time of publishing. 
Read on for details on each of these luxury condos for sale in Fort Lauderdale, and what makes each so special and popular as a residence of choice in this South Florida beach city.


— The Best Condos in Fort Lauderdale
What We Love: Exceptional Rooftop Amenities; Best & Largest Meeting Facility
Avg Price / Sq Ft: $1,198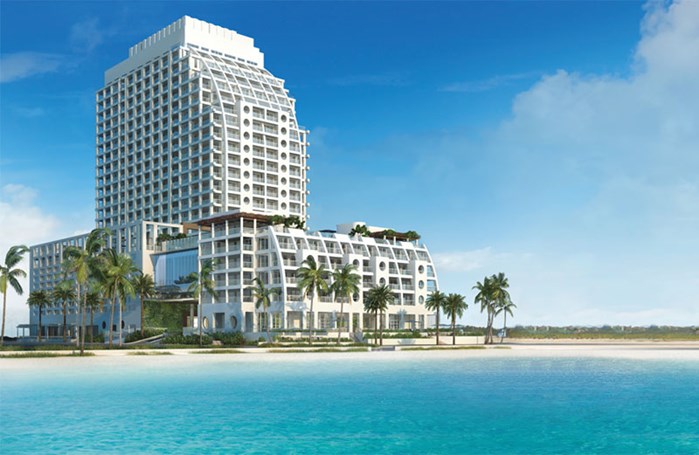 Looking for luxury oceanfront condos for sale in Fort Lauderdale? Let's start the countdown here with The Ocean Resort Residences as the 6th highest priced building per square foot in Fort Lauderdale.
This exclusive beachfront residence comes with all the luxuries of staying at a Conrad Hotel. Nestled on floors 6 through 17 of the acclaimed Conrad Hotel Fort Lauderdale Beach, The Ocean Resort Residences is a sophisticated escape into beachfront luxury. 
Designed by the esteemed Michael Graves to rise 24 stories, this beachfront tower features fluid architecture merging art deco and modern influences. Residents are greeted with a refined Porte Cochere drive anchored by a breathtaking sculpture by Peter Stromberg. Additionally, residents enjoy state-of-the-art technologies and dedicated personal service such as room service, complimentary valet parking, and even daily complimentary housekeeping and laundry.
These fully furnished and finished residences feature stunning interiors by Steven G with gourmet kitchens with Sub-Zero Refrigerators and Wolf Cooktops, marble baths with Kohler vanities, marble entry foyers, tiled flooring throughout, and expansive balconies overlooking sweeping views of the Atlantic Ocean, Intracoastal Waterways, and Downtown Fort Lauderdale.
Standout amenities at this luxury residence include full access to a unique rooftop beach experience appropriately termed SkyBeach, a 20,000-square-foot amenities deck, a Conrad Spa, a signature restaurant, and an onsite gourmet market with made-to-order treats. On the 6th floor connecting the pool to the Serenity Deck, there's even a 10,000-square-foot "glass jewel box" that houses the largest and most technologically advanced meeting facility in all of Fort Lauderdale Beach.
Additionally, residents of The Ocean Resort Residences enjoy privileged membership access to a nearby golf and tennis club.
Curious about a similar Fort Lauderdale Beach listing that didn't quite make the cut? Check out the Hilton Q Club!
What We Love: Best Five-Star Resort-Style Experiences
Avg Price / Sq Ft: $1,495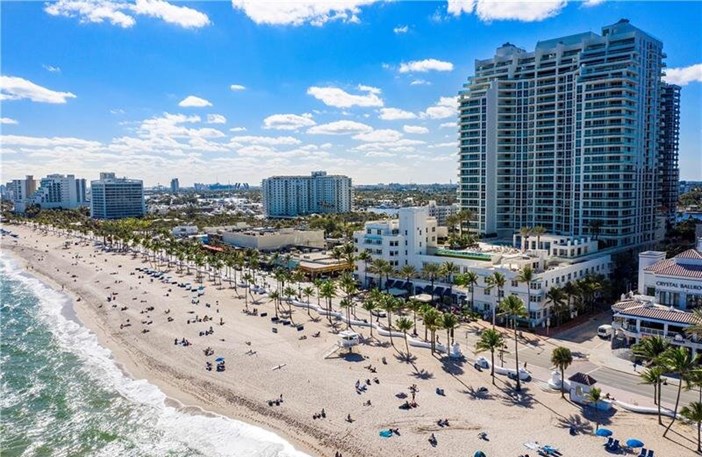 Next up on our list of the best condo buildings in Fort Lauderdale is the Las Olas Beach Club.
Built in 2009 by the highly acclaimed Related Group, Las Olas Beach Club features luxury "Neo Deco" interiors by the NYC-based design firm Yabu-Pushelberg that seek to merge the area's signature Art Deco design style with a unique contemporary flair.
The ultra-luxury beachfront residences feature a private elevator foyer for each residence, the finest appliances, designer kitchen and bathroom fixtures, Italian cabinetry and stone countertops, and floor-to-ceiling windows overlooking stunning views of the Atlantic Ocean, Intracoastal waterways, and the city skyline of downtown Fort Lauderdale.
However, it's the stunning resort-style amenities of Las Olas Condo Amenities that really make for its luxury allure. 
Besides oceanfront sunrise to sunset views throughout the tower, standout amenities include a beautifully landscaped oceanfront terrace with a heated swimming pool, a residents' only wellness spa, multiple fountains, a poolside bar and pool attendants, and private access to 250 feet of exclusive beachfront along the white sandy shores of the Atlantic Ocean. 
Additionally, Las Olas Beach Club features immaculate sauna and steam rooms, an elegant porte-cochere entrance with 24-hour valet service, a multi-purpose clubroom, an exquisitely appointed two-story marble lobby with a sculpture garden and 24-hour concierge, a state-of-the-art theater-style screening room, a billiards and game room, a private elevator for each residence, a beachfront white tablecloth restaurant, the Beachfront Coffee House, an upscale beachfront retail area, and a state-of-the-art fitness center. 
What We Love: Longest Residential Pool in Fort Lauderdale Beach; Excellent Location for Dog Owners
Avg Price / Sq Ft: $1,738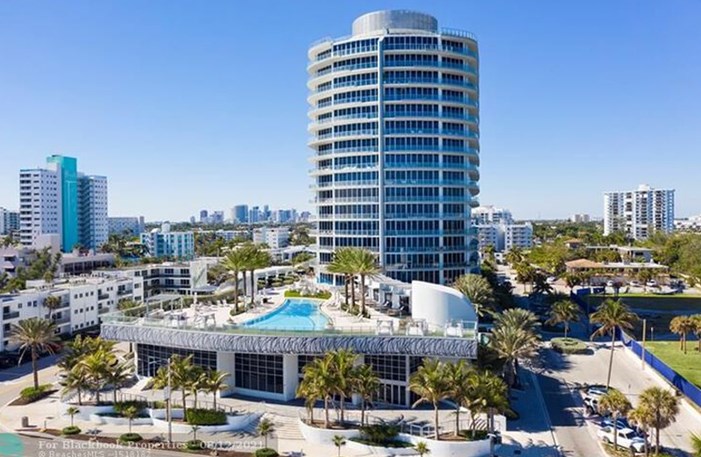 Since we are talking about the most expensive Fort Lauderdale real estate, we cannot leave out Paramount Fort Lauderdale Beach, recently completed in 2016.
Elevating the sense of style and luxury on Fort Lauderdale Beach, the Paramount Residences condo tower rises 18 stories along a nearly private stretch of the ocean as one of the first luxury condo developments on the beach in more than a decade.
Developed as a unique partnership between Dan Kodsi, Art Falcone and Nitin Motwani, the iconic cylindrical tower is home to 95 refreshingly modern residences that merge refined simplicity and elegance. 
Designed by Revuelta Architecture with intuitive interiors by ID & Design International, each unit is crafted around form and function. Residents enjoy coming home to open-air spaces, almost 11-foot-high ceilings, chef-ready kitchens, modern fixtures, and wrap-around terraces with unobstructed views of the ocean and the adjoining historic Bonnet House Gardens. Select units even feature private turquoise dipping pools that are reminiscent of a stay in the Maldives.

Additionally, Paramount Fort Lauderdale Beach features two-story penthouses with direct ocean views and over 5,700 square feet of oceanfront entertaining space, private rooftop swimming pools with wraparound decks, and summer kitchens with private dining, all complete with designer finishes. 
Contemporary amenities at this luxury tower include a 90-foot-long beachside pool, a swim-up bar, island cabanas, a massage and steam room, a club and social room, a kids' playroom, and more.
Additionally, living at Paramount Fort Lauderdale Beach puts residents within half a mile of Fort Lauderdale Dog Beach, making for a lovely morning or evening walk with your canine companion!
What We Love: Superb Luxury Service by The Ritz-Carlton
Avg Price / Sq Ft: $1,923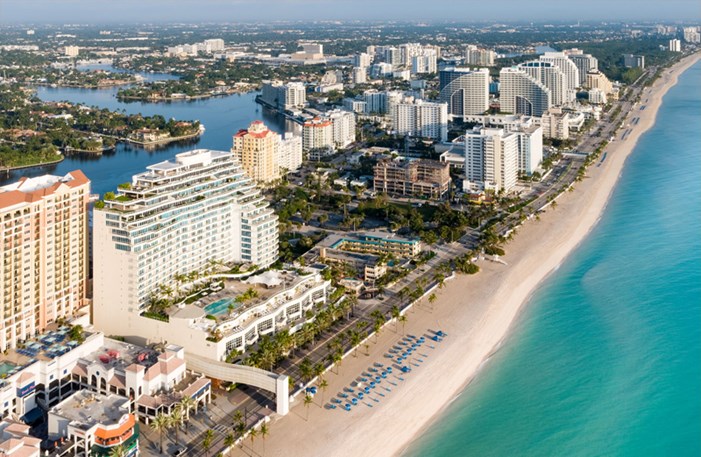 Overlooking the dazzling waters of the Atlantic Ocean, The Ritz-Carlton Residences Fort Lauderdale Beach seeks to merge a stunning oceanfront setting, the amenities of a world-class resort, and the prestige of one of the most exclusive addresses in South Florida. 
Designed by renowned Arquitectonica and envisioned to create an extraordinary world of private luxury on the beach, 34 condo residences and 28 exclusive, ultra-luxury penthouse residences sit on top of the legendary hotel distinguished by a private lobby entrance, private elevators, and a doorman. 
Residents enjoy coming home to marble and hardwood floors, gourmet kitchens with state-of-the-art appliances, Italian marble bathrooms, and spacious terraces that feature sweeping views of the Atlantic Ocean, Intracoastal Waterways, and the city skyline. 
Highlight amenities at this world-class beachfront residence include a 17,000 square-foot European-inspired spa, a state-of-the-art fitness center, an infinity pool overlooking the ocean, private beach cabanas, a 5,000-bottle wine room, and more. 
And of course, residents will enjoy all of the legendary services offered by The Ritz-Carlton, such as personalized concierge services, in-room dining, and personalized housekeeping.
What We Love: Best Private Beach; Best Beachfront Restaurant; Top Condo Spa
Avg Price / Sq Ft: $2,017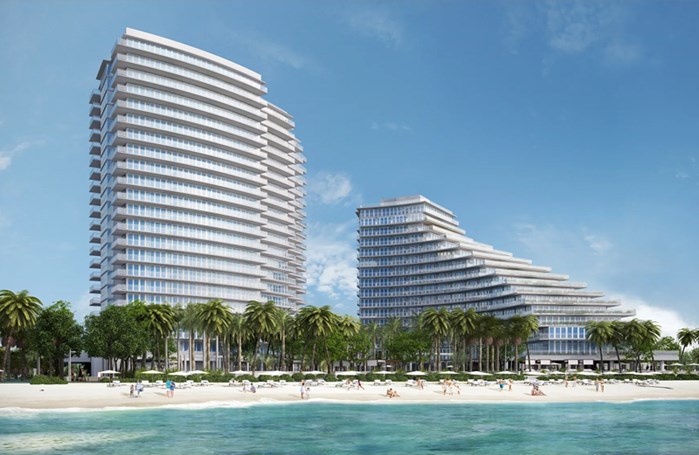 Two iconic luxury towers dominate Fort Lauderdale's pristine beachfront, bringing the most prestigious definitive name in boutique-style luxury hospitality to South Florida – Auberge. 
Crafted as a unique partnership between the South Florida real estate powerhouses, The Related Group, Fortune International Group, and Fairwinds Group, this 171-unit condo redefines the standard of elegant, minimalist oceanfront living.
World-over, the award-winning Auberge properties are known for their highest standards of service, along with the ability to create environments that are authentically unique to their location, and Auberge Residences Fort Lauderdale Beach is no exception. 
This, coupled with Nichols Brosch Wurst Wolfe & Associates' ingenious design capabilities and bold, yet inviting interiors by the Meyer Davis Studio Inc., is what truly sets the Auberge Beach Residences a class apart. You also have a world-class, beachfront restaurant downstairs, at Dune by Laurent Tourondel.
Crafted for multigenerational living, residents of this world-class property gain access to spectacular amenities such as museum-quality art in common areas, multiple inviting infinity pools with tasteful cabanas, the signature Auberge spa, signature restaurants, a Napa Valley wine-tasting salon, kids' and teen's entertainment zone, an HD golf simulator, and much more-all set on a pristine swath of beachfront.
And The Winner of the Best Condo in Fort Lauderdale Beach in Terms of Luxury Goes To…
What We Love: Newest Build (2020); Most Pet-Friendly; Best Condo for Yachters 
Avg Price/Sq Ft: $2,661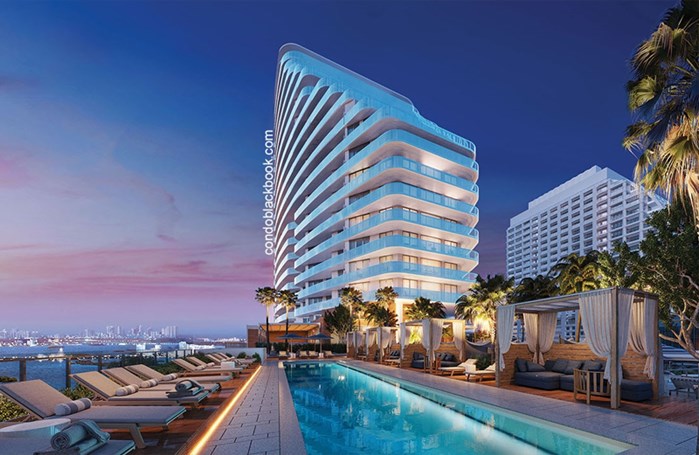 Currently, the Four Seasons Residences Fort Lauderdale Beach is the most expensive condo in Fort Lauderdale according to the average price per square foot.
Offering a luxury residential experience to the legendary Four Seasons Hotel and Spa
The Four Seasons Residences rises as a nautically inspired, modern 25-story tower featuring 83 bespoke residences and 148 guest rooms set to redefine Epicurean living. 
Designed by the award-winning Kobi Karp Architecture with exemplary hospitality by visionary Martin Brudnizki, the stunning residences feature soothing and sophisticated interiors by London-based Tara Bernerd. 
Living here, residents come home to expansive, brightly lit living spaces inspired by Fort Lauderdale's rich yachting culture. Interiors allow easy entertaining with open-concept kitchens and custom lacquered millwork cabinetry, and curated details that evoke European luxury include antique bronze fittings, spa-inspired bathrooms featuring Venus Marble set in Italian Calacatta Capuana, custom oak finishings, antique brass wall lights, and open terraces affording panoramic views of the ocean and Intracoastal Waterways that completely redefine the meaning on indoor-outdoor living.
Landscape architect Fernando Wong has envisioned the entire lush, tropical grounds to surround the world-class amenities. Featuring 2 resort-style pools complete with refined chaise lounges, private beach access with full-service beach cabanas, a signature Four Seasons Spa, a personalized pet concierge, and yachting services, Four Seasons Residences Fort Lauderdale truly delivers an unmatched experience. 
Still curious about other stunning luxury listings in Fort Lauderdale Beach? Check out the Tiffany House.


---

— Premium Pre-Construction Condos to Look Out For in Fort Lauderdale Beach 
What We Love: Best Ocean Views; Tallest Building in Fort Lauderdale Beach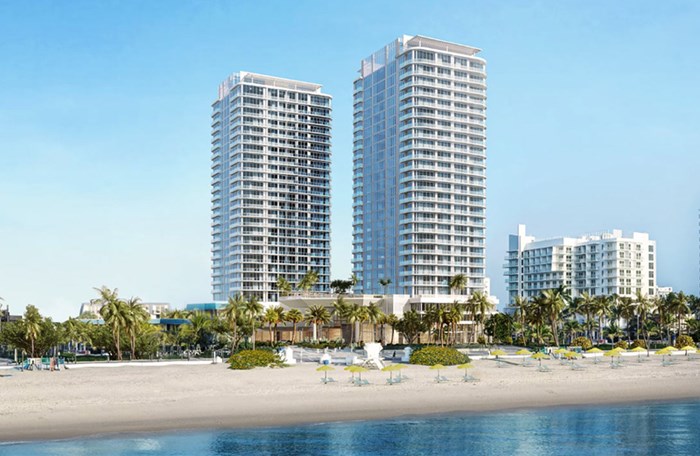 Developed by Kolter Urban, these modern residences are expected to bring elevated oceanfront living to a residential stretch of the Fort Lauderdale Beach neighborhood. Selene Oceanfront Residences will have the best view of the ocean as it will rise as the tallest luxury condo in Fort Lauderdale Beach.
Designed by the famed Kobi Karp Architects, two slender towers will emerge from a 3-story podium to dominate the Fort Lauderdale Beach coastline, offering dramatic ocean and long-range city views. 
Featuring contemporary interiors by ID & Design International, the oceanfront condo project will house a total of 204 luxurious residences. With several unique, open-concept floor plans to choose from, future residents will benefit from units thoughtfully positioned on glass corners, intentionally designed for uninterrupted ocean views. 
Upscale amenities will include a 5,300 square-foot oceanfront restaurant on the ground floor and two elevated pool terraces with lap and resort-style pools, fire pit lounge areas, a pool bar, and much more.
What We Love: Excellent Boating Access; Top Boutique Luxury Condo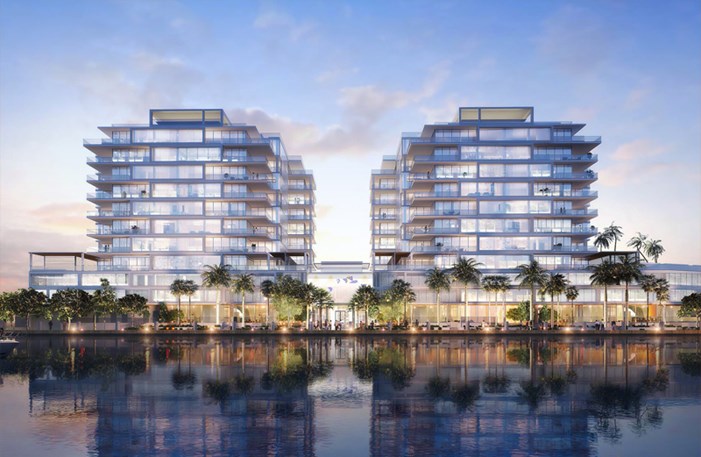 Edition Residences Fort Lauderdale is set to be one of the most exclusive buildings in Fort Lauderdale. 
Developed by Rishi Kapoor of Location Ventures, Edition Residences Fort Lauderdale seeks to bring timeless sophistication and exemplary luxury to Fort Lauderdale's coveted Intracoastal Waterway just blocks away from the white sandy shores of Fort Lauderdale Beach. 
With waterfront dual towers rising 11 stories with 65 exclusive residences, Edition Residences Fort Lauderdale, the Marriott International-owned luxury hotel brand, features intuitive service and unparalleled, resort-like amenities.
Designed by GS4 Studios, these luxury homes feature laid-back, neutral-toned, yet upscale interiors by Clodagh Design. Residents will be treated to custom, sleek, open-concept kitchens, 10-foot high ceilings with floor-to-ceiling windows bringing in tons of natural light, imported European wood throughout, stone countertops, and smart home technology features such as circadian rhythm lighting in the master bedroom, plus more custom finished by Clodagh Design. 
Besides the breathtaking waterfront views offered by all 65 residences, residents will also have access to resort-like amenities, including 20,000 square feet of outdoor space featuring tropical landscaping by Cadence, an outdoor meditation walkway, an intracoastal riverwalk, temporary dockage for small boats, a moonroof, a sunroof, outdoor summer kitchen, movie screen, fire pit, two pools complete with relaxation sunbeds and private cabanas, a health and wellness center offering Pilates, yoga, and training rooms, a sophisticated lounge with a kitchen designed for socializing or hosting private events, and much more.
Although this is the only non-oceanfront condo feature, Edition Residences Fort Lauderdale will offer a unique luxury living experience as one of the only top luxury-branded residences in this exclusive residential area with direct boating access to the Intracoastal Waterways. 
Want to know about the most luxurious buildings in other South Florida neighborhoods? Check out the 5 most luxurious condo buildings in Brickell.

— Frequently Asked Questions (FAQ)

What is the most exclusive area in Fort Lauderdale?
Fort Lauderdale Beach is the most exclusive area in Fort Lauderdale. 
As the "Yachting Capital of the World," one can expect Fort Lauderdale to be rich in exclusive areas, whether as a residential yachting community or as an oceanfront resort-style living situation. Fort Lauderdale is home to a plethora of waterfront communities, most of them exclusive in nature. 
While there are many exclusive areas in Fort Lauderdale, including Victoria Park and Galt Ocean Mile, Fort Lauderdale Beach has to be the most exclusive area in Fort Lauderdale as reflected by exclusive residential brands making their homes here such as The Ritz-Carlton Residences Fort Lauderdale, The Four Seasons Fort Lauderdale, and Auberge Residences. 

Where is Millionaires Row in Fort Lauderdale?
Millionaires Row in Fort Lauderdale is a nickname most often used in reference to the residential mansions situated along the Intracoastal Waterway and New River.
Owners and former owners of these beautiful waterfront homes range anywhere from successful entrepreneurs such as Ray Kroc, to celebrities, to famed gangsters such as Al Capone. 

What is the richest part of Fort Lauderdale?
The richest part of Fort Lauderdale is Fort Lauderdale Beach.
The richest residential parts of Fort Lauderdale are Harbor Beach, Las Olas Isles, Rio Vista, Idlewyld, Galt Ocean Mile, and Seven Isles. 
But, basically, anything along the beach or river near the beach could be considered the richest part of Fort Lauderdale. In other words, people from all over the world are paying a premium to live in one of these beautiful riverfront or oceanfront communities in Fort Lauderdale. 

— Summary
Only about 35 miles north of Miami, Fort Lauderdale residents enjoy a similar lifestyle to that Miami has to offer but with more space and at a lower price point. With luxury shopping and delicious restaurants set on the quaint Las Olas Boulevard and bustling downtown, with museums, performing arts venues, and Class A office towers, just 10 minutes from the beach, it is of little wonder why Fort Lauderdale is a top city for those looking for a luxurious, oceanfront lifestyle.
Fort Lauderdale is home to 300 miles of inland waterways and is sometimes referred to as the "Venice of America." Considered the yachting capital of the world, this beautiful city and oceanfront landscape offers sprawling estates, luxurious condo buildings, mega yacht marinas, and a plethora of other luxury offerings.


---

If you want to know more about the Fort Lauderdale Beach versus Miami Beach, our

exclusive comparison video

is a great resource.


---

All of the "Most Luxurious Buildings in Fort Lauderdale" happen to be located within walking distance of the beach, high-end cafes and restaurants, and the historic Bonnet House Museum and Gardens.
Additionally, the luxury residences featured here are only a short distance to a stunning state park, Hugh Taylor Birch State Park, a Whole Foods, or a bevy of top downtown bars and restaurants. This is one of the many reasons why these residences are the most prestigious and most expensive in Fort Lauderdale, as they are all in the perfect location to lead a life of luxury. 
Which luxury tower you choose, however, is up to you…


---

If you are interested in seeing any of these Fort Lauderdale Beach condo buildings or other luxury condos in Fort Lauderdale for sale or for rent, please call, chat, or email us anytime!





Or, you can search for more Fort Lauderdale real estate listings on our website.
Share your thoughts with us
Sign up now
Get news and updates delivered to your inbox