Wellness: The Latest Luxury Amenity in Miami Condos
Sep 09, 2020 September 09, 2020
You wear your face mask religiously. You practice social distancing. You have adjusted to the new normal. And if you live in a condo, you've likely been particularly conscious of how your condo building is dealing with your health and wellness. Well, Miami real estate developers are paying attention to wellness, too!
Luxury condos in Miami have always been designed to feature future-ready amenities - be it the robotic car parking at the Porsche Design Tower or the Skyport landing for flying cars in Paramount Miami Worldcenter. There are yet others, such as Gran Paraiso with acres upon acres of urban greenspace, Fendi Chateau with its luxurious Zen gardens, and the Surf Club Four Seasons Residences, with their great yoga and meditation workshops that don't just celebrate South Florida's fabulous outdoors, but offer a peaceful retreat at your own home to promote mental wellness, in case shelter-in-place orders are ever to be repeated.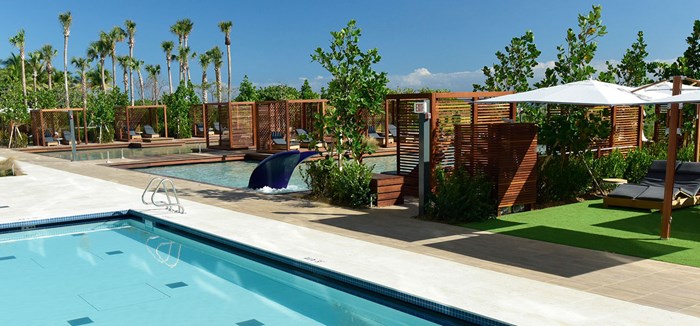 Fendi Chateau

But something new is evolving in luxury real estate development… the pandemic has opened our eyes to new ways of living and reprioritized our focus in every aspect of our lives to our health and home. From a medical standpoint, numerous studies have shown that more open air and expansive spaces are healthier and safer, and that time spent in nature and doing outdoor activities quantifiably improves our mental and physical health.
So, it's no surprise that we've seen this desire for fresher air and more sunshine convince many living in the Northeast and Midwestern cities of New York City, Boston, and Chicago to move their homebase or a second home to Greater Miami.
Why? Compared to the Northern cities, Miami is less populated. Add to that its history of being a beacon of health and wellness, including an active city lifestyle, healing waters and beaches, ample greenery and outdoor spaces, some of the finest luxury residences, whether condos or single family homes, warm weather year-round, plus tax breaks - and the appeal of moving to Miami is undeniable.


Gran Paraiso - Edgewater

Real estate developers have also taken note and are upgrading Miami's luxury condos to include wellness focused amenities that go beyond the basic sun, swim, and spa on their checklist.
Here's taking a look at some of the latest health-centric and wellness-focused amenities that are making their way front and center in Miami's luxury condo residences:


900 NE 1st Avenue, Downtown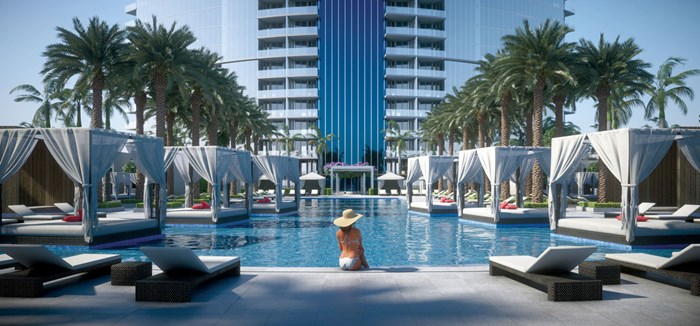 Rendering: Paramount Miami Worldcenter - Upper Pool Deck

Famous for its 2-acre sports complex and Jetsons-style Skyport for flying cars, this amenity-rich building is now getting germ-zapping robots to care for its residents' wellbeing. Deployed by San Antonio-based Xenex Disinfection Services, these LightStrike robots have been proven effective against the novel coronavirus and are known to disinfect a patient's room in as little as 20 minutes.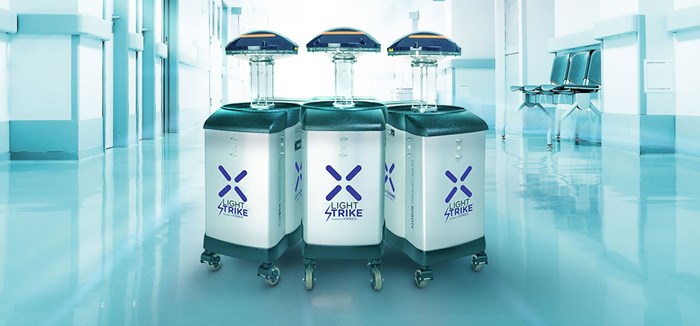 LightStrike robots by Xenex Disinfection Services

The first phase of this wellness-focused amenity's rollout includes a 30-day trial for use in a select few of its 549 luxury residences along with public spaces. The germ-zapping robots will be used to disinfect the fitness center, spa, and game rooms, making sure residents get to enjoy their favorite activities without having to worry about their safety.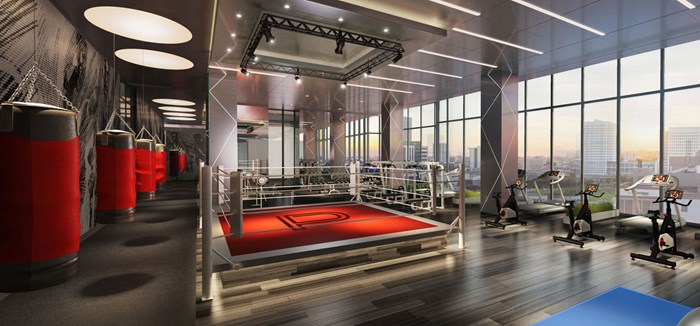 Rendering: Paramount Miami Worldcenter - Fitness Center

Other amenities at this Dan Kodsi development include a resort-style swimming pool with floating cabanas and island pool pods, two tennis courts, a soccer field, a boxing studio, aerobics space, spa and salon, kids' play center, "jam room" with recording studio, yacht-like rooftop Sky Lounge with observatory, pool, spa, yoga deck, and more.


8701 Collins Avenue North Beach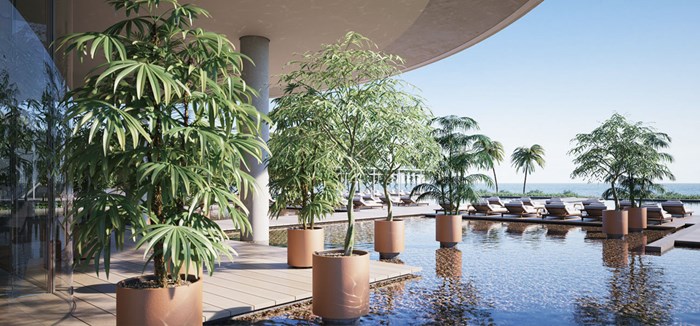 Known as the oval-shaped condo tower, effortlessly "floating" along North Beach's serene waterfront (for its elevated pillars), the recently completed Eighty Seven Park is on-trend with its wellness amenities. The 18-story luxury building houses a full-service Soul Center Spa, which offers 'brain fitness sessions' along with aquatic therapies, meditation and wellness coaching. These mind training techniques are directed towards improving the executive centers of the brain and thus, help with the body's stress response, immunity and relaxation.
Designed by Italian starchitect Renzo Piano, the oceanfront building comes surrounded by a 35-acre public park and 2-acre residents-only park. Essential oils from the surrounding greenery combined with stress reducers from the ocean's natural rhythm, make this luxury building conducive to long-term health benefits.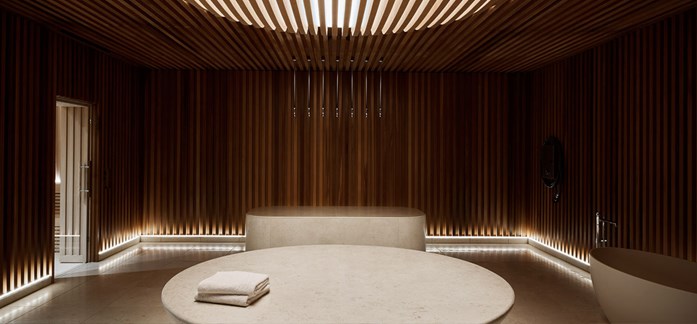 The complex also has its own full-time, on-site botanist to promote a green lifestyle. The reflecting pools have further been designed as a spot for quiet contemplation. Other amenities include two oceanfront swimming pools, direct beach access, oceanfront Fugo Bar, and more.


---
Pre-Construction Condos

---
942 NE 1st Avenue, Downtown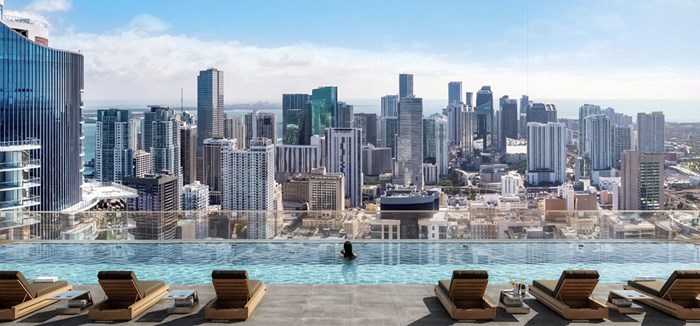 Another Dan Kodsi development part of the grand Miami Worldcenter complex, future residents at this pre-construction condo building will have access to a pandemic-ready medical center on the ground floor. The $60 million, 100,000 sq. ft. Center for Health + Performance, one of the first of its kind to mix condo residences with a health facility, will come fully staffed and provide medical assistance similar to a hospital.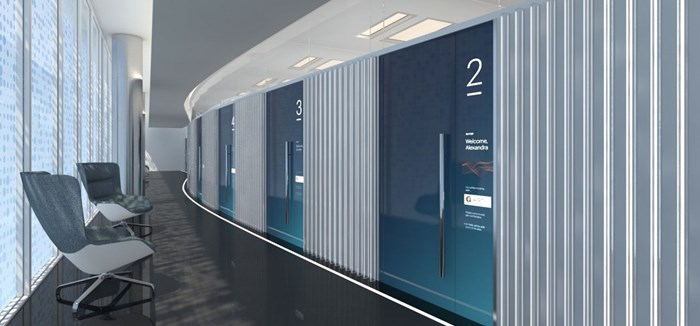 Residents and guests at the condo-hotel can expect an onsite lab with MRI and CT scan facilities, a full diagnostic center, pharmacy, surgical suites and rooms outfitted with medical gas and ventilator capabilities, plus post-surgical care and more. The 247-unit and 256-key condo-hotel will also include amenities such as a one-acre pool deck, ground-floor retail, seven-story rooftop atrium, members-only international business lounge, and much more.


2000 S Ocean Drive, Hallandale Beach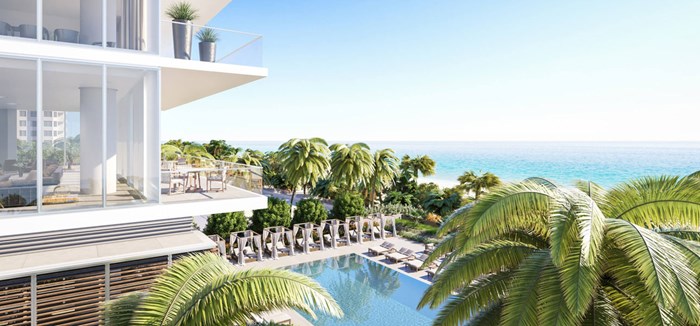 These 64 oceanfront condos by New York-based KAR properties, currently under construction, are set to receive health-centric upgrades and outdoor enhancements before their debut. Adapting to the current climate, the Minotti-designed luxury residences will feature UV disinfectant lights in the elevators, package cabinets, and cargo unloading areas, to help sanitize these public spaces between usage. Residents will further have the option to get an iPad in their unit with a 24/7 doctor concierge service that would help take and monitor blood pressure, temperature readings, blood and oxygen levels.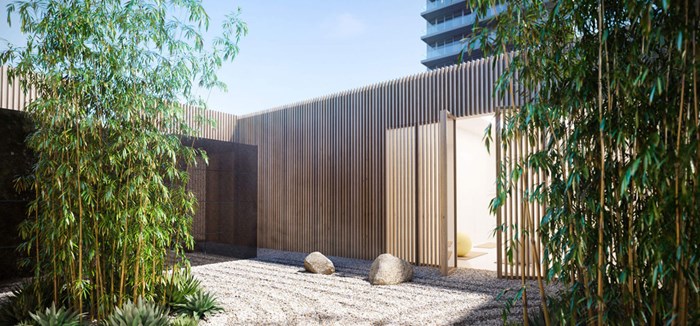 Rendering: 2000 Ocean - Spa Center

This boutique luxury building by TEN Arquitectos has also amplified its outdoor spaces to include curated gardens by landscape artist Sasaki, a contemplative bamboo garden, a tranquility garden with lemon trees, and a sculpture garden with a David Harber commissioned work of art. Other amenities include an elevated oceanfront pool, a 'sunset lounge' pool, oceanside cafe and juice bar by The Wright Fit,  podium sculpture garden, freestanding spa pavilion, sunset terrace, and more.
If you are interested in living in a condo building that is putting your health and wellness first, or want more information on the amenities in these building, call or email us to find the perfect match in one of these or any other condo buildings in Miami - an expert from our CondoBlackBook team will be glad to assist you.


---

Think we missed an update on any other new condos with outstanding, pandemic-ready wellness facilities? Email us!
Share your thoughts with us
Sign up now
Get news and updates delivered to your inbox