Miami & Fort Lauderdale New and Pre-Construction Condo Update: January 2021
Feb 08, 2021 February 08, 2021
The condo pre-construction market in Miami began the year with more new development on the horizon. Miami nightclub owner-turned-developer announced plans for the E11even Hotel & Residences in Downtown Miami's A&E district. The Ritz Carlton luxury villas broke ground in Miami Beach. Fort Lauderdale's 160 Marina Bay developer launched sales for his high-tech, boutique condo building. Downtown's Waldorf Astoria got a shiny new sales center. And, Wynwood Atriums topped-off along with Fort Lauderdale's Four Seasons Hotel and Residences.
Find details on these and more Miami and South Florida pre-construction condo projects and new developments in our monthly digest below. View and search our list of available Miami pre-construction condo units and penthouses, which is updated daily.


---
Sales Launched -
 Pre-Construction Condos
---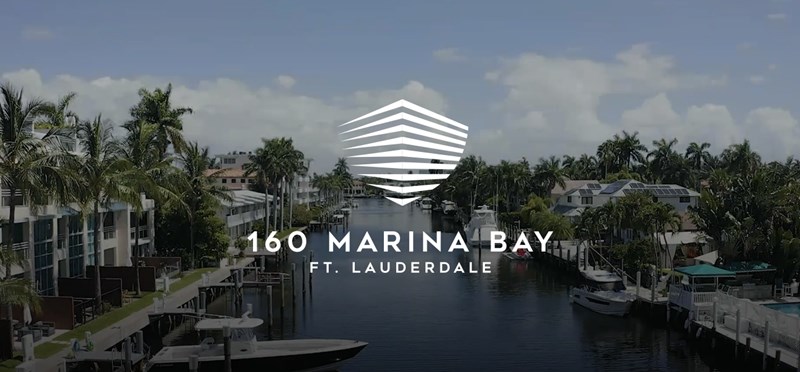 Boutique waterfront living will be available for owners of 16 new, luxury condo residences in Fort Lauderdale. With sales launched this January by Midblock Miami developer Ron Krongold, the 5-story building is expected to be completed by mid-2022.
Replacing an older, two-story condo building at 160 Isle of Venice Drive, these boutique residences are designed by FSMY Architects + Planners and RS3 Design. Each east-to-west, flow-through unit is set to feature three bedrooms, big balconies, and smart home technology. The high-tech building will also offer amenities such as a waterfront pool deck, cabana and BBQ entertainment area, self-service package locker system in the lobby, for-purchase electric car charging stations, plus a private marina with 14 for-purchase boat slips and direct access to the ocean.
Prices start in the low $2 million, with a choice of 2,875 square feet to 2,918 square feet residences, each with three bedrooms


---
New Sales Center - 
Miami Pre-Construction Condos
---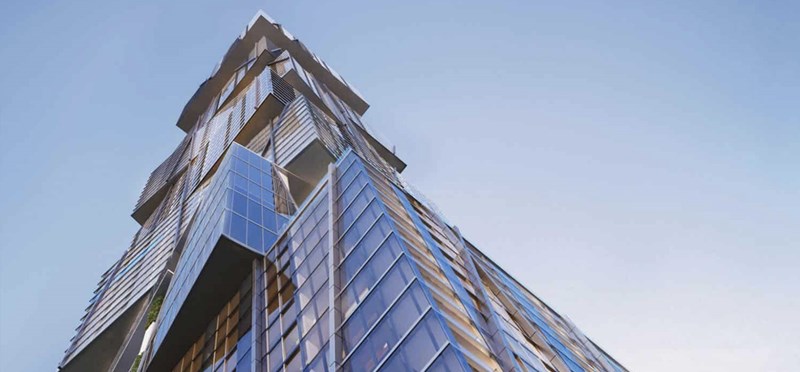 With sales launching this February, those interested can go visit the brand-new Waldorf Astoria sales center at 400 Biscayne. It stands a block north of the actual site at 300 Biscayne.
Approved to be the tallest condo tower in Miami, with a height of 1,041 feet above the ground, this statement building is being co-developed by PMG, S2 Development, and Greybrook Realty Partners. Designed to look like a staggering stack of boxes, the Sieger Suarez Architects-designed condo-hotel will rise 98 stories above Miami's urban core. Highlight amenities include a relaxing pool and sun deck, unique health spa, fully-equipped fitness center, children's activity room, private screening room, and more.


---
Topped Off -
 Pre-Construction Condos
---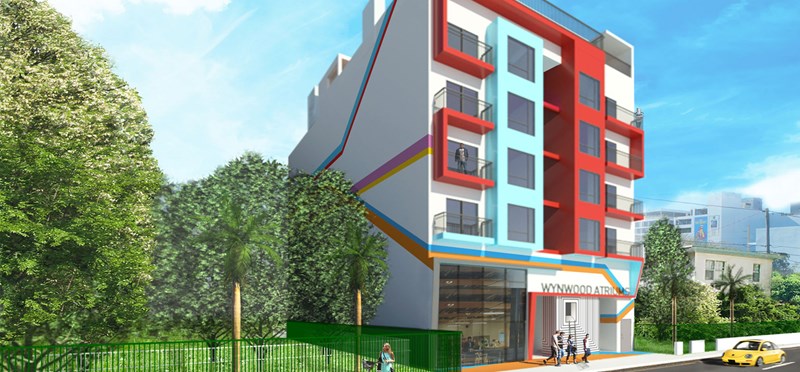 On track for a 2021 completion, Wynwood Atriums announced its top-off this January. This 5-story, 32-unit building is designed to be a first-in-class, complete "live, play, create" destination. It stands within walking distance to the neighborhood's main attractions such as Wynwood Walls and restaurants.
Staying true to its "live without restrictions" motto, buyers will have all the freedom to offer their fully furnished, turn-key micro-units as short-term rentals. Highlight amenities at this unique concept include a rooftop terrace & pool, art murals along the building's exterior, flexible office spaces, ground-level commercial retail, plus a smart building entry system.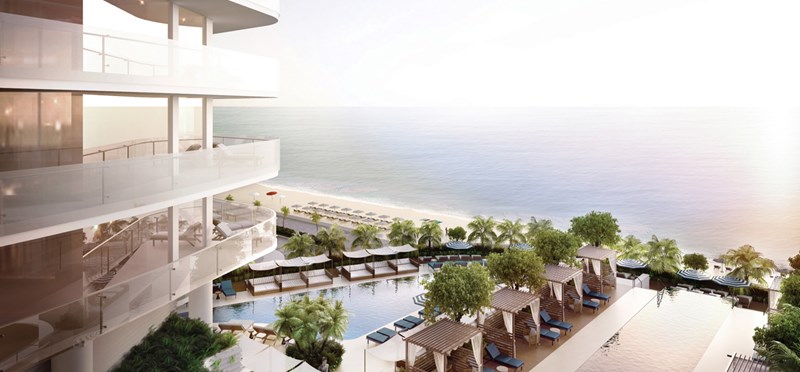 Topping off at 22 stories, Fort Lauderdale's Four Seasons is on-track for its 2021 completion. The 83-unit, 148-key condo-hotel is designed by Kobi Karp, with interiors by London-based Tara Bernerd and hospitality designer Martin Brudnizki. Developed by Fort Partners, Miami-based Fernando Wong is handling landscape design.
More than 70% sold, this oceanfront condo-hotel sits across from the beach, and offers fully-furnished as well as unfurnished options. With access to all the hotel-side services, residents will be able to enjoy a wide range of amenities including à la carte yachting services, beachside activities for little ones, beach butlers, poolside services, a fine dining restaurant, an all-day brasserie, and much more.
Prices start at $3.6 million, with a choice of one- to four-bedroom residences


---
Broke Ground - 
Miami Pre-Construction Condos
---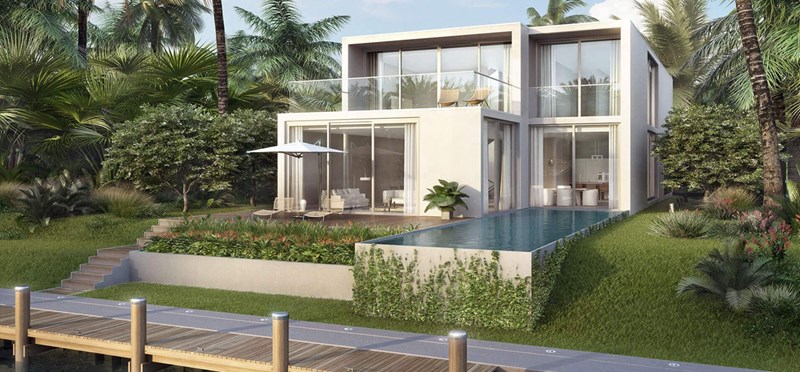 Developer Lionheart Capital recently broke ground on the next phase (villas) of this luxury project, shortly on the heels of the completion of its condo residences in 2020. Designed by the esteemed Italian interior designer Piero Lissoni, 8 of the 15 villas will feature private docks on the water, whereas 7 will have private gardens.
Although the 15-villa project will not be connected to the condo tower, villa owners will get complete access to the condo-hotel's amenities, including its infinity-edge pool with waterfall, half-acre rooftop pool deck with cabanas, indoor-outdoor spa, poolside grille restaurant, art studio, kids' club, beach club, and more.
Prices start at $4.38 million, with a choice of 3-bedroom, 3,263-square-foot villas to 5-bedroom, 4,643-square-foot villas


---
Approved - 
Miami Pre-Construction Condos
---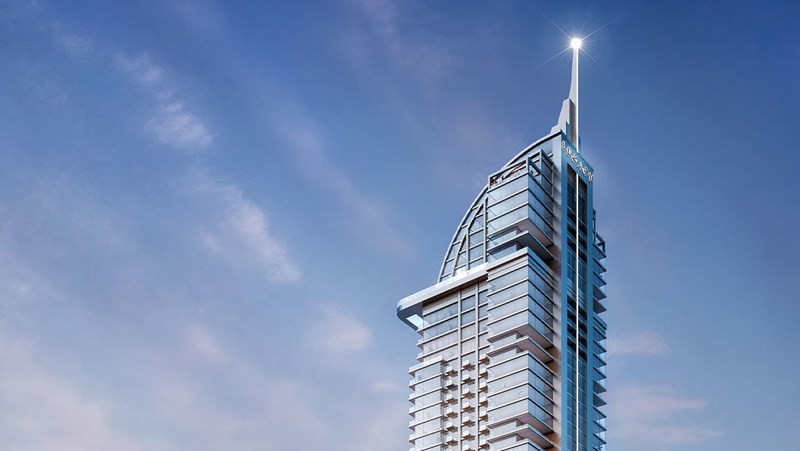 Approved for a maximum height of 661 feet above-ground by the Federal Aviation Administration, Legacy will become the second-tallest tower at the Miami Worldcenter. Scheduled to break ground this year, the 50-story tower comes designed by Kobi Karp. Developed by Dan Kodsi, the skyscraper seeks to introduce the concept of microLUXE living in Miami with its 549 residences.
Scheduled for a fall 2023 completion, residents will get access to 7,400 square feet of restaurant space, a 100,000 sq. ft., $60M health and wellness center called Center for Health + Performance (CH+P), a one-acre ninth-floor pool deck, a 45th floor "Singapore style" sky pool hanging off the edge, America's largest rooftop glass atrium with seven stories of indoor palm trees, a lounge and bar, plus a members-only international business lounge.
Prices expected to range between $300,000 and $500,000, with a choice of studio to two-bedroom residences


---
Planned/Proposed -
 Pre-Construction Condos
---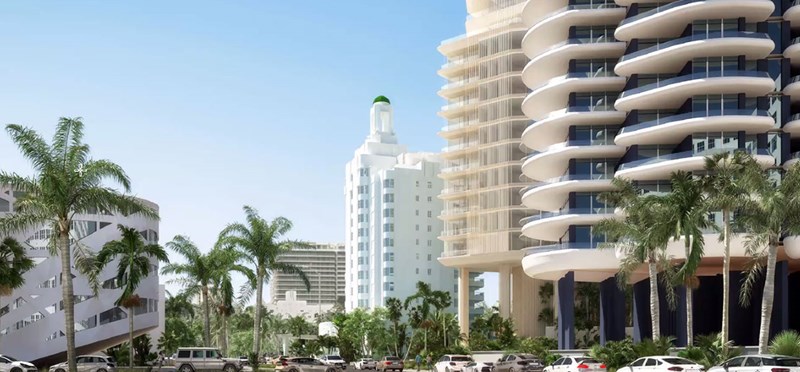 After accepting a 30-foot height reduction to appease its Faena House neighbors, Doronin's Aman Hotels is moving forward with plans for a residential tower in Miami Beach and the complete renovation of the historic Versailles Hotel on Ocean Drive. Submitted for a February review, this modern tower plans to feature a hotel plus 23 residential units. The ultra-luxury tower will be designed by Kengo Kuma, who is known for designing the New National Stadium in Tokyo for the 2020 Summer Olympics. The renovation of the Versailles Hotel next door will be required before Miami's Historic Preservation Board will provide Doronin with a TCO on the residential tower. 

Location Ventures' Olakino House – Fort Lauderdale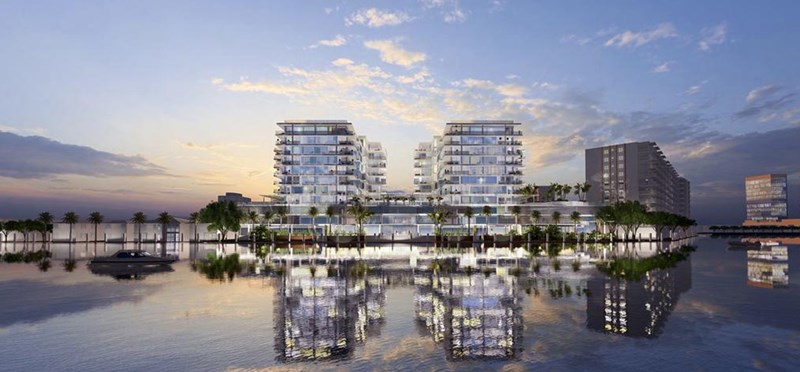 Developer Location Ventures plans on building two,11-story waterfront condo towers along Fort Lauderdale's Intracoastal Waterway. The two towers will occupy a 1.6-acre site located at 551 Bayshore Drive. Featuring 65 condo units, the towers will also be home to a rooftop terrace with water features, a spa, fitness center, pool, theater, garden deck, a 1,650-square-foot restaurant, and 152 parking spaces.
Planning to bring 442 residential units to Edgewater, the Melo Group has submitted plat documents to the city's review committee. Proposed on a 1.8-acre site located between Northeast 22nd Street and Northeast 23rd Street, the Cardinal Plaza project is also expected to feature an unspecified amount of commercial and retail space.

E11even Hotel & Residences - Downtown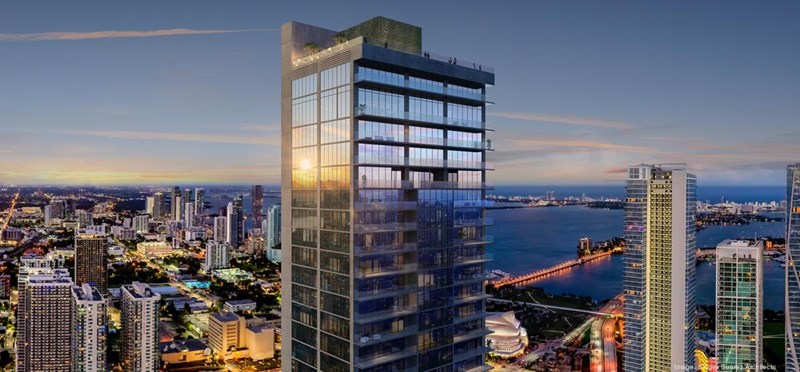 One of Miami's most popular nightclubs, E11even Miami is set to enter the world of branded condo and hotel development. Partnering with PMG for its first-ever condo-hotel, the novel developer has tapped Sieger Suarez to design the skyscraper and Avro Ko for interiors.
The 65-story tower is proposed to feature 400 units with short-term rental options. The fully furnished units will range from studios to two-bedroom condos. Pulling out all the stops, the developer has put a 20,000-square-foot, multi-level E11even Day Club and pool on the amenity menu. The multi-level pool club will include cabanas, temperature-controlled plunge pools, and a 2,200-square-foot pool. The condo-hotel will also feature a gourmet food hall, wellness center, sports lounge, beach club, and several art installations.


---
Other Updates - 
Miami Pre-Construction Condos
---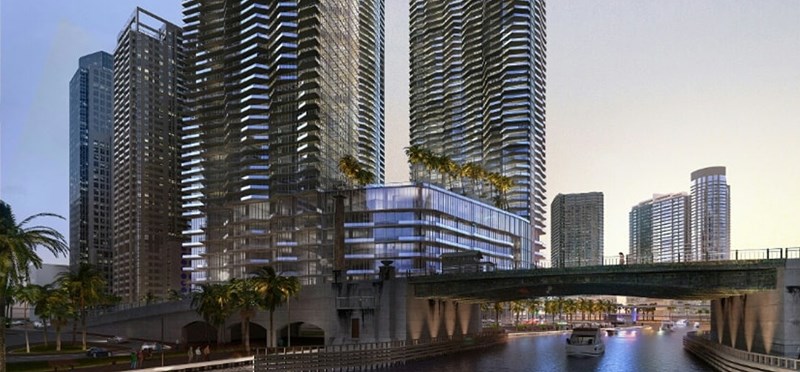 Previously known as 444 Brickell, developer Related Group has filed for a construction permit to move ahead with the first phase of this mixed-use project. Tower II will be the first of three to be built at 77 SE 5th Street. Approved for a height of 550 feet, Tower II will only rise 476 feet or 47 stories and house 506 luxury residences.
Designed by Arquitectonica, the other two towers are approved for a height of 828 feet and 877 feet above ground. The mixed-use project is also expected to include a 5-star hotel, class-A office space, full-scale retail, and a boat dock.

Dezer Development's Uptown Harbour – North Miami Beach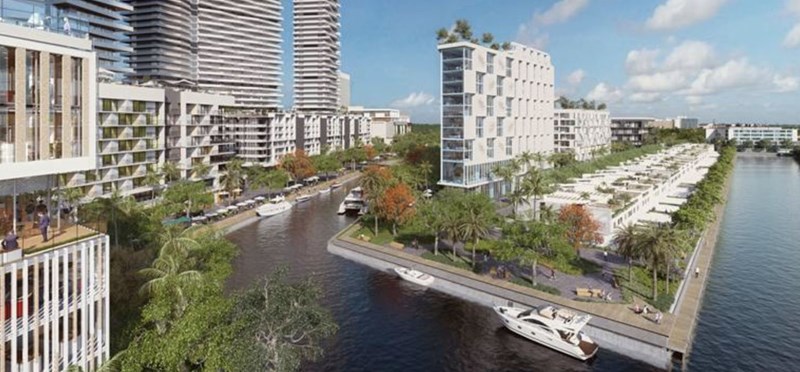 Dezer Development's North Miami Beach project seems to be running into challenges as neighbors sue to overturn its approval. (The $1.5 billion redevelopment was approved on its third presentation to the city commission.) Calling the city's approval "improper," a homeowner's association has challenged the city's rezoning of the Intracoastal Mall for the 30-acre project with a lawsuit.
If completed, the mega-development plans to include 5 towers, up to 40 stories tall with a total of 1,750 luxury condos, a mid-rise rental building with 200 apartments, 50 townhouses, 250 hotel rooms, a new 280,000-square-foot shopping center, a 50,000-square-foot supermarket, a 45,000-square-foot gym, 200,000 square feet of office space, and 9.4 acres of open spaces (inclusive of a brand-new canal and park).
Designed by Zyscovich Architects, the project would also feature public sector improvements such as building a fire station, police department, community center, 6-acre park and other infrastructure.
Are you interested in buying a pre-construction condo in Miami or Fort Lauderdale? Let us help you find the right unit, in the right building at the right price. Call, e-mail, or chat to have an experienced real estate agent help you with your homebuying or investment property in South Florida.


---

Not ready to make the move? Read our Comprehensive Guide to Buying a Pre-construction Property or Condo in Miami here.

Cover photo: One of five designs available for the 15 villas at The Ritz Carlton
Share your thoughts with us
Sign up now
Get news and updates delivered to your inbox