These Top Interior Design Names are Transforming Miami
Oct 14, 2020 October 14, 2020
Who doesn't love the feeling of being inside a beautifully designed space, with calming colors, luxurious fabrics, inspiring views full of light, and a general sense that all is well? It's no secret then that we give a lot of attention to interior designs and designers for our homes. After all, it is where we spend a lot of our time, relax with loved ones, indulge in our favorite pastimes, unwind, and simply breathe. So naturally, it should be a space that is warm, welcoming, and one that resonates with our personal aesthetic.
Considering this, and that Miami is in the global spotlight each year for its international art, design and architecture (think Art Basel, Design Miami, Arquitectonica, Kobi Karp, Zaha Hadid), plus it is the #1 fastest-growing luxury real estate market in the US (according to this 2019 Knight Frank Wealth Report), developers know that it will take much more than a waterfront condo with an ocean view to create inviting and iconic residences for Miami's design-minded residents to call home. 
From CEOs to global investors, tennis stars to music legends, and everyone in between, scores of individuals move to Miami daily. So, who do developers turn to create world-class living spaces that appeal to a global sensibility? Some of the best interior designers in the world. While you may know some of Miami's top international architects, here's a look at the Top International Interior Designers that are creating some of Miami's most desirable and notable condo residences:
---
Notable Miami Interior Design Condo Projects: Elysee



Jean-Louis Deniot - Photo courtesy of Deniot.com

Known to walk the fine line between minimalism and excess, this Paris-based designer is famous for his emblematic interiors that are both bold and informal. The French designer uses a blend of styles and textures from different time periods to create elegant, serene, yet dramatic living spaces with a strong character. 
Calling his décors his playground, Deniot establishes coherent color palettes, accentuated by flawless lighting to deliver a statement of a design each time. Having styled a number of private residences and townhomes in almost every major city in the world, including London, New York, Chicago, Corsica, and New Delhi, the French designer embarked on his first-ever condo project in Miami.
Crafting the interiors of the soon-to-be-delivered Elysee in Edgewater, Deniot drew inspiration from Miami's glamorous mid-century past, architecture books by Morris Lapidus, the tower's multi-tiered silhouette, and more. Residents will find a sense of refinement in the geometric diamond shapes and retro-style furnishings used by the designer to create a classic-contemporary space marked by comfort and openness.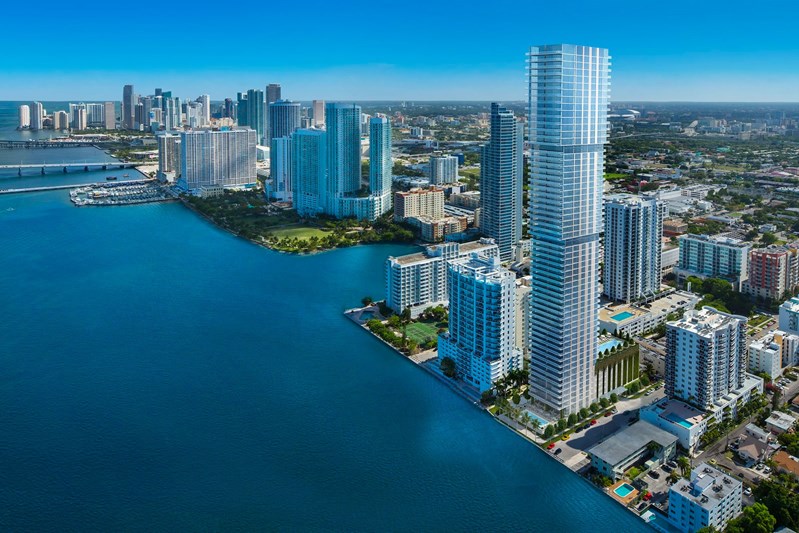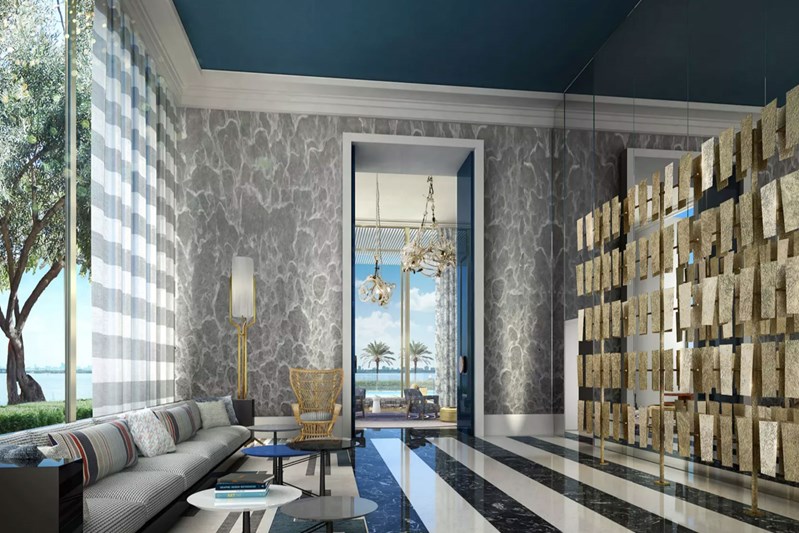 ---
Notable Miami Interior Design Condo Projects: Eighty Seven Park

Denis Montel, Artistic Director - Rena Dumas. Photo courtesy of Arkitexture

Rena Dumas Architecture Intérieure (RDAI) is the Paris-based design studio founded in 1972 by the late Rena Dumas. The much-admired interior designer was known for crafting elegant spaces that embraced flow and light, and combined the particular with the universal. After her demise in 2009, the international design studio was placed in the careful hands of Denis Montel, the firm's current Artistic Director. 
The Paris-based studio still goes by the design philosophies of its late founder, which is substantiated by their long-standing relationship with Hermès; Rena's husband, Jean-Louis Dumas, was the fashion house's former president, and the luxury brand has continued to have its remarkable interiors designed by RDAI.
With 2015 bringing in diversification for the design studio to hotels and condos in the U.S., RDAI joined hands with Pritzker Prize-winning architect Renzo Piano to create the soulful interiors of the recently completed Eighty Seven Park in North Miami Beach. The luxury residences carry a nature-inspired palette, one taken from the pebbles, shells, leaves, and grasses of the surrounding area. Its Venetian terrazzo floors are inspired by Miami's white sand beaches, while the light oak flooring echoes the palette of aged sea grape leaves. Crafted to blur the lines between the indoors and out, the design philosophy seeks to help owners feel inspired by and at one with nature.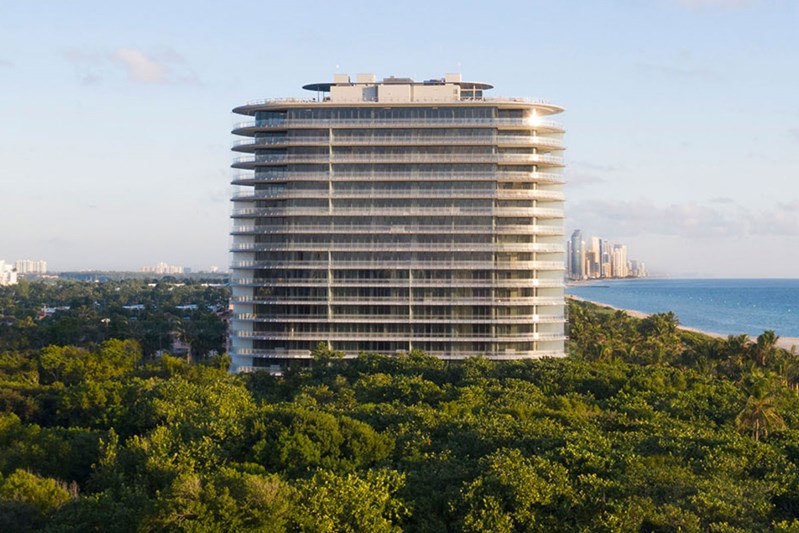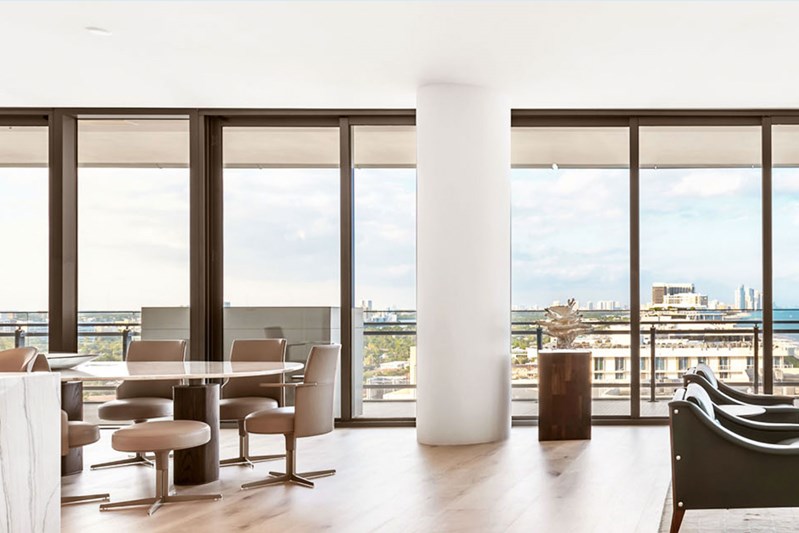 ---

Antonio Citterio and Patricia Viel. Photo courtesy of ArteSurfside

Antonio Citterio is popularly known as the gentleman of design and boasts of his work being part of every significant museum's contemporary design collection. On the other hand, Patricia Viel is known to lend each project an extraordinary narrative and durable solutions. Together, the design duo's firm is known to create concepts that focus on lasting, elegant, and unobtrusive designs. 
For their first-ever residential project in the United States, the legendary firm partnered with Kobi Karp to define a warm, soothing color palette for a distinct Mediterranean style. The instantly recognizable Arte Residences in Surfside are designed with a reference to classic European apartments of the 1920s and '30s. The use of bronze detailing, white oak flooring, and architectural travertine lend an elegant, purist sensibility to the structure. Other noteworthy designs by the Italian Modernists include the Taipei Sky Tower, Poste Italiane's retail concept, and a Sports Center in Lugano, Switzerland.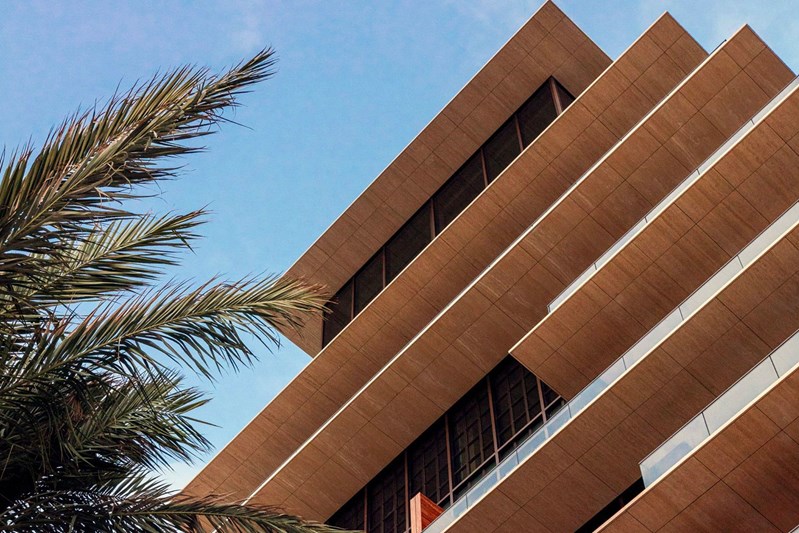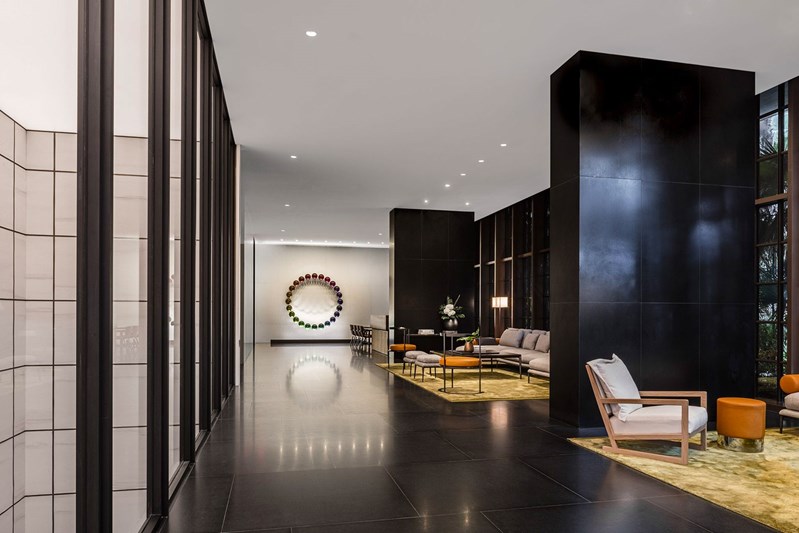 ---
Notable Miami Interior Design Condo Projects: Jade Signature



Pierre-Yves Rochon. Photo c

ourtesy of Four Seasons

Known as the "master of grand luxe," Pierre-Yves Rochon has delivered award-winning interior designs for over 30 years. Crafting the ultimate five-star luxury experience, this French designer is famous for his jewel-like, timeless interiors that are as sophisticated as they are comfortable.
A leader in luxury hospitality design, some of his celebrated clientele includes the likes of Four Seasons, Waldorf Astoria, Ritz-Carlton, St. Regis, Fairmont, Shangri-La, and top chefs such as Joël Robuchon, Alain Ducasse, and Jean-Georges Vongerichten.
PYR by Pierre-Yves Rochon brought its signature design philosophy to condo living in the Jade Signature residences at Sunny Isles Beach. The modern chic residences are designed to be warm and welcoming. The amenity spaces feature a clean white palette accented by colors inspired by the sun, sand, ocean, and lush greenery. Rich materials and mid-century modern furnishings further add to the warmth and comfort of the luxury condo building, infusing it with a timeless appeal.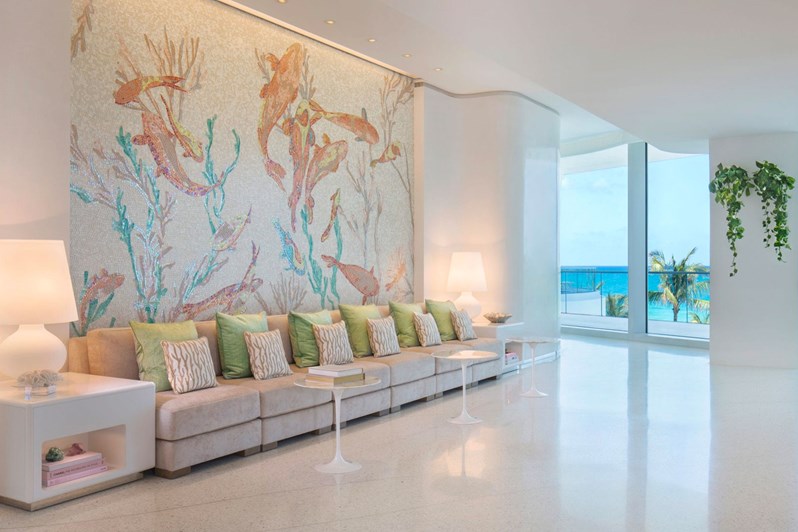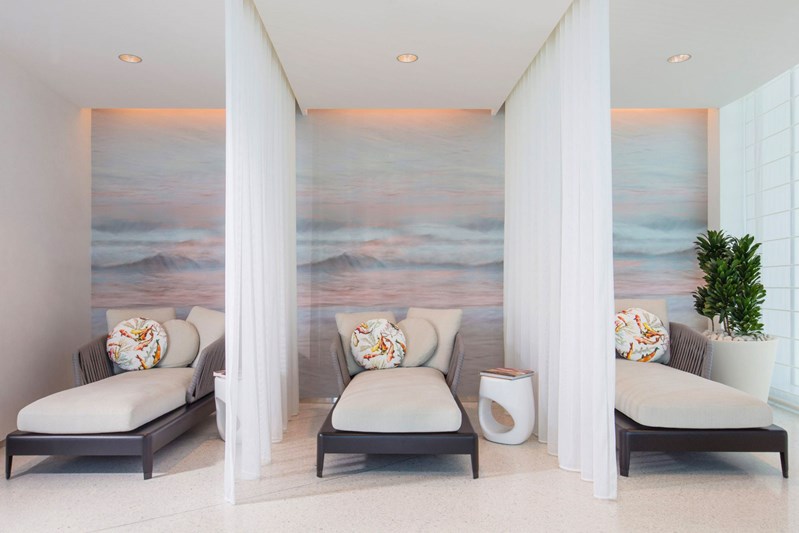 ---

Piero Lissoni. Photo courtesy of Lissoni and Partners

With over thirty years of illustrious works successfully delivered in the fields of architecture, landscape, interior, product design, and more, Piero Lissoni is known for his purist sensibility and as a master of contemporary design. Art director to seven major brands, including Alpi, Boffi, Living Divani, Porro, and Sanlorenzo, the Italian designer's works are recognizable for their elegant simplicity.
With offices in Milan and New York, Piero Lissoni is best known for his sophisticated touches to the Conservatorium Hotel in Amsterdam, Dellis Cay in Turks and Caicos, and the Mamilla Hotel in Jerusalem. The waterfront Ritz-Carlton Residences and Villas of Miami Beach marked the first of several full-scale projects in the U.S. 
Recently completed, the sumptuous Ritz-Carlton Residences flaunt a signature palette of contemplative neutral tones and elements of his signature purity, like the large, frameless windows. For Edgewater's Gran Paraiso, the celebrated designer enhanced the impact of clean, modern lines with the use of rich materials for unmatched elegance. And, at the Monaco Residences in North Beach, planned for delivery next year, he will emulate a Cote d'Azur ambiance with the use of a rich wood palette, warm whites, and lustrous metals.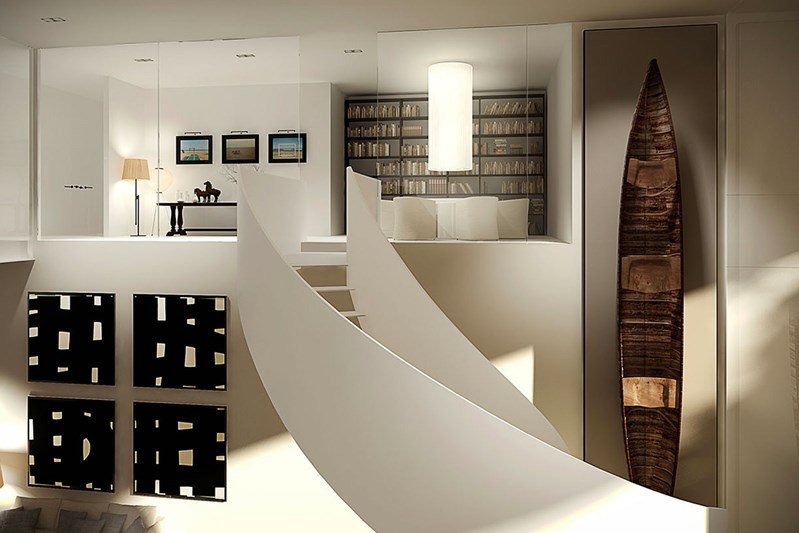 Ritz Carlton Residences Miami Beach (Library)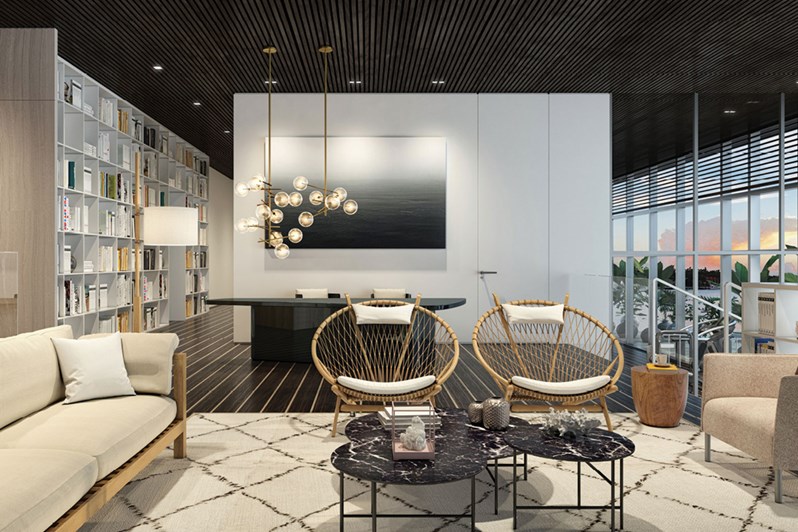 Monaco Yacht Club Residences (Lobby)
---

Michele Bönan. Photo courtesy of MapsWonders

Likening his design process to that of directing a movie, Michele Bönan is one of Italy's most celebrated interior designers. He is known for translating 19th-century aesthetics into a sophisticated version that's relevant today. In his 30-year long career as an architect and interior designer, the acclaimed artist holds harmony, coherence, and irony to be the keys to his stunning creations.
With many award-winning designs to his credit, the Florentine master is best known for designing the Ferragamo family's Lungarno Collection of hotels, suites and yachts, the Cipriani restaurants (including one in Miami), Hotel Continentale in Florence, and the new Hotel Marquis in Paris. 
Claiming to design his hotels as homes, and homes as hotels, Bönan has also lent his style sensibilities to the stunning interiors of the Ritz-Carlton Residence in Sunny Isles. The airy and sunlit interiors are meant to complement the exteriors with cultural sensitivity and the spirit of modern-day Miami upheld.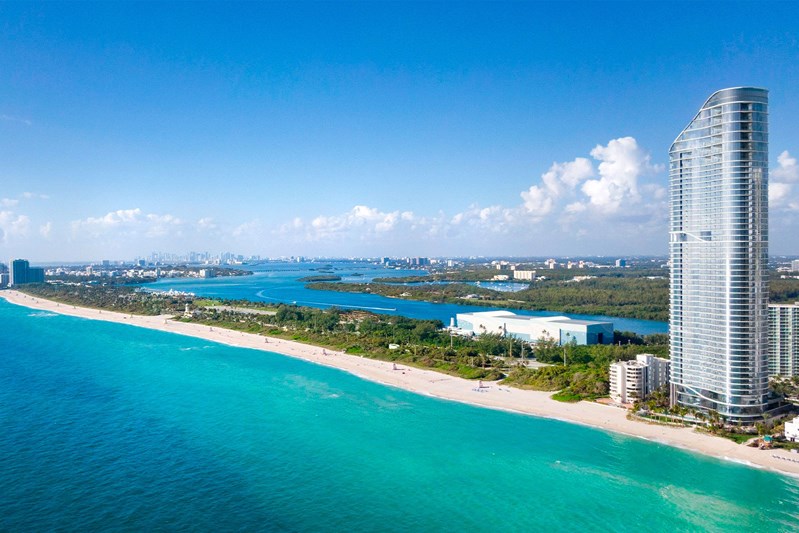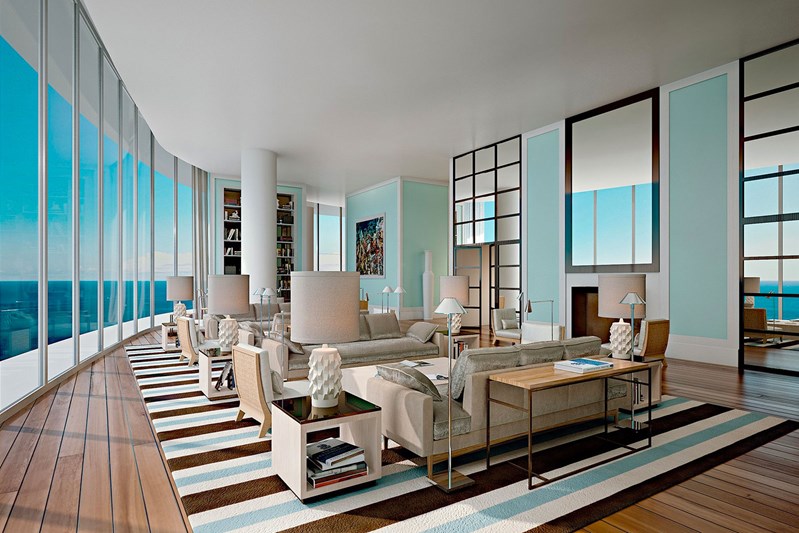 ---
Notable Miami Interior Design Condo Projects: Missoni Baia

Paris Forino. Photo courtesy of ParisForino.com

Named one of the "Top 4 Firms Designing New York City" by the New York Post, Paris Forino Design is headed by Australian-born, New York-resident Paris Forino. The talented designer is known for her inspiring works of understated elegance and is a firm believer in luxury being all about extreme comfort. With function, context and harmony as the cornerstones, her designs are clean and modern, combining tradition with modernity.
For Italian luxury fashion house, Missoni, Paris Forino was the interior designer of choice for their soon-to-be-completed Edgewater project Missoni Baia. Styling the flagship condo tower's residences, furnishings, and artworks, Forino aimed to capture the sunny and optimistic vibe of Miami. The elegantly crafted interiors exude a sense of both vibrancy and tranquility.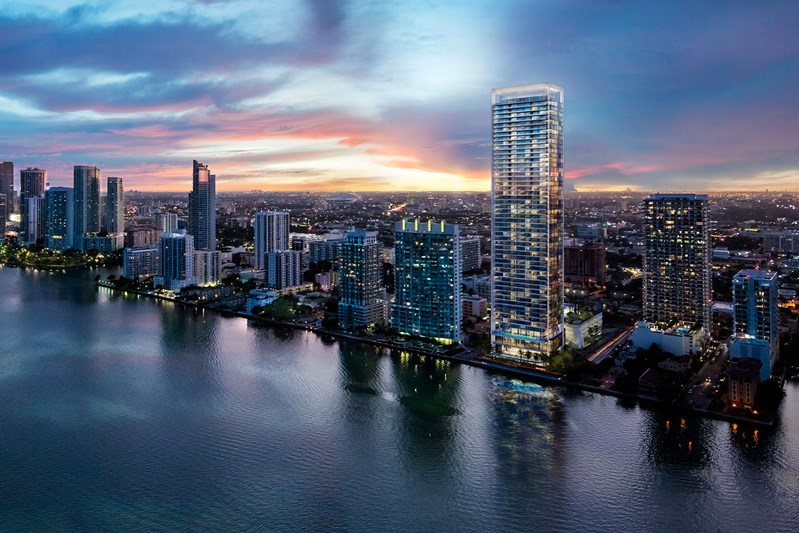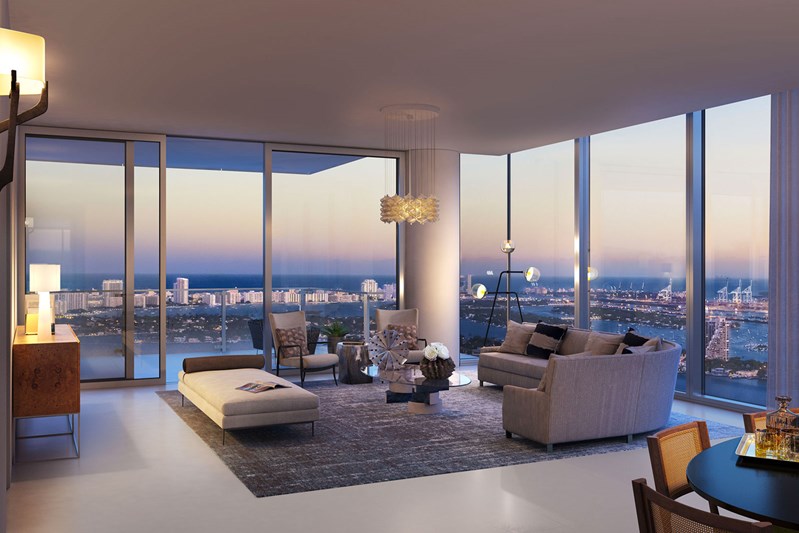 ---
Notable Miami Interior Design Condo Projects: 57 Ocean

Patricia Anastassiadis. Photo courtesy of CASACOR

Known for her timeless creations, the Anastassiadis Studio by Patricia Anastassiadis has been delivering unique experiences in design since 1993. Looking to create spaces that strongly reflect their brand and surroundings, the Brazilian architect has worked with some of the most recognizable brands in hospitality, including Four Seasons, Ritz-Carlton, Grand Hyatt and Fairmont. With an interest in art, history and anthropology, she imbues her designs with material research.
The Art Director of Miami's Artefacto furnishings, Anastassiadis has crafted the interiors for the soon-to-be-delivered 57 Ocean residences in mid Miami Beach. Drawing inspiration from the freshness and lightness of water, the celebrated designer provides a unique resort experience throughout the luxury condo's serene, light-filled homes and common spaces.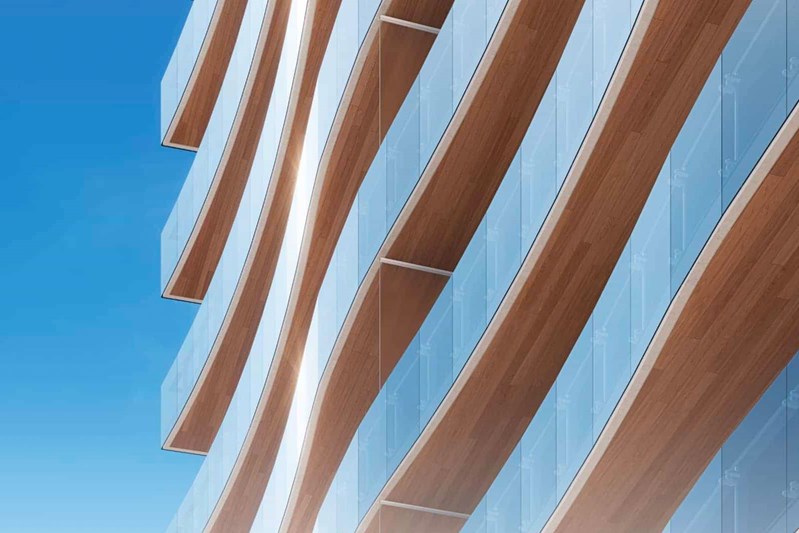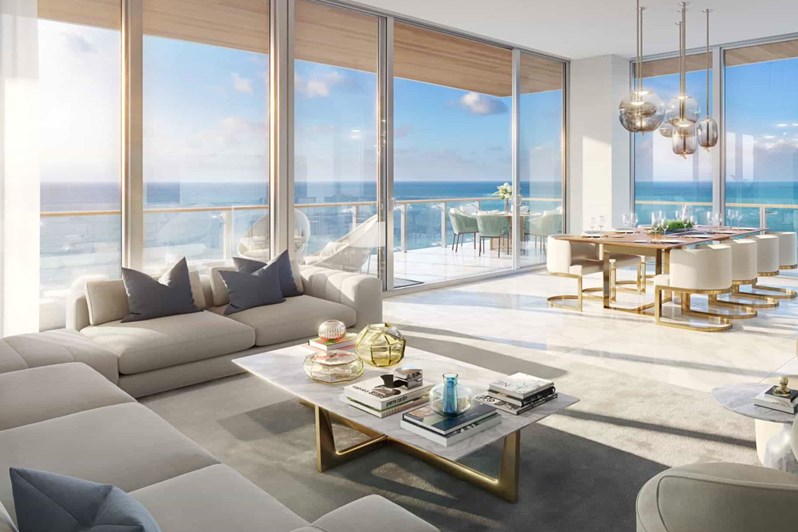 ---


Led by the creative duo of George Yabu and Glenn Pushelberg, this Toronto-based firm has gathered many accolades over the 30-plus years of designing. Its founders have also been appointed the "Officers of the Order of Canada" - the highest honors in the country - for their contributions to design excellence around the world.
Known for their "anything is possible" approach, the international-scale studio, a go-to for luxury hospitality design, has further evolved into a multidisciplinary practice, designing everything from furniture to lighting and graphics. Focusing on design storytelling, some of its prominent clients include The Four Seasons, Hyatt, Marriott, Lane Crawford, Club Monaco, Barneys New York, Louis Vuitton, Carolina Herrera, Ian Schrager, Tiffany & Co.
In Miami, the studio has endowed its unique sensibilities of "giving each project its own voice" on a number of condo residences. For instance, the SLS Lux Brickell features a dramatic yet sophisticated aesthetic, taking cues from the cultural heritage of Havana, with the iconic, star-like Cipher chandelier at the center of the condo-hotel's reception area. On the other hand, Brickell House features an elegant yet urban atmosphere, inspired by New York's Upper West Side. And yet, the Miami Beach EDITION is a much more abstract, modernist symbol of quality and substance.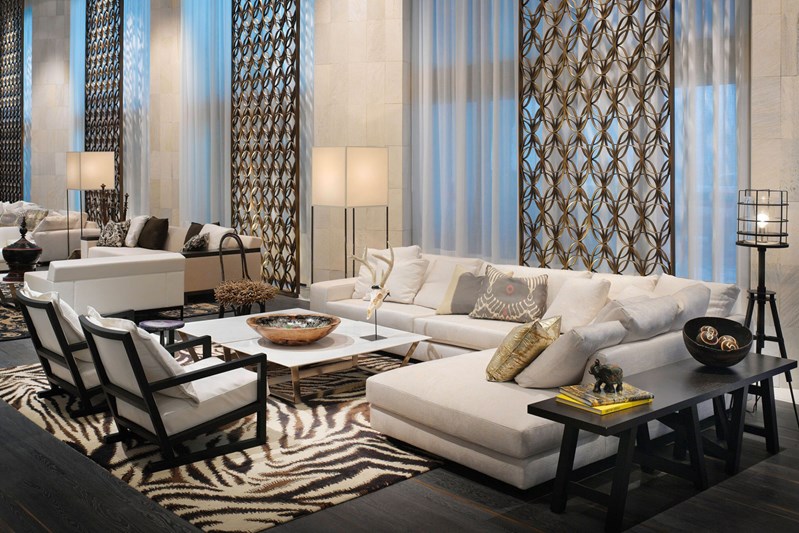 W-Southbeach (Living Room)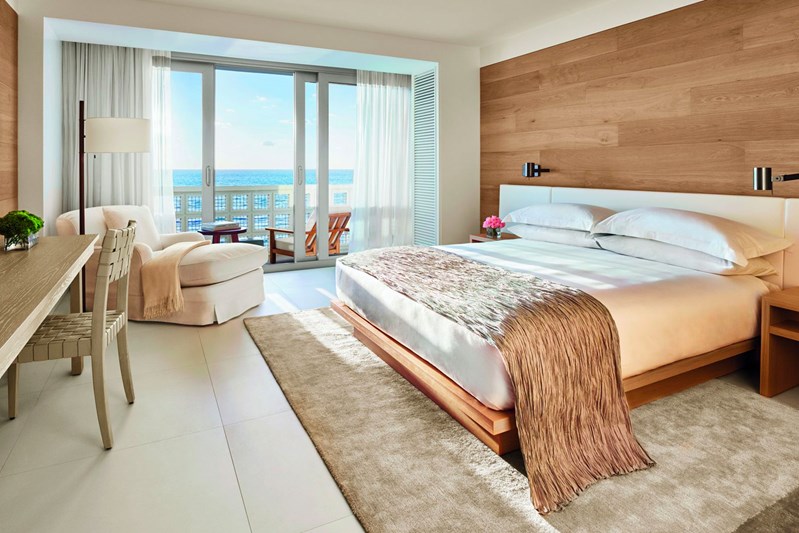 Miami Beach EDITION (Room & Suite)


---

Which of these Miami condo's interior design sensibilities resonates with you? If you'd like more information or to tour one of these residences, call or email us today, and we'll be happy to guide you.

Cover photo: Missoni Baia | Paris Fironi
Share your thoughts with us
Sign up now
Get news and updates delivered to your inbox