Miami's Top 10 Boat-Up Restaurants to Dock and Dine
Sep 06, 2022 September 06, 2022
What could be more quintessentially Miami than spending a weekend afternoon on the water boating in the Atlantic Ocean or our beautiful bays? Naturally, you'll work up an appetite! Luckily, this is Miami and when hunger strikes while you're out at sea, there are plenty of options where you can dock your boat, fill your belly, enjoy a few drinks, and discover some of Miami's best waterfront restaurants, from Miami Beach to the Miami River.
We've compiled a list of our Top 10 (well, technically 12 now) favorite, waterfront and boat-up dining spots across Miami and across all price ranges, all with incredible waterfront views, to help you choose your next feast a waterfront restaurant when you want to dine by boat. From the tried and true Rusty Pelican to the Kiki on the River, we've got you and your crew covered. Here's our list of the best Miami restaurants that you can arrive to by boat or yacht.
---
This article was last updated on September 6, 2022. It was first published on March 17, 2021.
3201 Rickenbacker Causeway, Key Biscayne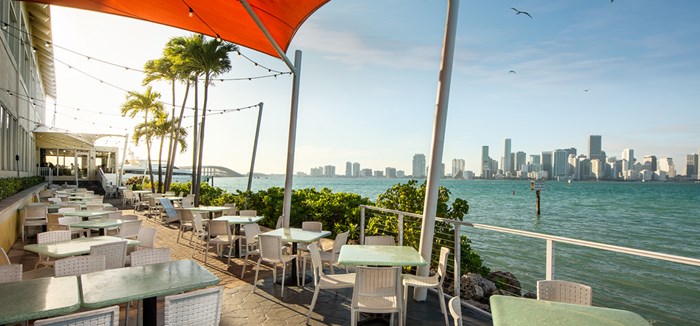 Let's start with a classic, and the home of one of Miami's most celebrated chefs, as well as Florida's coolest mixologists. Overlooking the glittering waters of Biscayne Bay on the way to Key Biscayne, The Rusty Pelican is upscale waterfront dining at its finest, and a favorite hangout to pull up by boat any time of the day.
Enjoy an eclectic menu of the area's best fresh fish and seafood, as well as surf and turf options, sushi, salads and appetizers inspired in the flavors of Latin America and the Caribbean, all while beholding the sparkling city lights along the waterfront and relaxing to cool, soothing music. The Rusty Pelican also has a more formal main dining room or outdoor seating for the ultimate waterfront dining experience in Miami. The Rusty Pelican also has one of the best weekend brunch menus in all of Miami. Boat up and dock at the marina.
3301 Rickenbacker Causeway, Key Biscayne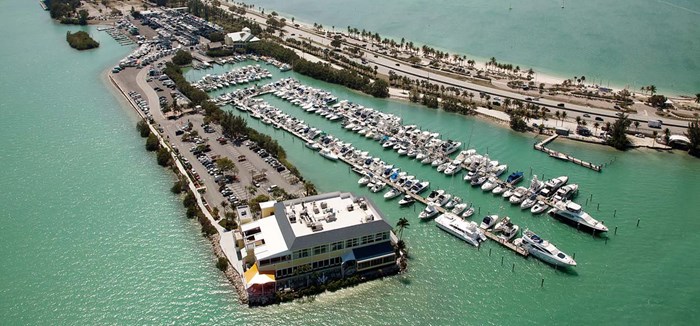 Located on the same point as The Rusty Pelican and under the same ownership, Whiskey Joe's is your casual spot to eat after fishing, water skiing, or when you just want to wear your flip flops and shorts. Known for their mouthwatering island-inspired dishes, classic dishes like shrimp cocktail and fresh oysters, amazing waterfront views from its waterfront bar, and of course tiki cocktails, just dock at the marina and chill in the wide selection of outdoor seating available and enjoy the ocean breezes.
2550 S Bayshore Drive, Coconut Grove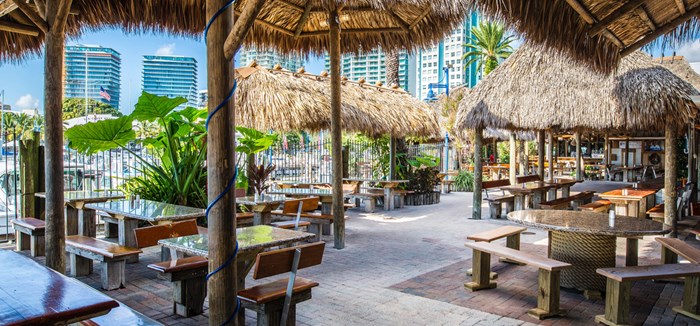 Monty's Raw Bar is a Miami institution for boaters, set along the shores of Biscayne Bay in Coconut Grove. With a large covered, outdoor seating area and main indoor dining room, it's always alive and buzzing. In fact, you can't even genuinely say you've arrived in Miami until you've spent an evening eating, drinking, and relaxing at Monty's! The ultimate seaside raw bar, Monty's delivers a lively bikini-bar environment with live music, hefty portions of fresh seafood, fabulous drinks, Caribbean flavor, and everything that makes the Miami lifestyle. 
If fresh oysters are your thing, you're in for a treat! But the conch fritters, mahi mahi fingers, and popcorn shrimp are also popping! In fact, both the quality of the food and the Magic City experience are guaranteed at Monty's Raw Bar. Come for the sunset and plan to stay way longer than you expected. Dock at the marina or call the Boat Master in advance at 305-854-7997.
398 NW N River Drive, Miami River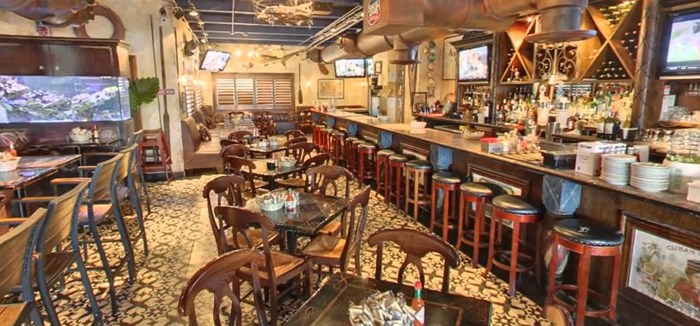 Another not-to-be-missed Miami icon, and something of a famous restaurant in the Magic City, Garcia's Seafood Grille has been around since back in the day before the Miami River got its makeover, when it used to just be fodder for scriptwriters working on Miami Vice. Even then, it was worth making the trip to North River Drive to eat here for super fresh seafood.
Set along the Miami River and offering a distinctively Cuban menu, Garcia's Seafood Grille has been on a waterfront restaurant mainstay, serving up the freshest seafood in Miami, and featuring no-nonsense Cuban classics such as fried whole snapper, paella, and sides like tostones rellenos (fried plantains stuffed with spicy shrimp). Prices are reasonable and the ambiance is very relaxed. This is just one of those down-home places you'll keep coming back to, whether by land or by sea. They also have a fish market, for the freshest seafood in town. With boat-up docks, and casual outdoor dining with a quaint waterfront view, you don't want to miss Garcia's.
400 NW N River Drive, Miami River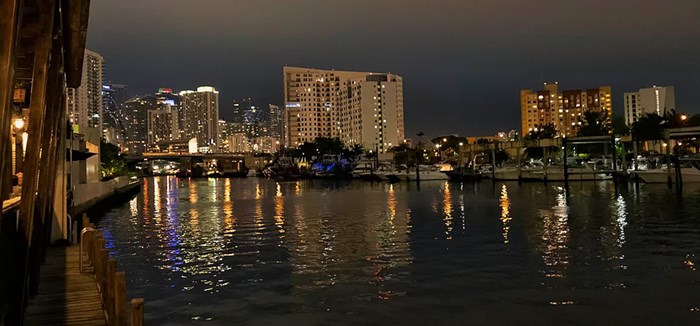 Next door to Garcia's , with a slightly more upscale vibe, Casablanca Seafood Bar & Grill serves up excellent ultra-fresh classic seafood dishes and special signature fare such as crab-stuffed lobster and has long been considering one of the best waterfront restaurants in Miami. 
This internationally inspired eatery also features a raw bar with an impressive lineup of ceviches and tiraditos, as well as such South Florida standards such as stone crabs (seasonal), coconut shrimp, and grilled octopus. Relax and enjoy the laid-back romantic vibe as you watch fishing boats and your fellow boat enthusiasts cruising on the river, or boat-up to the docks. 
422 NW N River Drive, Miami River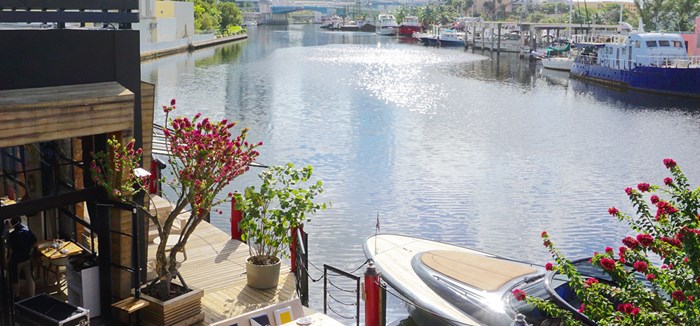 If you're looking for an on-the-water experience that makes you feel like you're worthy of walking on water, splurge on the refined culinary luxury at the ritzy Seaspice Brasserie & Lounge. With incredible waterfront views of the River and the Miami skyline, Seaspice's menu highlights unique signature offerings, such as appetizers ranging from the Hokkaido Scallop Tartare in a mussels reduction with granny smith apples and Ossetra caviar, to the magnificent Grand Seafood Platter and seafood towers that features two pounds of lobster, with prawns, fresh oysters, and Alaskan king crab for $240.
Entrées range from Seafood Casserole to Australian Leg of Lamb cooked on volcanic hot stones at this open air restaurant. If you're looking to boat-up, or yacht-up, for ultra-fine dining, this is the place. Call ahead for docking reservations and information.
50 NW North River Drive, Miami River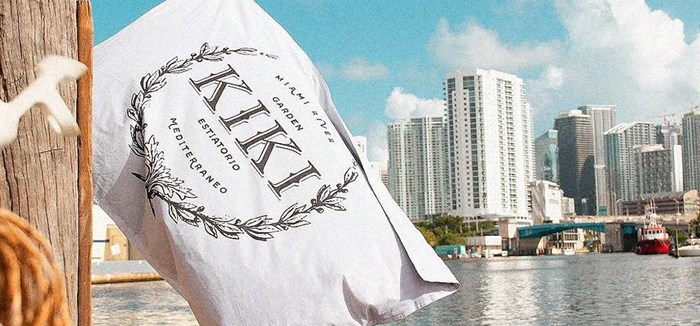 Kiki's is another favorite on the Miami River. With an exotic Greek menu and a romantic outdoor patio on its 150-foot dock overlooking the water, this carefully decorated spot recreates the flavors and character of the Greek Isles with such specialties as their unique Tuna Tartare, served with sides such as grilled vegetables.
Sunday is Funday at Kiki on the River with parading champagne bottles and napkin twirling rituals that will keep you partying all night to fresh beats provided by the house DJ. You'll need to make reservations if you're coming by boat, particularly on the weekend. There is a docking fee of $3 per foot Monday through Friday, and $5 per foot on Saturday and Sunday. If you happen to pull up on a Thursday, you can enjoy complimentary Mimosas and Martinis from 1 to 4pm.
270 Biscayne Blvd Way, Downtown Miami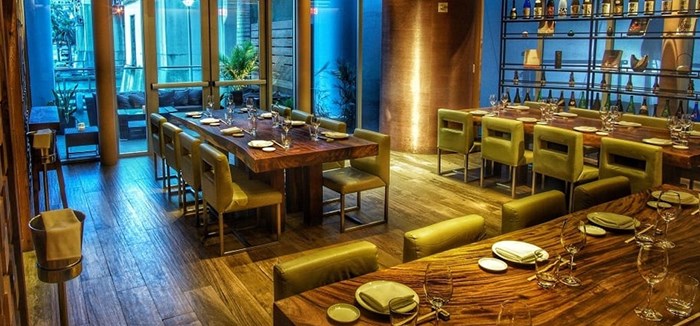 Internationally known Zuma, located at the Epic Hotel on the Miami River, surprises with a unique Japanese izakaya and robata-grill menu and experience. Dine on the Bay on Zuma's casual outdoor terrace and choose from over 80 varieties of sake while enjoying the informal dining experience and cuisine known as izakaya, which has become all the rage in London, Hong Kong, Istanbul and Dubai.
The extensive menu tempts with authentic, though not traditional, Japanese dishes enlivened with quality ingredients, bold, intense flavors, and a simple presentation style in which dishes are shared at the table. Under the direction of world-renowned chef Rainier Becker, Zuma Miami is pricey but well worth the unique experience. Easy boat-up options make this a top-notch experience.
40 Island Avenue, Venetian Islands, South Beach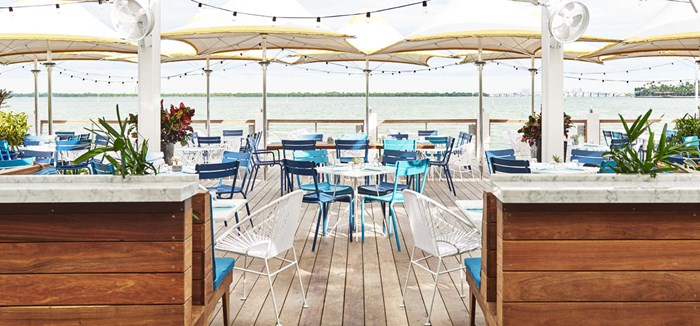 The Lido Bayside Grill at the Standard Hotel is a culinary oasis surrounded by the tranquil waters of Biscayne Bay in the heart of South Beach. Serving up an array of healthy spa and of Mediterranean cuisine along with the best fries in Miami Beach with incredible waterfront views, you can enjoy half-priced specialty drinks during Happy Hour from 4-7pm daily. Terrace dining on a tranquil waterfront deck features a menu of fresh seafood, locally inspired salads, as well as vegetarian and vegan offerings along with a breathtaking view of the sunset overlooking the bay.
And if your boat is on the larger side, you'll feel right at home at the Lido Bayside Grill. They have a few hundred feet of dock space available for boats up to 40 feet, which you can use on a first-come, first-served basis for a docking fee of $50 for the first four hours, which is plenty of time to relax and enjoy a laid-back meal along with a few delicious cocktails in a peaceful waterfront setting with amazing music courtesy of resident DJs.
1100 West Avenue, at the Mondrian Hotel, South Beach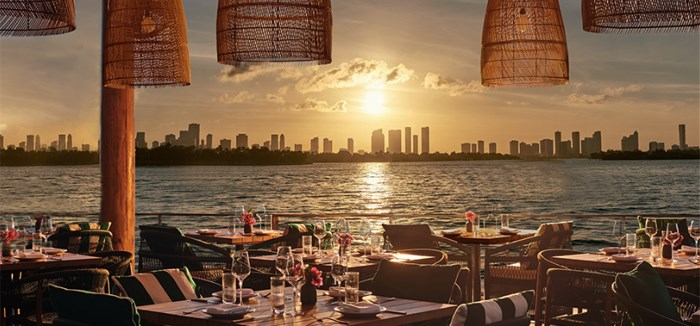 Set overlooking the water with incredible views the Miami skyline, sunsets and the full expanse of Biscayne Bay, Baia Beach Club offers direct marina access and incredible dining options of the freshest Mediterranean fare on West Avenue in Miami Beach. Here, you can dock and dine, reserve a waterfront cabana. daybed or bungalow by the pool, or choose to eat indoors or outside al fresco in an open-air oasis that will transport you to the Mediterranean. 
Serving up breakfast, lunch, dinner and Sunday brunch, Baia Beach Club has something on the menu for everyone, with dishes meant for sharing. From a beets and farro salad, to oysters, grilled octopus and tuna tartare, boat up and sample a full menu of flavors from land and sea, along with delicious hand-crafted cocktails. 
Dockage is free for the first four hours for members, and 3 hours free if you spend $250 for non-members. Flat dockage is $4 per foot with a minimum of 30 feet. Call the marina at 305-514-1926 for more details.
1819 79th St. Causeway, Miami Beach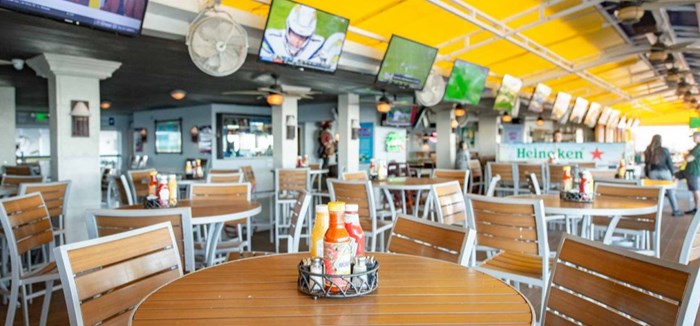 Another local icon, located on the Kennedy Causeway in North Bay Village in Miami Beach, Shuckers has been serving meals for 30 years to hungry guests arriving by land and by sea. The restaurant can provide docking for vessels up to 65 feet and they even offer a new Sail Away menu that allows you to place your order by calling ahead and a staff member will deliver it directly to the dock!
But if your water legs need a rest, you can relax and eat on their spacious terrace with spectacular views of Biscayne Bay. Shuckers is known for its array of fresh and reasonably-priced seafood, along with sports bar favorites like grilled chicken wings, and a family-style menu with specials designed for sharing.
3969 NE 163rd St, North Miami Beach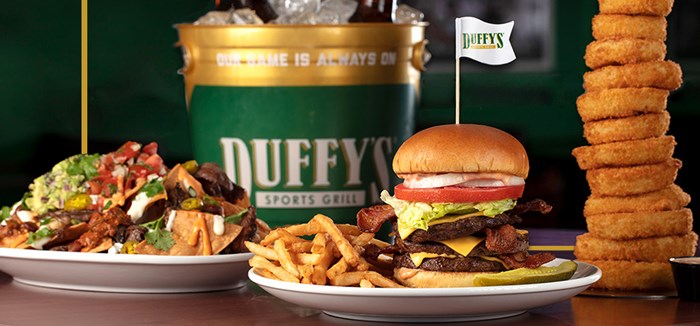 Been out all day in the boat and now want to catch the game? Duffy's Sports Grill is the place in North Miami Beach, perfect if you've been up north. After a day of fishing on the water, this is the place let loose and enjoy a rambunctious sports bar with excellent chicken wings, beer-battered fish and chips, and fried shrimp you can chase down with 2-for-1-drinks all day long, every day of the week. At Duffy's, the menu is affordable and features great burgers, soups, salads, sandwiches, and grilled fish and meats, as well as cheap lunch specials.
With dozens of flat screen TVs on deck, you won't miss any of your favorite sports events. In fact, you can watch them all at the same time, while enjoying a view of the Intracoastal Waterway.  If you need to cool off before or after your meal, take a dip in the pool, located near the boat dock.
Hope you enjoyed our list of Miami waterfront restaurants that you can boat up to. If we've missed a one of your favorite waterfront restaurants, let us know on our social channels @blackbookproperties, or send us a message!


---

With so many options for feasting while boating, you may not want to return to dry land for a while. Our thoughts on this? Ship ahoy and enjoy!





Cover photo: Seaspice Brasserie & Lounge
Share your thoughts with us
Sign up now
Get news and updates delivered to your inbox