The Top 10 Tallest Buildings in Miami You Can Live In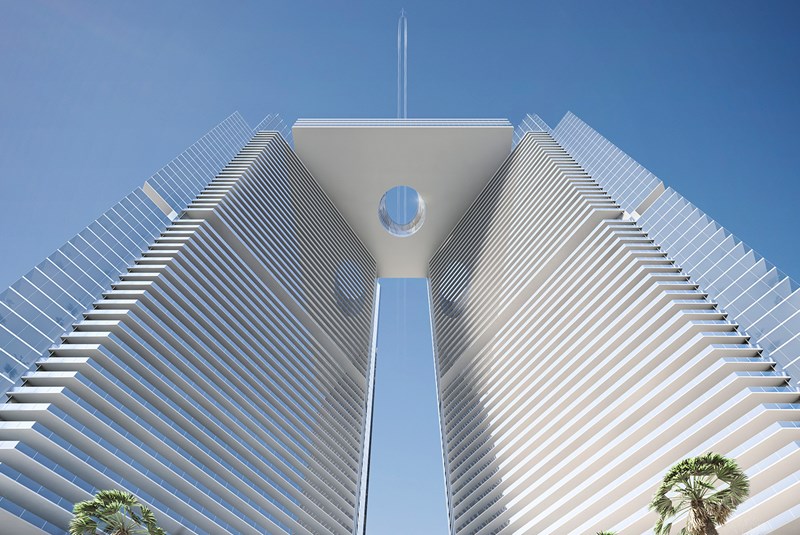 Sep 12, 2023 September 12, 2023
If you've been visiting Miami over the years, you've probably noticed that the buildings keep getting taller. Ever since the FAA (Federal Aviation Administration) upped its height restrictions to 1,049 feet in 2015, Miami's skyline has continued to elevate itself with glimmering designs of glass and light.
The tallest residential building in Miami, as of this post, is the apartment high-rise Panorama Tower at 828 feet. Considering we're only ranking the tallest condo buildings in Miami, you won't find the skyscraper on this list. And as new condo towers are announced constantly, Panorama Tower will soon be forfeiting its Tallest Miami Building title to one of the planned supertalls in development listed down below.
Call them #supertalls or #skyscrapers, this new breed of condo tower (at least for Miami) is set to redefine the city's skyline and take luxury living and the Magic City to new heights, bringing it on par with New York City, Chicago, Hong Kong, and so on. So, which Miami building gets to claim the crown? Check out our list below for the tallest buildings in Miami, and as an added bonus, we'll give you the soon-to-be tallest buildings with our pre-construction list. Prepare if you're scared of heights!

— Top 10
Tallest Buildings in Miami
(Built)
Height: 649 feet
Floors: 57
Year Built: 2021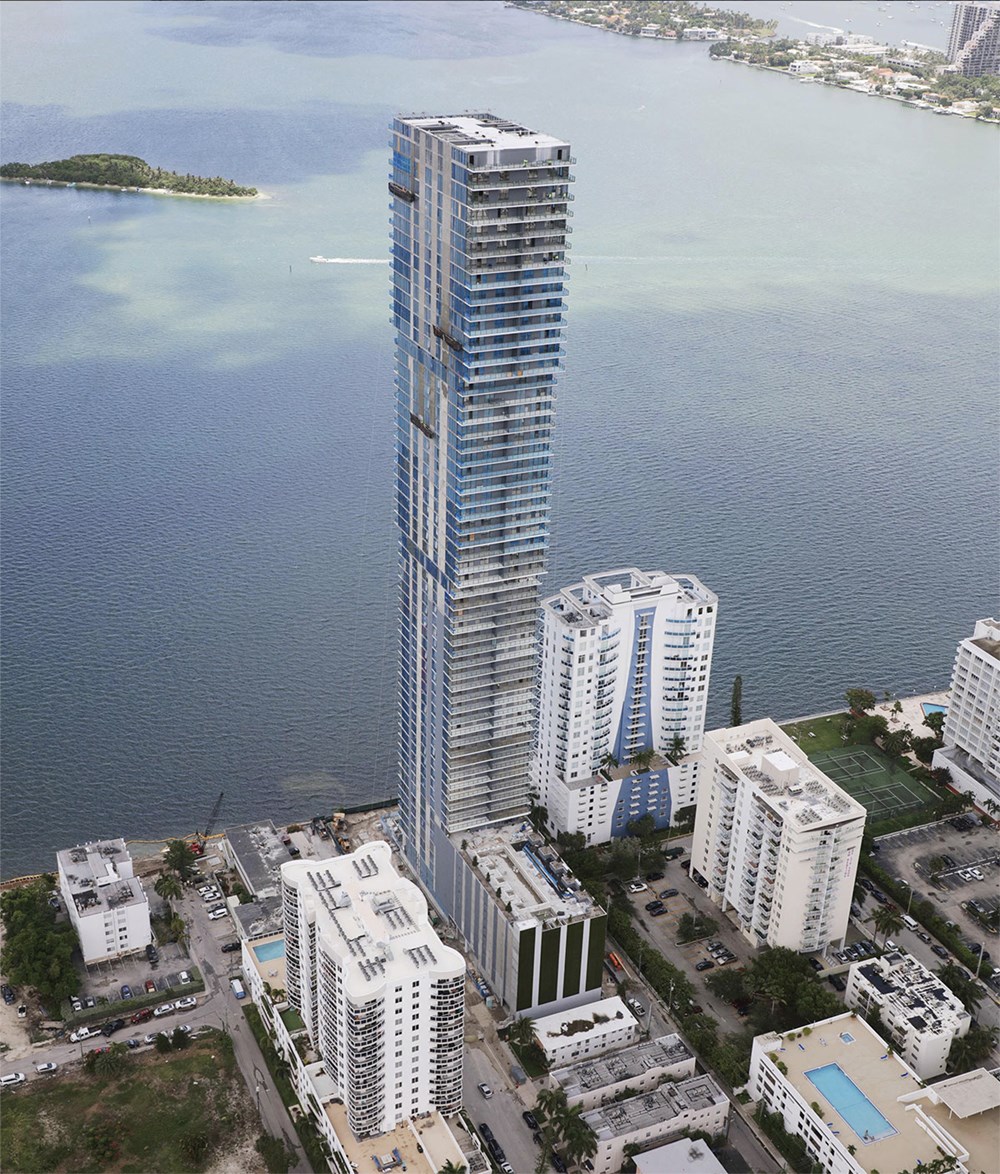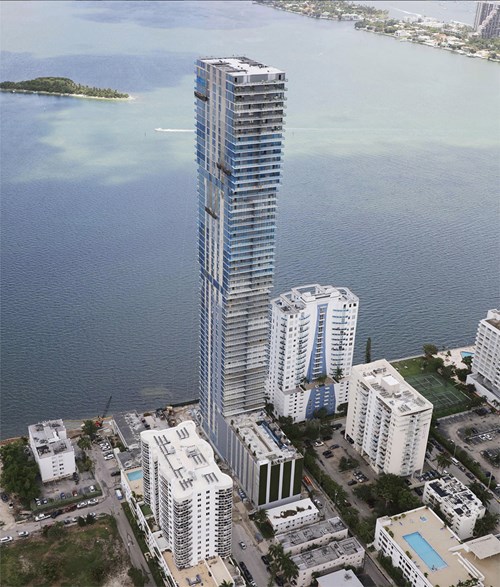 This telescopic tower is one of Edgewater's tallest residential buildings. The first ultra-luxury boutique building in the neighborhood, Elysee has only two residences per floor. All 100 residences feature bay and city views with chic interiors by Paris' famous Jean-Louis Deniot. Standout amenities include multiple pools, an owners' bayfront lounge, a waterfront fitness center, a children's room, a 30th-floor sky lounge, and signature Elysee attaché services.
Height: 649 feet
Floors: 57
Year Built: 2021
Tied in tenth place, Missoni Baia is built to the maximum permissible height in Edgewater of 649 feet. The company behind it is one of Miami's most notable developers — OKO Group.
The 249 luxury residences were designed by Asymptote and Revuelta Architecture, with modern interiors by Paris Forino Design. The brand's signature color palette, zigzag designs, and luxurious home collection can be found throughout. Amenities include multiple pools, one of Miami's largest spas, a pet spa, a Bayfront lounge, a resident's game room, a kids' club, tennis courts, and more.
Height: 649 feet
Floors: 63
Year Built: 2008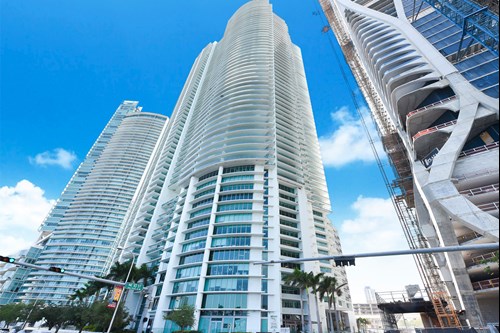 The third building tied in 10th place is this spectacular high-rise in Downtown Miami, which is best known for its undulating façade, wide-open pools, and a 17th-floor observation deck. Each of its 509 residences features interiors by Sam Robin, elevated by natural textures plus direct water views. Some of the amenities include a resort-style pool, a lap pool, a full-service spa, a movie theater, a barbecue area, a piano bar, a children's playroom, and three restaurants.
Height: 667 feet
Floors: 50
Year Built: 2022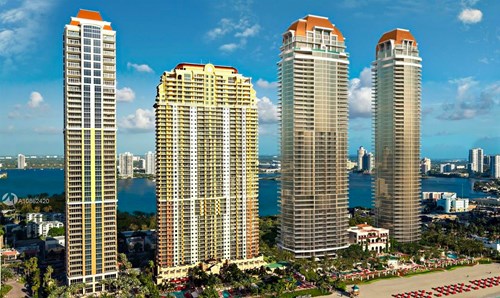 Completed last year, the North Tower at the Estates at Acqualina is now the tallest building in Sunny Isles Beach. The building features 3-to-7-bedroom units with two residences per floor and is also home to a Karl Lagerfeld-designed lobby and the 45,000-square-foot Villa Acqualina, with an Avra restaurant, an ice skating rink, bowling lanes, a golf simulator, a Formula One simulator, a movie theater, a full-service spa, a house Rolls-Royce, and much more.
Height: 679 feet
Floors: 67
Year Built: 2009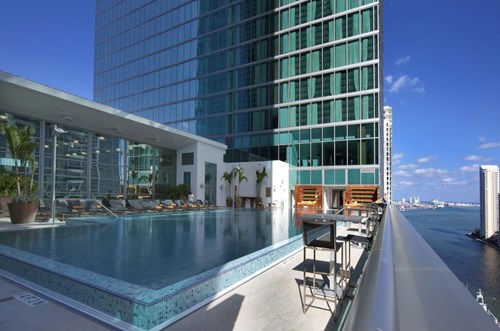 This statement high-rise tower sits overlooking Museum Park and the sparkling bay waters beyond. Home to 292 luxury condos, the sophisticated skyscraper also houses a Hilton-owned, 129-key boutique hotel, with amenities and retail. Besides its signature 8,000-square-foot RockResorts spa, the condo-hotel also features a 14th-floor sky pool and deck with a bar, a fine dining restaurant, Asian-inspired gardens, smart building software, and much more.
Height: 699 feet
Floors: 58
Year Built: 2019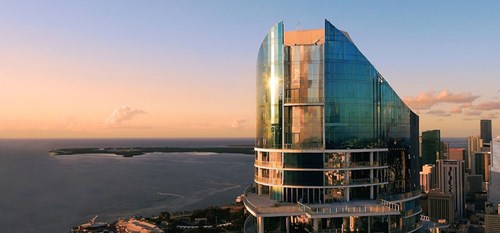 The tower with "the most amenities in the world," Paramount is the tallest building at Miami Worldcenter. Each of its 500+ residences features stunning interiors, convertible dens, 10-foot-high ceilings, and terraces. Some of the amenities include a flying carport, soccer field, tennis and racquetball courts, basketball half-court, boxing studio, jam room, rooftop observatory deck, 7th-floor conservatory and outdoor bath gardens, multiple swimming pools, dog park, and a food market.
Height: 707 feet
Floors: 62
Year Built: 2019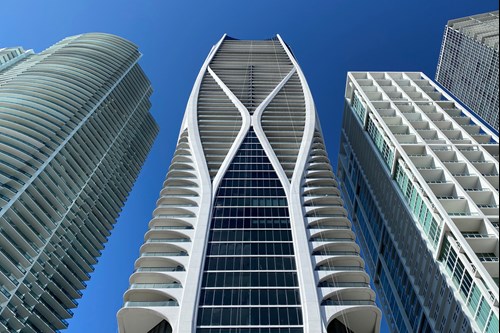 This scorpion tower is the late Pritzker Prize-winning architect Zaha Hadid's final masterpiece. Instantly recognizable, the 83-unit skyscraper's unique exoskeleton is built to maximize living space. Besides being one of the most beautiful and tallest buildings in Miami, and home to several celebrities who live here, like Victoria and David Beckham, amenities include a private rooftop helipad, a double-height Aquatic Center with an indoor pool, indoor-outdoor spa and wellness levels, multiple recreation areas, multimedia theater, and more.
Height: 736 feet
Floors: 64
Year Built: 2019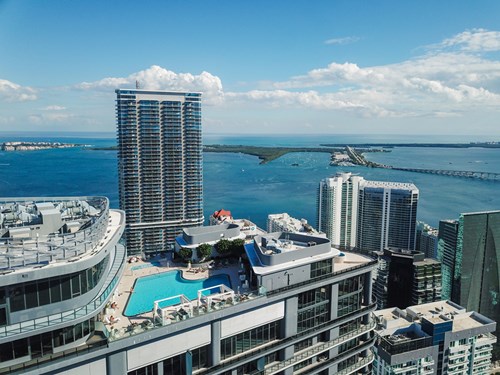 Named Flatiron due to the unique triangular lot it sits on (just like the New York landmark), this ultra-luxury supertall in Brickell is known for its curvilinear design, high-end finishes, and smart use of technology. Some of its amenities include retail and restaurants with room service on the ground floor, two swimming pools, a rooftop sky club featuring spa, fitness, and wellness-related facilities, a rooftop garden, a residents' club room, a children's play area, and more.
Height: 781 feet
Floors: 70
Year Built: 2003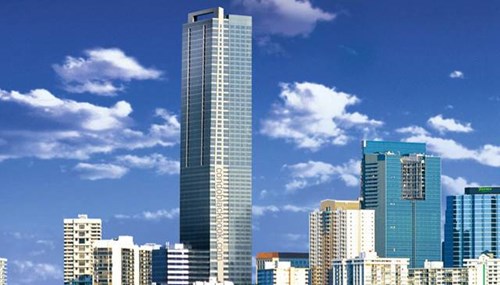 Once one of the tallest towers in Miami and Florida, this ultra-luxury condo-hotel is still the tallest building in Brickell and is known for its outstanding pool deck, complete with swaying palms and fully attended cabanas. It boasts 221 hotel rooms, 84 condo-hotel units, and 186 private residences, with 10,600 square feet of retail space, access to an Equinox fitness center and spa, two fine dining restaurants, an owners' lounge, and more.
Height: 818 feet
Floors: 66
Year Built: 2023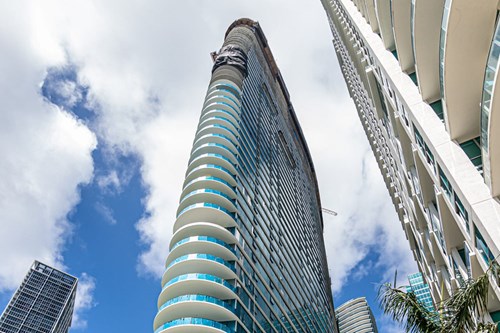 Finally, the title of the Tallest Building in Miami (that is a condo tower) goes to the recently completed Aston Martin Residences! Bringing the British sports car maker's legendary luxury to Downtown Miami, this sail-shaped supertall was designed by BMA and curated by Aston Martin's Marek Reichman. Statement amenities include a rooftop helipad, superyacht marina, full-service spa, fitness center, two theaters, virtual golf, teen room, kids' playroom, membership to the 'Aston Martin Club,' and much more.


— Planned Tallest Buildings in Miami (Residential)

These highrises are in various stages of development, some have broken ground and some are in preconstruction, but once built, these Miami condo buildings will soon be rounding out the list of the Top 10 List for Miami (and Florida), as a lot of them are planned to reach the current FAA height limit in Miami.

Height: 828 feet
Floors: 75
Building status: Completion expected in 2025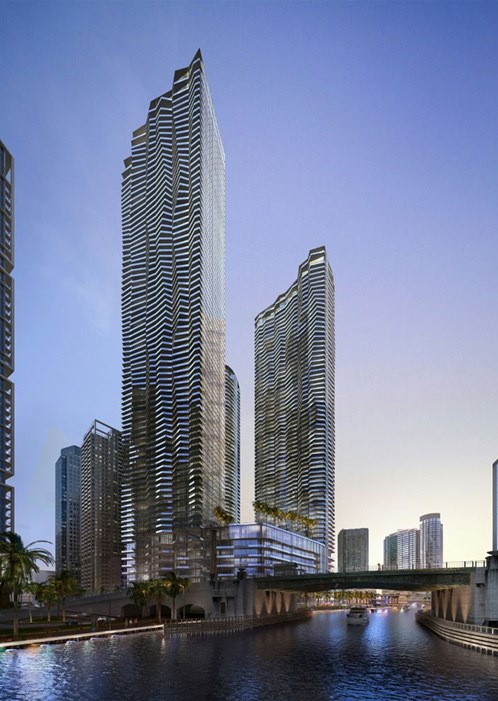 Related Group's most luxurious project to date broke ground in the fall of 2022. With Meyer Davis Studio on design duty, all 318 residences will feature interiors that blend 18th-century Paris and 21st-century Miami, with a hint of 1930s Art Deco. Highlight amenities include a 10,000 square-foot riverfront restaurant, a marina with yacht dockage, a luxury house yacht, a pool, a game room, a spa, a beauty salon and barber shop, a wine cellar, a grand salon for private events, a children's playroom, private workspaces, and much more.
Height: 861 feet
Floors: 70
Building status: Completion expected in 2027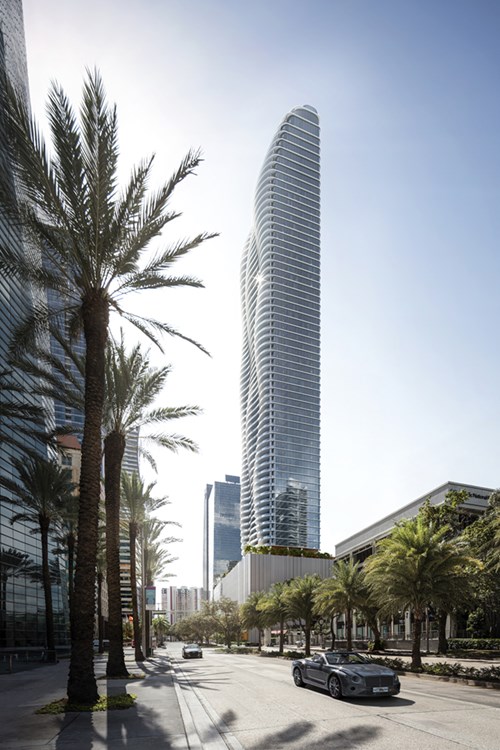 This marks the world's first (partially) solar-powered residential high-rise with a facade of solar panels capable of generating 170 megawatts of clean energy per year, reducing about 4,700 tons of CO2 emissions. Italian starchitect duo Antonio Citterio & Patricia Viel with developer YTech proposed a nature-inspired design with amenities that include a 7th-floor resort deck with two pools, a teen's sports simulator, a children's interactive playground and creativity room, 10,000 sq. ft. of gym and spa space, an owner's club and rooftop observatory, a wine and spirits lounge, and more.
Height: 902 feet
Floors: 70
Building status: Completion expected in 2026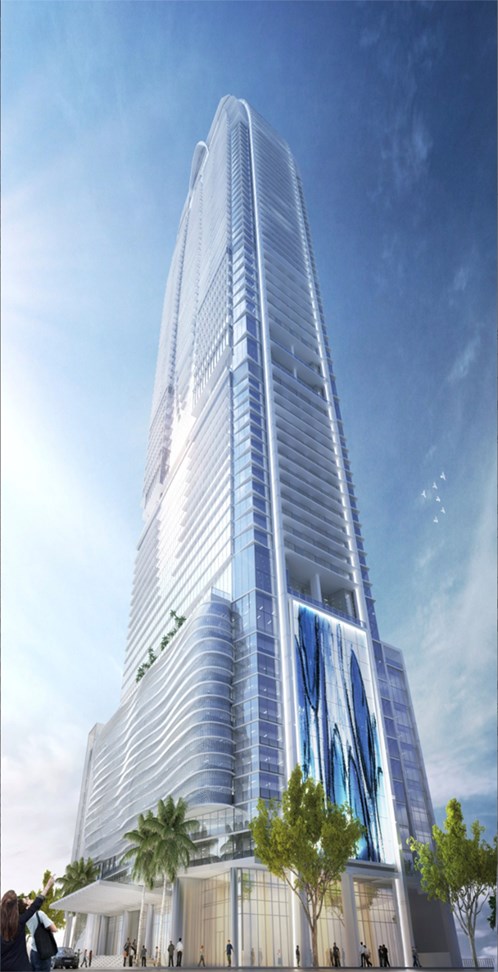 Designed to offer effortless luxury, this supertall will be home to 163 condo residences and 263 condo-hotel suites, in addition to a 316-key Hilton Hotel & Resort. The tower will feature a 70th-floor rooftop pool deck and sky observatory, a 12th-floor lap pool with indoor-outdoor lounge areas, a fitness center with yoga studio, a dedicated wellness spa, a fully-equipped children's sensory and playroom, a wine cellar, an owner's lounge, and much more.
Height: 930 feet
Floors: 70
Building status: Groundbreaking expected in 2024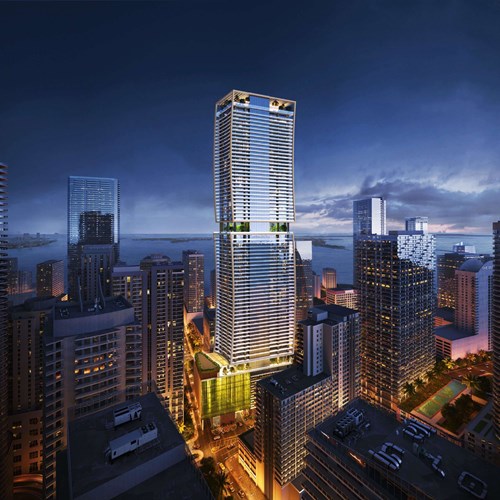 Marking Casa Tua's first-ever residential offering in the world, ORA will feature four distinct food and beverage concepts by the South Beach brand. In addition to 540 fully furnished, short-term-rental-friendly, luxury residences with interiors by the highly acclaimed M2atelier, ORA will also afford access to a rooftop lounge/bar, several restaurants and an Italian market, a dual-floor fitness and wellness center with hammam, a triple-story sky garden, a private event space, plus a members-only rooftop lounge and pool.
Height: 940 feet
Floors: 80
Building status: Completion expected in 2026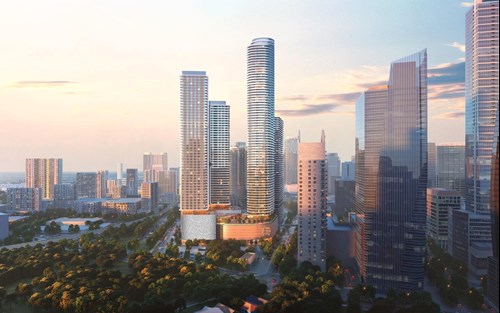 With Cipriani Residences, Brickell will gain one of its most exclusive condo towers, elevated by Italian hospitality. Thoughtfully designed by Arquitectonica, this skyscraper will be home to 420 residences with sophisticated interiors by the UK-based 1508 London. Highlight amenities include a two-story resort deck with two pools, a sun terrace, a Cipriani restaurant with a 24/7 menu, a speakeasy, a holistic spa, a golf simulator, a pickleball court, a movie theater, a kids' club, a dog park, and more.
Height: 1,049 feet
Floors: 82
Building status: Approved by FAA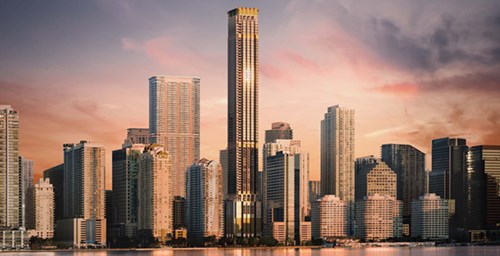 With groundbreaking expected next year, this will mark Dolce & Gabbana's first-ever residential venture at what we assume to be the planned site for the formerly named 888 Brickell project. Designed by Studio Sofield to emulate Gatsby-style exuberance and elevated by D&G's dramatic aesthetic, the tower will feature 259 residences and Miami's first-ever silver and gold pool. Once built, Dolce & Gabbana Residences will be the tallest building in Brickell. If its monikers aren't enticing enough, it will also have a 35th-floor pool and party room, a wine storage, a spa with mineral and champagne pool, a paddle court, a boxing area, an F1 simulator, a golf simulator, about 52,000 square feet of health/fitness space, 38,000+ square feet of food and beverage space, and more.
Height: 1,049 feet
Floors: 80
Building status: Approved by FAA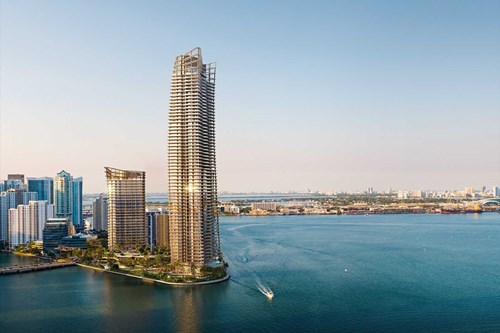 Approved to rise at the maximum height limit of 1,049 feet, this will be the most spectacular addition to Brickell Key and make it the island's tallest building as well. With 220 condo units, this super tall will feature rich interiors designed by Parisian Tristan Auer. Perched on the southern edge of this beautiful island, all residences will be privy to unobstructed water views. Amenities will include a 100,000-square-foot, resort-style amenity podium, multi-tiered infinity-edge pools, a signature spa, a high-end health and wellness club, multiple restaurants, executive work lounges, and landscaping by renowned Thai firm Shma.
Height: 1,049 feet
Floors: 100
Building status: Completion expected in 2026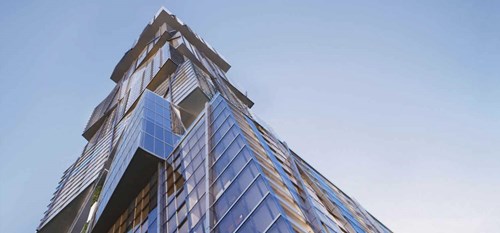 Having broken ground in late 2022 and bringing the history of Waldorf Astoria's exemplary hospitality to Downtown, the Waldorf Astoria is set to become the tallest building in Miami and Florida once completed, adding to the list of Miami real estate facts. This supertall was designed by Burj Khalifa architect Carlos Ott in association with Sieger Suarez Architects and looks like a staggering stack of nine glass cubes. With sophisticated interiors by BAMO, the supertall will have 306 condos plus a 205-key 5-star hotel. Amenities will include a resort-style pool, a signature spa, an all-day dining brasserie, the hotel's famous Peacock Alley Lounge, a Waldorf Astoria kids' club, a wine-tasting room, smart home tech, and much more.

— Special Mentions for Special Heights
Considering certain neighborhoods and municipalities in the Miami area have their own height limitations (set by the FAA), these new condo towers will become the tallest in their respective neighborhoods, even though they'll be short of making the definitive list. 
In Miami Beach, Five Park will become the tallest building, reaching 519 feet with 48 stories, whereas in Sunny Isles Beach, Bentley Residences will claim the title with 749 feet with 62 stories. In second place, the two-tower, residence-only St. Regis will reach 744 and 739 feet, each with 62 stories.
Are you a lover of highrise living? If you are interested in purchasing a residence that stands a cut above the rest, please reach out to us via phone, email, or chat. Our team of local and experienced real estate agents specializing in condos will gladly help you find a Miami residence that soars above the competition.





Looking for a residence that's a cut above the rest, high in the sky? Reach out via phone, email, or chat and we'll gladly help you find a Miami condo that soars above the competition.

Share your thoughts with us
Sign up now
Get news and updates delivered to your inbox