The Top 10 Tallest Buildings in Miami (You Can Live In)
Jun 07, 2021 June 07, 2021
If you've been visiting Miami over the years, one thing you've probably noticed is the buildings keep getting taller, and the skyline keeps growing. Ever since the FAA relaxed its height restrictions more than six years ago, Miami's skyline has continued to elevate itself with glimmering designs of glass and light. The tallest residential building in Miami as of this post is the apartment highrise Panorama Tower at 828 feet. But that won't last for long. Every few months, a new condo tower is announced with ambitions of becoming one of Miami's tallest buildings. 
Call them #supertowers, #supertalls, or #skyscrapers, they're definitely building the city's skyline, reputation, and luxury living to new heights. So, who can claim the title of Miami's tallest building you can call home? Check out our list below of the top 10 Tallest Condo Buildings in Miami – present and under construction – if you like to live above it all.
Height: 649 feet
Floors: 57
Developed by: Two Roads Development
Architects: Bernardo Fort-Brescia, Arquitectonica
Building status: Closings underway



This telescopic tower is Edgewater's tallest residential building (until 

Missoni Baia

tops out at the same height). The first ultra-luxury boutique building in the neighborhood, Elysee has only two residences per floor. 

All 100 residences feature beautiful bay and city views with contemporary chic interiors by Paris' famous Jean-Louis Deniot. Standout amenities include multiple pools, owners' bayfront lounge, waterfront fitness center, children's room, 30th floor sky lounge, and signature Elysee attaché services.
Height: 649 feet
Floors: 63
Developed by: Terra Group
Architects: Revuelta Vega Leon
Building status: Completed in 2008



This spectacular high-rise in Downtown Miami across from Museum Park is best known for its undulating façade, wide-open pools, and a 17th floor observation deck. Each of its 509 residences features captivating interiors by Sam Robin, elevated by natural tones and textures plus direct water views.

Some of the lavish amenities found here include a resort-style pool, a lap pool, a full-service spa, movie theater seating 35, a barbecue area, piano bar with kitchen, children's playroom and 3 restaurants.
Height: 672 feet
Floors: 52
Developed by: Trump Group (Miami's Eddie and Jules Trump)
Architects: CFE Architects
Building status: Under construction, topped out



Recently topped out, the boutique North Tower at the Estates at Acqualina is now the tallest building in Sunny Isles Beach. It comes closely followed by its slightly shorter (646 feet) South Tower. Boasting of estate-sized residences, this luxury tower features 3-to-7-bedroom units with a maximum of only two residences per floor.

The skyscraper is also home to a Karl Lagerfeld-designed lobby and the 45,000-square-foot Villa Acqualina, featuring the New York-based Avra restaurant, a Circus Maximus, ice skating rink, bowling lanes, golf simulator, Formula One simulator, movie theater, full-service spa, five-star beach and pool services, a house Rolls-Royce, and much more.
Height: 679 feet
Floors: 67
Developed by: Leviev Boymelgreen Marquis Developers
Architects: Arquitectonica
Building status: Completed in 2009



This statement high-rise tower sits overlooking Museum Park and the sparkling bay waters beyond. Home to 292 luxury condos on levels 15-64, the sophisticated skyscraper also houses a Hilton-owned, 129-key boutique hotel and amenities on levels 5-14, plus retail on levels 1-3.

Besides its signature 8,000-square-foot RockResorts spa, the condo-hotel also features a 14th floor sky pool and deck, poolside juice and snack bar, club room, fine dining restaurant, Asian-inspired gardens, smart building software, and much more.
Height: 699 feet
Floors: 58
Developed by: Paramount Ventures
Architects: Elkus Manfredi Architects
Building status: Completed in 2019



The tower with "the most amenities in the world," Paramount is the tallest building at the Miami Worldcenter mega-development. Each of its 500+ residences feature stunning interiors, high-end touches, convertible dens (think custom work-from-home solutions), 10-foot-high ceilings, and terraces large enough to fit outdoor living rooms.

Some of this Miami supertall's headline-grabbing amenities include a flying car port, soccer field, tennis courts, basketball half-court, racquetball court, boxing studio, jam room, game room, rooftop observatory deck, 7th floor conservatory and outdoor bath gardens, multiple swimming pools, dog park, and a food market.
Height: 707 feet
Floors: 62
Developed by: 1000 Biscayne Tower, LLC
Architects: Zaha Hadid
Building status: Completed in 2019

This scorpion tower represents the late Pritzker Prize-winning architect Zaha Hadid's final masterpiece. Instantly recognizable, the 83-unit skyscraper's unique exoskeleton is built to maximize living space, frame unobstructed views, and offer more fluidity in the face of hurricanes.

Besides being one of the most beautiful

and

tallest buildings in Miami, amenities at this statement supertall include a private rooftop helipad, double-height Aquatic Center with indoor pool, indoor-outdoor spa and wellness levels, multiple recreation areas for sunning and socializing, multimedia theater, custom scenting in common areas, and more.
Height: 736 feet
Floors: 64
Developed by: Ugo Colombo's CMC Group
Architects: Revuelta Architecture International
Building status: Completed in 2019



Named Flatiron due to the unique triangular lot it sits on (just like the New York landmark), this ultra-luxury supertall is known for its curvilinear design, high-end finishes, and smart use of technology. Exuding bold Italian elegance, each of its 527 residences were designed by master architect Massimo Iosa Ghini.

Brickell Flatiron is one of the tallest buildings in Brickell, and some of its five-star amenities include a curated collection of retail and restaurants with room-service on the ground floor, two swimming pools, a rooftop sky club featuring spa, fitness and wellness-related facilities, a rooftop garden, residents' club room, residents' lounge, children's play area, the "Brickell Flatiron Link" digital concierge app, and electric vehicle charging stations.
Height: 789 feet
Floors: 70
Developed by: Millennium Partners
Architects: Handel Architects
Building status: Completed in 2003



Having previously held the title of the Tallest Building in Miami and Florida, this ultra-luxury condo-hotel is known for its outstanding pool deck, complete with swaying palms and fully attended cabanas. Floors 7 to 36 feature the 221 hotel rooms and 84 condo-hotel units, while the 186 private residences come stacked from floor 40 to 70. At a height of 789 feet, until the Aston Martin Residences are completed, the Four Seasons Hotel and Residences is still the second tallest building in Florida, the second tallest building in the United States south of Atlanta, Georgia, and the second tallest residential building south of New York City.

Besides 10,600 square feet of retail space, the supertall also offers residents access to a 50,000-square-foot Equinox fitness center and spa, two outdoor pools, two fine dining restaurants, an owners' lounge, privileged access to hotel facilities, and more.
Height: 818 feet
Floors: 66
Developed by: G & G Business Developments
Architects: BMA & Revuelta Architecture International
Building status: Under construction



Bringing the British sports car-makers' legendary luxury to Downtown Miami's riverfront, this sail-shaped supertall sets the bar in high-style living. Designed by BMA and curated by Aston Martin's Marek Reichman, residents will be privy to 007-like luxuries including a unique carbon fiber welcome desk, doors with custom handles, custom number plinths, leather door tabs, the brand's signature stitching and color palette.

Statement amenities at this supertower include a rooftop helipad, superyacht marina, art gallery (also available as a virtual experience), full-service spa, fitness center with ocean views, two theaters, virtual golf, teen room, kids' playroom, membership to the 'Aston Martin Club,' butler service, and much more. The building

is expected to be completed

in the first half of 2022. 
Height: 1,040 feet
Floors: 100
Developed by: PMG and Greybrook Realty Partners
Architects: Carlos Ott, Sieger Suarez
Building status: Re-submitted to FAA, previous 1000+ ft height approval expired



Once built, this will be the tallest building in Miami and Florida, bringing the 

storied history of Waldorf Astoria's

exemplary hospitality to Downtown's waterfront. Designed by Burj Khalifa-architect Carlos Ott in association with Sieger Suarez Architects, this ultra-luxury tower looks like a staggering stack of nine glass cubes. With sophisticated interiors by San Francisco's award-winning BAMO, the supertower will be home to 306 fully finished condos and a 205-key 5-star hotel.

Amenities will include an immersive resort-style pool, signature spa, all-day dining brasserie, the hotel's famous Peacock Alley Lounge, a Waldorf Astoria kids' club, wine tasting room, owners' lounge, smart home tech with custom mobile app access, plus preferred rates and access to the hotel's services.


---
Planned – Tallest Buildings in Miami (Residential)
---

Miami holds the title of the city in Florida with the tallest buildings, and doesn't plan to give that up anytime soon. What's more likely is that Miami will start to compete with other major cities worldwide boasting some of the tallest buildings in the United States and the world. 
These highrises are in various stages of development, and if built, will soon be on the Top 10 List of the Tallest Buildings in Miami (and Florida):

One Brickell City Centre
– 1,049 feet, 80 stories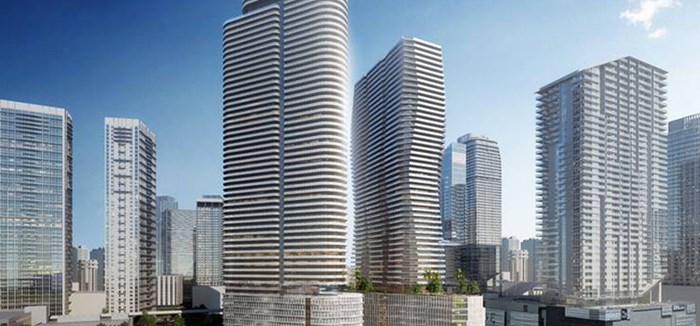 This tower, by developer Swire Properties, was just announced as the next in a series for Brickell. If built, will take the title of the tallest building in Miami and Florida, beating out the famed Waldorf Astoria by just nine feet.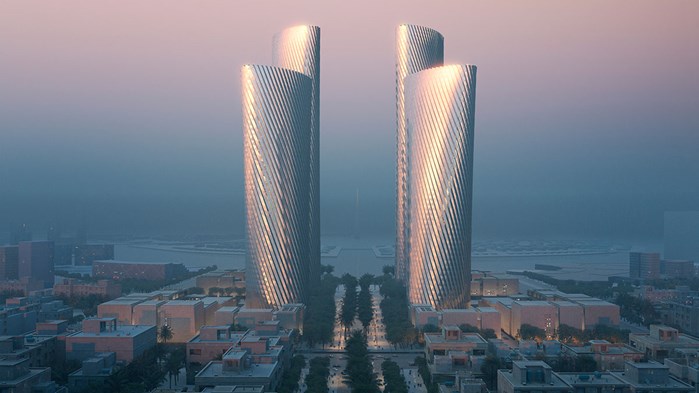 Not to be outdone, "The Towers" will also be vying for the tallest building in Miami (and Florida).  Tibor Hollow and the London design team Foster + Partners are planning two connected buildings and 660 units on Brickell's waterfront. In November 2020, the developer filed plans with the FAA stating that construction is expected to begin in November 2021.

Okan Tower
– 902 feet, 70 stories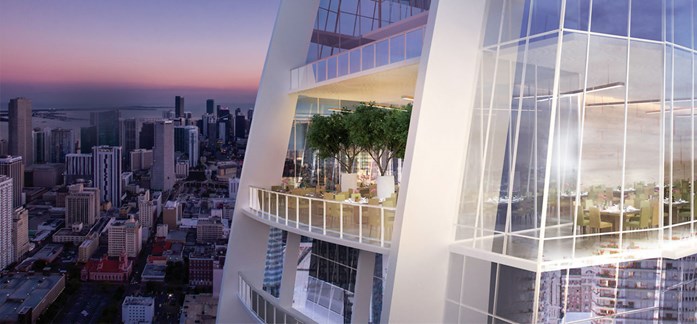 Planned for Downtown Miami's growing Arts & Entertainment district, Okan Tower will rise 902 feet, and include hotel, office and condo units. Designed by Behar Font & Partners, this glass supertall is said to be inspired by  the subtle beauty of a tulip.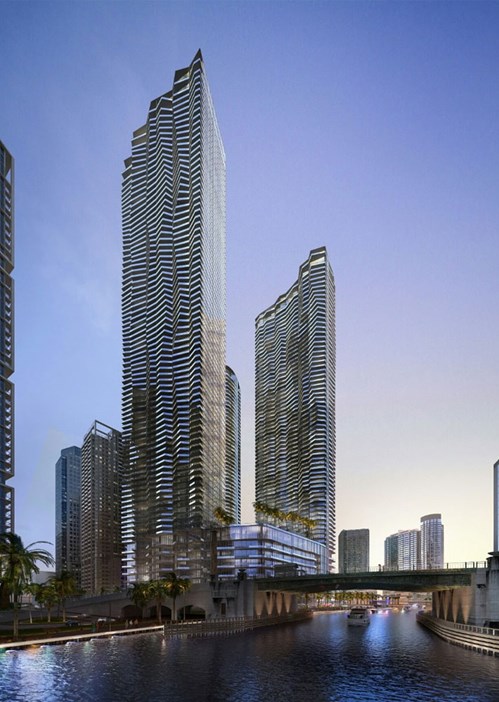 The Related Groups latest and most luxurious project to date, demolition for Baccarat Residences is already underway in Brickell. Sales have begun for the 360 oversized units in this luxury highrise designed by Arquitectonica to resemble crystal. Interiors will be by Meyer Davis and landscape design by Enzo Enea.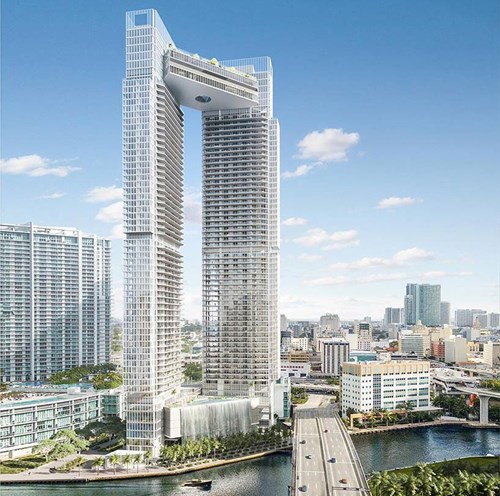 KAR Development still plans to move forward with this twin-tower highrise set on the Miami River. Designed by architect Rafael Viñoly, One River Point will feature two slender 60-story towers rising above a floating podium with an 85-foot waterfall.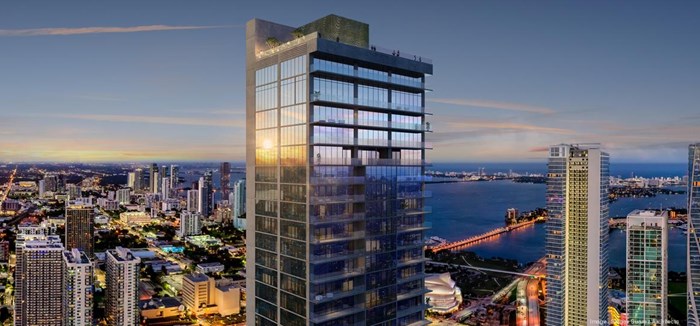 One of Miami's fastest selling pre-construction projects, E11even Hotel and Residences is planned to rise 65 stories in Downtown Miami's Arts & Entertainment District. Housing 400 luxury condos, all units will have high-end finishes curated by the New York-based AvroKo Hospitality Group. The condo-hotel is designed by Miami's award-winning Sieger Suarez, and owners will have the option to enroll in the condo-hotel's short-term rental program. Construction is expected to begin in late summer 2021.


---
Keep a watch on these and other Miami highrise projects in development. 
---

Legacy Miami Worldcenter
– Approved for 661 feet, applied for increase to 681 feet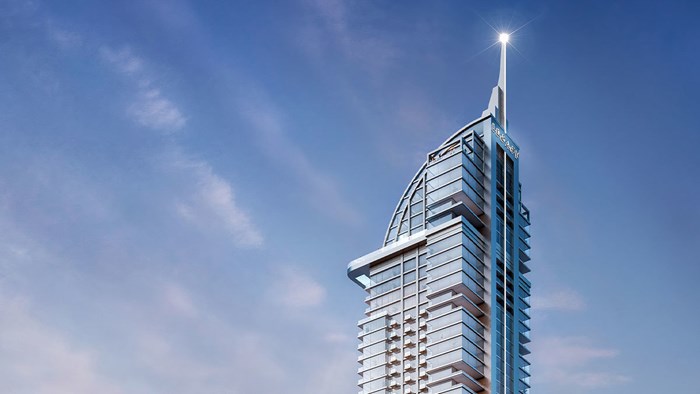 Located in Downtown Miami, Legacy Hotel & Residences is Miami's introduction to microLUXE living by developer Dan Kodsi. Designed by Kobi Karp, the 50-story tower will house 549 concept residences with an avant-garde set of amenities. The project is expected to break ground this year. 

Missoni Baia
– 649 feet, 57 stories – one of tallest buildings in Edgewater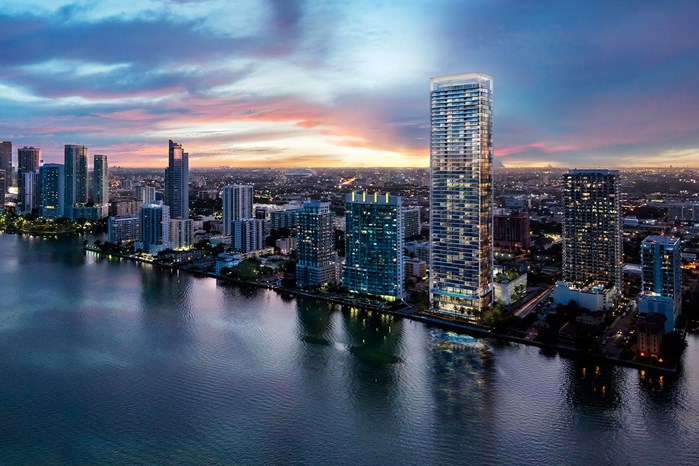 Nearing completion, Missoni Baia will offer 249 units inside the 57-story luxury condo building set on the bay. A first by the Italian fashion house of Missoni, the building is designed by Asymptote and Revuelta Architecture and New York's Paris Forino Design crafting modern interiors. All greens and open spaces are landscaped by Enzo Enea's award-winning Enea Garden Design. Russian billionaire Vladislav Doronin's OKO Group and Missoni joined hands for the project.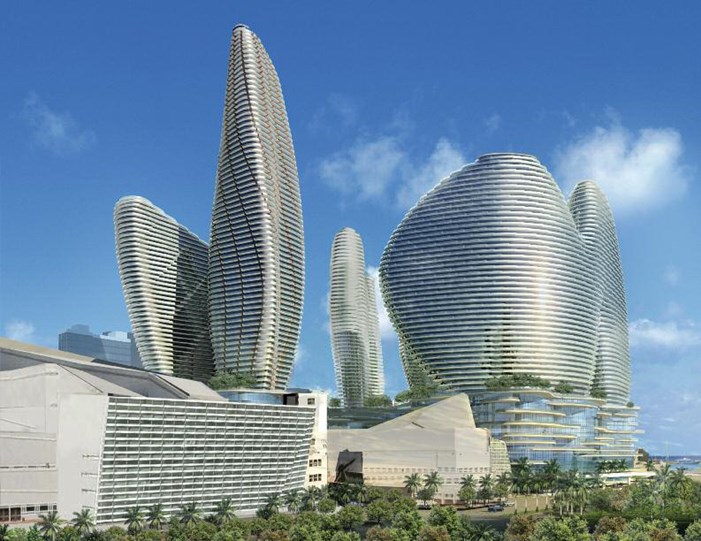 Planned on the former Miami Herald site on the bay near Edgewater, Genting's Resorts World Miami again won approval from the FAA to build the three, 649-foot-tall (above sea level) towers. The project has been in development for many years while its developer, Genting, seeks approval for casinos on the site. 
The project is massive and will include four hotels with a total of 5,200 rooms and two residential towers with 1,000 units. This $3 billion project will also offer a convention center, more than 50 restaurants, nightclubs and the largest ballroom of 200,000 sq ft in the U.S. Resorts World Miami's skyscrapers are inspired by a coral reef and will serve as the centerpiece of a new three-mile Baywalk. 

Five Park
– 519 feet, 48 stories (planned as tallest building in Miami Beach)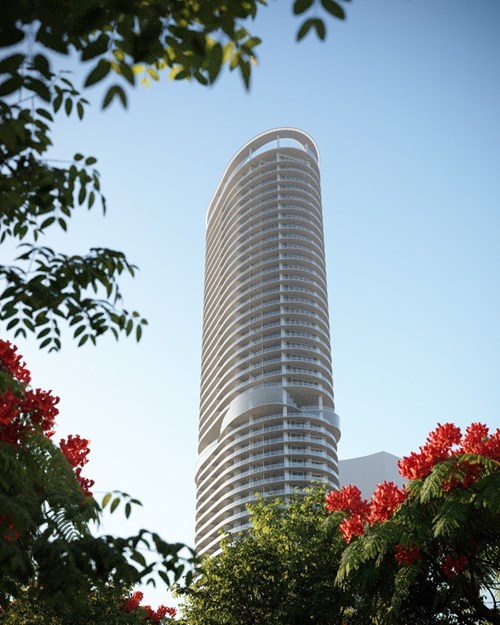 Last but not least, Five Park is notable as it is currently planned to be the tallest building in Miami Beach. Developed by Terra Group and designed by Arquitectonica, the Five Park 519-foot tower will feature 48 stories with 278 residential units set around a new park on Alton Road and 5th Street. The developers recently received a $345 million construction loan for the project.


---

Looking for a residence that's a cut above the rest, high in the sky? Reach out via phone, email, or chat and we'll gladly help you find a Miami condo that soars above the competition.


Share your thoughts with us
Sign up now
Get news and updates delivered to your inbox