Buying a Miami Condo for Daily Rental or Short-Term Vacation Rental? Read This!
Sep 14, 2020 September 14, 2020
With more and more travelers choosing to book with daily vacation rental websites such as Airbnb or VRBO over traditional hotels, the short-term vacation rental business is on the rise globally. Its local reach, luxury amenities and home-away-from-home comfort is what makes this vacation rental model a huge success.
Additionally, when you couple the breeziness of an Airbnb-style vacation rental with a year-round city like Miami, travelers get a phenomenal vacation. After all, it's no secret that Miami has one of the best beach, nightlife, food, culture and shopping scenes in the world, and that's not going to change. This, quite obviously, makes buying a condo for daily renting in the city or Miami Beach a lucrative and smart investment opportunity.
However, before you go property-hunting for your full-time or part-time Airbnb investment, here's what you should know about daily rental condos in Miami:


---
Quick Links
---

Why Invest in Miami?
---


Miami is a year-round city and ranks highly on most people's bucket list of best beaches and cities to visit. Add to that a moderate tropical climate and warm weather throughout the year, an international city that celebrates good food, music, art, architecture, culture and more, and you have a vacation hotspot millions of tourists come visiting each year. Additionally, Miami is a gateway to several international destinations, with direct flights from major European cities such as Milan, Madrid, Paris and London, as well as many Latin American cities. 

Why Invest in a Daily Rental or Short Term Condo in Miami?
---

This is one of the most basic questions you'll want answered before you start thinking about making a purchase for your short-term rental investment. Most people invest in short-term rental condos for three reasons:
A short-term vacation condo rental investment can subsidize your lifestyle or a second home;

A short-term vacation condo rental investment can be a cash flow investment that provides a higher return on invest (ROI) than regular monthly or yearly rentals;

A short-term vacation condo rental investment is a great way to monetize a long-term hold.
Second, as we've mentioned above, Miami is a very popular tourist destination. This 2019 article shows how Miami is one of the top 10 most profitable cities in the U.S. for vacation rentals, with a daily rate averaging $204. Florida also ranks among the 'Top 10 Places in the U.S. to Buy Vacation Rentals in 2020'.
Why buy a condo vs house as a daily rental or short term rental investment? It's quite simple, condos come with a host of amenities (resort-style pools, gyms, and concierges are pretty standard in Miami) giving them a natural edge over other listings. Better still, you don't have to personally worry about their maintenance. Also, at times paying your condo association fees works out to be cheaper than maintaining and running an entire house. (Read more about buying a house vs condo here.)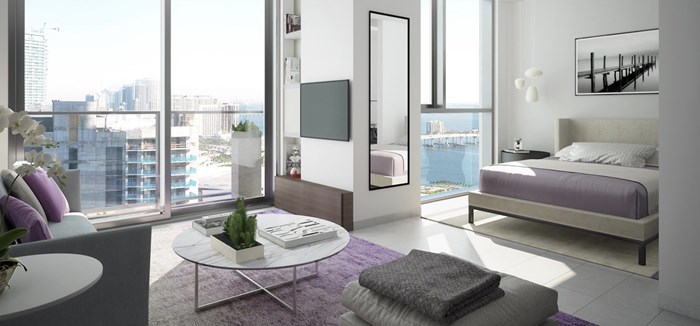 What's the Difference Between a Short-Term Rental and Daily Rental?
---

Although the terms 'short-term rental' and 'daily rental' are/and can be used interchangeably when hosting, there is a difference between the two. For taxation purposes, a short-term rental in Florida refers to residential properties available to rent for six months or less. On the other hand, the Miami-Dade County website defines it as a dwelling unit rented in whole or part for a period of less than 30 days or one calendar month, whichever is less.
So essentially, the term short-term rental is a broader one that includes daily rentals.


If you want to know more about purchasing a short-term or daily rental investment property in Miami, call (305) 697-7667 or email us anytime.

Are Daily Renting or Condo Airbnbs Legal in Miami?
---

Even as both the City of Miami and Miami Beach are equally popular among tourists, they have different laws and approaches when it comes to renting out to Airbnb-style short-term vacation rental platforms.

Miami Beach Short Term and Daily Rentals
The City of Miami Beach has some rules in place when it comes to renting out to Airbnb or any other short-term vacation rental. Most beachfront and bayfront properties, as well as condos South of Fifth and in South Beach's Art Deco allow some form of daily or short-term rentals. You can check to make sure that your condo of interest is in one of the permitted zones of this Miami Beach short-term rental limitations map.
You can also check this Miami Beach zoning map to see if your property is approved for "lodging" or you need to apply for a change of use certificate. And, since only owners can play host in Miami Beach, this puts sub-letting out of the picture. Finally, you'll have to check with the condo board of the building you are looking at to see if they allow short-term rentals in the building. You can also check our list of Miami and Miami Beach condos that allow short-term rentals here.
With Miami Beach being one of the most popular tourist destinations in the city, Airbnb has been in litigation with the local government to find some kind of a middle ground for its owner-hosts.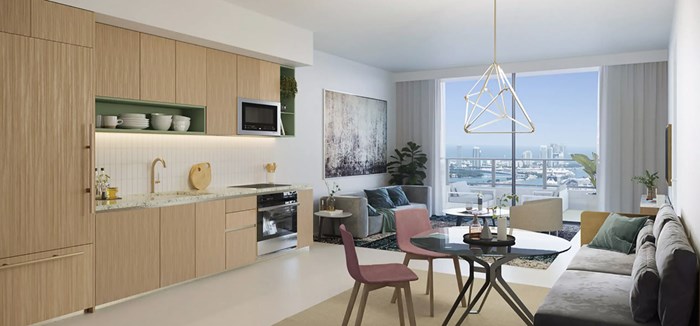 Conceptual rendering - Natiivo

City of Miami Short Term and Daily Rentals
The rest of Miami has far fewer restrictions compared to Miami Beach. A quick check on this zoning map under the Theme section 'Miami 21 (current zoning)' or a call to Miami's zoning department at (305) 416-1499 will help you find out whether the condo building you're eyeing can be rented for the short term. Next, you just need to make sure you comply with the city's requirements before you start renting.

What Are the Best Miami Neighborhoods to Buy a Daily Rental Condo?
---

It's no secret that location is key to a successful short-term vacation rental. However, factors such as a well-maintained property, providing extras, professional-quality photographs, good marketing skills, a quick response time, and great reviews ensure the success of an Airbnb-style vacation rental. 
But since you are looking to invest in a condo so that you can turn it into a profitable daily rental, these popular Miami neighborhoods provide a good starting point: 
Contrary to what most people would expect, this financial district - and not the beach - featured twice on the list of Miami's most wish-listed Airbnb properties in 2019. Home to a majority of banks, offices and consulates in the city, the bayfront area naturally receives the highest number of business travelers. However, Brickell also boasts of some of the best connectivity to public transit options in Miami, plus a host of world-class restaurants and the grand shopping destination of Brickell City Centre within walking distance, it's no wonder condos and penthouses in Brickell are highly favored by Airbnb guests.
Right next door to Brickell and a Causeway ride away from South Beach, this is the home of the AmericanAirlines Arena, Perez Art Museum, Frost Museum of Science, HistoryMiami Museum, Adrienne Arsht Center for the Performing Arts, Miami's popular Edgewater neighborhood, some of the best restaurants in town, and much more. With one of the highest public transit and walk scores in Miami, the neighborhood sees traffic from both leisure as well as business travelers.
Famous for its colorful street-side murals and outdoor cafés, this artsy neighborhood boasts of an enviable walk score of 93. Having emerged as the center for art, fashion, nightlife and globally-inspired dining, the district is known to attract the curious lot. With a lack of hotels in the area, modern-chic loft-style condos are the accommodation of choice for most Airbnb travelers. You can check out the complete list of loft-style condos in Wynwood and the rest of Miami here.
No Miami travel plan can be complete without hitting Miami Beach. South Beach is the hottest tourist destination in Miami, but only ranks a bit lower due to its strict stance on short-term rentals and a significant number of "red zones" completely banning daily rentals. However, this also opens up a great window of opportunity for the condos located in permitted zones by limiting competitions. Penthouses and accommodations with water views are known to receive the highest demand in South Beach.
One of the best neighborhoods to savor natural beauty, this historic city is known for its lush tropical foliage and leisurely pace of life. The Grove's Bohemian charm attracts those who would like to stay removed from the city core and enjoy a quiet, yet scenic vacation. Condos with ocean views, cottages and those close to the coast are known to be in demand among vacationers.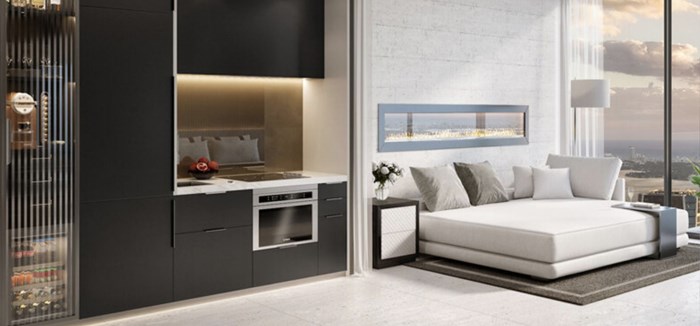 What Size Unit or Number of Bedrooms Is the Best Investment?
---

There is no right or wrong answer to this, since there is demand for short-term rentals of every size and shape, right from loft-style studios to two-bedroom units and five-bedroom penthouses. It basically boils down to the number of beds you have to offer and the kind of travelers you're looking to attract.
It is also worth noting that Miami-Dade County places a general limit of two people per bedroom, with an additional of two per property. It also limits the maximum number of people per property to 12, excluding children under the age of 3.

Condo-Hotels as Daily Vacation Rentals in Miami
---

Investing in a condo-hotel for an Airbnb-style vacation rental business in Miami definitely makes life easier. One of the biggest reasons for this is that a condo-hotel already has all the necessary permits in place and is different from 'lodging' use or 'residential' use, which is where most owner-hosts have been running into issues with the authorities. This also means that condo-hotel owners in Miami Beach can rent out to daily rental websites like Airbnb freely, provided their governing documents allow the same.
Secondly, a condo-hotel is designed to be rented out, which means it already has all the frills and furnishings any traveler could ask for. Further, catering to guests, cleaning up and maintenance is easier too, since the hotel staff is already trained to offer the highest standards in hospitality. However, you should keep in mind that owning a condo-hotel unit works out to be a bit more expensive to begin with and also attracts higher HOA fees. Nonetheless, this should not deter future Airbnb hosts since their location, brand image, and higher service standards also proved the opportunity to generate higher revenue income. You can read more about buying a condo-hotel in Miami, its workings, expenses, and a complete list of properties here.
With an increase in demand for daily vacation rentals in Miami, condo projects such as Natiivo are already being developed with the Airbnb investor-host in mind. With a proper hotel license in place from the very beginning, owners will have the flexibility to live there or have the investment work for them by renting out to their heart's content.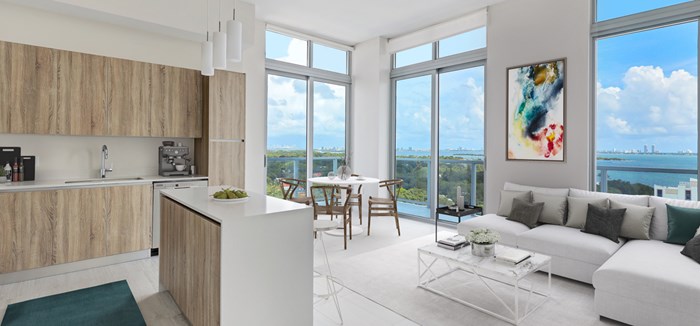 How Do I Know I Am OK with the City's Requirements About Short-term Rentals?
---

Before looking into the City's requirements, you will first need to see if the condo building in question allows daily rentals. This is important not only because condo boards can have their own set of restrictions or even a complete ban on daily renting, but also because the County of Miami-Dade requires written authorization from the condo association in question regarding the operation of a short-term rental. You can see the complete list of Airbnb-approved condo buildings in Miami here or check out the pre-construction condos that are already approved for short-term vacation renting.
Once you've narrowed down your search and have permission from the condo board, you will need the following before operating your daily vacation rental business:

Miami Beach

Rest of Miami
Further, to make sure you are always up-to-date on compliance and standards, keep an eye on this ordinance and requirements page as well as this FAQ page for short-term vacation rentals in Miami.
Even the Airbnb website posts detailed information regarding the rules and regulations to be followed by its Florida owner-hosts in Miami and Miami Beach.

Can and Will a Condo's Daily Rental Policies Change?
---

The answer to this question is found in a 2004 amendment to the Condominium Act. According to the amendment, if at the time of purchase, your building's governing documents allowed short-term/daily rentals and the condo board votes on any restrictions/changes later on, then only those unit owners who consented to the amendment will have to comply with the new rules.
However, these amended terms will apply to all future owners of the unit. This means that if your seller could Airbnb his/her condo, that does not necessarily mean you can too, and thus it only makes sense to take a closer look at the governing documents of your prospective purchase before signing the dotted line. Be sure you have an experienced real estate attorney review any condo or HOA documents and policies, as well as city and county policies clearly to be sure of the legal validity to rent your condo investment short-term or on a daily basis.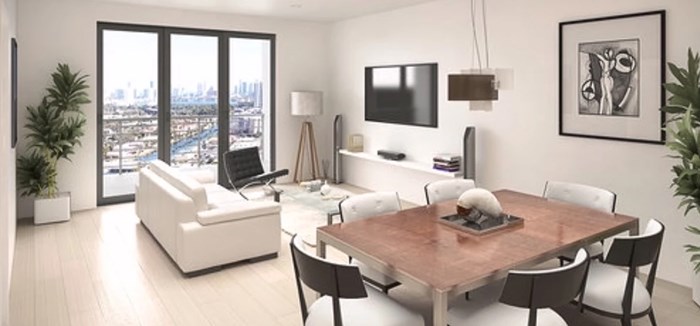 How Can I See the Financials of the Airbnb Investment I Am Interested In?
---

While no one can accurately predict the ROI you could get on your daily rental investment, first ask the current owner if they have any financials that they can provide if they have rented the unit or house. If they do have historical rental financials, just remember that the financial snapshot may not reflect a complete view of the investment's potential if the owner's used the property for themselves as well.
Additionally, there are several online tools and calculators that can help you get an estimate.  
Keeping a note of the following will help as well:
Your monthly short-term vacation rental earnings depend on your occupancy rate multiplied by the price per night. Research websites such as 

AIRDNA

and property management sites like 

AllTheRooms

have detailed paid reports if you need solid numbers on occupancy rates for a certain area.

Your nightly rate will have to cover any Airbnb fee (or whichever daily rental platform you're using), a suitable cleaning fee for regular upkeep, any expenditure related to re-stocking supplies such as treats and snacks, your local taxes, and extra guest fee (if applicable), besides what you seek to earn as profits.

Doing a quick search on similar vacation rental condos in the vicinity can give you a pretty good idea about how much you should be charging per night to stay competitive.

How Do I Find A Good Private Airbnb Management Company and What Do I Look For?
---

The first step is to find the location and property you want. Then, depending on the type of property you have, we can help find a few of the best property management options for your product.
In general, there are two options for short-term rental property management – one, hire a professional property manager or two, use an online software program. No matter what you choose, make sure they are good at the following:
Optimize your listings for short-term vacation rental platforms as well as search engines

Have pricing tools or calculators to optimize nightly rates

Have a quick response time for guests

Have a central/easily accessible calendar to avoid double bookings and keep you informed

Manage all your bookings on a single platform or have a single point of contact for all your bookings and reports

Practice regular reporting of key numbers and analytics

Increase bookings and revenue

Follow up with guests via email/SMS

Provide or give access to professional cleaning, repair and maintenance services
Some popular online platforms offering Airbnb management services/software include Vacasa, Hostfully, Guestable, AllTheRooms, TurnKey, Guesty, and iGMS.

What Are the Other Daily Rental Platforms Like Airbnb?
---

With the ever-increasing popularity of Airbnb and leisure as well as business travelers leaning towards the home-sharing comfort of such platforms, new websites are being added to the mix every year. While you will find a whole variety of websites, ranging from just getting your toes wet to diving in deep, these are known to be some of the most popular ones so far:
We specialize in short-term and daily rental condo investments. If you are interested in purchasing a condo for short-term rental income, please let us know and we'll be happy to guide you to your right Miami investment property. Call us at (786) 930-4220 to help you in your Miami or Miami Beach condo or property search.

Cover photo: Ocean view from east terrance at 57 Ocean
Share your thoughts with us
Sign up now
Get news and updates delivered to your inbox