Miami's New and Pre-Construction Condo Update: April 2021
May 04, 2021 May 04, 2021
The sudden surge in buyer interest in Miami's luxury condo market that started in 2020 continued into April. With businesses and wealthy buyers continuing to pour in from the Midwest, Northeast, and California, developers are lining up new luxury condo development projects. From Dezer Development to Dacra, condo developers of all sizes are betting on Miami's future growth, and the incoming wave of wealthy buyers taking advantage of South Florida's lucrative tax benefits.
Recent Miami pre-construction condo news included Gil Dezer back with a major luxury car-branded condo project for Sunny Isles, Bentley Residences. Dacra is one step closer to realizing its architecturally significant flagship in the Design District. The Shoma Group has a 19-story project approved for North Bay Village. Turnberry Ocean Club is welcoming residents ready to move in. Two new developments have been proposed for Aventura plus Edgewater. And, the developers of Downtown's E11even Hotel and Residences are planning on adding another tower to their kitty, as the first stands 90% sold within just a few months of launching sales.
Read on for details on these new buildings in Miami and more updates in our condo pre-construction roundup for the month. View and search our list of available Miami pre-construction condo units and penthouses, which is updated daily.


---
April 2021 - Miami Pre-Construction Condo Market at a Glance
---

Now Complete
Approved
Proposed
Construction Status
Other Updates
---
Now Complete - Miami Pre-Construction Condos
---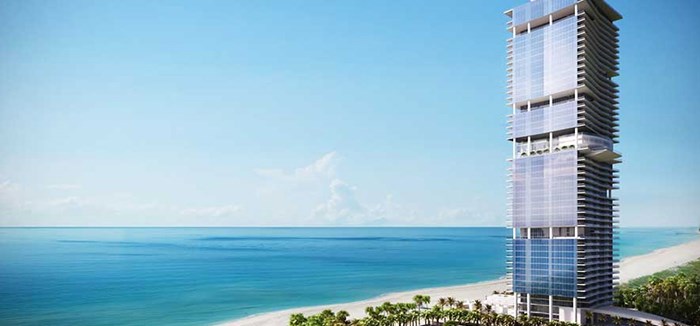 With its Certificate of Occupancy firmly in place, owners can now enjoy settling into their brand-new, oceanfront Turnberry Ocean Club residences. Developed by Jeffrey Soffer, the all-glass, 54-story tower is complete and stands 649 feet above sea level. Following the general trend of surging sales, the newly built high-rise is over 80% sold, with one of its Sky Villas penthouses recently selling for $11 million.
Designed by Carlos Zapata and Robert Swedroe, the tower includes Miami's first residential floating sky pools, suspended 333 feet above sea level, along with 154 tastefully finished luxury condos. Featuring more than 70,000 square feet of amenities on six dedicated levels, buyers also have access to Turnberry's signature golf, tennis, marina, resort and waterpark, along with exclusive Fontainebleau Aviation privileges. Other amenities include three resident-only restaurants, beachside cabanas with roof deck terraces, summer kitchens and hydrotherapy spas, indoor-outdoor fitness center, a Sky Club bar and lounge, onsite guest suites with complete hotel-like services, an outdoor pet retreat and dog walk area, teenager's room, kids' clubhouse, and much more.
Prices range from $3 million to about $35 million, with a choice of three- to six-bedroom residences. To see available units, go here.


---
Approved - 
Miami Pre-Construction Condos
---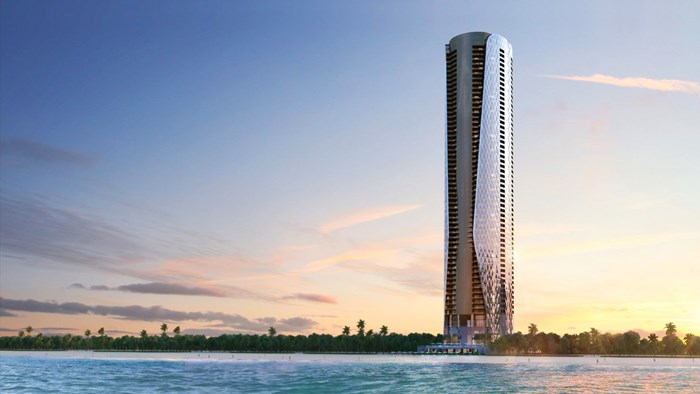 After the incredibly successful Porsche and Aston Martin condo towers, the ultimate luxury car branded condo will be built in Sunny Isles Beach. Developer Gil Dezer is planning the first-ever Bentley Residences. Already approved for a height of 749 feet above sea level by the FAA, this will be the tallest tower ever built on a U.S. beachfront.
Designed by Sieger Suarez, the Bentley Motors-branded tower will rise over 60 stories with more than 200 luxury condos. It will also feature the famous patented "Dezervator," similar to the car elevator in the nearby Porsche Design Tower that allows owners to drive directly to their units. Other amenities will include a pool, spa, gym, cinema, whisky bar, restaurant and lounge, and beautifully landscaped communal gardens.
Construction on the Bentley Residences is expected to begin in early 2023, with completion scheduled for 2026.

Dacra-developed 36-story Tower – Design District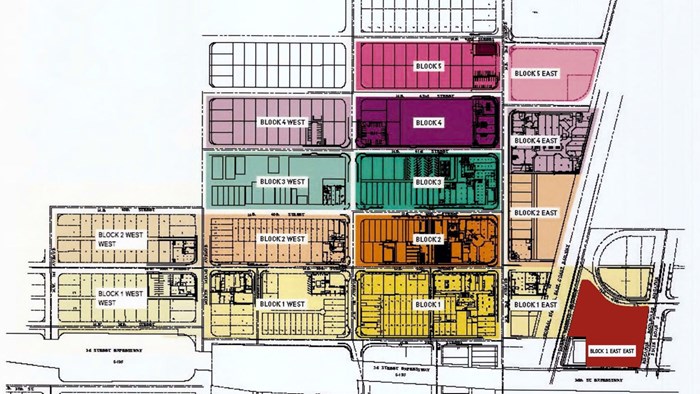 The mixed-use development proposed by Craig Robins' Dacra and partners is a step closer to finalizing zoning changes. The flagship building, to be built at the entrance of the Design District, has received multiple clearances from city commissioners, including for a height increase from 20 to 36 stories as well as a transfer of density. The architecturally iconic tower is proposed with a mix of retail, office, residential and hotel uses.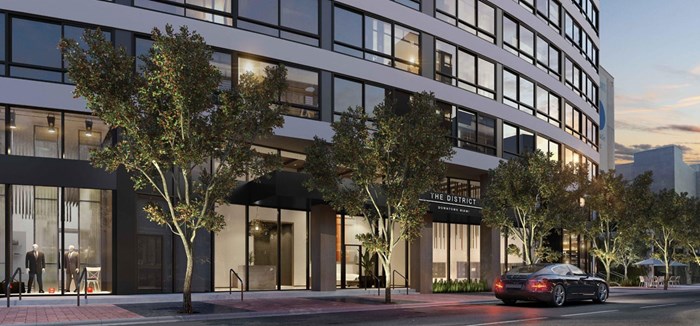 The Related Group won approval this April to build a 37-story tower in the heart of Downtown Miami. Designed by Sieger Suarez, the 394-foot tower is expected to feature 343 units, which could either be used as a hotel or residences. The units are expected to range from 446 square feet to 874 square feet in size. Amenities could include a pool, spa, gym, basketball court, racquetball court, BBQ area, lounge with café, and ground-floor retail.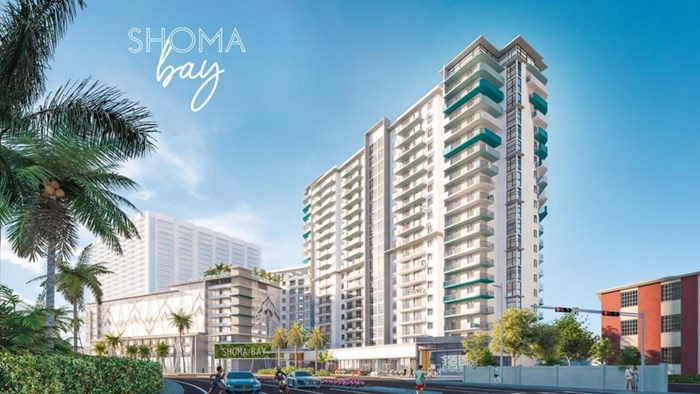 Coral Gables-based developer the Shoma Group won approval to build a 19-story project in North Bay Village this April. The 2.8-acre site destined for the project currently houses a parking lot and a retail building. The approved project was initially planned as a rental but was recently transformed into a condo. The new condo building will feature 333 residential units, a 36,068-square-foot grocery store, 6,315 square feet of retail, a pool, amenity spaces, and a 666-space parking garage. Groundbreaking on the project is expected in November 2021.


---
Proposed - 
Miami Pre-Construction Condos
---

5 Buildings by Aventura North Distrikt Developments – Aventura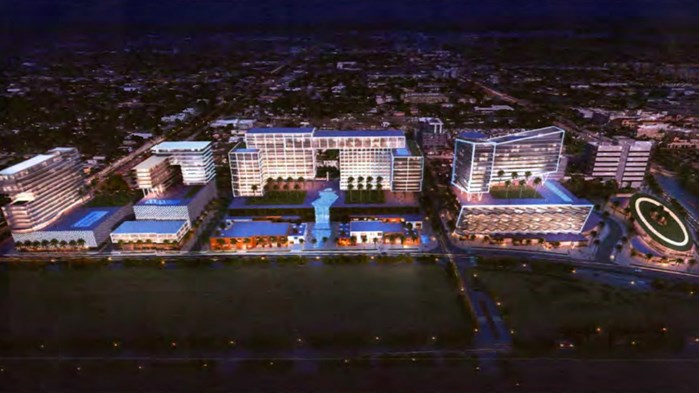 Aventura North Distrikt Developments LLC, managed by Rieber Development, has proposed to build 5 separate buildings on a 12.5-acre parcel of land in Aventura. The towers would rise 20 stories high and have been proposed to feature:
693 residential units

120 hotel rooms

120 Assisted Living Facility beds

67,743 square feet of office

161,270 square feet of retail

New 60-story Tower - Edgewater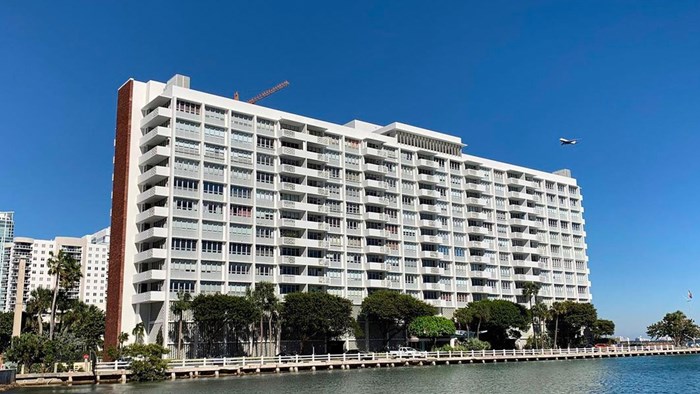 Biscayne 21 tower

The 14-story Biscayne 21 tower will soon be demolished to make way for multiple buildings. The site was sold last year. The unnamed developer will be able to build a 60-story tower on the area that was being used as a surface parking area, a tennis court, and a recreation area.


---
Construction Status - 
Miami Pre-Construction Condos
---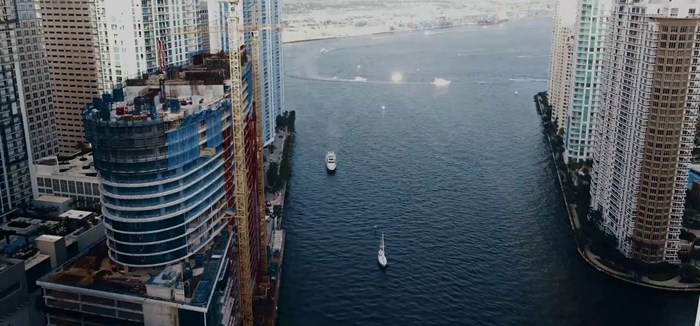 With construction reaching level 49, the sail-shaped Aston Martin Residences are quickly taking shape, already looking like a grand, sleek wall of glass along the Miami River on the edge of Downtown Miami and Brickell. Selling fast, the 391-unit condo building is over 70% sold.
On track to becoming the second tallest building in Miami, this statement tower is set for a 2022 completion. Designed to rise 816 feet, the 66-story ultra-luxury tower is designed by Revuelta Architecture. Amenities at this ultra-luxury branded tower will include the only deep-water superyacht marina in Downtown, signature Aston Martin touches in common areas, an infinity pool, spa, a sky lounge, two cinemas, an art gallery, kids' room, barber station, optional butler service, and much more.
Prices start at around $1 million for remaining condo units, while penthouses are available for upwards of $50 million. To see available units, go here.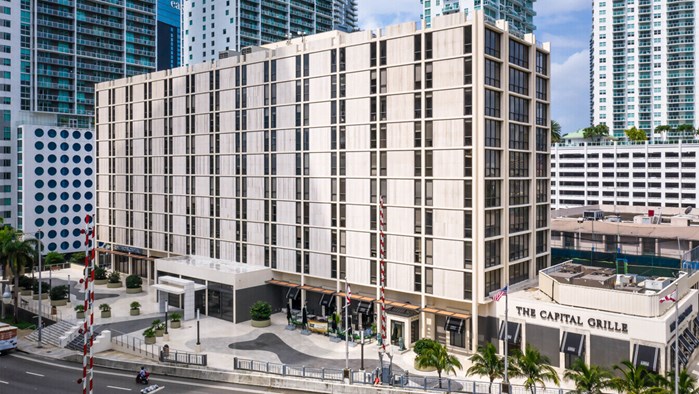 Demolition work is complete and the ground is prepped for the Baccarat Residences to rise at 77 Southeast 5 Street in Brickell. Developed by the Related Group, new renderings of the building now reveal a Riverwalk planned for behind the project, including a connection under the Brickell Avenue bridge to the Miami Circle.
Designed by Arquitectonica to resemble undulating waves, the three towers are expected to rise 57, 77, and 82 stories each. With groundbreaking taking place this year, construction on the 77-story tower will start first. The three-tower complex will include a total of 1,400 residences, a five-star hotel, class-A office space, retail, and luxury yacht dockage. French crystal maker and jeweler Baccarat will be managing the hotel and residences. Amenities at the site will include access to the riverfront promenade, a rotating art collection, curated collection of furnishings, a swimming pool, fitness center, business center, and much more.
Prices range from around $800,000 to $10 million per unit, with a choice of one- to four-bedroom residences. To see available units, go here.


---
Other Updates - 
Miami Pre-Construction Condos
---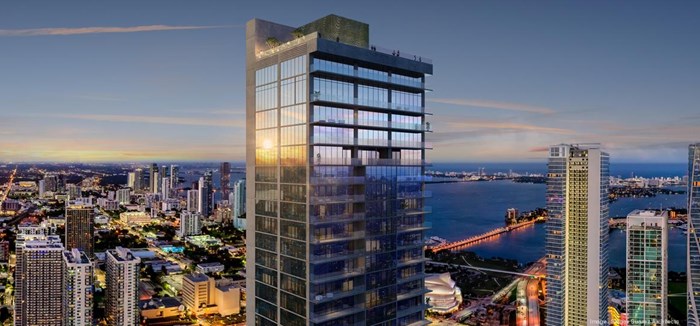 The fastest-selling condo project in Miami, this 65-story development is already 90% under contract after launching sales just this January. The contemporary condo-hotel is developed by the hottest (read most notorious) club-makers in town along with PMG as partners. There are also talks of a second tower coming soon to join the runaway success of the first.
The nearly-sold out 375-unit condo-hotel is set to rise 65 stories in Downtown's Park West neighborhood. Designed by Miami's award-winning Sieger Suarez Architects, the ultra-modern residences will feature high-end finishes curated by New York-based AvroKO Hospitality Group. Along with the option to put their condos into a hotel short-term rental program to generate revenue, future owners will also get access to the hotel-condo's exclusive 20,000-square-foot, multi-level E11even Beach Day Club and pool. Other amenities will include a unique 24/11 rooftop experience, a 5-star gourmet food hall, signature bar and lounge, casino-style sports lounge, a Deepak Chopra-designed spa & studio, beach club, art installations, and more.
Groundbreaking is expected to take place in Q3 2021.
Prices start at $385,000 and go up to $12 million, with a choice of studios to two-bedroom residences. To see available units, go here.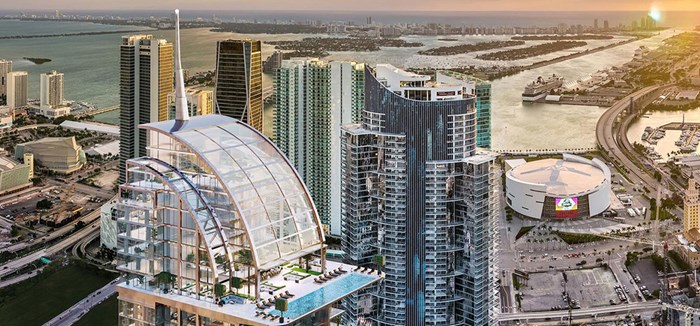 Legacy will feature the first Morgans Original Hotel announced in the world – a new hotel brand by Europe's largest hospitality company, Accor. Buyer-owners of the condo-hotel will be able to rent their units short-term through Accor, as well as enjoy a host of perks including benefits at other Accor properties.
Approved for a height of 661 feet above the ground, Legacy will be the second tallest tower at the Miami Worldcenter collection of buildings. Developed by Dan Kodsi, the 50-story tower will break ground this year. Designed by Kobi Karp, the skyscraper will be the first in Miami to feature a "Singapore-inspired" cantilevered pool, suspended 500 feet in the sky.
Other amenities at this high-rise embodying microLUXE living will include an eight-floor Center for Health + Performance, America's largest rooftop glass atrium with seven stories of indoor palm trees, a lounge and a bar, Downtown's largest (1-acre) hotel pool deck, and a members-only international business lounge.
Scheduled for a fall 2023 completion, a utilities deal has also been signed by developers for:
265 hotel rooms

290 residences

11,750 square feet of retail

33,500 square feet of full-service restaurant

120,000 square feet of physician's office

6,750 square feet of house of worship

18,000 square feet of banquet hall
Prices expected to range between $300,000 and $500,000, with a choice of studio to two-bedroom residences. To see available units, go here.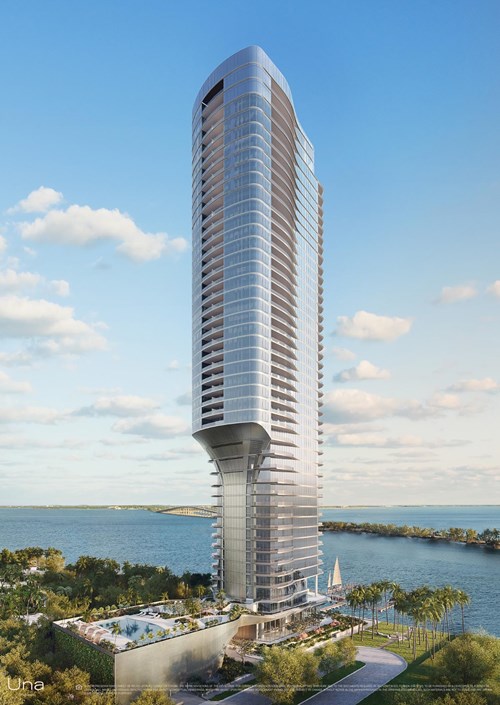 Securing $128.3 million in construction financing, developers OKO Group and Cain International are now set to continue construction with a target of 2023 for completion. Rising on the last developable parcels of waterfront land in Brickell, the under-construction Una will stand 47 stories tall with a total of 135 luxury condos overlooking Biscayne Bay and Key Biscayne's Rickenbacker Causeway.
Designed by the internationally acclaimed Adrian Smith + Gordon Gill, the nautically-inspired building will be privy to unobstructed city and Bay views, relaxing wood-tone interiors, three swimming pools, an expansive spa, restaurant, private marina, exclusive membership access to the Grand Bay Club on Key Biscayne, and much more.
Prices start at $2 million, with a choice of two- to five-bedroom residences. To see available units, go here.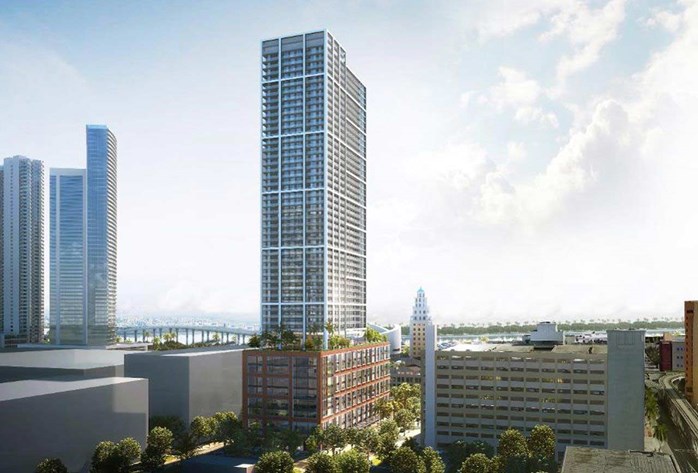 Experiencing an acceleration in sales like the rest of the luxury condo market in Miami, Natiivo residences are now over 70% sold. With over 50 condos selling in the 45 days following groundbreaking, these ready-to-rent residences are seeing a surge in interest from millennial-aged and out-of-state buyers.
Developed by the co-founders of Newgard Development Group and Crescent Heights, foundation work is already underway at these home-sharing-ready and short-term rental condo residences (including Airbnb). Designed by Urban Robot Associates, the 51-story tower will feature 604 units – out of which 448 will be condo residences and 140 will be Gale Hotel-condo units.
The wellness-focused condo building will also be home to 100 Gale Hotel rooms, 137k square feet of office and retail space, co-working spaces, a nine-level podium with two lobbies, an exotic resort pool with cabanas, a Peloton studio, yoga lounge, private meeting rooms, a Dolce Mercato, and Bodega Taqueria.
Prices start at $300,000, with a choice of studios to three-bedroom residences. To see available units, go here.


---

If you are interested in receiving more information about any of these Miami or Fort Lauderdale pre-construction condo developments or other new buildings, call, chat, or e-mail us anytime.
Share your thoughts with us
Sign up now
Get news and updates delivered to your inbox