Miami's New and Pre-Construction Condo Update: August 2017
Sep 17, 2017 September 17, 2017
August comes up with quite some movement for the preconstruction condo market in Miami. We have Aston Martin Residences gearing up for a fall groundbreaking, Canvas and The Harbour successfully topped off, 1010 Brickell got its ok to open and Naranza plus Missoni Baia are each looking at an upgrade. Read on to know more on the latest in preconstruction news:


Top-off
Canvas successfully topped off this august. On track for a spring 2018 completion, the sleek tower is the largest of its kind, adding 513 condos in the eventful neighborhood.
 
Soaring 37 stories, Canvas boasts of 30,000 sq. ft. of amenities. Residents will find everything, from sunrise-sunset pools to Zen treatment rooms, eco-friendly gardens, yoga gardens, expansive gym, multi-media screening rooms and more here. In a nod to its creative surroundings, the luxury tower will also display more than 200 original works of art prepared by 22 renowned street artists in its common spaces. Developer NR Investments has kept pricing affordable, with units starting in the low 300s.
 
Prices for remaining units range from $345,000 to $654,000, with a choice of studios, one and two bedroom residences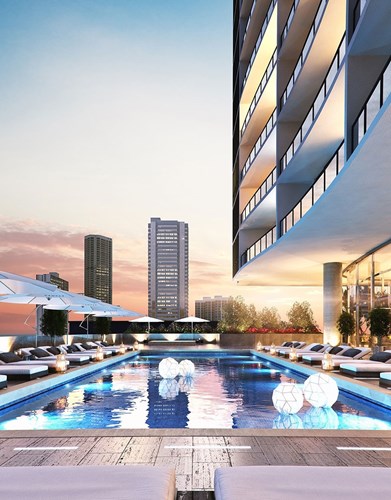 In August, we had The Harbour top-off at 32 stories in North Miami Beach. This waterfront, twin-tower project is being developed by 13th Floor Investments, Key International and Moss. 90% sold out, the 425-unit development is on track for its late-2018 delivery.
 
The Harbour boasts of an outstanding aromatherapy trail surrounding the waterfront towers with strips of chamomile, eucalyptus and other soothing herbs to help heal the mind and body. Styled as a private island retreat, residents will also find a full-scale Aqua Club with access to a private beach, cabanas, water activities and a waterfront restaurant. Other amenities include a dog park, exercise Vita Course, playgrounds, sports facilities, an indoor-outdoor Lush Spa, Grove social lounge and more.
 
Prices start from the $500,000s, with a choice of one, two and three bedroom residences plus penthouses and two-story villas
Complete

The 50-story 1010 Brickell by Key International and 13th Floor Investments now stands complete. With closings set for September, the luxury tower just received its TCO and is 99% sold.
 
The 389-unit condo tower features a two-story amenity space named "The Club at 1010". Residents will find a heated pool with retractable glass walls, indoor kid's playground, mini-tennis, half basketball court, volleyball, gym, hot and cold plunge pools, spa with Turkish hammam, a game room featuring foosball, ping pong, arcade games, air hockey, and bowling, plus much more. There's also a rooftop terrace housing an outdoor movie theater, pool with a constant current for water aerobics and 'Treetop Lounge' bar with restaurant.
 
Prices for remaining units range between $920,000 and $1.4 million, with a choice of studios to three bedroom residences and penthouses
Proposals
After opening their sales gallery in June, the ball is now in motion for Aston Martin Residences to break ground this fall. Developers filed a Notice of Commencement on August 10, listing a phased foundation permit. This is the first step towards moving dirt. G & G Business Developments LLC is still waiting for an approval by FAA on the proposed 816 foot height of the sail-style tower.
 
With 391 luxury condos, the designer building will feature signature cues from Aston Martin in its common spaces. Residents will find iconic colors, stitching, number plinths and more from the brand to remind them of Bond's favorite luxuries. The ultra-luxury tower will also house a rooftop helipad, super yacht marina, two-level ocean-view fitness center, full service spa, 55th floor infinity-edge pool, private club and more.
 
Prices range from $600,000s to $50 million, with a choice of one to four bedroom-units, penthouses and a duplex penthouse.
Other Updates
The proposed, 137-unit Naranza at Edgewater could be in for an expansion. Developer Prodesa International paid The Village Rehab Center $7 million for its parcel at 3031 and 3055 Northeast Fourth Avenue, close to Naranza's 430 NE 31st Street address. With additional land on hand, the 19-story condo tower could easily go in for a redesign. (Perhaps even follow in on the footsteps of its neighboring Paraiso Bay condo complex.) Amenities currently include a 75-foot resort-style pool, lounge terrace, yoga deck, multipurpose clubroom and more.
 
Prices range from $325,000 onward for one-bedroom residences to upward of $444,900 for two-bedroom, two-bathroom corner units
The Mediterranean villa-style residences meant to elevate condo living are finally making headway after quite a few delays. Developer Astor Companies has secured a $59 million construction loan on the luxury residential project. This is a significant step solidifying the momentum gained ever since the 10-story, 227-unit project went vertical in March.
 
Looking forward to a 2019 completion, the Merrick Manor residences will feature interiors designed by Steven G. The renowned interior design artist will bring his classical elegant touch to each designer-ready unit. Sitting right across the street from The Village of Merrick Park Shops, amenities here include a resort-style pool and BBQ area, elite lounge and business center, news café with Wi-Fi, state-of-the-art gym, concierge, valet and 19,000 sq ft of retail.
 
Prices range from $500,000s to $3 million, with a choice of one to five bedroom residences
There's good news for those who couldn't get enough of the luxury designer condos at Missoni Baia. The 57-story tower will now house 70% more residences with 249 units instead of its original plan of 146. After selling 30% of its units, in-house broker firm Fortune International convinced developers OKO Group to reduce the unit size to accommodate market demand. With interiors designed by the renowned house of fashion - Missoni, the luxury building will also feature one of Miami's largest spas, a beauty salon, bayfront lounge and pool, children's water features, flow-through pool deck with cabanas and a bayfront boardwalk.
 
Prices continue to average $900 per square feet with a choice of 1 bedroom to four bedroom options
Brickell Flatiron has been consistently reporting strong sales for the past seven months and is currently 70% sold out. Looking at a June 2019 delivery, the luxury development is on budget and on time. Construction has already reached the 17th floor. Aiming to be one of the tallest in Miami, the building will continue to rise up to the 64th floor, reaching a whopping 736 feet in height.
 
The 549-unit condo tower comes with hotel-inspired amenities. There will be a sky gym and spa, sky pool and lounge, rooftop garden, theater, billiard and cigar room, wine cellar, personal concierge and ground-level retail among other facilities. Residents will get to experience the high life right at home with exquisite interiors designed by renowned Italian designer Massimo Iosa Ghini. Public spaces will feature artwork by Schnabel. There are also reports that developer Ugo Colombo could end up replacing Cervera Real Estate with Fortune International to handle its sales and marketing.
 
Prices range from $500,000 to $2.5 million, with a choice of one to five bedroom residences
Issues & Lawsuits
Foreclosure lawsuit put on hold
People can finally expect Monad Terrace to break ground this fall, as the foreclosure lawsuit filed by its lending company has been put on ice. One of South Beach's most anticipated projects, the Pritzker Prize-winning Jean Nouvel-designed development has resumed construction activity. A Monad Terrace spokesperson confirmed "that litigation has been put on hold while the parties negotiate refinancing".
 
The lawsuit came about when lender EO Monad Terrace claimed that the Alton Road development failed to repay its mortgage on maturity. Once complete, the elevated condo project (accommodating rising sea levels) will feature a naturally-filled lagoon at its core along with a 116-foot swimming pool, café and juice bar, bicycle and water sports storage, sun decks, climbing gardens and more.

 
 
Have any other updates to report for August? Let us know in the comments below. Or, let us know which of these pre-constructions have you following the news.

Share your thoughts with us
Sign up now
Get news and updates delivered to your inbox