Miami's New and Pre-Construction Condo Update: June 2021
Jul 07, 2021 July 07, 2021
Miami is in another strong real estate cycle and with the surge in demand we've seen in the first half of the year, condo developers are getting more and more projects off the ground or completed, with new announcements, sales launches, and adding second or third phases to their ongoing developments.
To note, Downtown Miami's E11even Hotel and Residences are already 100% sold out, even before shovels could hit the ground, and a second tower could be in development. Four new condo development projects were announced: Melo Group's Aria Reserve, Related Group's District 225, Aria Development's 501 First Residences, and Russell Galbut plus David Martin's Five Park – and all launched sales this June. And, foundation work is in full swing at Miami Beach's Five Park and Brickell's Baccarat Residences. Downtown Miami's Natiivo has had its first cranes installed. And many other developments are taking place around town.
Read on for details on these and more project updates in our Miami condo pre-construction market roundup for June 2021:

June 2021 - Miami Condo Pre-construction Market at a Glance
Aria Reserve – Edgewater

501 First Residences – Downtown Miami

District 225 – Downtown Miami

Five Park (previously The Park on Fifth/Canopy Park) – South Beach
Waldorf Astoria Hotel and Residences – Downtown Miami
4000 Alton Road – Mid-Beach
Baccarat Residences (previously 444 Brickell / One Brickell) – Brickell

Natiivo – Downtown Miami

Legacy Hotel & Residences – Downtown Miami

E11even Hotel and Residences – Downtown Miami

Aston Martin Residences – Downtown Miami
Monad Terrace – South Beach

1400 Biscayne (previously Auberge Residences) – Arts & Entertainment District

Buyout 60-year-old condo complex – Edgewater

Former Lynx "Burdines" site sold for $46 million – Downtown Miami


---
Miami Pre-Construction Condo Projects: Closings Underway
---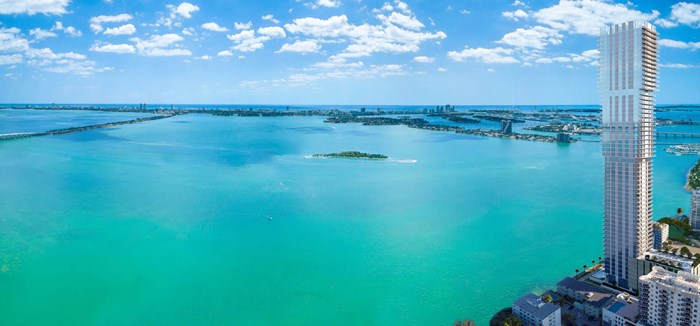 Closing are underway at Elysee, and that means residents can begin moving in to the iconic, 3-tiered Elysee tower designed by Arquitectonica. Now the tallest building in Edgewater (until Missoni Baia is complete), the 649-foot-tall telescopic building received its Temporary Certificate of Occupancy (TCO) in May.
With only two or fewer units per floor, the 57-story tower is Edgewater's first luxury boutique building. Designed by the internationally-acclaimed Parisian interior designer Jean-Louis Deniot, each luxury residence features textures and touches inspired by Miami's glamorous mid-century past. All 100 units at Elysee further feature East to West or North to South flow-through floor plans with chef-ready kitchens plus expansive bay and city views with two terraces per unit.
More than 90% sold as of April this year, residents will now be able to enjoy the three full floors of amenity spaces available at Elysee. Standout amenities include a bayfront pool, resort-sized lap pool, poolside bar, yoga studio, owner's bayfront lounge, children's room, grand salon with 360-degree views, media room, teen lounge, and access to the Elysee Attaché concierge services.
For more details on Elysee and what sets it apart from other luxury condos in Miami, go here.
Resale prices average at around $1000 per square foot.


---
Miami Pre-Construction Condo Projects: Sales Launched
---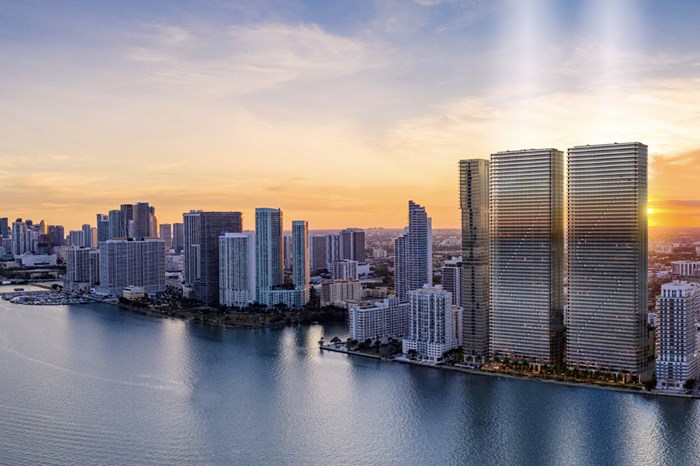 Developer Melo Group launched sales for its latest condo project this June, Aria Reserve – the tallest residential waterfront twin towers in the U.S. Perched on the last waterfront reserve of its kind, the twin towers will rise 60 stories against 547 linear feet of serene waterfront in Miami's Edgewater.
Previously known as Island Bay, the luxury towers are poised to offer the best waterfront value in Miami by keeping their prices comparatively low. Owners will be able to rent their units up to 4 times per year. Designed by Arquitectonica, the 782-unit tower will feature stylish interiors by the MORADA Haute Furniture Boutique. Each luxury residence in Aria Reserve will have direct water views, East to West flow-through floorplans, private elevator foyers, two flooring options, 10-foot-high ceilings, 11-foot-deep terraces, and a dedicated office/bonus room.
Boasting of a 2-acre recreation deck, future residents will gain access to a semi-Olympic sized lap pool, a whirlpool spa, children's splash pad, teen lounge and gaming center, and playground. The luxury towers will also be home to tennis courts, basketball courts, paddle courts, miniature golf, an indoor-outdoor wellness center, gym, meditation gardens, a signature waterfront restaurant and café, theater room, dog park, telescope observatory area, and custom-designed water sports dock with equipment rental center for kayaks, paddle boards and canoes. 
Melo Group is also developing a public park along 23rd Street that will feature plenty of open green space and provide direct access to the 5-mile-long waterfront Miami Baywalk.
For more details on how Aria Reserve is set to deliver the best waterfront value in Miami, go here. 
Prices range from $750,000 to about $2 million, with a choice of one- to four-bedroom condo residences over 2,000 sf. Penthouses start at $12 million. HOA fees will be about $.75/square foot.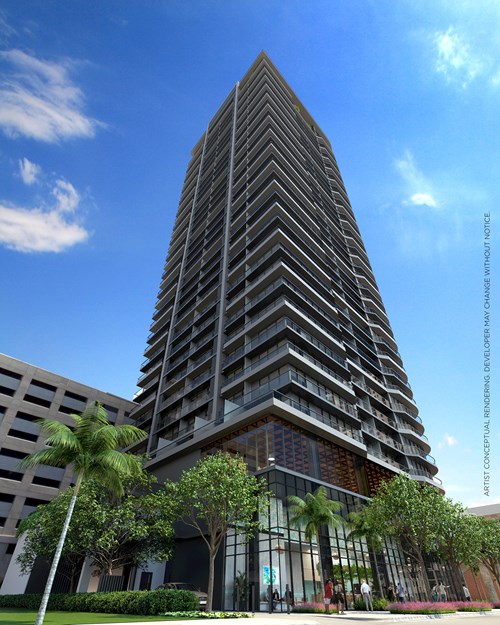 With zero rental restrictions, developer Aria Group launched sales on their 501 First Residences this June. Residents will have complete control over how they would like to rent, ranging from Airbnb or HomeAway to simply enrolling in the building's rental program, for as short as one night. 
Submitted to Miami's Urban Development Review Board to build without a parking garage, the developer is seeking approval for offsite parking. The 40-story tower is designed by Revuelta Architecture to feature amenity spaces on levels 1-3 and 37-rooftop, while all 448 luxury residences are to be stacked on levels 4-36.
All 501 First Residences will be delivered fully finished and furnished with interiors by Miami-based Shim Projects. Each luxury condo residence will sport a balcony and high-end touches such as innovative appliances by Smeg, Hansgrohe bathroom fixtures, custom Italian cabinetry, and much more.
Amenities planned for 501 First include an on-site 60-bike parking garage, bistro and bar concept by New York's GPG Hospitality, co-working spaces, a rooftop deck with 75-foot resort-style lap pool, an oversized swim-spa, grill and chill sunrise-sunset decks, outdoor game lawn, an indoor gym designed by HOMAGE Fitness, rooftop Greenhouse with year-round greenery, a rooftop movie theatre experience, media room & library, club suite with game tables, pet lounge, and fully integrated ButterflyMX digital property access system.
With completion expected in the first quarter of 2023, find more highlights about the progressively modern 501 First Residences here.
Prices start from the $300,000s, with a choice of studio, one- and two-bedroom residences.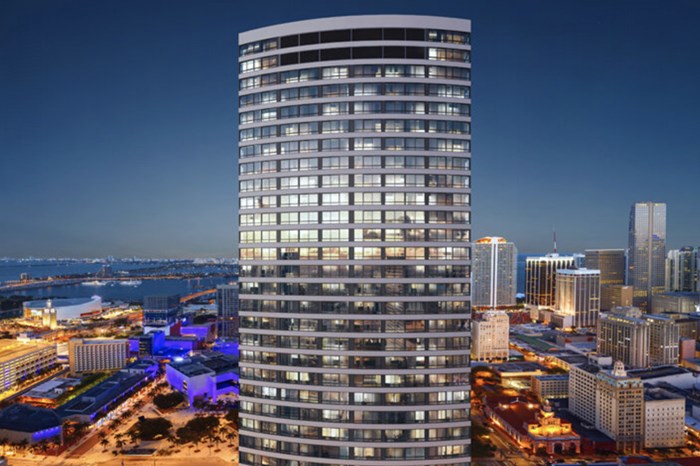 Moving swiftly after securing approval for their 37-story tower this April, the Related Group launched sales for District 225 in June. Designed by Sieger Suarez, the 347-unit luxury tower will be built without a parking garage. Like most new condo projects in Miami, District 225 will also allow short-term rentals through Airbnb or VRBO - making it a great investment product.
All 347 luxury residences at District 225 will be delivered fully finished and furnished. The turnkey residences will feature interiors by Meshberg Design and smart home technology. Once built, residents will get to enjoy amenities such as an expansive resort-style rooftop pool deck with plunge swim-spa and fire pit, basketball and racquetball courts, museum-quality art, an on-site café, co-working spaces, multi-purpose lounges, electric bike parking with charging stations, and District 225 app for home/away smart-home management.
Groundbreaking is scheduled for the fourth quarter of 2022.
Prices start at $352,900 for studios, $385,900 for 1-bedroom residences and $574,000 for 2-bedroom residences.

Five Park (previously The Park on Fifth/Canopy Park) – South Beach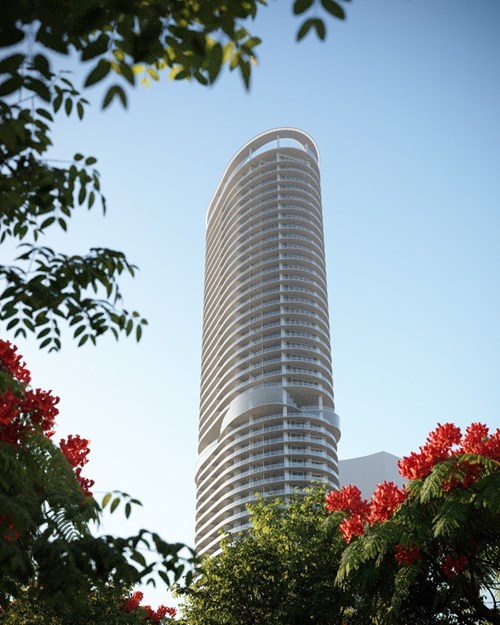 Developers Russell Galbut of Crescent Heights and David Martin of Terra Group launched sales on their JV soon after foundation work started this June. Rising at 500 Alton Road, dominating the entrance to South Beach, the 519-foot tower will be the tallest ever in Miami Beach.
Designed by Arquitectonica, the tower will be home to 98 condos (floors 30-48) and 180 "park residences" (which could be rentals or condos). The condo residences will feature interiors by Gabellini Sheppard. With 40,000 square feet of amenities, residents will also enjoy a 5th-floor pool deck, 26th-floor clubhouse, two fitness centers, spa and treatment rooms, a restaurant, lounge areas, grand lobby with gourmet cafe, library, co-working spaces, screening room, short-term rental suites, electric car charging stations, and more.
Scheduled for a 2023 completion, the mega-development will be rolled out in 3 phases:
Phase 1: A 3-acre public park to be completed in 2021 with native shade trees, pedestrian and bike paths, an outdoor gym, public art displays, a children's playground, and dog run.
Phase 2:

A 48-story residential tower to break ground this year

Phase 3:

A pedestrian bridge over 5th Street, expected to break ground in 2022. The bridge will connect the park with the Baywalk and South Pointe Park.
Prices start at $2.5 million, with a choice of two- to five-bedroom residences.


---
Miami Pre-Construction Condo Projects: New Sales Center
---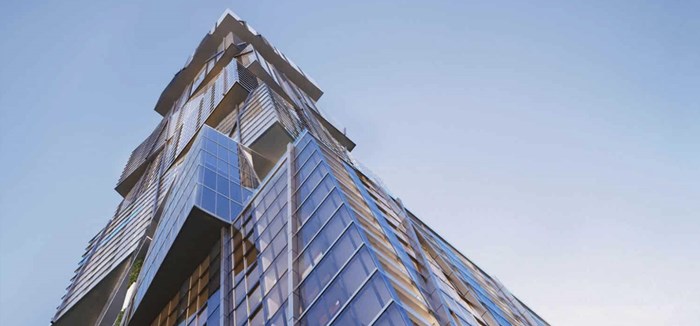 With many firsts under its belt, the tallest building in Florida is now the first to open an experiential sales gallery. Allowing guests to enjoy an immersive experience, developers PMG and Greybrook Realty Partners claim that the 11,000 square foot sales center is one of the largest and most technologically advanced galleries in Miami. The brand-new sales gallery features a 24-foot scale model of the 100-story tower. It also showcases a 70-foot LED wall with more than a million LED bulbs that allow visitors to see views from every unit - customized by weather and time of day. 
Breaking ground in the first quarter of 2022, this is the first Waldorf Astoria in South Florida. Conceptualized by Burj Khalifa-architect Carlos Ott, the 100-story skyscraper will be home to 306 condos and 205 hotel rooms. Designed in association with Sieger Suarez, the supertall will stand out for its quirky construction featuring a staggering stack of nine glass cubes. The bottom 3 cubes will be dedicated to the hotel suites, while the upper cubes will house the condos and amenities.
Residences at this luxury development will feature high-end touches and designs by San Francisco's award-winning design firm BAMO. Along with preferred rates and access to the hotel services, residents will also have access to amenities like a resort-style pool deck with cabanas, a signature restaurant, the hotel brand's famous Peacock Alley lounge, a signature spa, kids' club, indoor-outdoor event spaces, smart-home tech with custom mobile app access, and more.
For more information on Waldorf Astoria's legendary hospitality and what it hopes to deliver in Miami, go here.
Prices start at $650,000 for Junior Suite Residences, $1 million for a 1-bedroom, $1.7 million for a 2-bedroom, $3,100,000 for a 3-bedroom, and $4,900,000 for a 4-bedroom residence.


---
Miami New Construction Condo Projects: Proposed
---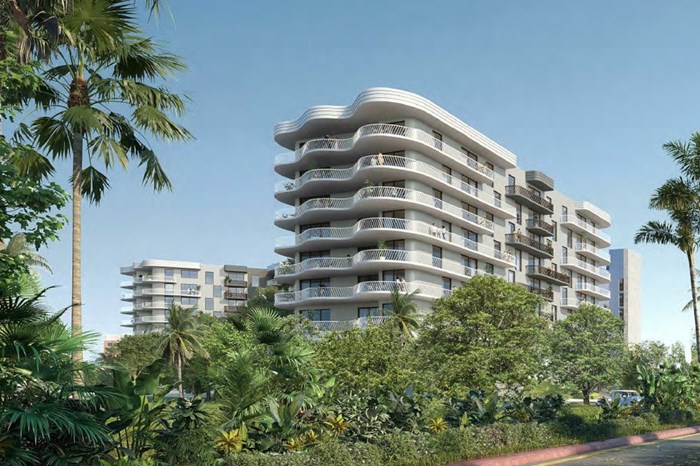 Submitted to the Miami Beach Design Review Board for approval, the 3900-4000 Alton Road project by Mast Capital and JV partner Rockpoint Group received the green from the Miami Beach Commission. The project was first proposed with a height of 290 feet, which was then reduced twice to fit into the neighborhood's aesthetic, bringing it down to 140 feet and eventually at the approved 85 feet.
The 8-story project is now approved for a maximum height of 85 feet and features architectural elements that are mindful of its neighbors' views. Arquitectonica has designed the modern curvilinear tower to feature east and west wings, connected by a recessed central tower, allowing for expansive view corridors as well as a spacious amenity deck that is positioned perfectly to maximum sun exposure. 
Home to 175 condos, the project will offer a mix of 28 studio units (550-600 square feet) plus 148 one-, two-, and three-bedroom residences ranging from 575 to 1,440 square feet. 4000 Alton Road will also provide 269 parking spaces (more than the required 241).


---
Miami Pre-Construction Condo Projects: Other Updates
---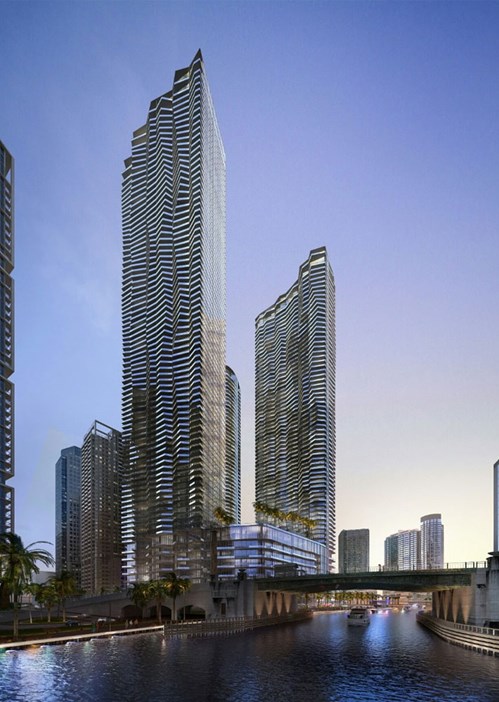 There's a lot going on for the Baccarat Residences. It's 25% reserved, with sales underway; Related Group announced it's their most luxurious project to date, and plans are in place for an early 2022 groundbreaking and fall 2025 completion, (in spite of rare archeological findings at the project site in May). Finally, Related says it has two additional phases planned, of which the second phase will be a condo-hotel set for a 2022 launch.
The first tower in the three-tower complex is designed by Arquitectonica to resemble undulating waves and feature a reflective façade inspired by crystals. Managed by the French crystal-maker Baccarat, the tower will highlight interiors by Meyer Davis Studio – envisioned as a mix of 18th century French architecture and 1930s Art Deco style. Amenities will include a riverfront restaurant, marina with luxury yacht dockage, spa, beauty salon and barber, swimming pool, clubroom, game room, children's playroom, grand salon event room, wine cellar, private workspaces, and business center.
The complex is planned to house a total of 1,400 residences, a 250-room five-star hotel, class-A office space, and retail.
Prices range from around $1.1 million to $3.5 million per unit, with a choice of one- to four-bedroom residences. The penthouses will be upwards of $14 million.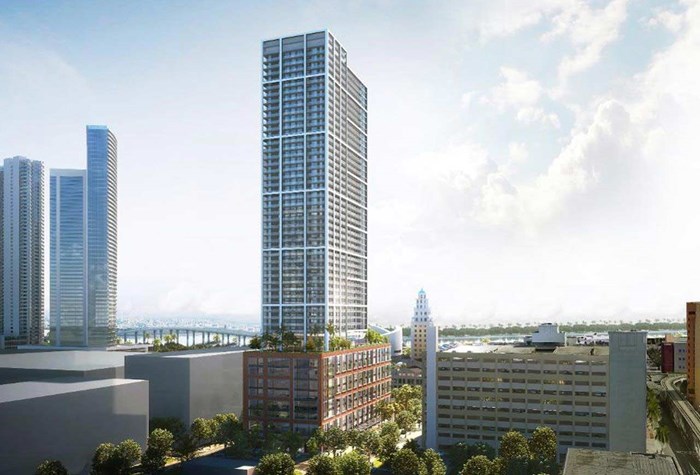 With FAA approving two cranes to be installed at a height of 697 and 642 feet, construction is in full swing at this 588-foot condo project. Known as the first building approved for short-term rentals to the likes of Airbnb and HomeAway in Florida, Natiivo is on track for completion in the third quarter of this year.
Developed by the co-founders of Newgard Development Group and Crescent Heights, the ready-to-rent tower is designed by Urban Robot Associates. Rising 51 stories with 440 turnkey condo residences and 140 Gale hotel-condo units, the wellness-focused development will also feature green building tech and an 18,000 square foot health and fitness center, complete with a yoga studio, boxing ring, peloton equipment, CrossFit, outdoor training terrace, and The Fit boutique.
Besides 137,000 square feet in office and retail space, the building will also be home to co-working spaces, quiet rooms, an amphitheater, a 16,000 square-foot pool retreat complete with resort-style pool, cabanas, and poolside service. Other amenities include a specialty restaurant and bar, dining terrace, multiple lounge areas, a speakeasy, programmed events, and much more. 
Prices start at $300,000, with a choice of studios to three-bedroom residences.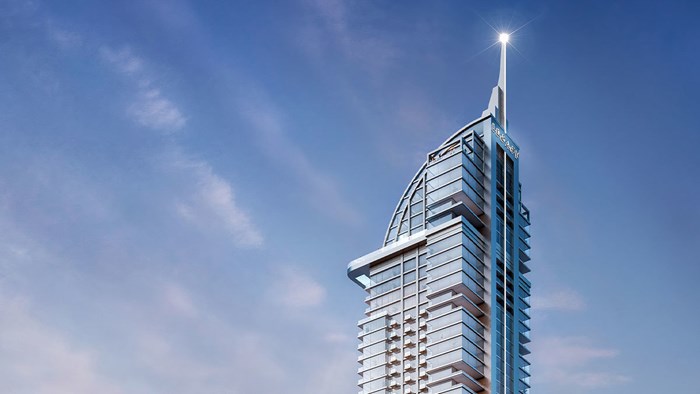 Ready to break ground and 100% sold out, developer Dan Kodsi's Royal Palm Companies has applied to the FAA for a height increase. Approved for a height of 661 feet, Legacy's developer is now pushing for a height of 681 feet to make it the second tallest tower at the Miami Worldcenter mega-development.
Designed by Kobi Karp, the 310-unit luxury tower is set to feature the first Morgans Original Hotel in the world. The 50-story condo-hotel is also making headlines for bringing its trademarked concept of microLUXE living to Miami along with putting a "Singapore-inspired" cantilevered pool 500 feet in the sky. The luxury tower will also be home to an 8-floor medical Center for Health + Performance, America's largest rooftop glass atrium with 7 stories of indoor palm trees, Downtown's largest (1-acre) hotel pool deck, a lounge and bar, plus a members-only international business lounge. Managed by Europe's largest hospitality company Accor (owner of the Morgans Original Hotel), residents will be able to rent their residences through the company's property management program.
Prices ranged between $350,000 and $500,000, with a choice of studio to two-bedroom residences.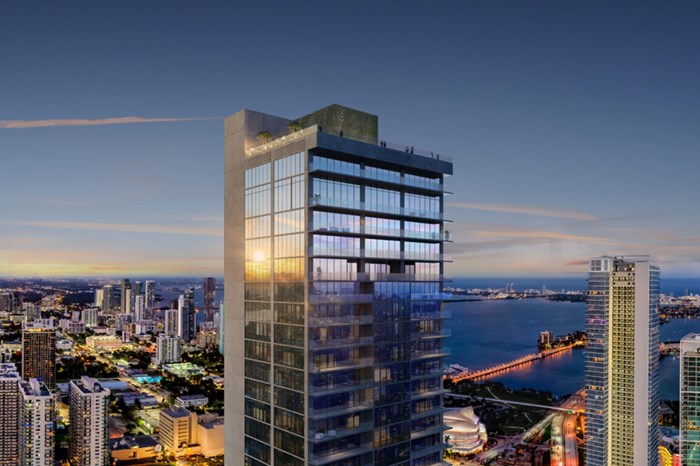 Completely sold out within 2-3 months of launching sales, E11even has made headlines for being one of the fastest-selling condo projects in Miami and being one of the first to accept cryptocurrency for its preconstruction deposits. Developed by PMG and the hottest (read most notorious) club-makers in town – the 65-story tower is expected to break ground in the third quarter of 2021 and could also be followed up by a second tower due to high demand.
Designed by Sieger Suarez, the 375-unit condo-hotel will feature modern, high-end finishes curated by the New York-based AvroKO Hospitality Group. Besides an exclusive 24/11 rooftop experience at the 20,000-square-foot, multi-level E11even Beach Day Club and pool, the instant sellout will also feature a 5-star gourmet food hall, casino-style sports lounge, signature bar and lounge, a Deepak Chopra-designed spa and studio, art installations, and more. 
Owners at E11even Hotel and Residences will also have the leverage to opt into the hotel's revenue generation program, allowing them to rent out their ultra-luxury residences for an additional income stream.
Prices start at $385,000 and go up to $12 million, with a choice of studios to two-bedroom residences.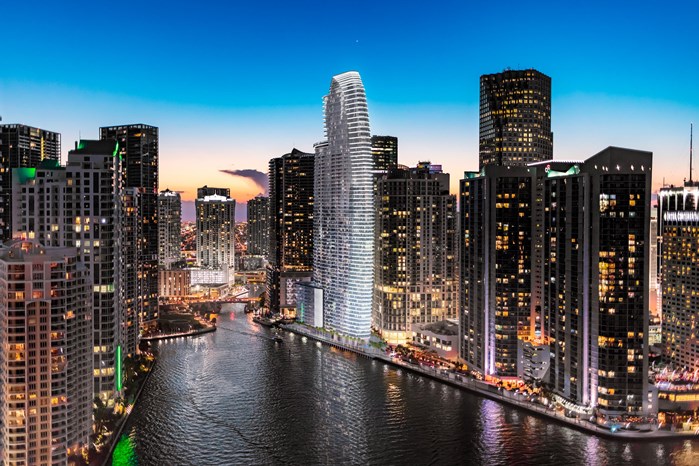 Developer G&G Business Developments virtually launched their permanent art gallery for the Aston Martin building perched on the tower's 52nd floor, with online access here. In June, they launched the first look of their Signature Collection of penthouses and residences.
The first-of-its-kind Collection features signature touches representative of Aston Martin's finest cars and butler service, along with a specially-commissioned Aston Martin DB11 Coupe or DBX Riverwalk Editions for the owners, as well as priority access to the private superyacht marina. 
The 66-story sail-shaped tower is designed by Revuelta Architecture with a total of 391 ultra-luxury residences set on the edge of the Miami River. Amenities at the statement tower include signature Aston Martin elements in common areas, the only deep-water superyacht marina in Downtown, an infinity pool, world-class spa, a sky lounge, two cinemas, a kids' room, barber station, optional butler service, and much more.
Prices start at around $1 million for remaining condo units, while penthouses are available for upwards of $50 million.


---
Miami New Condo Projects: Watchlist
---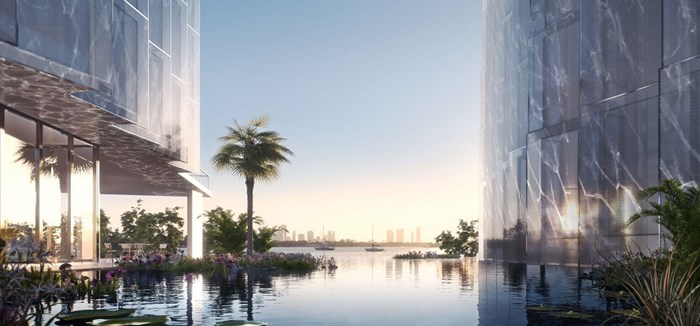 Though no longer pre-construction, Monad Terrace is now more than 80% sold with only a handful of residences available for sale by developer JDS Group. It's Penthouse A recently sold for a record-breaking $11.8 million, completing the sellout of all penthouse inventory.
Designed by the Pritzker Prize-winning, French starchitect Jean Nouvel, the 14-story boutique building on Biscayne Bay is known for its manmade central lagoon and "living wall" of climbing gardens. The all-glass boutique building is home to 59 individually designed waterfront residences crafted by Ateliers Jean Nouvel in collaboration with Kobi Karp. Residents at this stunning high-rise have access to high-end amenities such as a bayfront sundeck with a pool and hot tub, café and juice bar, central lagoon with aquatic plants, climbing gardens shielding the North and South façade, a resident's lounge, boat dock, bicycle and water sports storage, and much more.
Remaining units range from $3 million to $12.5 million.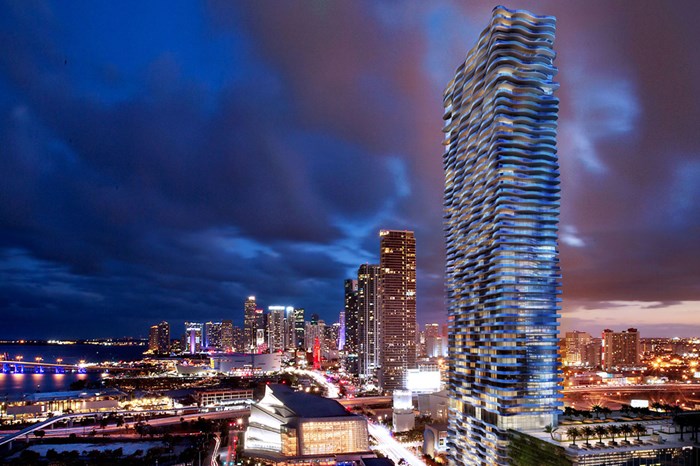 The rumors sparked by the lights coming on at an old sales gallery from a month ago were true! The Related Group has revived its 1400 Biscayne Boulevard condo project previously known as Auberge Residences. The illustrious Miami-based developer will be launching sales very soon for its 60-story condo tower at the Downtown Miami address that sits just across from the Adrienne Arsht Center and adjacent to Edgewater. What remains to be seen is whether the project will make a comeback with its original plans for a three-tower complex with an 11-story retail and restaurant podium, resort-style amenities, and 1,629 parking spaces, or have a new design.

Buyout of 60-year-old Bay Park Towers – Edgewater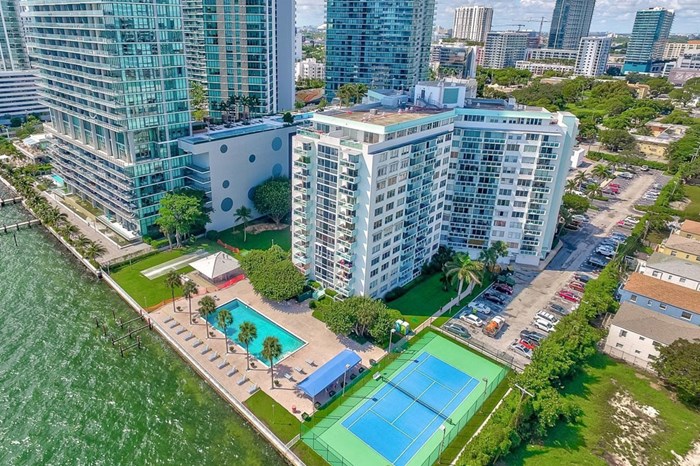 Offering $130 million for the waterfront Bay Park Towers, Miami-based investment firm Beach Hill Capital Partners offered to buyout the complex. Looking to tear down the 1960s development with 254 condos and an extra-large surface parking lot, the investment firm would have the leverage to build a brand-new luxury condo development on the premium waterfront site.
With land running scarce in the face of surging demand, more developers are turning to buyouts to source parcels for their luxury developments. However, Beach Hill Capital (just like any other bulk buyer) will need 80% of the condo owners to be onboard with the bulk buyout before things can move forward for the Edgewater site.
Read more details on the deal and why bulk buyouts could be the next hot thing in Miami's real estate market here.

Former Lynx "Burdines" site sold for $46 million – Downtown Miami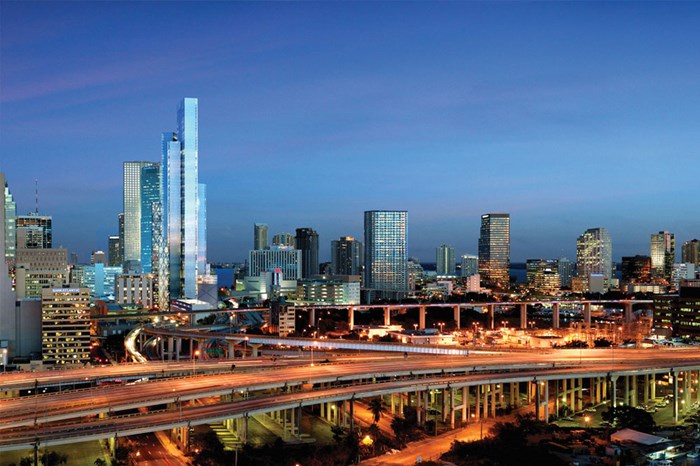 Former Lynx Proposal Rendering

Enrique Manhard and his partners paid $46 million to buy the famous and historic Burdines site, earlier destined for the Lynx project, located at 16 Southeast 2nd Street. This is one of the largest land sales in Downtown Miami, closing on a 2.14-acre parcel of land.
The sale makes our watchlist as it is zoned for a 2.2-million-square-foot, 80-story project that could feature more than 2,100 units and mixed-uses including hotel, residential, retail, and office components. Architect Jo Palma posted renderings of what a 1,049-foot-tall tower could look like at the now sold site, which is currently home to a parking lot.
If you're interested in buying pre-construction in Miami, call us, or chat, DM, or email for insider details on floorplans, early bird pricing, and exclusive developer promotions.
 
---

Looking to move out of an older condo building in Miami? Let a local expert negotiator handle the deal for you – just get in touch!


Share your thoughts with us
Sign up now
Get news and updates delivered to your inbox