Miami Neighborhood Comparison: Key Biscayne vs Brickell
May 27, 2021 May 27, 2021
When shopping around for a home in Miami, there are many great neighborhoods to choose from. Two of Miami's most desirable neighborhoods are Key Biscayne and Brickell. While both of these neighborhoods provide diverse housing options at different price points, they also differ when it comes to lifestyle, perks, and other factors. Our neighborhood comparison is based on several aspects that can help you determine which of the two would be ideal for you. 

Lifestyle: Key Biscayne vs Brickell 
Key Biscayne is an affluent residential neighborhood located on a small island accessible via the Rickenbacker Causeway. Because of its island status, it's a waterfront community, with condos lining the beachside and single-family homes dotting the bayside. It's idyllic location takes you away from the hustle and bustle of Miami. Ideal for those who seek a calm, upscale lifestyle with residential elegance, tropical beaches, safety, and a tightly-knit community, Key Biscayne is known for its laid-back lifestyle, access to nature, and family-friendly island village flavor. An excellent place to raise children, Key Biscayne provides a health-oriented lifestyle with an "old-Florida" feel.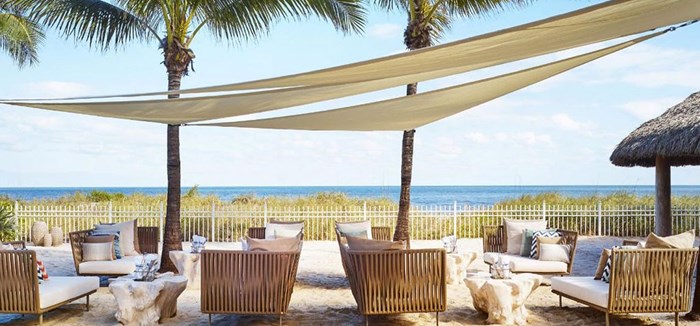 The Ritz-Carlton Key Biscayne, Miami

Courtesy The Ritz-Carlton Key Biscayne, Miami

In contrast, Brickell is a busy urban hub known as "the Manhattan of the South."  Brickell is perfect for you if you like a constant pulse of energy around you. If you're a corporate go-getter, lover of happy hours and nightlife, and are seeking the convenience of living within walking distance of where you work, Brickell is a beautiful, urban neighborhood. While many young families make their home in Brickell, it is also populated by international visitors who come to Miami on business and stay for extended periods, as well as quite a few Latin American celebrities who have luxury condos there. Similar to New York City, Brickell is home to many international corporate headquarters and finance companies, and its array of diverse restaurants caters to this. Brickell is not all work though, and offers plenty of opportunities to exercise, socialize, enjoy an active nightlife, and have fine shopping options at locations such as Brickell City Centre and Mary Brickell Village, where open-air dining and shopping opportunities abound.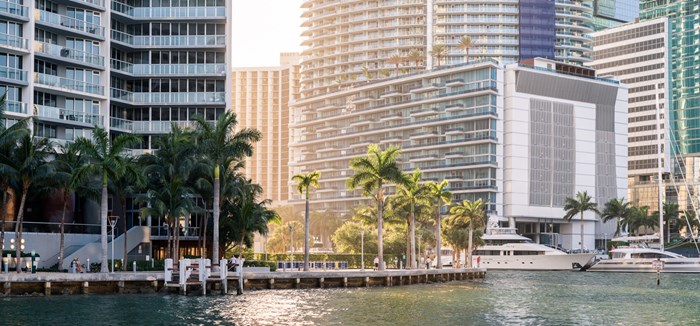 Brickell - Photo courtesy of Maciek Lulko (Flickr)

Business: Key Biscayne vs Brickell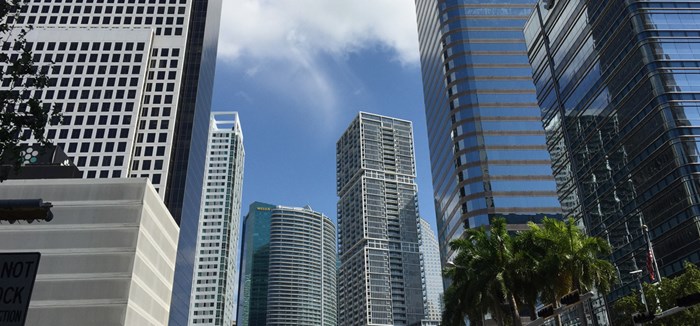 Brickell Financial District - Photo courtesy of Ines Hegedus-Garcia (Flickr)

In terms of business, this is no contest. Brickell is a buzzing international financial center. In fact, it is the largest international banking hub in the U.S., and second only to New York as the national center of domestic financial activity. With both the Miami River and Biscayne Bay lapping its shores, Brickell provides a quintessentially and unique Miami urban lifestyle for a corporate demographic. Both office towers and condo high-rises share amazing water views, and there are banks on almost every corner. For entrepreneurs and start-ups, Brickell is also superior to almost every Miami neighborhood, with shared workspaces on almost every block.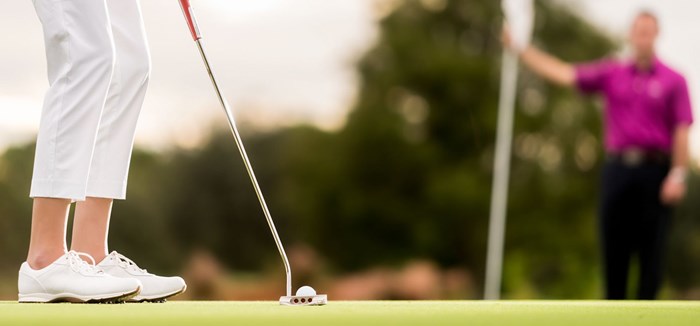 Key Biscayne is primarily populated by families and professionals. It's meant to be a respite from an urban setting. And so there are only a handful of small business offices housing legal, medical, and other service professionals. There are also some boutiques and art galleries, yoga studios and fitness centers, and plenty of healthy and exotic food options. Retirees also love the area due to its many opportunities to remain active and connected to a caring and close community, including its golf course and tennis facilities.

Walkability and Transportation: Key Biscayne vs Brickell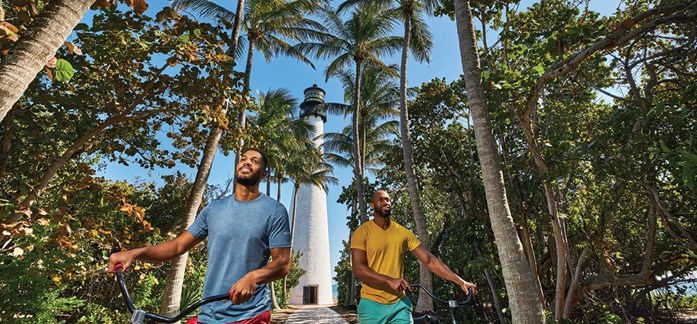 Bill Baggs State Park Lighthouse, Key Biscayne. Photo courtesy of GMCVB

Key Biscayne has always been one of Miami's most walkable neighborhoods and is especially ideal for those who love to bicycle their way through life. While providing a distinctly island feeling, it's very common to see a golf cart as the vehicle of choice, and there's the Key Free Shuttle to get around on the island. That said, you must have a way off the island, usually by car. Once back on the mainland, you are right in between Coconut Grove and Brickell, and from either neighborhood, you can connect to various forms of public transportation to access areas such as Downtown Miami, the Wynwood Arts District, and the Design District via the Metrorail at Vizcaya Station, as well as local bus lines. While living in Key Biscayne will allow you to virtually give up driving while you're on the island, getting outside of the Key will probably require the use of your car.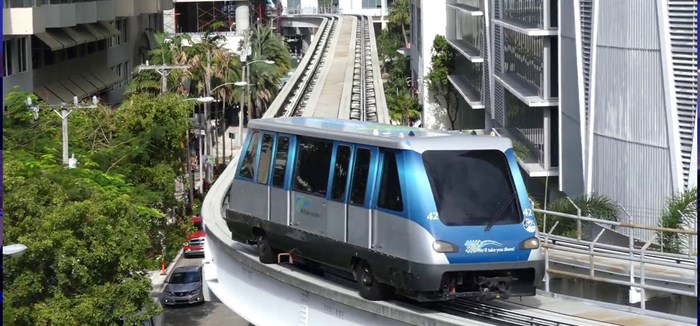 Brickell is easier to live in without a car, as it has a wider variety of transportation options, and understands it's residents need to move and commute with ease. You can ride the free Metromover to Wynwood, Coconut Grove, and Downtown Miami, where you can catch the Brightline rail service that can take you to Fort Lauderdale and other areas beyond the Miami city limits. Like most Miami neighborhoods, Brickell also provides a free trolley service, and scooters are plentiful. There is also a very affordable airport shuttle service that can take you to Miami International Airport for $2.25 and runs every 20 minutes or so.





Parks and Greenspace: Key Biscayne vs Brickell
With Crandon Park and Bill Baggs Cape Florida State Park stretching across much of its shoreline, Key Biscayne is all about greenspace, nature, parks, mangrove forests, natural beach access for swimming or fishing, and winding trails where you can hike or bike, as well as waterfront access that allows you to enjoy water sports such as sailing, boating, kayaking and paddle boarding.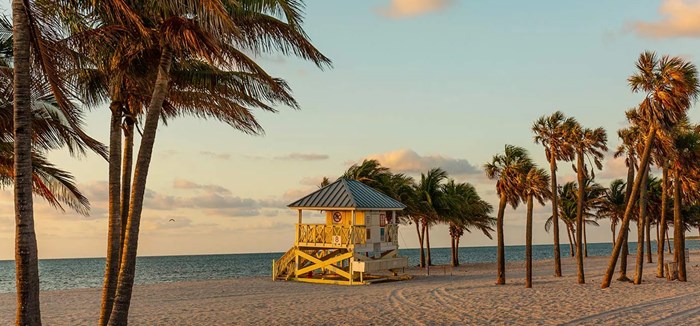 Crandon Park
, Key Biscayne. Photo courtesy of GMCVB

Crandon Park provides a broad variety of options for outdoor recreation ranging from picnics to natural exploration, with areas where humans and dogs can run free. For a special and unique experience, visit the ruins of the abandoned former Metro Zoo at the park, where you can mingle with wild peacocks, swans, iguanas, and a colorful array of bird species. And of course, there is a golf course, and extensive tennis options for novice to professional players.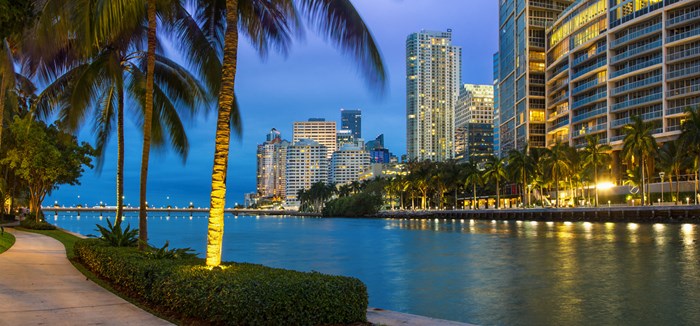 Brickell, Miami FL

As urban as it is, Brickell still manages to provide impressive greenspaces at its diverse array of parks including Brickell Park, Brickell Key Park, Alice C. Wainwright Park, and Miami Circle Park. There is also a baywalk around Brickell Key, which offers a scenic and expansive vista or open space. While none of these small parks can compare to the vast, unspoiled natural splendor of the expansive Crandon Park in Key Biscayne, you can definitely enjoy an outdoor afternoon walking along shady trails and let your furry friends run freely in designated doggy areas. Waterfront access makes for awesome fun in the sun adventures, especially if you are fortunate enough to live in a bayfront condo building. 

Arts and Culture: Key Biscayne vs Brickell 
In Key Biscayne, you can easily walk or bicycle to local galleries and artists' studios, and enjoy street fairs and festivals, such as the Key Biscayne Art Festival. The closest museum to Key Biscayne is the impressive Vizcaya Museum and Gardens, which provides an unforgettable indoor and outdoor art experience with its majestic architecture, monthly events, European gardens, outdoor sculptures, exquisite fountains, romantic grottos, and collection of rare and exotic antiques.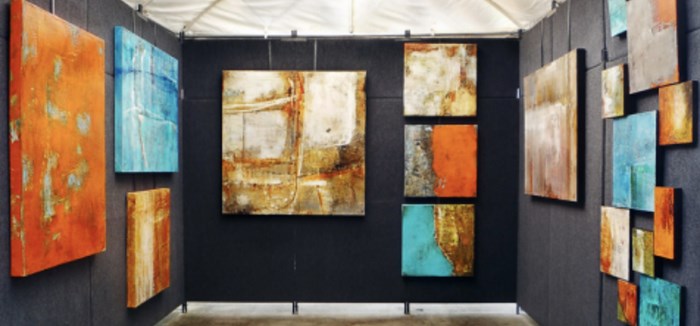 Artwork by Su Abbott. Key Biscayne Art Festival

But if a constant flow of art and culture keeps you going, Brickell is more likely to satisfy. While Key Biscayne has a much more artsy, bohemian feel than Brickell, from Brickell you are just minutes away from Downtown Miami and all of its cultural offerings such as the Adrienne Arsht Center, the Ziff Opera House, both the Perez Art Museum (PAMM) and Frost Science Museum, as well as the American Airlines Arena and Bayfront Park where outdoor concerts fill the air year-round. The metrorail can quickly take you to the edgier Wynwood Arts District with its famous street art, as well as the Design District and some of the area's best contemporary art exhibition spaces, such as the Moore Building, The de la Cruz Collection, and the Institute of Contemporary Art (ICA).

Eating and Shopping: Key Biscayne vs Brickell 
Key Biscayne is home to some of Miami's most exclusive boutiques and delectable restaurants, such as the Rusty Pelican, Kebo, and the Ritz Carlton, all of which provide high-end fare for discerning palates.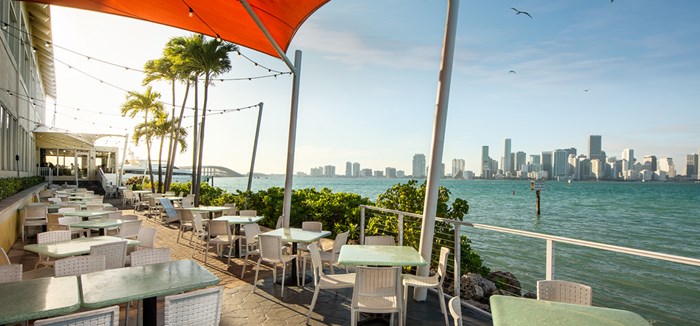 Rusty Pelican, Key Biscayne

But if you're looking to be surrounded by a limitless number of food and shopping options, the small residential community of Key Biscayne cannot compete with the vast assortment of eateries and dining options available in Brickell. Some of Brickell's star restaurants include the upscale Capital Grille, known for its perfect steaks, and the Peruvian fusion offerings at La Mar by Gaston Acurio at the Mandarin Oriental Hotel are world-renowned. A favorite lunch spot is the Mediterranean-inspired Crazy About You. The food hall at Brickell City Centre is filled with eclectic eateries along with specialty Italian gourmet shops, providing a gamut of food options from all over the world.



La Mar by Gaston Acurio at the Mandarin Oriental Hotel, Brickell

Shopping in Key Biscayne is a much more low-key experience of strolling along high-end boutiques and one-of-a-kind shops and stopping to eat at your favorite spot. But if you want to be surrounded by a wider range of shopping options, you'll find Brickell City Centre and the smaller Mary Brickell Village to be your shopping bag. For grocery shopping, this is also true. In Brickell, you'll find Whole Foods just over the bridge, and several Publix stores within walking distance. Key Biscayne is limited to one large Winn Dixie store and several gourmet markets. 

Schools: Key Biscayne vs Brickell
Key Biscayne is a great place to raise kids, with such excellent neighborhood schools as the famed STEM magnet school MAST Academy, which has been ranked as the top public school in Miami, and the Key Biscayne K-8 Center. Private schools include Key Biscayne Community Day School and Key Biscayne Presbyterian School, as well as St. Agnes Catholic School. Students living in Key Biscayne also attend schools in nearby Coral Gables and Coconut Grove, where schools are known to be ranked above those in other areas of Miami.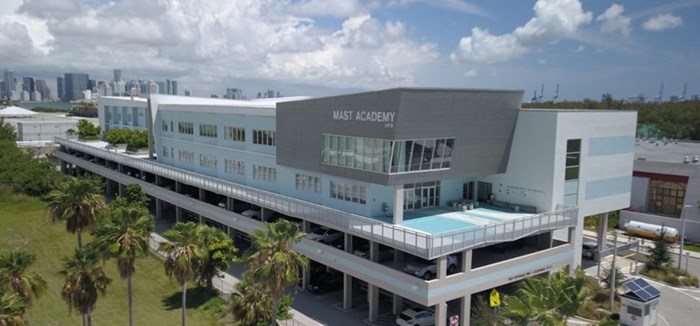 MAST Academy, Key Biscayne

Brickell-area students attend public schools such as Southside Elementary School, George Washington Carver Middle School, Ponce de Leon Middle School, and Miami Senior High School, as well as the Robert Morgan Vocational Tech Institute. Private schools include Open Hearts Language Academy (OHLA), Key Point Academy, and Brickell International Academy. 

Architecture and Housing Options: Key Biscayne vs Brickell 
Key Biscayne is a small community known for its elegant residences, including sprawling single-family homes and condos with gorgeous bay views or dock spaces. With far fewer new developments than Brickell, some of the condos on Key Biscayne may lack many of the newer amenities that have become popular in Brickell. However, many of Key Biscayne's condos are beachfront, or have private beach access, and also feature larger floor plans because they were built many years ago.


---
Brickell is much larger and populated by skyscrapers with business and residential options, including condos, hotels and mixed-use buildings. While older constructions in the area provide waterfront access to Biscayne Bay, many newer luxury high-rise buildings are being erected inland. The area of Brickell Key offers other options such as posh residential homes and luxurious waterfront condo units.
---

Take a look and browse available condos in Brickell versus Key Biscayne, and you can see what appeals to you.

Cost of Living: Key Biscayne vs Brickell 
Both Key Biscayne and Brickell provide housing options at varying price points. Average listing prices in Key Biscayne range around $1,242,179 or about $671 per square foot. Ultra luxury, high-end listings listing as high as $18,000,000 or about $2,762 per square foot.
Brickell has a wider range of price points and sizes, with an average listing price of $530,966, or about $399 per square foot. Higher-end listings may run as high as $2,039 per square foot with ultra luxury or penthouse units listing as high as $29,110,500.

Which Neighborhood is Best for You?
This is a question that you can answer once you get a better sense of what's available in each neighborhood. If you're looking for a calm, laid-back village community with access to nature and less traffic, that is totally family-friendly, Key Biscayne may be ideal for you.
If you'd rather be surrounded by urban excitement, limitless happy-hour, and dining options, and some of the city's best nightlife, Brickell may be your place in the sun.
To view more of our neighborhood comparisons, check out these below: 
If you'd like to discuss your ideal house with local experts who know Miami through and through, contact us via phone or email, and let us help you get to know Key Biscayne and Brickell, or any other South Florida neighborhood.


---

Cover photo courtesy of Maxx Evan (Flickr)
Share your thoughts with us
Sign up now
Get news and updates delivered to your inbox