Brickell vs Edgewater: Which Miami Neighborhood is Best?
Jan 17, 2023 January 17, 2023
When most people are thinking about moving to Miami, the two most popular neighborhoods mentioned are Edgewater and Brickell. So, how can you know if Brickell or Edgewater, Miami is right for you?
Both neighborhoods have grown considerably in recent years, and both are home to high-rise residential towers as well as mid-rise residential towers. While both areas provide plenty of variety in housing options, they also offer differing lifestyles and benefits.

This article was last updated on January 12, 2023.  

Lifestyle: Brickell vs Edgewater
Edgewater, Miami is primarily a quiet, residential neighborhood nestled on the shores of Biscayne Bay and the 8-acre Margaret Pace Park. It's a neighborhood that is in a super central location in all of Miami, and Edgewater condos are ideal for families and young professionals still looking for luxury residences on Biscayne Bay, many of whom are purchasing their first property or moving away from the real estate east at the beach. Edgewater, Miami, is one of Miami's most well-kept secrets for those who favor a serene, residential lifestyle that still provides access to all of the eclectic offerings that make Miami exciting, such as Miami Beach and Biscayne Bay.



Margaret Pace Park in Edgewater. Photo by Ryan Healy
A quiet residential neighborhood that is off-the-beaten path and generally overlooked by tourists, Edgewater provides a nature-oriented yet urban lifestyle that's very walkable, and also has easy access to the Downtown Arts District, the Julia Tuttle Causeway to the east, the Wynwood Arts District, the Design District, Brickell, and South Beach. Edgewater, Miami, has many existing bayfront condos and luxury residences, yet is also still growing, with more luxury condos, restaurants, grocery stores and such on the way.
Brickell, in comparison, is Miami's Financial District and home to many international corporate headquarters. It has a high population density and is roughly bound to a busy area that has been playfully nicknamed the "Manhattan of the South," and more recently, "The Wall Street of the South." As Brickell has experienced rapid urbanization over the past few decades, Brickell is now more dense than Brooklyn, and could be compared to lower Manhattan.


City Centre in Brickell. Photo by Jill Bazeley

Ideal for ride-or-die urban types, executives, workaholics, and those who wish to live and work in the same distinct neighborhood, Brickell is also home to families and international business executives who come to Miami for extended periods. Brickell is known for its bevy of world-class restaurants, a vibrant but mature nightlife, as well as its plethora of versatile shopping options. 

Business: Brickell vs Edgewater
Edgewater, Miami is essentially a laid-back, homey residential district where neighbors will recognize one another while walking their dogs, pushing strollers or bicycling. There are only a handful of shared work spaces, offices, and commercial buildings. If you prefer to leave the work at the office, and decompress when you get home, Edgewater neighborhood offers that.



Brickell, on the other hand, is a buzzing international banking hub that represents the largest of its kind in the US, and the second-largest financial center south of New York. Brickell is Miami's central business district. Flanked by the Miami River and Biscayne Bay, Brickell offers a unique Miami-style, urban experience that includes plenty of open-air restaurant options, high-rises with spectacular water views, and an active but casual corporate environment. If you like to get deals done over dinner and then walk home, then Brickell is good for you. 

Walkability and Transportation: Brickell vs Edgewater
While Edgewater is tucked away, its super central location makes it close enough to walk or bicycle to many of Miami's most desirable locations, such as the Perez Art Museum (PAMM) and the Frost Science Museum, the Adrienne Arsht Center for the Performing Arts, Museum Park, the Wynwood Arts District, the Design District, and Downtown, as well as the Miami-Dade College Wolfson Campus.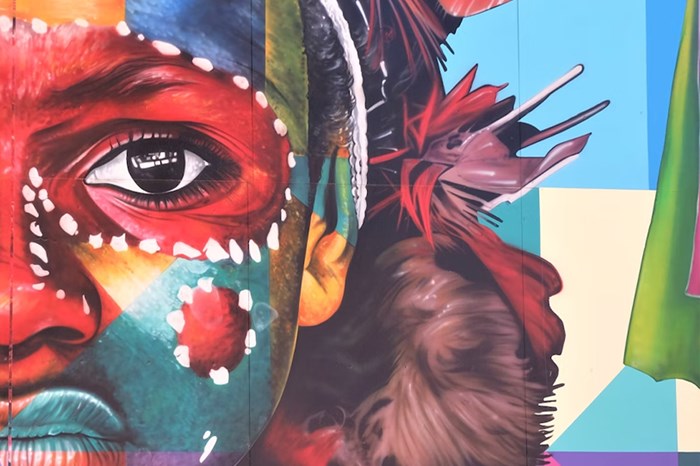 Edgewater has its own Metromover stop, and its close proximity to Downtown and midtown Miami means that you can take advantage of the Metrorail and Brightline trains that can take you just about anywhere in South Florida, eventually to Orlando, from the convenient MiamiCentral station as a part of the Florida East Coast Railway, as well as the up-and-coming commuter rail service that will take you to locations both within and beyond the greater metropolitan Miami area. To the north, Edgewater has the Julia Tuttle Causeway providing quick access to the beach.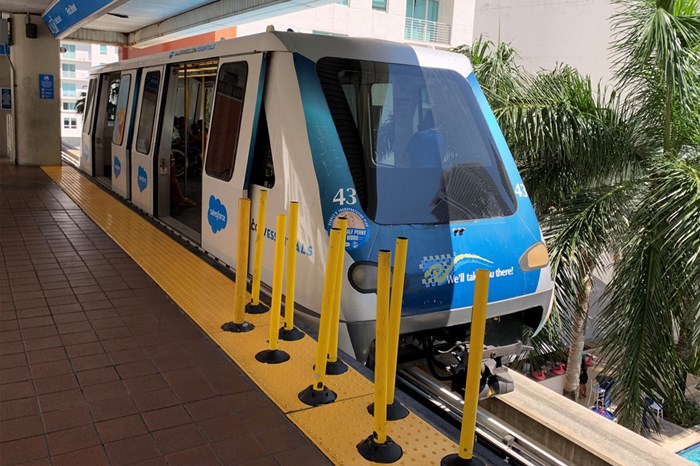 Metromover - Miami. Photo courtesy of Phillip Pessar

In Brickell, the free Metromover can take you to Wynwood, Coconut Grove, and Downtown Miami, where you can connect to the Brightline trains leading to the tri-county area, north to Fort Lauderdale, and soon, north to Orlando. There is also a free Brickell trolley and a very inexpensive airport shuttle that costs $2.25 and runs about every 20 minutes.

Parks and Greenspace: Brickell vs Edgewater
Access to greenspace is Edgewater's claim to fame and part of what makes it so desirable. In this category, we think it is a winner over Brickell. The entire distinct neighborhood is anchored by the expansive and multifaceted Margaret Pace Park, with its winding pathways, mangrove forests, a dog park, sports activities, including basketball courts, volleyball and tennis courts, and waterfront access for water sports such as kayaking or waterboarding. 
The park also provides an array of outdoor options for nature-themed recreation ideal for young families with children, fitness enthusiasts, work-from-home types, as well as parks where dogs and their human companions can get plenty of exercise.



Brickell Key Park

The dense commercial neighborhood of Brickell also has some parks, as the area was planned to provide sun and fun options at locations such as Brickell Park, the waterfront walk around Brickell Key Park, Alice C. Wainwright Park, and Miami Circle Park. You can enjoy shady walking trails and areas for dogs to run and play, as well as some breezy water views that make you forget momentarily that you're in the middle of one of the country's busiest urban hubs.

Arts and Culture: Brickell vs Edgewater


Phillip and Patricia Frost Museum of Science

Edgewater's proximity to the Downtown Arts District makes it incomparable as far as access to the arts, in comparison to busy Brickell. From most all Edgewater properties, you can easily walk or bicycle to some of the city's most renowned cultural venues, such as the Adrienne Arsht Center, Ziff Opera House, Perez and Frost Museums, American Airlines Arena, and many smaller art galleries, venues, performing arts centers, and artists' studios.
Edgewater is also within a short bike or Uber ride to the infamous street art that has made Wynwood famous, along with its galleries and the yearly art fairs that draw millions of international tourists during Miami Art Week. It's also a stone's throw from the Design District, and the area's most prestigious art exhibition spaces and collections, such as the Moore Building, The de la Cruz Collection, and the Institute of Contemporary Art (ICA).
While Brickell is better known for its restaurants, chic roof-top bars, and entertainment venues than for cultural venues, its easy transportation options provide quick and access to the Downtown Arts District and many of the same attractions that are close to Edgewater.


Eating and Shopping: Brickell vs Edgewater

La Mar - Gaston Acurio at the Mandarin Oriental Hotel

As far as eating and shopping options, it's impossible for residential Edgewater's bayfront community to compete with Brickell's plethora of casual eateries and fine-dining options, as well as the wide variety of shopping opportunities walking distance in Brickell, including those at Mary Brickell Village, Brickell City Centre, and all along Brickell Avenue. Some of these include The Capital Grille, an upscale steak house perfect for impressing corporate clients, and La Mar by Gaston Acurio at the Mandarin Oriental Hotel, where Peruvian fusion cuisine is served in a chic waterfront setting.
Among one of the area's newest eateries is EST.33 Thai Craft Brewery and Kitchen, bringing a blend of Asian flavors blended with traditional American barbecue, with the bonus of craft beer. An excellent affordable waterfront lunch can be had at Crazy About You, where you can enjoy Mediterranean flavors in an understated bistro setting on the bay. There are also two food halls at Brickell City Centre, where you'll find a wide assortment of eateries as well as specialty shops serving up all types of food from cultures all over the world, particularly authentic Italian.


Edgewater's Amara at Paraiso

By comparison, Edgewater's bayfront community provides walkable access to some of Miami's most popular restaurants. For fine dining, Edgewater's Amara at Gran Paraiso is a waterfront favorite. And Paolo Fontanot's Italian bakery and cafe is also a can't miss, being the only U.S. location outside of Italy. Tons more spots are in our Local's Guide to Restaurants in Edgewater. Edgewater is also very close to Downtown Miami and Wynwood restaurants, including Kush, known for its infamous burgers and budget lunch menu. For more adventurous fare, Dunkunoo serves up Jamaican dishes along with exotic Caribbean drinks, and an assortment of experimental small plates are available on the eclectic tasting menu at Alter.
Edgewater also provides easy access to Wynwood's unique boutiques as well as the specialty shops in the nearby Design District, and Downtown Miami's versatile shopping options. 


Architecture and Housing Options: Brickell vs Edgewater

Edgewater neighborhood

Edgewater was in the past few decades a neglected enclave nestled between Biscayne Boulevard and Biscayne Bay, populated by working-class families living in smallish mid-20th-century bungalows and a few low-rise existing bayfront condos. All of that has changed in recent years as luxury condos and modern brand new developments such as Paramount Bay, Elysee, Missoni Baia, and other luxury condo high rises have replaced many of the older properties with chic new waterfront condos adorned with balconies boasting exquisite bay views, direct access to the bay, and modern family-friendly resort style amenities. For those drawn to the nostalgia of the neighborhood, a few of the area's old bungalows have been remodeled and upgraded and still dot the local landscape offering waterfront living.
  

Brickell Key neighborhood

Brickell is a larger area that is divided into three sections: Old Brickell, The Financial District, and Brickell Key. The area south of SW 15th Road is known as Old Brickell, and along its grand, tree-lined street, consists of mainly of older low and mid rise condo buildings on the water, as well as small firms, international banks, and other professional service offices, along with a few ritzy mansions dating back to the Mary Brickell era. 
The area north of SW 15th Road, and particularly around Brickell Avenue, is known as the Financial District and here you'll see business and residential high rise skyscrapers, both business and residential. While many of the area's older high rise condos provide waterfront access to Biscayne Bay, most brand new constructions are being built inland due to limited availability of real estate in this increasingly dense area. Brickell Key is a more isolated, private enclave with high-end, waterfront residential condos.

View available condo and rental options in Edgewater or Brickell. 


Cost of Living: Brickell vs Edgewater
Edgewater is a family-friendly area, with real estate condo prices averaging around $386 per sq. ft. and average residential units listing at around $502,715. The median household income for most residents in Edgewater near Miami Beach is $77,000.
Brickell has a wider array of real estate options and attracts a variety of international investors, with options ranging from mid-rise residential towers to older high rise exclusive penthouses to affordable condos. The average price in Brickell is roughly bound to about $399 per square foot or $530,966 for an average residential unit; however, listings may run as high as $29,110,500 or about $2,039 per square foot.

Which Neighborhood is Better? Brickell or Edgewater?
If you're in the market for a quiet, family-friendly environment with less noise and traffic, access to nature, Biscayne Bay waterfront living, mid rise to high rise residential towers, and very little tourism, you'll love Edgewater, which offers respite after a quick commute.
If you prefer to immerse yourself in the Manhattan of the South, with access to all things big city, you'll feel right at home in Brickell.
Check out these below:
If you'd like to talk more with us about which Miami Dade County, Florida, neighborhood is right for you, give us a call or e mail, and we'll be happy to go through the many real estate available listings in both Edgewater, Brickell, and all that Miami so you can make a well-educated decision as to which Florida spot is ideal for you.


---
Share your thoughts with us
Sign up now
Get news and updates delivered to your inbox