Miami's New and Pre-Construction Condo Update: August 2022
Sep 12, 2022 September 12, 2022
Demand for Miami's luxury housing market might be taking a breather for now but developers are not. Continuum Company's Ian Bruce Eichner announced that he will be adding a north tower to his under-construction La Baia residences in Bay Harbour Islands. Six new developments were further proposed, including The Edge in Edgewater, 93 Ocean in Surfside, 1755 JFK Causeway in North Bay Village, and 75 Broadway in Brickell.
This August, P&O Global Technologies' broke ground on 7918 West Drive, a condo tower that has been in the pipeline for about six years. Further, while Gables Village opened a new sales gallery, the Aston Martin Residences sales gallery was demolished to make way for a water feature and baywalk. And developers for Aria Reserve met to review their portion of the baywalk.
Read on for more details on these and many other updates in our Miami condo pre-construction market roundup for August 2022:


---
August 2022 - Miami Condo Pre-Construction Market at a Glance
---

New Sales Gallery
Broke Ground
Planned/Proposed
Construction Updates
Other Updates
Watchlist
---
August 2022 - Miami Condo Pre-Construction Market - New Sales Gallery
---
Groundbreaking – Fall 2022 | Completion – 2024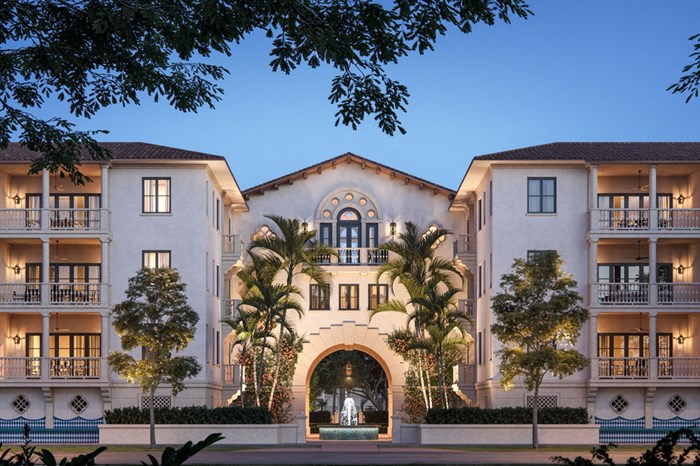 Celebrating the opening of their new sales gallery at 2990 Ponce de Leon Boulevard, MG Developer held a sophisticated Seville-themed ceremony this August. The Spanish-style Gables Village will feature a unique collection of 48 residences, including duplexes, townhomes, lofts, flats, and an archway with a raised selection of residences. Prospective buyers will now be able to touch and feel the modern, luxurious finishes planned to be part of this classic community. 
Paying homage to George Merrick's vision for Coral Gables, the Seville-inspired village will feature tree-lined streets, plazas, fountains, parks, and be bordered by Plaza de España-style alcove gardens. Designed by De La Guardia Victoria Architects & Urbanists, Gables Village will be built in the Mediterranean Revival style of architecture, with its tallest building topping off at four stories. Built for modern-day comforts, amenities in this lush community will include a pool, a wellness center, and a multipurpose room.


---
August 2022 - Miami Condo Pre-Construction Market - Broke Ground
---
Groundbreaking – August 2022 | Completion – NA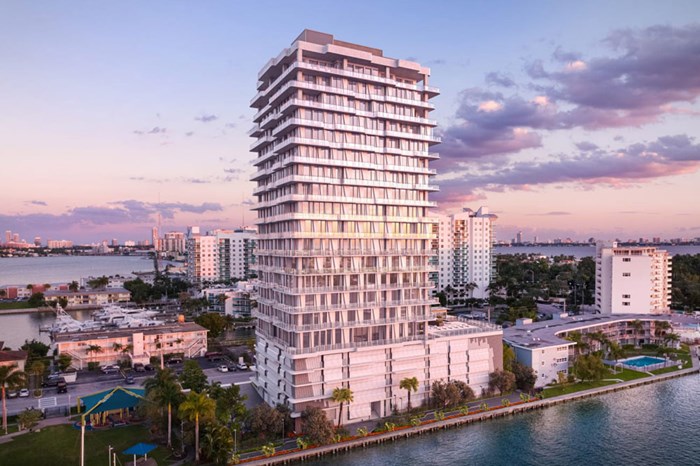 Kuala Lumpur-based P&O Global Technologies finally broke ground on its elegant waterfront condo development in August. Six years in the making, the Malaysian developer is self-funding the technologically-advanced project and has yet to launch pre-sales. 
Designed by MTTR MGMT's Juan Azulay, the 21-story 7918 West Drive condo tower will feature a unique play of sun and shade throughout its premises. Each of its 54 residences will offer a unique layout and balcony profile to maximize sunlight, city and water views. All residences, including two-bedroom, three-bedroom, and penthouse units, will come equipped with high-end finishes by Iberia, Miele appliance packages with mobile tech integration, German-quality kitchen and bathroom cabinets by Siematic, Dekton bathroom finishes, Hansgrohe and Kohler fixtures, an IT control center in each unit, and more.
Some of the amenities at this one-of-a-kind, stunning tower will include indoor Japanese gardens, a waterfront pool, a summer kitchen with BBQ terrace, a wellness studio, sauna and showers, an exclusive clubroom with a dining area and professional chef's kitchen.


---
August 2022 - Miami Condo Pre-Construction Market - Planned & Proposed
---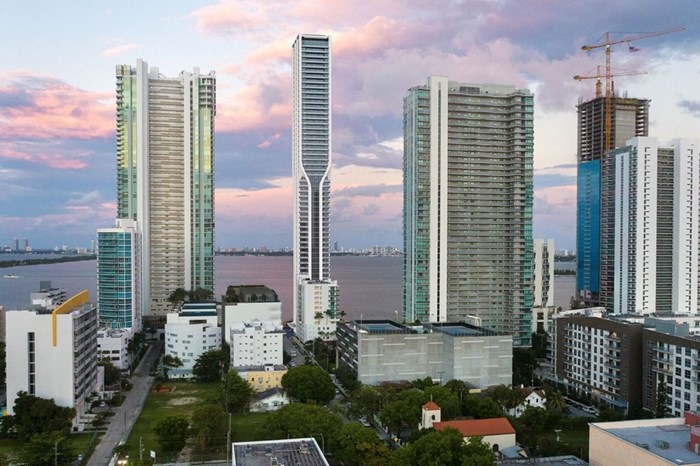 Developers for The Edge Condo in Edgewater secured their utilities permit for the boutique condo to be built at an assemblage at 480 NE 29th Street. The 0.6-acre site is zoned to allow a 38-story tower and sits adjacent to the Icon Bay condo tower.
According to the agreement, developers plan to build the condo with 96 units and a 5,493 square-foot full-service restaurant. Kobi Karp, in collaboration with Dieguez Fridman of Argentina, will be taking on design duties. Last heard, the restaurant was planned to be bayfront. We will be keeping a close eye on this development as more details roll out.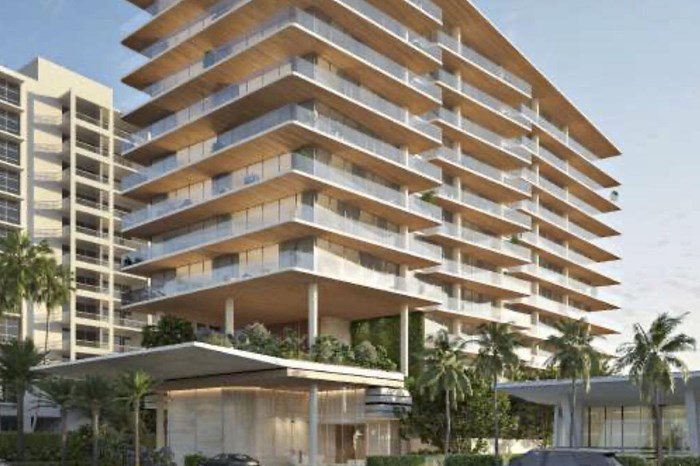 Replacing another oceanfront condo building declared unsafe, co-developers Vivian Dimond of R Palace Surfside LLC and Jose Isaac Peres of Multiplan plan to build 93 Ocean. The duo will be replacing the 1951-built Regent Palace Condominium at 9317 Collins Avenue. Dimond already has control over the condo association and will be terminating it to make way for her luxury development, since she had paid $7 million for the underlying land plus a combined $29.42 million for 32 units in the 34-unit tower. 
Designed by Miami-based Arquitectonica, 93 Ocean will rise 12 stories with basement-level parking. Featuring a total of 27 oversized residences and 71 parking spaces, the first floor of residences would start at 18 feet and 3 inches above sea level, taking into consideration sea level rise. The luxury tower will be home to 9 two-bedroom units and 18 four-bedroom units.
Planned amenities include a rooftop pool deck, a clubroom, a fitness center, a steam room and sauna, a resistance pool, plus a reflecting pond along a private path to the beach.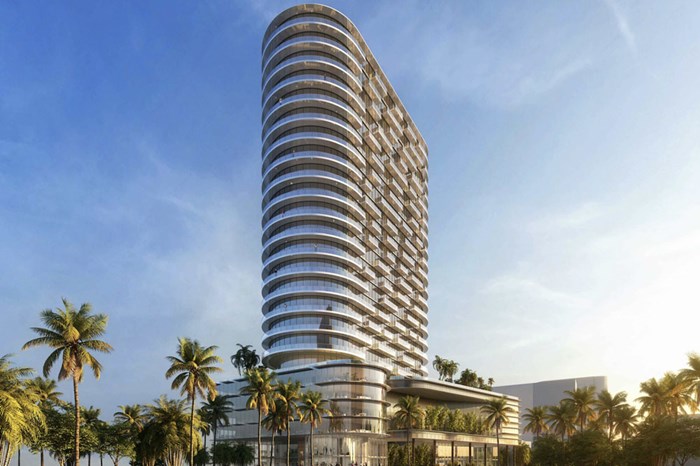 An affiliate of B Group plans to build a 30-story residential tower at 1755 JFK Causeway, according to its application filed with Miami-Dade's Shoreline Review Committee. Expected to top off at 340 feet, the tower could include 201 residential units, 52,818 square feet of office space, a 19,455-square-foot space for a restaurant with a waterfront terrace, a 1,860-square-foot juice bar/coffee bar on the ground floor, 21,315 square feet of commercial space, plus 408 parking spaces in a 5-story garage. The developer also plans to build an "island walk" along the bay, which will be open to the public. 

Mixed-use Project Replacing WSVN Studios – North Bay Village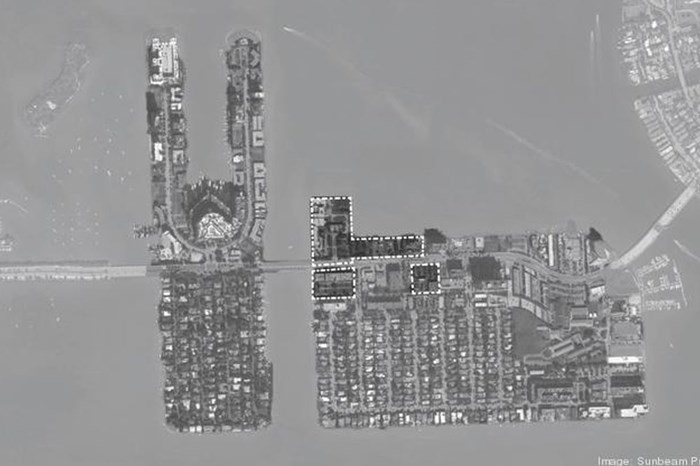 After spending 60 years in North Bay Village, developer Sunbeam Properties, also as owner of television studio and WSVN, has proposed a 7.3 million-square-foot mixed-use development on 12.9 acres of bayfront land spanning both sides of the causeway. Sunbeam Properties, the owner of, has proposed building 1,936 residential units (inclusive of 117 workforce housing units), 870,000 square feet of Class A office/retail space, plus a 112,500-square-foot hotel with about 300 rooms.
Designed by Miami-based PlusUrbana, the development will cover 12.9 acres at 1400, 1401, 1415, 1600, 1601 79th Street Causeway, plus 155 and 1624 N. Bay Causeway in North Bay Village. The development will also feature a marina, 84,366 square feet of civic space, a half-mile "island walk" pedestrian path lined by restaurants and shops, and about 5,000 parking spaces.
WSVN will be downsizing its headquarters and studios into a smaller, satellite studio within the mixed-use project. However, Sunbeam Television will be looking to relocate outside the village with a brand-new main studio and corporate offices.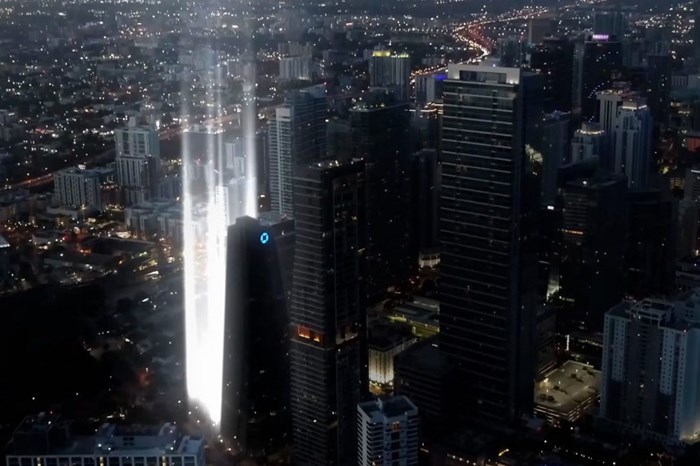 Developer YTech has proposed building another 800-foot tower in South Brickell at 75 SW 15th Rd, filing for approval with the Federal Aviation Administration this August. Looking to begin construction in July 2023, with estimated completion in October 2026, the boutique luxury tower is expected to rise 853 feet above ground. 
YTech assembled the property for the proposed project in January of 2021, and at that time noted that they purchased additional transfer development rights to allow the project to have 183 units and up to 80 stories.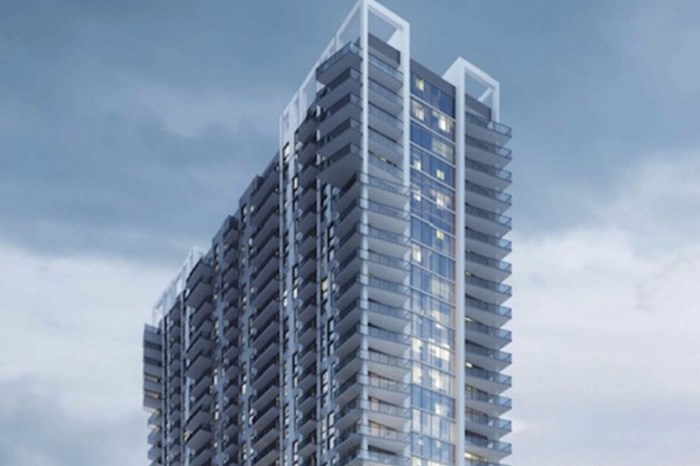 Aventura-based BH Group plans to tear down the 1969-built, 35,538-square-foot warehouse at 2261 N.E. 164th Street in North Miami Beach to make way for luxury development. Tapping Miami Lakes-based CFE Architects, the development is proposed to rise 30 stories with 400 luxury residential units.


---
August 2022 - Miami Condo Pre-Construction Market - Construction Updates
---
Groundbreaking – February 2021 | Completion – 2023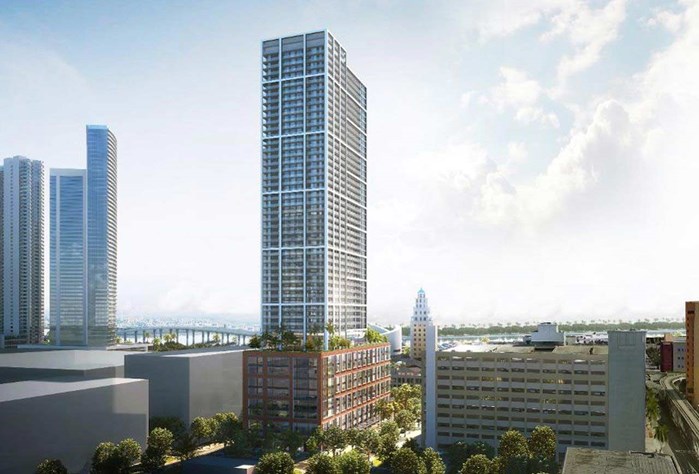 After reaching level 20 in May, construction at Natiivo has made great progress as its first glass windows and doors were installed this August. Construction also seems to have reached the 40th floor, as is visible on its live stream here. 
Designed by Miami's award-winning Arquitectonica, the 51-story Natiivo will be home to 448 turnkey condo residences (all sold out), 140 condo-hotel units (few available for sale), 100 Gale Port-branded hotel rooms, 127 for-sale Creative HQ office condos, and 70,000 square feet of amenities curated by LDV Hospitality. Urban Robot Associates is handling all interior design duties. 
In addition to featuring green building tech, the flexible rental tower will also feature 129,244 square feet of leasable office space, 3 levels of parking with 459 spaces, plus ground floor restaurants (Bodega Taqueria and Dolce Mercato) and an Italian market space. There will also be an 18,000-square-foot health and fitness center, inclusive of peloton equipment, CrossFit, a boxing ring, yoga studio, outdoor training terrace, and The Fit boutique. Other amenities will include a 16,000-square-foot pool retreat complete with a fully serviced pool and cabanas, an amphitheater, a speakeasy, multiple lounge areas, a dining terrace, co-working spaces, quiet rooms, and more. 
Prices started at $300,000, with a choice of studios to three-bedroom residences.
Groundbreaking – Fall 2022 | Completion – 2024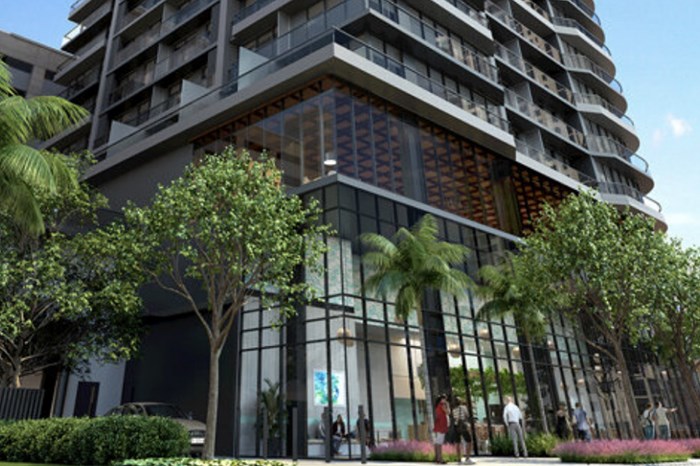 Soon after receiving its permit last month, demolition work was already underway at the 501 First this August. Developer Aria Group's fully sold-out condo tower is replacing an almost 100-year-old building completed in 1924. With no rental restrictions, the 501 First Residences are being built without any parking.
Designed by Revuelta and with interiors by Shim Projects, the 40-story tower will rise with 448 fully furnished residences stacked on levels 4 through 36 and amenities on levels 1 to 3 and 37 to the rooftop. It will also be home to 10,000 square feet of retail. Each of its luxury residences will sport a balcony and a range of high-end touches such as custom Italian cabinetry, innovative appliances by Smeg, Hansgrohe bathroom fixtures, and more.
Boasting a standout amenity package, 501 First residents will be treated to a fully integrated ButterflyMX digital property access system, a rooftop deck with a 75-foot resort-style lap pool, an oversized swim-spa, grill and chill sunrise-sunset decks, a rooftop with year-round Greenhouse, a rooftop movie theatre experience, a bistro and bar concept by New York's GPG Hospitality, an indoor gym designed by HOMAGE Fitness, a media room & library, an outdoor game lawn, a club suite with game tables, co-working spaces, pet lounge, and more.
Aria Group also has a deal to build a 22-seat classroom for Miami-Dade County Public Schools in order to meet the demand generated by additional housing in the area. Discover more details about the 501 First Residences, here.
Prices start from the $300,000s, with a choice of studio, one- and two-bedroom residences.
Groundbreaking – October 2017 | Completion – Q4 2022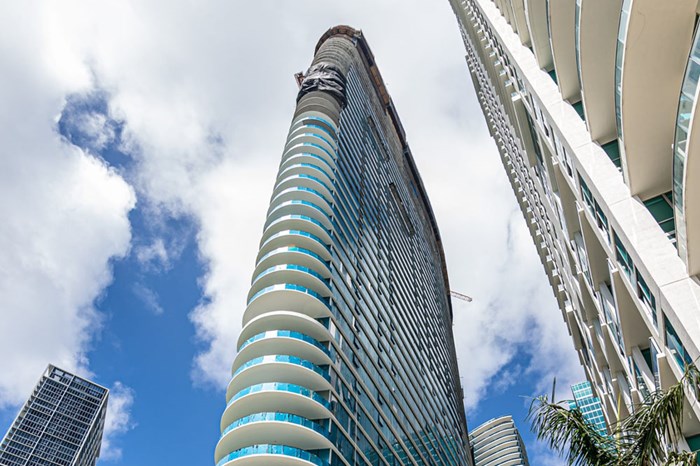 With its giant sail-shaped, glass façade visible from afar, the waterfront Aston Martin Residences are finally taking shape. Demolition is also underway at its sales center next door, which is being torn down to make way for a water feature and baywalk.
Topped off at 816 feet above ground, Aston Martin is now the tallest building in Miami, until other proposed supertalls like the 1049-foot Waldorf Astoria are built. Designed by the Miami-based Revuelta Architecture, the 66-story supertall has 391 ultra-luxury residences. Built at the confluence of the Miami River and Biscayne Bay, the soon-to-be-completed tower will offer exquisite city and water views. 
Residents of the ultra-luxurious supertall will soon be treated to many Aston Martin touches such as signature number plinths, stitching, and color palettes throughout. Amenities at this statement condo tower include Downtown's first private deep-water superyacht marina, a helipad, a virtually accessible permanent art gallery on its 52nd floor, a sky lounge, two cinemas, a rooftop infinity pool, a world-class spa, virtual golf, a kids' playroom, teen center, beauty salon, butler service, and more. 
Prices start at around $1 million for remaining condo units, penthouses are available for upwards of $50 million – only 17 units remaining.
Groundbreaking – May 2022 | Completion – Summer 2024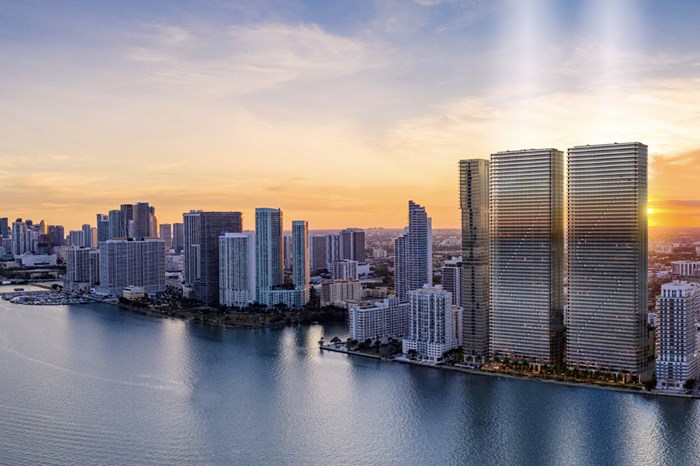 Hosting a panel discussion this August to help shape up its portion of the baywalk, Aria Reserve will be adding 550 linear feet to the Miami Baywalk upon completion. Developed by Melo Group, the south tower broke ground this May with an intimate ceremony and is more than 95% pre-sold. The north tower is 50% pre-sold, and will be breaking ground soon.
Rising along the serene bayfront in Edgewater, the 62-story towers are slated to become the tallest residential twin towers on a U.S. coastline. Designed by Arquitectonica, both towers will feature a zigzag pattern – making them distinctive from the shoreline. Owners at Aria Reserve will also be allowed to rent up to 4 times a year.
While the south tower at Aria Reserve will carry 383 luxury residences, the north tower will be home to 399. Besides interiors by MORADA Haute Furniture Boutique, all residents will enjoy coming home to direct water views, 11-foot-deep terraces, East-to-West flow-through floorplans, plus a dedicated office/bonus room.
A 2-acre recreation deck will be the centerpiece at Aria Reserve, including a semi-Olympic-sized lap pool, a children's splash pad, a whirlpool spa, gaming center, teen lounge, and playground. Other amenities at the waterfront condo towers will include a signature two-level waterfront restaurant and café, a solarium, a telescope observatory area, miniature golf, tennis courts, basketball courts, paddle courts, indoor-outdoor wellness center, meditation gardens, wine cellar, theater room, dog park, and custom-designed water sports dock with for-rent equipment.
Developer Melo Group will also be building a public park along 23rd Street, offering residents direct access to a 5-mile-long, bicycle and pedestrian-friendly waterfront promenade. For more details on how Aria Reserve offers the best-priced waterfront residences in Miami's Edgewater, read this.
Prices range from $920,000 to over $2 million, with a choice of one- to four-bedroom condo residences. Penthouses start at $12 million.
Groundbreaking – Q1 2023 | Completion – Q1 2025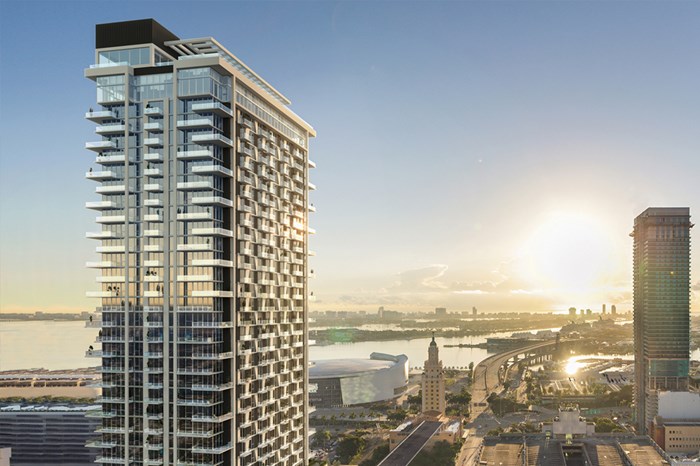 Shortly after signing their utilities deal with Miami-Dade County, developers Related Group and Merrimac Ventures applied for a construction permit in their effort to push plans along. Built without any parking, this short-term rental-friendly condo tower will be part of the 30-acre city-within-a-city - the Miami Worldcenter. It will be joining the ranks of America's most amenitized luxury condos of Paramount Miami Worldcenter plus the health and performance-centered Legacy Hotel & Residences at the Worldcenter.
Designed by Cohen Freeman Encinosa, the 33-story Crosby will feature interiors and furniture by New York's AVRO I KO. It will also be home to 3,370 square feet of retail space. Each of its 450 residences will be delivered fully furnished - complete with gourmet kitchens, custom Italian cabinetry and Bosch appliances, rain showers and custom Italian vanities, contemporary lighting packages, smart home tech, smart keyless entry systems, and balconies with 180- and 360-degree views.
Owners at The Crosby will further have access to an optional in-house management program and third-party management services to handle short-term rentals. Boasting over 22,000 square feet of amenities, residents will gain access to an expansive rooftop pool deck with BBQ stations, juice and coffee bar, a fire pit lounge, a private rooftop restaurant-bar, a fitness center with plunge pools, a gaming lounge, co-working spaces, museum-quality art, Italian-inspired trellis gardens, and much more.
Prices start in the $300,000s, with a choice of studios to two-bedroom residences. 


---
August 2022 - Miami Condo Pre-Construction Market - Other Updates
---
Groundbreaking – April 2022 | Completion – November 2023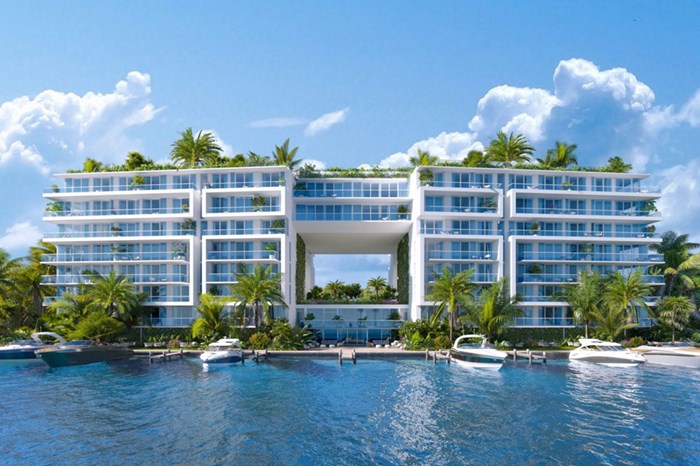 After breaking ground on the very well-received and fully sold-out La Baia residences this April, developer Ian Bruce Eichner – also the developer of Continuum condos in South Beach – announced he expects to launch a north tower in the near future. Gearing to launch sales on the second tower, the Continuum Company has revealed the sister tower to be La Baia North. 
Located at 9481 East Bay Harbor Drive, La Baia North will feature 57 residences with its own private marina. The residences are expected to range from two- to four-bedroom units, starting at $1.3 million. Further details are awaited on the project.
The currently under construction La Baia was designed by Revuelta Architecture. It will be an 8-story, boutique bayfront development carrying only 68 (sold out) luxury residences. Rising with a light, airy aesthetic, the surreal waterfront condo mid-rise will feature its own private, 20-boat marina. All fully finished residences will feature interiors by New York's Durukan Design with 10-foot-high ceilings, custom Italian cabinetry by Snaidero, Miele appliances, Hansgrohe fixtures, wide-plank European wood flooring, large walk-in closets, and private balconies with glass railings.
Affording residents more than 30,000 square feet of resort-style amenities, the under-construction La Baia will feature a rooftop pool with sundeck, heated soaking spa and kids' interactive splash pad, an outdoor bar, a residents' club room, a ground-floor wood deck terrace with hammock coves, a meditation lawn, a pet grooming center, and more.
Prices start at $810,000, with a choice of one- to four-bedroom residences.
Groundbreaking – 2019 | Completion – Summer 2022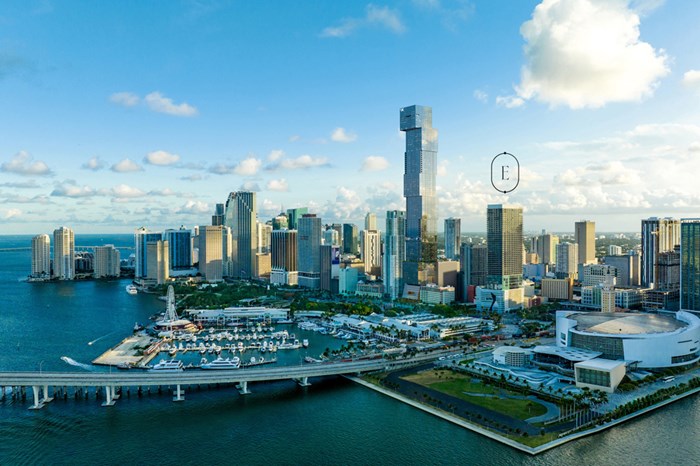 Launching their soon-to-be-ready Elser Hotel & Residences, developers PMG and Greybook held an unveiling ceremony with champagne, experiential performances, and a live band this August. The only new, fully furnished, short-term-rental-approved, move-in-ready residences in Downtown, the Elser is a 49-story tower with 646 luxury residences.
Initially a rental tower called Society, the Sieger Suarez Architects-designed tower was recently converted into a luxury condo due to buyer demand. Delivered fully furnished, each luxury residence features porcelain wood-grain tile flooring throughout, smart keyless entry systems, smart home tech, custom kitchen cabinetry by Italkraft, stainless-steel appliances by Frigidaire, frameless glass-enclosed showers, and more.
Owners at The Elser will be allowed daily rentals with the option to enroll in the in-house short-term rental program. Those opting in will have their properties professionally managed by the New York-based Highgate.
Amenities at this short-term-rental-approved tower include a lobby-level cocktail bar & restaurant by Jaguar Sun, a coffee lounge by Cafe Domino, a 132-foot resort-style pool with private lounge areas, a 16-foot poolside screening LED wall, a sky entertainment lounge, a two-level coworking lab, a two-level gym, access to the custom Society Residences app, curated art and green walls throughout its common spaces, electric vehicle charging stations, and more. The condo-hotel is also home to 48,000 square feet of office and 5,000 square feet of prime retail space.
Prices start from the $600s, with a choice of studios to three-bedroom residences.
Groundbreaking – Q1 2023 | Completion – 2025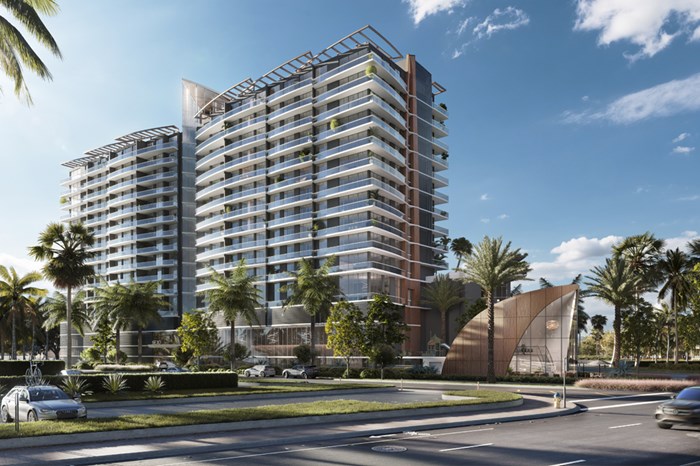 Cementing plans for Nexo Residences, developers closed on a 1.74-acre site at 13899 Biscayne Boulevard for $16 million this August. Looking to bridge the gap between luxury living and a shortage of short-term rental condos in the North Miami Beach and Aventura area, developers Fortune International & Blue Road launched sales for Nexo Residences in April.
With absolutely no rental restrictions, Nexo will be the first-of-their-kind residences in this rapidly growing neighborhood. Offering owners full rental flexibility and central connectivity to Miami plus Fort Lauderdale, the luxury condos will replace a 1958-built office building.
Designed by Frankel Benayoun Architects, in collaboration with the internationally acclaimed Carlos Ott, the 15-story luxury condo will rise with 254 fully-furnished residences. Each stunning residence will feature interiors by Urban Robot, smart key access, smart home tech integration, fully-equipped European-style kitchens, imported porcelain flooring, expansive glass balconies, and more.
Built to appeal to remote workers as well as vacation seekers, Nexo Residences will feature a host of tech-savvy and resort-style amenities. Guests and residents will have access to a two-story tech hub with café, coworking spaces, a business center, a resort-style pool with sun shelf, a summer kitchen with BBQ/lounge area, two spas, an indoor-outdoor gym with virtual trainer, a rooftop open-air observatory deck, a children's playground, electric car charging stations, and more.
Get more details on the ready-to-move-in condos at Nexo Residences, here. 
Prices start in the low $500,000s, with a choice of turnkey studios to 3-bedroom residences.
Groundbreaking – Late 2022 | Completion – Late 2025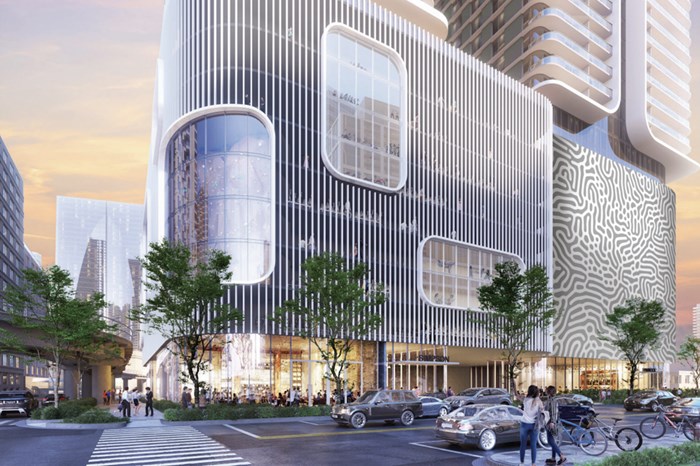 Along with unveiling a first look at the luxurious interiors buyers can expect at the Cipriani Residences, developer Mast Capital also revealed their designer to be 1508 London. The internationally renowned design firm has fashioned the interiors as a modern take on Venetian design. The sneak peek also revealed Italian upholstery and light pendants in the lobby.
Developed by Mast Capital and hospitality icons, the Cipriani brothers, the Arquitectonica-designed Cipriani Residences will be part of a 3-tower project at 1420 S. Miami Avenue. The other two towers, developed in association with Boston-based Rockpoint Group, will house 880 rental apartments and rise to a height of 60 and 50 stories each. Together, the three-tower development will carry 1,300 residential units, 18,300 square feet of a full-service restaurant, 1,646 car parking spaces, and 2,472 bike parking spaces.
Expected to rise with 420 ultra-luxury residences, the condo tower will be built to embody the Italian standards of hospitality known of Cipriani. All condo residences will feature expansive terraces, custom Italian kitchen cabinetry, Wolf/Sub-Zero appliances, an intelligent interface with access to building services, and much more. 
Besides delivering the legacy brand's world-class services and distinguished style, amenities will include a two-pool deck with cabanas and food service, a sun terrace, a spa, a salon, a fitness center, a pickleball court, golf simulator, screening room, library, children's playroom, round-the-clock Cipriani dining services inclusive of a Cipriani bar and private dining rooms, 10,000 square feet of retail, a dog park, and more.
Find more details on Brickell's Cipriani Residences, here.
Prices start at $1.1 million, with a choice of one plus den- to four-bedroom residences.
Groundbreaking – May 2020 | Completion – May 2024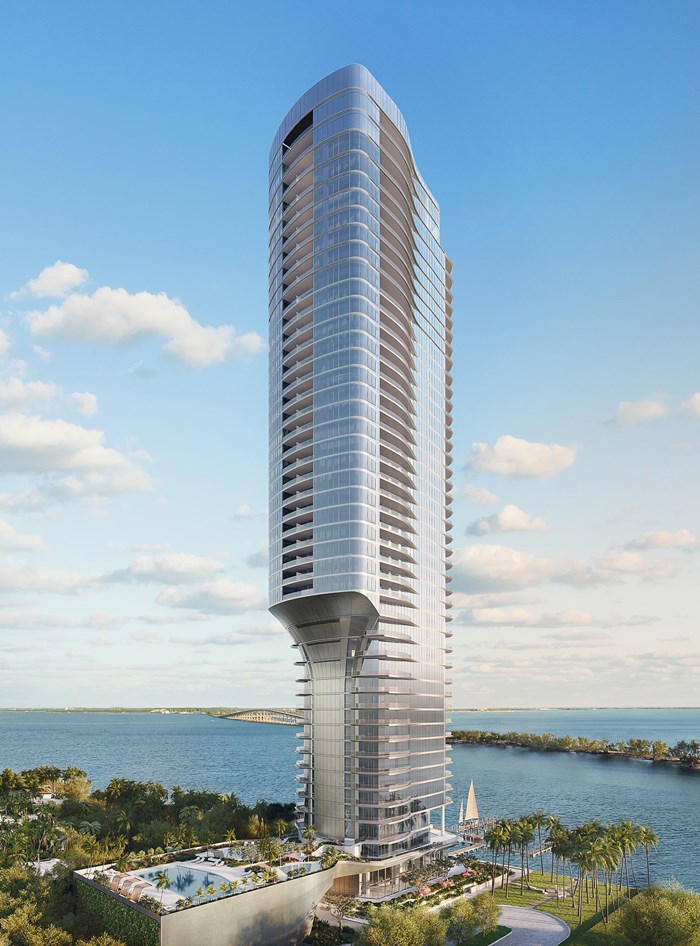 Right after going vertical this May, developers at Una announced that the yacht-inspired tower is 97% sold and is expected to be ready by May 2024. Developed by OKO and Cain International, the ultra-luxury tower will feature designs by the award-winning Adrian Smith + Gordon Gill Architecture (AS+GG). Featuring Miami's deepest-ever parking garage - 3 stories below sea level – the waterfront tower will rise 47 stories with 135 stunning residences.
Besides sweeping city and water views, the ultra-luxury condo tower will offer amenities like three swimming pools, a separate kids' splash and play area, an owner's lounge, outdoor lounge, a private dining room/party room, a kids' indoor playroom, a movie theater, spa, beauty salon, high-efficiency, noise-reducing floor-to-ceiling exterior glass, a dog-walk area, private marina, direct access to the Baywalk, and more. 
Read here to find more details on one of South Brickell's most ambitious waterfront projects - the maritime-inspired Una Residences.
Prices for the remaining units start at $3.5 million.
Groundbreaking – Q4 2022 | Completion – Q3 2024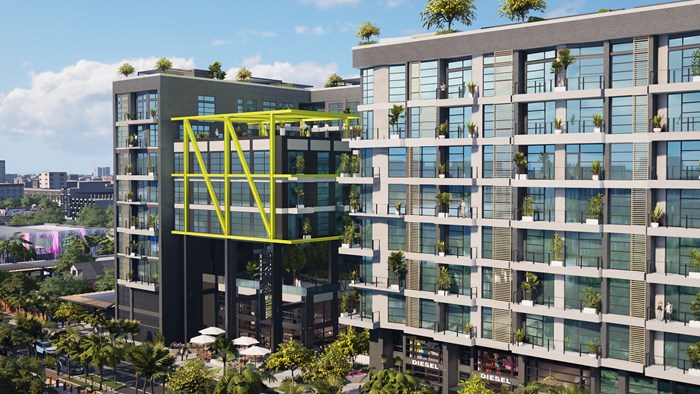 Having partnered with FTX US in May, the world's first Diesel-branded condos have already garnered $5 million in pre-sales via crypto transactions. Now 40% sold, Diesel Wynwood will rise 8 stories with 159 residences and 17,415 square feet of retail.
Designed by Zyscovich Architects, this luxury-branded, boutique mid-rise will be a LEED-certified building, including a range of WELL-certified amenities. Its wellness facilities will ensure pure air and customizable, smart-sensing climate control solutions for every home.
In line with the denim brand's eclectic image, the condo building will feature playful design elements such as steel pillars and neon structural beams. Each loft-style unit at Diesel Wynwood will be crafted to feature extra-high concrete ceilings, optional modular walls, luxe European brand finishes, and edgy textural treatments. Select turnkey units will further feature furnishings by Diesel Living – the denim brand's home décor line. 
Diesel Wynwood will also afford a great mix of statement amenities including a two-story lobby with steel mesh walls and unusual geometries, a rooftop pool deck doubling up as an energetic social gathering space, a residents' lounge featuring custom Diesel Living furnishings, a European-inspired spa, a TechnoGym hooked up to a wellness app, a space-inspired Sensory Room, a wine cellar with a selection of spirits, and a dedicated Art Studio for artists and sculptors of every caliber. 
Read more about Diesel Wynwood's unique lifestyle, location, and features, here.
Prices range from $500,000 to $6 million, with a choice of micro-studio to 3-bedroom residences, ranging from 395 to 4,411 square feet in size.
Groundbreaking – Q4 2022 | Completion – Q4 2025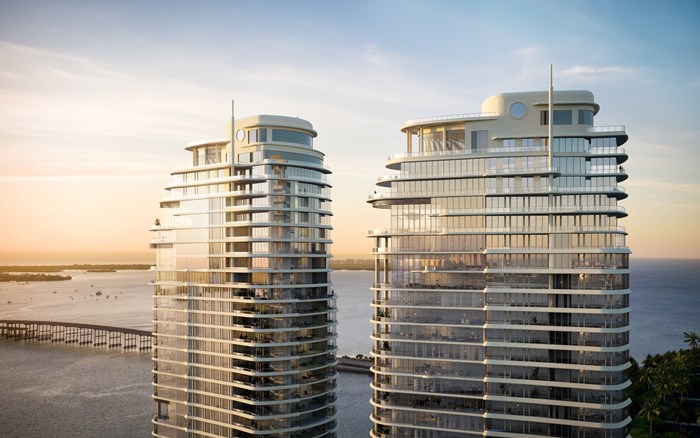 Selling at break-neck speed, the St. Regis Residences towers have already reserved more than $600 million in pre-sales over the past 6 months. Co-developed by Miami's famous Related Group and Integra Investments, the waterfront towers are one of the most highly anticipated pre-construction projects in Miami.
Designed by New York's award-winning Robert A. M. Stern Architects, the eastern tower in the complex will rise 48 stories as Astor, while the 47-story western tower will be called William. The nautically-inspired towers will be positioned to afford the most expansive water and city views possible in Brickell. New York's award-winning Rockwell Group will be handling interiors for both the waterfront towers, of which the eastern tower will house 183 bespoke residences.
Offering a combined 60,000 square feet of amenities, both towers will be purely residential, meaning there will be no hotel or transient use allowed on site. Residents of both towers will gain access to St. Regis' storied 5-star services, including an iconic St. Regis Tea Room, Cognac Room, and signature butler service. Other notable amenities include a private marina, exclusive beach club access, indoor lap pool, spa, beauty salon, curated wellness programming, park-like grounds by Enzo Enea, children's entertainment room, teen video game lounge, golf simulator, a pet spa, electric vehicle charging stations, a luxury house car, and much more.
Read more about the ultra-luxury residences coming up at the two St. Regis towers and their connection to New York, here. 
Prices start at $1.5 million, with a choice of one- to seven-bedroom residences.
Groundbreaking – 2023 | Completion – NA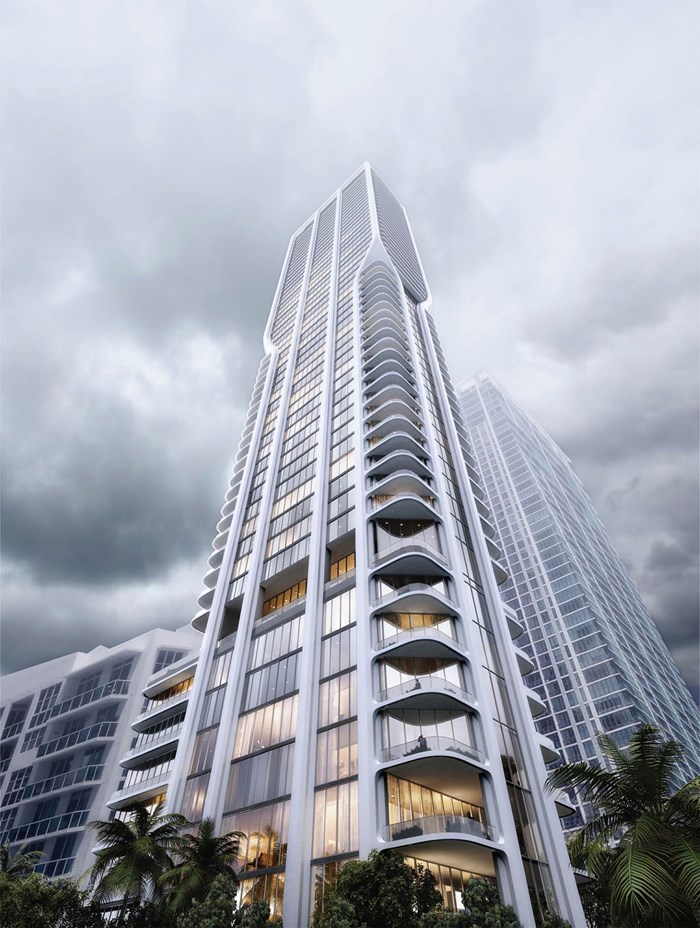 Along with signing a utilities agreement for 100 condo units (up from 70 units stated last year), developers of the 55-story tower also filed for a demolition permit this August. While no groundbreaking or completion dates have been announced yet, developers are moving full steam ahead to get plans off the ground in Edgewater.
Designed by ODP Architecture & Design - also architects at Zaha Hadid's One Thousand Museum - the 55-story tower will rise with a prominent exoskeleton and Edgewater's first rooftop helipad. The boutique tower will feature no more than two residences per floor. Amenities expected of the waterfront tower include 16,489 square feet of commercial/restaurant/retail space above ground level, a private dock, top-floor sky lounge, juice bar, indoor pool, spa, fitness center, residents' lounge/bar, theater, private dining room, business center, and salon. There will also be a separate 9-story garage with 193 parking spaces, rooftop activity space, and commercial space.
Groundbreaking – Q4 2022 | Completion – 2024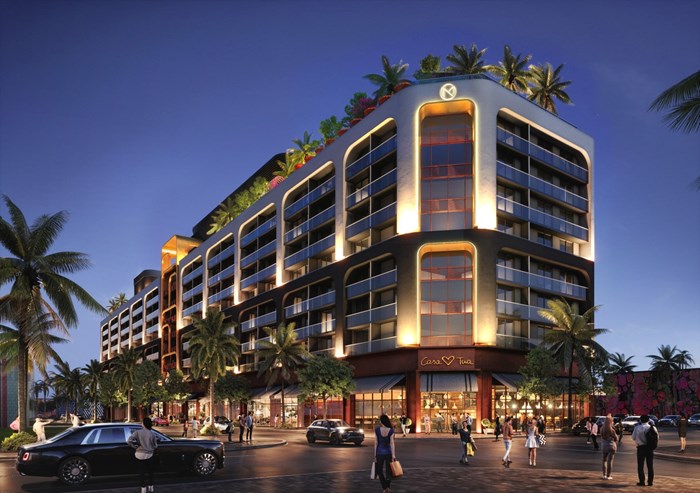 Another tower to ink its utilities deal this August, developers of the world's first NoMad Residences are a step closer to building the mid-rise. Developed by partners Related Group plus Manhattan-based Tricap, and backed by the Sydell Group, the 9-story building will be crafted to appeal to digital nomads.
Designed by Arquitectonica, the 9-story mid-rise will be home to 329 modern condos. Each fully furnished condo will feature avant-garde interiors by Design Agency. Highlight amenities include a rooftop NoMad Bar and restaurant helmed by the James Beard Award-winning Leo Robitschek, a 13,000 square-foot Casa Tua Cucina on the ground floor, and a NoMad library and lounge with curated events. Other amenities will include a fully-serviced pool deck with private cabanas, an indoor-outdoor fitness center, co-working spaces, an outdoor theater with lawn seating, 5,113 square feet of retail, and museum-quality art from Jorge M. Pérez's private collection.
Owners will also be allowed to rent short-term via Nomad's in-house team. Find more details about the short-term-rental-ready condos at NoMad Residences, here.
Prices start in the mid-$500,000s, with a choice of fully-furnished 464 to 931-square-foot residences.
Groundbreaking – Fall 2022 | Completion – Fall 2025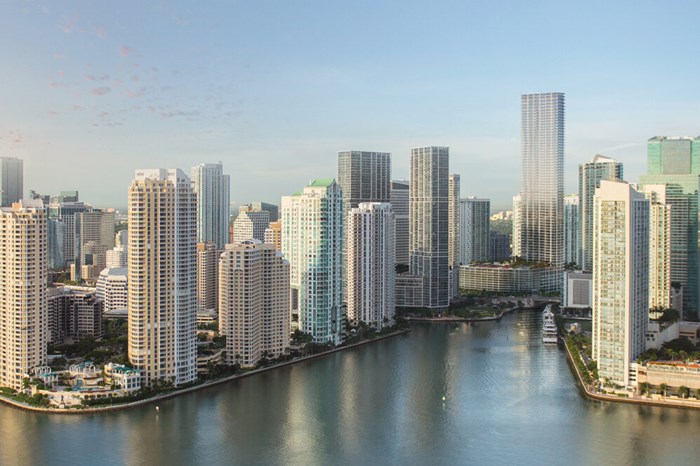 Moving closer to breaking ground, developer Related Group filed a construction permit application for site and soil this August. The ultra-luxury Baccarat will be the first in a three-tower complex. Tower II is proposed to rise 897 feet above ground with 506 rental apartments. Tower III is planned to rise 82 stories with a 249-room five-star hotel plus 103 residential units. All in all, the riverfront complex is expected to house 1,400 residences, a 249-room five-star hotel, and 24,463 square feet of retail.
Already approved for a height of 828 feet above ground, Related Group has proposed building the luxury tower to an increased height of 848 feet above ground. Designed by Arquitectonica, Baccarat Residences is planned to rise 75 stories with 318 luxury residences, 28 riverfront flats and duplexes, and a 10,000-square-foot restaurant. The riverfront tower will feature an undulating façade as reflective as French crystals. Managed by Barry Sternlicht's SH Hotels & Resorts, each of its luxury condos will boast high-end interiors by Meyer Davis Studio, characterized by a unique blend of 18th-century Paris, 21st-century Miami, and 1930s Art Deco influences.
Amenities at this waterfront tower will include a marina with yacht dockage, a luxury house yacht, plus a riverfront restaurant. Other amenities will include a pool, game room, spa, beauty salon and barber, wine cellar, children's playroom, clubroom, grand salon for events, private workspaces, business center, and more.
Watch more about Baccarat Residences here. 
Prices range from around $1.1 million to $3.5 million per unit, with a choice of one- to four-bedroom residences. Penthouses will be upwards of $14 million.

Witkoff Group's Three-Tower Mixed-use Project – Downtown Miami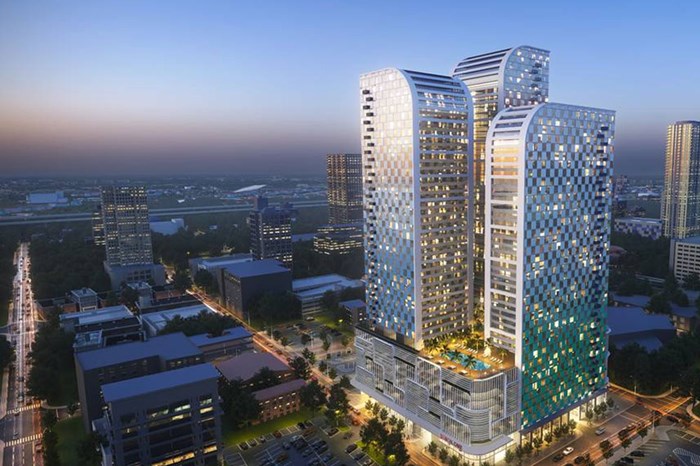 Filing an application with FAA to install two tower construction cranes at the former Miami Arena site, developer Witkoff Group is moving ahead with its plans for 700 N. Miami Avenue. Close to Brightline's passenger rail station in Downtown Miami, the three-tower new construction will feature a U-shape orientation with vertical greenery veiling the podium.
Developed in partnership with Chicago-based Monroe Capital, the 3.38 million-square-foot mixed-use will be seated within the Miami Worldcenter mega-complex. Designed by Miami's Kobi Karp, the site will hold a total of 2,351 residential units, 540,000 square feet of offices, 49,999 square feet of ground floor retail (likely with a supermarket), 2,457 parking spaces, and a lush park buffering it from the railroad. While all 3 towers will carry residential units, only two will house offices. The three 57-story towers will come connected by an 8-floor podium/amenity deck. 


---
Watchlist
---

Belmar Condo Sold for $12 million – Edgewater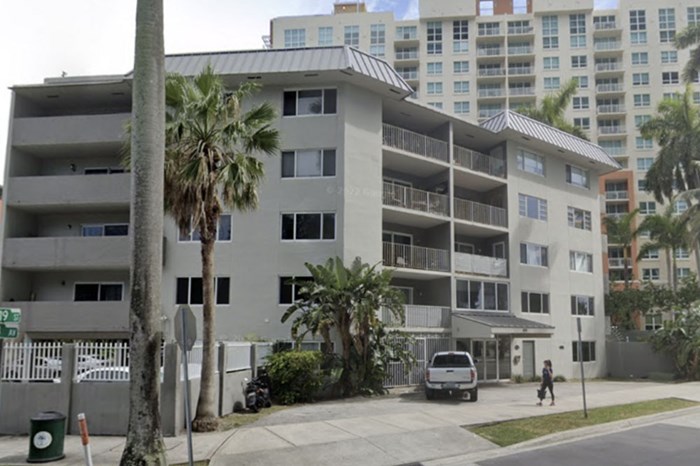 An entity managed by SB Development principal Joseph Stern recently completed the bulk purchase of all 13 units at the Belmar condo in Edgewater. Located at 419 Northeast 19th Street, the building sits right in front of Cité on the Bay condo. Paying a total of about $12 million, the bulk deal breaks down to $923,076 per condo – way above their estimated market value of  mid-$200,000s.
The New York-based developers, SB Development along with Hazelton Capital Group plan to tear down and redevelop the 5-story condo building. The partners have already terminated the condo association. Future plans for the property are yet to be revealed.

80-story Mixed-use to Replace Shops at Mary Brickell Village – Brickell
New York-based RPT Realty announced that it is considering building an 80-story tower in place of its recently acquired Shops at Mary Brickell Village. Purchased for $216 million this July, the new owner said that according to the site's zoning, the 5.2-acre property can be redeveloped into a mixed-use with residential, office, and hospitality elements.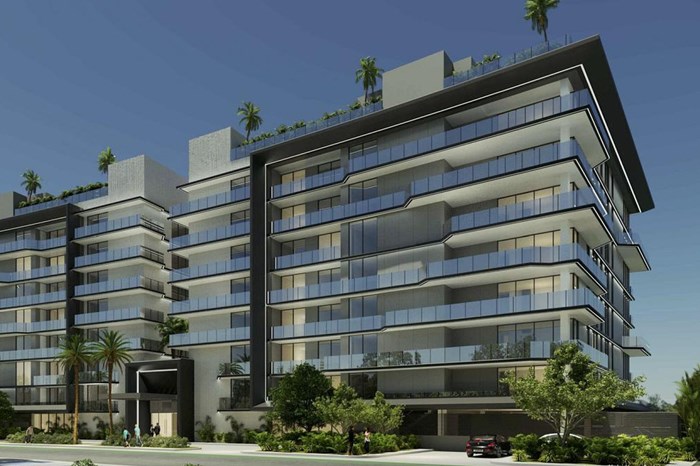 Purchasing all 30 units in the Bay Harbor Towers condominium for a total of $32 million, PPG Development, led by Ari Pearl, is now the new owner of the waterfront property. Located at 10141 and 10143 East Bay Harbor Drive, the condo tower was built in 1956.
Paying about $1,066,667 per existing unit, the developer commented it was rare to find such an amazing waterfront site with sweeping bay views and immediate views of Bal Harbor and Sunny Isles Beach. Owners made quite a profit on their units, considering the current market value per unit ranged around $300,000. Redevelopment plans for the site are yet to be revealed.

Majority Stake in Waterfront Development Site Sold for $21M – Miami River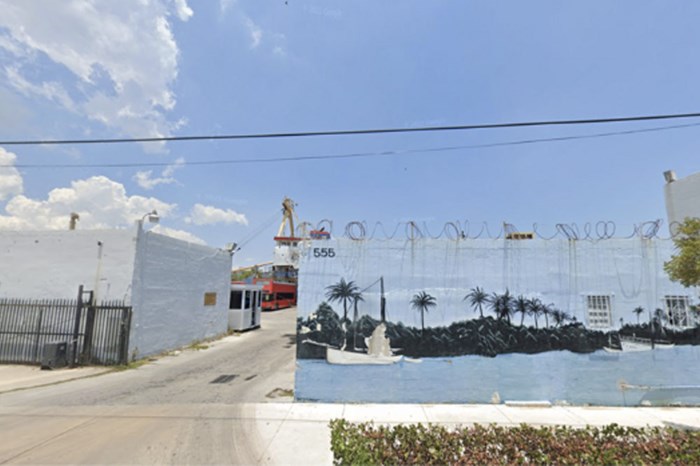 555 SRD LLC, managed by Miami Beach-based technology entrepreneur Robert Zangrillo bought a majority stake in riverfront parcels occupying 517, 555, 603, 661, and 663 N.W. South River Drive. The entrepreneur now holds a 74% stake in the site for $20.73 million. The property is currently home to 26,868 square feet of marine facilities built in the 1920s and 1940s. 
Previous plans for the riverfront site include building a 12-story condo with hotel rooms, offices, and commercial space. The new owner is considering plans for a condo, office, or hotel.


---

Like a pre-construction project you see? Call, chat, or e-mail us to purchase your next home in any of your favorite pre-construction condos - from Miami through to Fort Lauderdale.





Love staying up-to-date on all the preconstruction projects in Miami and Fort Lauderdale? Subscribe to this blog & our YouTube channel for all the latest news!
Share your thoughts with us
Sign up now
Get news and updates delivered to your inbox