The Best Miami Neighborhoods: Key Biscayne vs Fisher Island
Jun 21, 2021 June 21, 2021
Two of Miami's most private and exclusive neighborhoods are Key Biscayne and Fisher Island. These neighborhoods share a number of similarities, as both are affluent island communities separated from the mainland Miami Metro area. And each island is designed as a private enclave for Miami's elite. But the two also differ in many ways, due to their locations, local lifestyle, and the communities that inhabit each location.  
We've broken down details to compare Key Biscayne versus Fisher Island based on factors that can help you choose which of the two would be most suitable for you. Take a look. And don't miss our other Miami neighborhood comparisons at the bottom of this article. 

Lifestyle: Key Biscayne vs Fisher Island
Key Biscayne is a comfortable residential neighborhood located on a small island that is connected to Mainland Miami by the Rickenbacker Causeway. Once you cross the causeway into Key Biscayne, you definitely feel the tranquility of being surrounded by water, and apart from the buzzing noise and traffic of Miami. Key Biscayne appeals to families, seniors, and professionals who want to be part of an environmentally conscious and serene upscale community where casual elegance, tropical beaches, and access to unspoiled nature define the local lifestyle.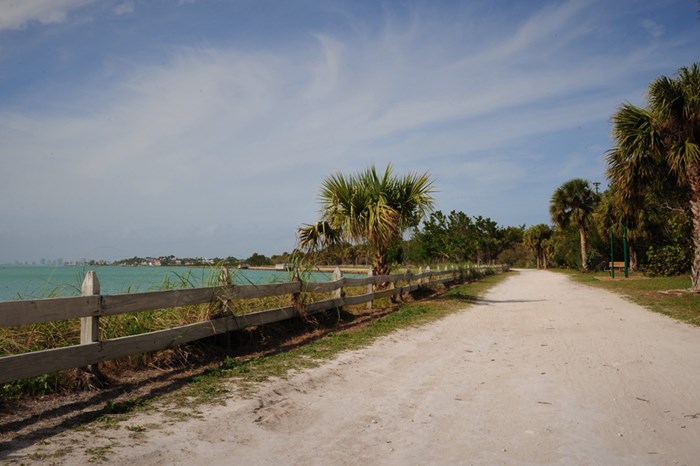 Key Biscayne provides an ideal environment to raise children and is known for its quiet bohemian lifestyle, its vast natural reserves, and its active civic life and close-knit community. It's very common to see children riding their bikes or scooters, or driving golf carts around the island. Retirees also love Key Biscayne as it provides many opportunities to live an active lifestyle within a caring and close-knit community.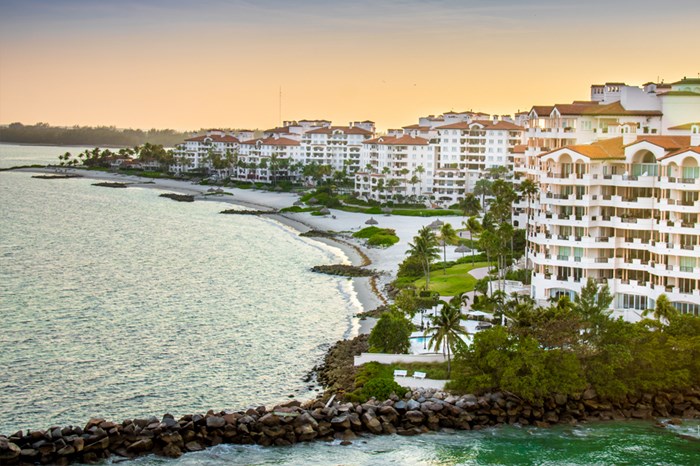 Fisher Island. Photo courtesy of Michael Au

Fisher Island is much more exclusive and in fact is known as the wealthiest zip code in the United States. Located just southwest of Miami Beach and east of Downtown Miami between the Atlantic Ocean and Biscayne Bay, it is only accessible by a ferry, shuttling residents to and from the island about every 15 minutes. Fisher Island is also much smaller than Key Biscayne. A tiny island under one square mile in size,  Fisher Island is home to only about 700 families, many of whom use their homes only as vacation homes, which means that the area is sparsely populated throughout most of the year.  
Once owned by the illustrious Vanderbilt family, many celebrities have made their homes there, such as Oprah Winfrey, and Hollywood stars such as actress Anne Bancroft and her husband Mel Brooks. Temporary residents have included Arnold Schwarzenegger and his wife, Maria Shriver, as well as icons such as Bruce Willis, Demi Moore, and Jack Nicholson. 

Business: Key Biscayne vs Fisher Island
Both Key Biscayne and Fisher Island are residential enclaves that enjoy small-town suburban charm and an escape from the busy, buzzing world of corporate businesses, but the similarities end there. Fisher Island has only a small bank, a post office, a small grocery store, and a health center on the premises, with no other businesses to speak of outside of the Fisher Island Club and Resort and its offerings, including an impressive spa, tennis center and restaurants.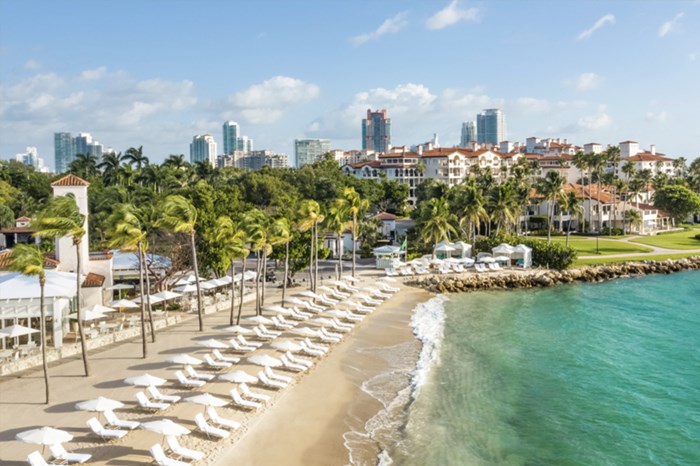 Fisher Island Club and Resort. Photo courtesy of Fisher Island Club

Key Biscayne, in comparison, is a full neighborhood with a small business district composed of private offices housing architects, attorneys, physicians, and other professionals who live and work in the neighborhood. There are also art galleries, boutiques, fitness centers, yoga studios, and plenty of eateries and cafes serving up a wide array of exotic and healthy food choices, as well as a couple of hotels. 

Walkability and Transportation: Key Biscayne vs Fisher Island
If you like to walk or bike, both islands are winners in this regard. Key Biscayne maintains a small-town feel and has always been one of Miami's most walkable neighborhoods, with locals often using their bikes to get around the neighborhood. Although Key Biscayne is about seven miles from the mainland, it's fairly easy to get to other areas of the city such as Downtown Miami, Brickell, the Wynwood Arts District, and the Design District, including via the Metrorail at Vizcaya Station. There are also local bus lines that serve Key Biscayne, and the Key Free Shuttle is a great way to get around on the island. Although Key Biscayne is a walkable community, you'll probably want a car to get to and from the island if you work or spend lots of time on the mainland.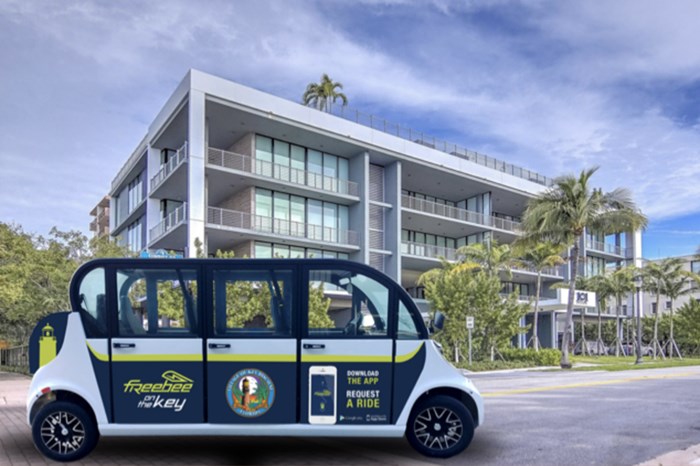 Key Free Shuttle. Photo courtesy of Village of Key Biscayne

Fisher Island's size makes using a car on the island optional. In fact, the most popular form of transportation on Fisher Island is by golf cart, though some locals enjoy walking and using their bikes. The island is not connected to the mainland by any bridge, and is only accessible by ferry or boat, so many locals also use their yachts to get to and from the island.
To get to and from Fisher Island, most residents drive their cars to Terminal Island and board the ferry, which departs every 10 minutes on weekdays during morning rush hour and every 15 minutes all other times 24 hours a day. Others access the island via private yachts. 

Parks and Greenspace: Key Biscayne vs Fisher Island
Key Biscayne is a natural, largely unspoiled paradise with loads of greenspace, lush mangrove forests, and native Florida beaches where you can enjoy waterfront activities such as swimming, paddle boarding, snorkeling, kite surfing or fishing.  Two amazing parks cover much of the Key Biscayne coastline: Crandon Park and Bill Baggs Cape Florida State Park, including the iconic lighthouse. These two areas, which extend into one another, provide miles of beautiful hiking and bike trails as well as endless options for outdoor recreation.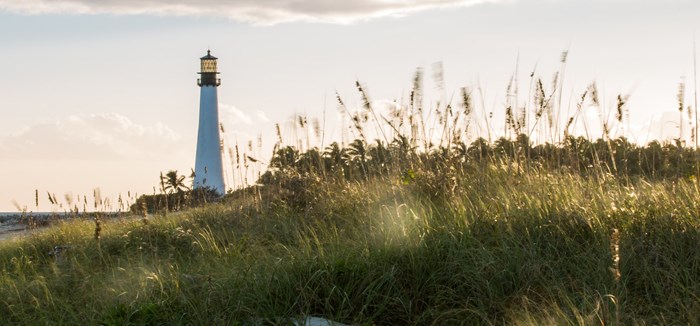 Key Biscayne litehouse. Photo courtesy of 

Maxx Evan

Among many of the island's wild attractions, one of our favorites is the former Metro Zoo ruins, a surreal area populated by giant iguanas and an array of exotic bird species, including peacocks, swans, and shorebirds of many varieties. For golf lovers,  Crandon Golf at Key Biscayne, managed by Miami Dade Parks and Recreation is an excellent public course.
Being much smaller, Fisher Island's greenspace is naturally much more manicured. The neighborhood is built around a well-ranked, 9-hole golf course, and there are 18 tennis courts on the island, grass and clay courts. The island contains a small bird-watching area and one mile of pristine, private beach with fine white sand imported from Bermuda and raked daily to maintain its powdery texture. There is also a deep-water marina that can accommodate yachts up to 250 feet.

Arts and Culture: Key Biscayne vs Fisher Island
If you're looking for a little bit of culture in your backyard, Key Biscayne wins this in this category. Key Biscayne is home to a few galleries and artists' studios, and hosts several street fairs and festivals, including the Key Biscayne Art Festival. Just off the island, you can visit Vizcaya Museum and Gardens, and enjoy its opulent architecture and European-style gardens, as well as its collection of rare and exotic antiques and sculptures, and monthly activities. Coming off of Key Biscayne also drops you right into Brickell and nearby Downtown Miami, if you want to go to catch a movie, head to an event or Miami Heat game at American Airlines Arena, or go to the museums.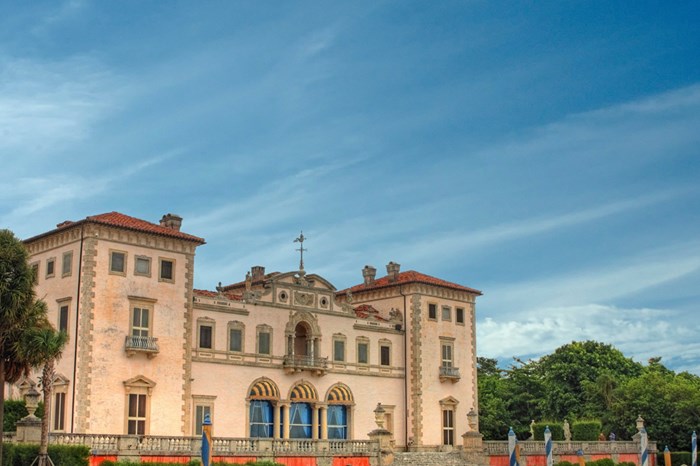 Vizcaya Museum. Photo courtesy of Keith Anthony Ng

Fisher Island is an exclusive location in which private parties may include entertainment by well-known celebrities, but these are not normally open to anyone but island residents. Outside of that, the island's cultural life is tied to its proximity to South Beach and Downtown Miami. Coming off of Fisher Island, you are 5 minutes from South Beach, where street fairs and festivals happen regularly, including the yearly Art Basel fair at the Miami Beach Convention Center, the South Beach Wine and Food Festival, Fashion Week Miami, and an assortment of music festivals, as well as the Bass Museum. In about 10 minutes, you are in Downtown Miami, and in immediate proximity to Perez Art Museum Miami (PAMM), as well as the Arsht Center for the Performing Arts. 

Eating and Shopping: Key Biscayne vs Fisher Island
Key Biscayne is a much larger community than Fisher Island, and it has several malls and shopping centers, as well as some small boutiques and a fair number of restaurants, including Kebo, Novecento, Ritz-Carlton, and the nearby favorite Rusty Pelican, all of which provide top-quality dining experiences. For more casual fare, try Milanezza, Dune Burgers, or Cantina Beach. For groceries, there is a gourmet market on the island as well as a large Winn Dixie.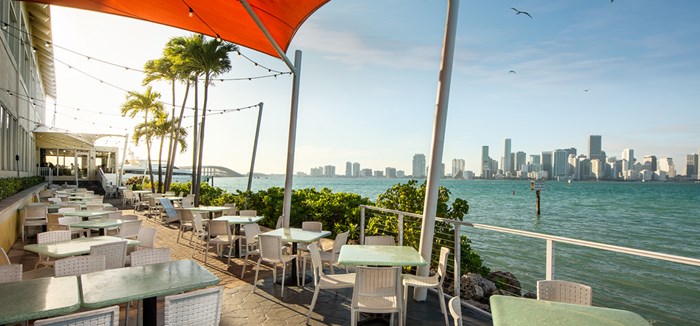 Rusty Pelican, Key Biscayne

In Fisher Island there are no retail businesses, but the island does have eight excellent restaurants. These restaurants are also part of the membership plan of living on Fisher Island. Many of the island's finest restaurants are associated with the Fisher Island Club and Resort and include the Fisher Island Beach Club Restaurant, Fisher Island Club City View Restaurant, Fisher Island Club Porto Cervo Restaurant, and Fisher Island Club La Trattoria Restaurant.

Schools: Key Biscayne vs Fisher Island
Key Biscayne is one of the best neighborhoods in Miami in which to raise a family, and is served by top-notch neighborhood schools such as the renowned STEM magnet school MAST Academy, where students can study marine sciences in one of the city's highest ranked public schools by the sea. Younger students can attend the Key Biscayne K-8 Center which is also highly ranked, as well as renowned private schools such as the Key Biscayne Community Day School, St. Agnes Catholic School and Key Biscayne Presbyterian School.  Key Biscayne youth are also close enough to attend schools in neighboring Coral Gables and Coconut Grove, where some of Miami's best ranked schools are located.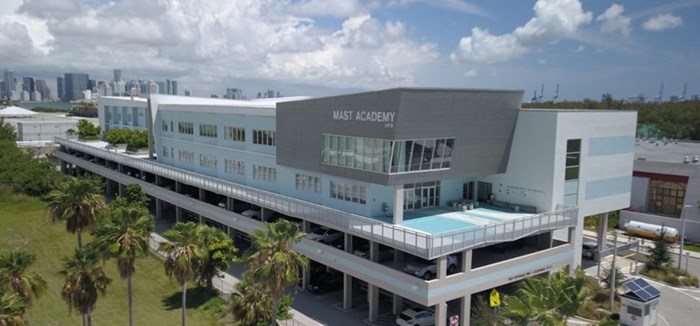 MAST Academy, Key Biscayne

While Fisher Island is mostly a vacation spot for residents that reside there part time, there are a few hundred families that live on the island year-round, and there's a private elementary school on the island. Fisher Island Day School, considered the best private school in Miami, has about 87 students enrolled in grades K-8. Fisher Island students may also attend public school at South Point Elementary, Nautilus Middle School, and Miami Beach Senior High School, as well as private schools on Miami Beach such as Hebrew Academy and St. Patrick's, or attend private schools in Miami, such as Coconut Grove's Ransom Everglades School.



Architecture, Homes and Condos: Key Biscayne vs Fisher Island
Key Biscayne has a wide variety of housing options, from elegant single-family homes to villas, to older and newer condos with breathtaking water views on both the ocean and bay sides.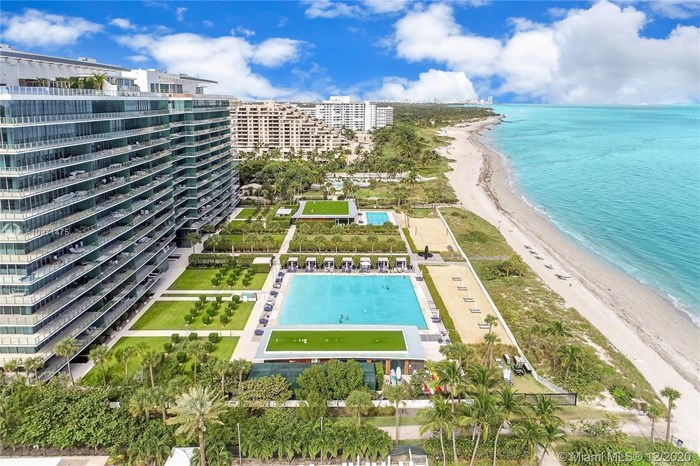 Fisher Island has a very consistent architecture given that it is a private community. Most of the buildings there are designed in a Mediterranean architecture, and there are a handful of single-family mansions and large villas, but most housing consists of exclusive condo towers with only a few, very large luxury residences per floor, each with expansive balconies and terraces.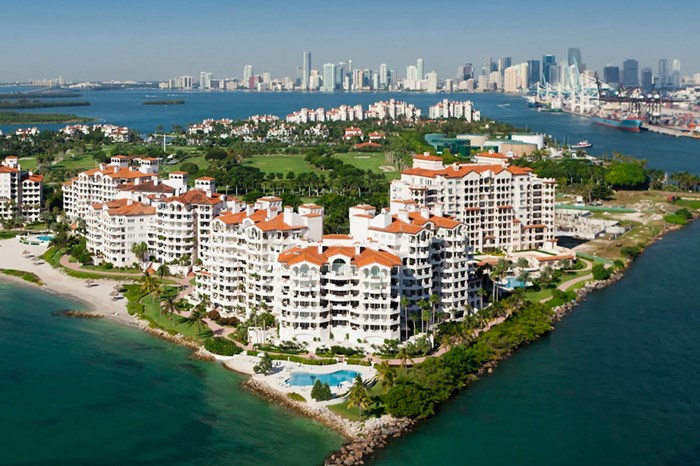 Fisher Island Club. Photo courtesy of Miami and Beaches



Cost of Living: Key Biscayne vs Fisher Island
While both areas are considered affluent, Fisher Island is definitely the most expensive of the two, and of most of Miami. In quarterly reports, Fisher Island is consistently the Miami neighborhood with the highest price per square foot. Residences in Fisher Island list for an average of about $5,489,338, or $1,292 per square foot, while the more luxurious properties list for around $48,000,000 or about $5,484 per square foot.
In Key Biscayne, average residential listings range around $1,242,179 or about $671 per square foot, while higher-end listings average about $18,000,000 or about $2,762.

Which Miami Neighborhood is Right for Me? Key Biscayne or Fisher Island?
These two neighborhoods are similar in that both offer an exclusive island community and neighborhood. However, they are different in the type of lifestyle that each one offers. If you desire the ultimate in exclusivity, and don't mind needing a ferry to move on and off the island or use of a yacht, Fisher Island is well known as providing the ultimate in resort living.
If you prefer more freedom, a more relaxed and slightly bigger community, particularly if you have children, Key Biscayne is idyllic. It really depends on what you prefer in terms of exclusivity and the type of community that you want to be a part of.  Living in Key Biscayne is less exclusive but offers a more diverse lifestyle, while living on Fisher Island is definitely a resort-type lifestyle with maximum luxury, security and exclusivity.
More Miami Neighborhood Comparisons: Edgewater, Downtown Miami, Brickell, South Beach, Coconut Grove and more
If you'd like to read up on other neighborhoods and how they compare with one another,  check out our neighborhood comparisons below: 
Miami is an extremely diverse city with a wide variety of housing options and an assortment of unique neighborhoods and communities. If you're thinking of moving to Miami or within Miami, your best bet when purchasing real estate in Miami is to talk to locals who know Miami inside out and can help you learn about our city and determine which neighborhoods or areas are most likely to suit you. Contact us so we can guide you to the right neighborhood and property for you.



Cover photo courtesy of Ed Webster
Share your thoughts with us
Sign up now
Get news and updates delivered to your inbox