Miami Condo Development Guide: 52 New Pre-Construction Projects in 2021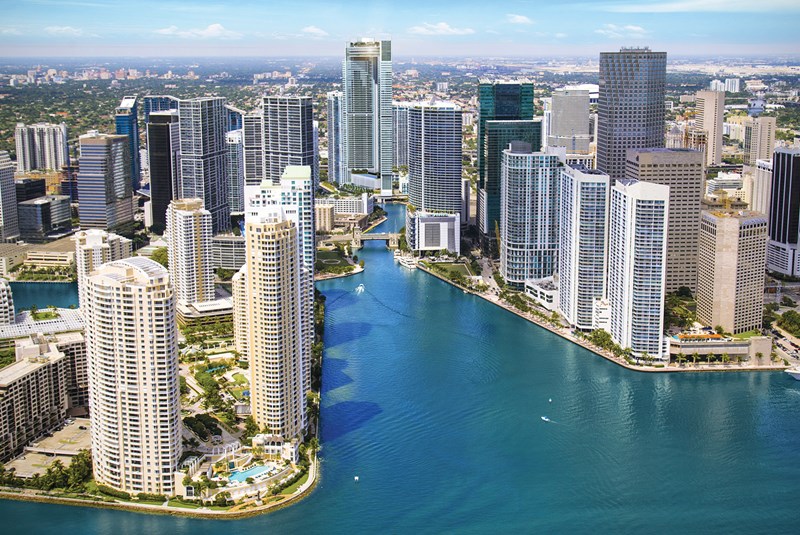 Jan 14, 2022 January 14, 2022
It's a trend we've been talking about since the last quarter of 2020 - waves of buyers are contributing to one of the biggest real estate booms in Miami history. As individuals and businesses escape high tax states like New York and California, and have the freedom to work from any location, luxury condo developers in Miami are announcing new project after new project.  
Miami condo developers announced more than 52 new and relaunched condo projects last year in 2021. In an attempt to appeal to a wide range of new residents, each new project aims to be taller, more luxurious, and offer the most exciting set of amenities imaginable, and could bring more than 10,000 residential units to Miami over the next few years.
With the real estate market in Miami in one of its most lucrative cycles yet, here's a look at the latest condo projects proposed in Miami in 2021:


---
New Miami Condo Development Projects 2021 - Table of Contents
---
---
New Miami Beach & Sunny Isles Beach Condo Development Projects
---
---
New Miami Condo Development Projects 2021
---
Developer: E11even Partners & PMG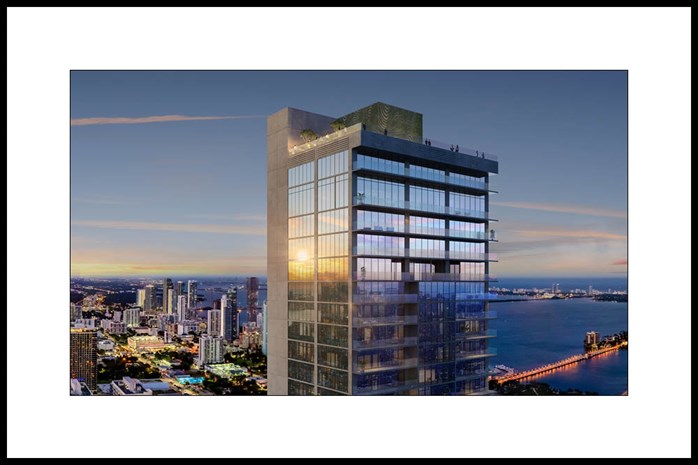 Fully sold out after only a few short months of launching sales, this suave condo-hotel comes developed by one of the hottest (and notorious) club-makers in town, E11even Partners. Bringing Vegas-style amenities to the heart of Downtown, the 65-story luxury tower will feature a 20,000-square-foot, multi-level E11even Beach Day Club and Pool along with introducing Miami's first-ever "24/11 residential entertainment" concept. 
Designed by award-winning architect Sieger Suarez, all 375 fully-furnished units at E11even will feature high-end finishes by New York-based AvroKO Hospitality Group. Besides its unique 24/11 rooftop experience, the ultra-luxury condo-hotel will also include a 5-star gourmet food hall, casino-style sports lounge, a Deepak Chopra-designed spa & studio, the Club E11EVEN Bar & Lounge, art installations, and much more. Owners will also have the option to enroll in E11even's short-term rental program.
Read more about the residence features and building amenities offered at the fully sold-out E11even Hotel & Residences, here.
Prices started at $385,000 and go up to $12 million, with a choice of studios to two-bedroom residences. View available units here.  
Developers: PMG and E11EVEN Partners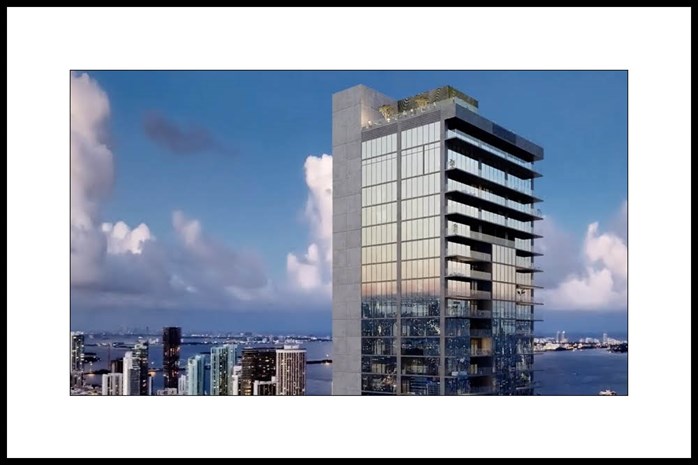 Owing to high buyer demand after the first tower sold out within months, developers launched sales for E11even Residences Beyond in November 2021. Designed by Sieger Suarez Architects with interiors by AvroKo Hospitality Group, this second tower will rise as a twin perched to the east of E11even Hotel & Residences (first tower). Sharing the same eccentric cube design as the first, the crypto-friendly Beyond tower will carry 461 ultra-luxury residences in 65 stories.
Conceptualized as the more exclusive twin, residents of the Beyond tower will gain one-way access to the first tower's amenities via a sky bridge, but not the other way around. Exclusive amenities at this second tower will include a rooftop helipad, resort-style sun lounge deck with a 93-foot pool, fully-staffed executive office suites, and more. Beyond owners will be allowed to rent for a minimum of 30 days. 
Read more about the location, building amenities and features of the crypto-friendly E11even Residences Beyond here.
Prices start in the mid $300,000s or equivalent cryptocurrency rate, with a choice of studios to two-bedroom residences, penthouses, and a presidential collection.
Developer: Turkey-based Okan Group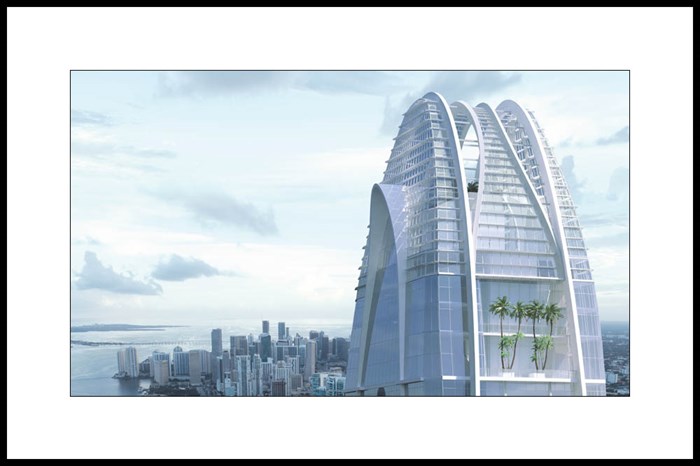 Relaunching sales for their tulip-inspired mixed-use tower in 2021, developer Okan Group will be looking to break ground on the project by mid-2022. Designed by Behar Font Architects, the 70-story tower will feature 316 Hilton Hotel & Resorts-branded suites on the lower levels, 236 condo-hotel residences starting at the 36th floor, and 163 (sky) condo residences above the 51st floor – each type with separate elevator access for utmost privacy.
Revived with the addition of 10 new lofts and an all-weather, glass-enclosed rooftop deck plus observatory, the 70-story tower will house separate amenities for its sky (condo) residents and condo-hotel residents. For instance, Sky residence buyers will have exclusive access to a 70th-floor rooftop pool and sky deck, a 12th-floor lap pool with clubroom, fitness center with yoga studio, a fully-equipped children's sensory and playroom, and more. On the other hand, condo-hotel owners will have three full floors of amenities including a signature wellness spa with restorative Turkish treatments, an outdoor pool with indoor-outdoor lounges, over 4,500 square feet of ballroom space, a grab-and-go-café, multiple bars, conference and meeting rooms. Both condo-hotel and sky residence owners will have access to a range of Hilton Hotel & Residence services. 
Prices start at $387,000 for the condo-hotel residences and at $587,000 for the sky (condo) residences. Watch our exclusive video on Okan Tower here.
Developer: Aria Group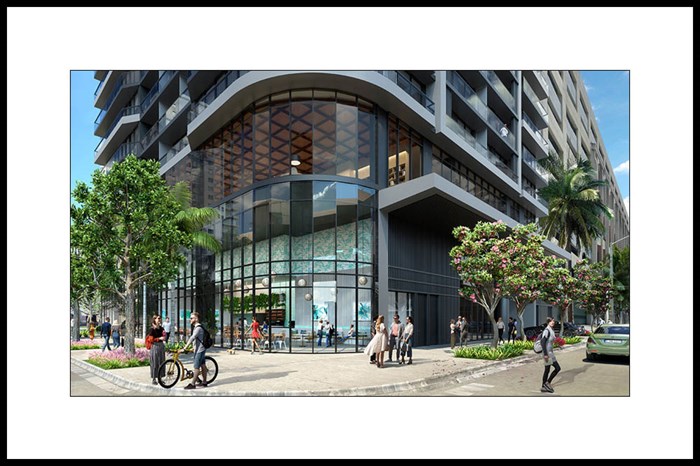 Boasting of "no rental restrictions," 501 First is being built for those who know what it means to be first. Much like their nearly sold-out Natiivo, owners at the 448-unit luxury high-rise will be able to rent their units short-term to the likes of Airbnb, HomeAway, and VRBO or simply enroll in the building's management program.
The 40-story, mid-century, modern building will come designed by Revuelta Architecture, with fully furnished interiors by Shim Projects. Complementing the plush interiors will be a host of amenities such as a rooftop movie theater, rooftop pool, residents' lounge, media room, game room, "Greenhouse" with plenty of shade, co-working spaces on the lower floors, and a ground-floor restaurant managed by GPG Hospitality 
Prices start from the $300,000s, with a choice of studio, one- and two-bedroom residences
Developer: Related Group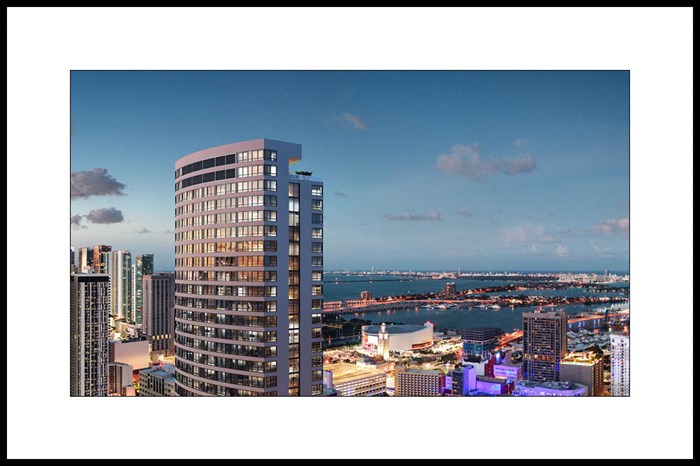 Another condo project allowing short-term rentals with the likes of Airbnb, The District looks to bring sleek design and luxury living to the heart of Downtown. Next door to MiamiCentral, the 37-story tower with 347 residences comes artfully designed by Sieger Suarez. Amenities at this contemporary high-rise will include a resort-style pool deck with lounge, rooftop amenity deck with spa and BBQ area, basketball & racquetball courts, rock climbing wall, on-site café, co-working spaces, ground floor retail, and electric bikes with charging stations.
Prices start at $352,900 to about $ 652,900, with a choice of studios to two-bedroom residences 
Developer: Related Group & Alta Developers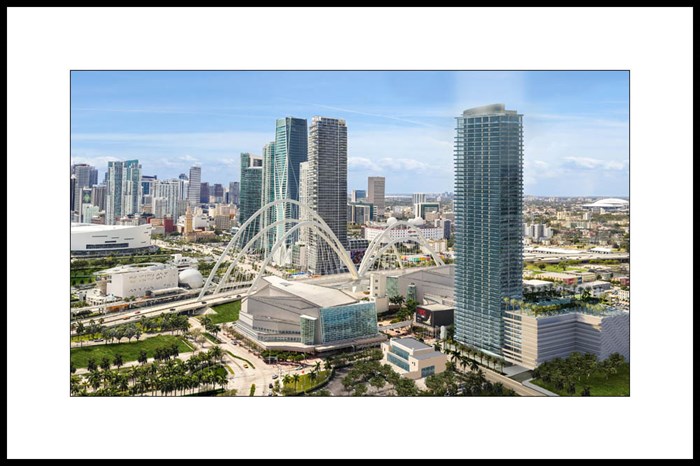 Casa Bella sales were launched for the once-shelved Auberge Residences in November under a new name and B&B Italia branding. Conceptualized to bring the "art of Italian living" to Miami's A&E District, the Casa Bella residences will be part of a 3-tower complex at 1400 Biscayne. Rising 57 stories with only 6 to 7 residences per floor, the skyscraper will feature interiors by Italian master designer Piero Lissoni. Future residents can expect to come home to high-end touches like imported porcelain flooring, a black glass appliance package, and ITALKRAFT cabinetry.
Designed to make a statement by Arquitectonica, the 306-unit luxury tower will rise with a rippling façade and angled balconies for maximum views. Highlight amenities will include a sky pool terrace with a private observatory, a 12th-floor pool deck with Italian-style gardens, a 78-foot lap pool with poolside café, a luxury spa, open-air yoga lawn, pickleball court, work-from-home (WFH) lounge, game room, children's playroom, beauty salon, B&B Italia furnishings in common areas, and more. Owners will be allowed to rent up to 6 times per year, with a minimum restriction of 30 days.
For more information on the project, location, and rich Italian aesthetic of Casa Bella by B&B Italia condo residences, go here. And watch our exclusive video on Casa Bella by B&B Italia here. 
Prices start in the high $600,000s, with a choice of one- to four-bedroom residences and an exclusive penthouse collection. 
Developer: Genting Group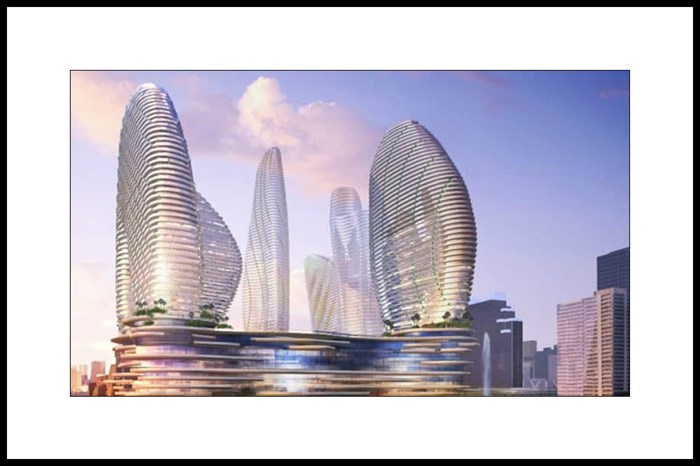 Approved for the second time in 5 years by the FAA, Genting Group again has the green light to build three 649-foot towers planned for One Herald Plaza, the former waterfront site of the Miami Herald. The group was last approved in 2017 for the same towers, but permits expired in August 2020. Finally moving forward after years of silence, Genting plans to bring 60-story towers to its waterfront site along with a baywalk, marina, and a Monorail station connecting Downtown to Miami Beach.
For more on Genting's original site plans from 2011, progress on bringing a casino to Miami, and other Resorts World updates, go here.

Two 83-story Supertowers at MiamiCentral | Downtown Miami
Developer: Brightline Parent Company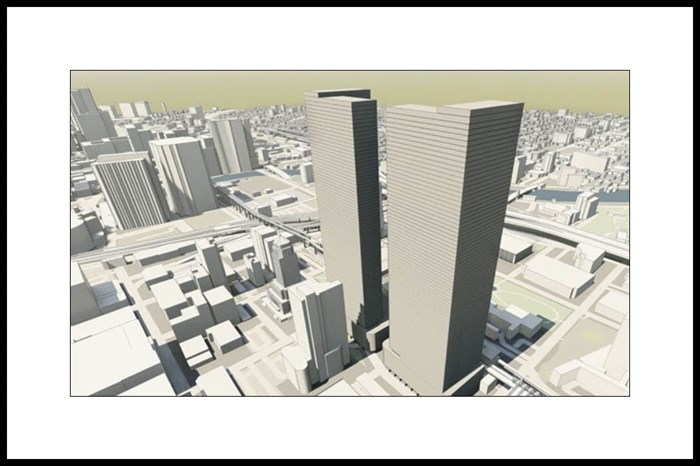 With plans submitted to Miami-Dade, Brightline's parent company is looking to build two new supertowers at MiamiCentral. After successfully completing its two Park Line rental towers, the company has proposed two 83-story residential buildings. Designed by architect Zyscovich, the two towers are expected to include 2,007 residential units (1,004 in the north and 1,003 in the south tower), 49,634 square feet of retail, and 2,136 parking spaces.


---
NEW BRICKELL CONDO PROJECTS 
---
Developer: Related Group & Baccarat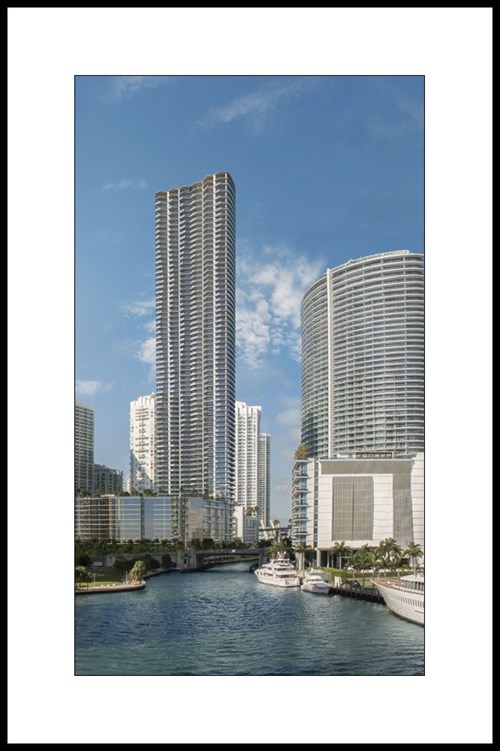 Just steps from the Brickell City Centre will be Related Group's most luxurious project to date. Partnering with Baccarat - one of the world's finest crystal makers and jewelers - the Group looks to bring French opulence to Brickell's skyline. Designed by Arquitectonica to resemble undulating waves, the statement towers will rise 57, 77 and 82 stories each. 
The high-rises will be home to a total of 1,400 residences designed by Meyer Davis. The 3-tower complex will also include a five-star hotel, class-A office space, retail, and luxury yacht dockage. Amenities will include access to the riverfront promenade, a rotating art collection, a curated collection of furnishings, a resort-style pool, a business center, landscaping by Enzo Enea, and more.
Prices range from around $800,000 to $10 million per unit, with a choice of one- to four-bedroom residences. ​​Watch our exclusive video on Baccarat Residences here.
Developers: Related Group and Integra Investments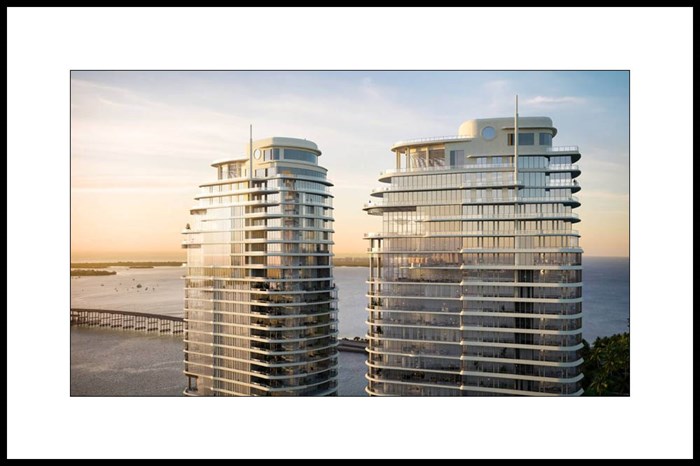 With a sales launch scheduled for early 2022, co-developers Related Group and Integra Investments plan on bringing 354 ultra-exclusive St. Regis Residences to Brickell. Replacing the existing 17-story Stanley Axelrod Tower, the waterfront development will rise with an east and west tower. Designed by the New York-based Robert A. M. Stern Architects, the east tower will rise 48 stories and the west tower will rise 47 stories. 
Featuring interiors by New York's award-winning Rockwell Group, each bespoke residence will stand as testimony to the legendary hospitality brand's ethos. Planned as the most expensive condo project in the history of Miami, The St. Regis Residences will offer a combined 55,000 square feet of amenities, inclusive of an iconic St. Regis Tea Room, a private marina, indoor lap pool, spa, and signature butler service. The project will be purely residential, with no hotel component on-site. 
Read more about the ultra-luxury St. Regis Brickell and its ties to New York, here.
Prices are expected to start at $2 million.
Developer: Major Food Group and JDS Development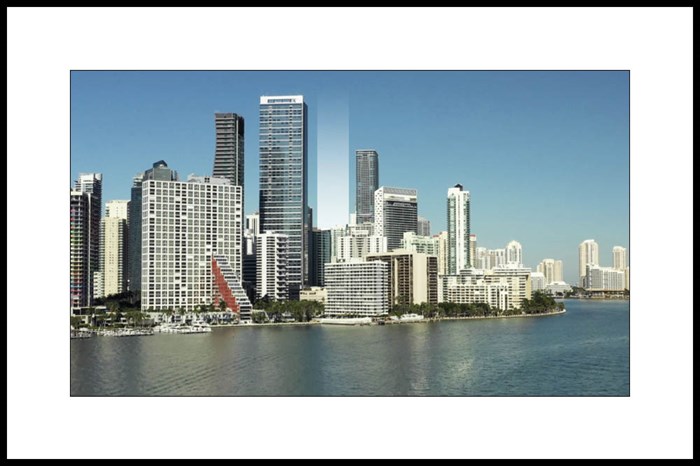 Ready to give Miami another luxurious condo project with the most impressive collection of food and beverage amenities of any residential building in the country, Major Food Group announced its new condo-hotel offering for 888 Brickell Avenue. Aiming to become one of the tallest in Miami, this residential-hospitality tower will be built to a height of 1,049 feet, competing with other supertalls like the Waldorf Astoria. Designed by Studio Sofield, the supertall will feature 259 luxury condos, a hotel component, and obviously, multiple restaurants and nightclubs (inclusive of the brand's famous Standalone concepts). Ken Fulk Inc. will be designing the food, beverage, and club spaces.

One Brickell City Centre | Brickell
Developer: Swire Properties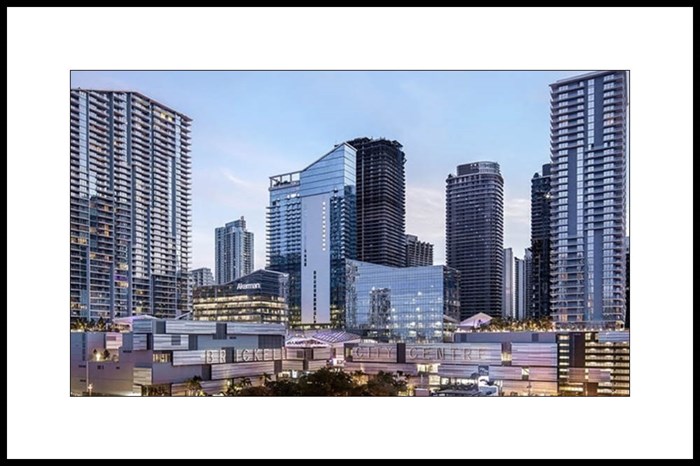 After successfully selling off the final 81 condos at Reach and Rise, more new developments are planned around Brickell City Centre. Developer Swire Properties announced the next phase of development with an 80-story, 1,049-foot supertall tower called One Brickell City Centre. 
A second, 62-story tower is planned for the Associated Photo site, a 52-story tower planned for the former Tobacco Road property, and while more development is planned for the lot known as North Squared across the street from La Centrale at BCC. Swire has not revealed which towers will be condos or apartments. 
Developer: Newgard Development Group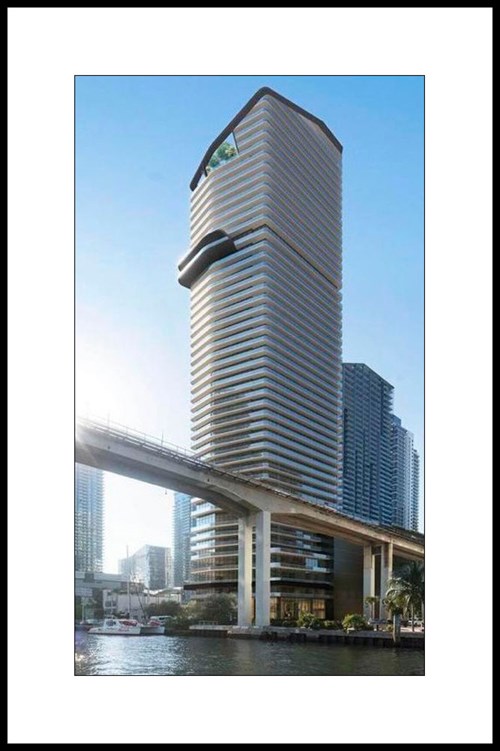 The development team behind Natiivo, Miami's first short-term rental-approved condos that was launched in 2020, announced Lofty Brickell. Newgard launched sales on the first in a three-tower project along Brickell's riverfront. Besides Lofty Brickell, the 1.6-acres site will house a luxury apartment tower and branded hospitality tower.
Designed by Arquitectonica, the 40-story condo tower will rise against 400 feet of water frontage. Flaunting a minimalist, postmodern aesthetic, the ready-to-rent high-rise will use green building tech to reduce its carbon footprint. Delivered fully finished and furnished, each of the 364 condos at Lofty Brickell will feature high-end interior touches curated by INC.NY. Highlight amenities include a "jewel box" double-height glass lobby with access to the Underline, a 5-star restaurant on the ground floor, 12,000 square feet of commercial space, and a private marina. Residents will also gain access to a resort-style pool with cabanas, poolside bar and grill, LOFTY rooftop experience, a yoga lounge and terrace, private Peloton studios, a co-working lounge with private meeting rooms, the LOFTY concierge app, and more. Owners will have the option to rent to the likes of Airbnb or HomeAway.
For more information on Lofty Brickell, its investment opportunities, and location, go here. 
Prices start at about $500,000 for studios, $554,000 for one-bedrooms, and $903,000 for two-bedroom residences.
Developer: Habitat Group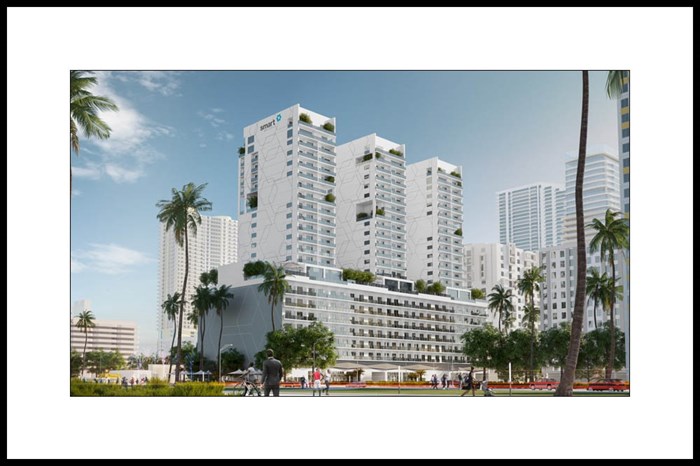 With the first two towers sold out, developer Habitat Group launched sales for the third and final tower at the Smart Brickell condo complex in West Brickell at 229 SW 9th Street. The 23-story third tower will feature 71 fully furnished, flexible-use condos (allowing short-term rentals to the likes of Airbnb), 42 short-term lodging units (of which only 22 will be for sale), two pools, a fitness center, a 2,000-square-foot rooftop restaurant, and 4,000 square feet of commercial space on the ground floor. Designed by Gensler, Miami-based HAC Architects and Urbanists and with interiors by ArquitectonicaInteriors, all three towers will be LEED-certified and connected by a podium.
Prices start in the mid $400,000s.

Brickell Gateway – Brickell
Developer: Gazit Horizons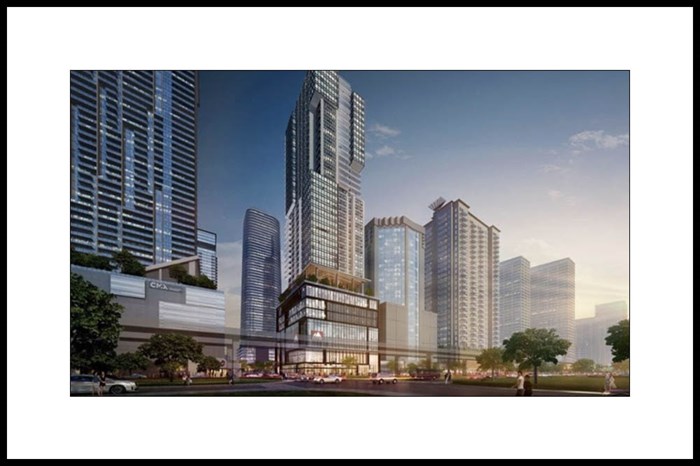 Plans are underway to develop a 48-story, mixed use tower in Brickell. Current owner and developer Gazit Horizons (a subsidiary of Gazit Globe) filed for a demolition permit to clear the 3-story building situated at 90 SW 8th Street in Brickell. The half-acre, hard-corner lot is the future site for the tower that will feature retail, office, hotel, and residential components. Once approved, 45,564 square feet of space will be demolished to make way for the 650,000-square-foot proposed mixed-use.

1,049-foot Supertall Towers by Norman Foster | Brickell
Developer: Florida East Coast Realty, McCourt Global (Tibor Hollo)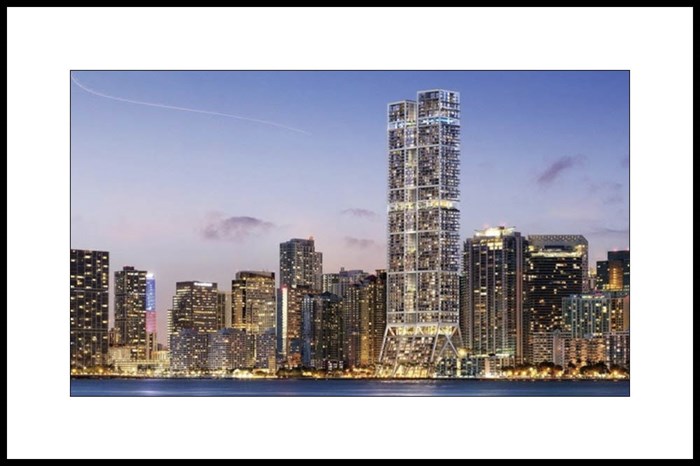 In development since 2016, developers Tibor Hollo's Florida East Coast Realty and McCourt Global were seen preparing the ground for its future supertall towers on Brickell Bay Drivel. Pending FAA approval, it's planned to rise 1,049 feet above sea level, possibly giving stiff competition to the already approved Waldorf Astoria, this could be the tallest building in Florida.
Designed by famed architect Norman Foster, the waterfront towers are proposed to rise 81 and 79 stories. They could be built to feature 660 residential units or a combination of 550 residential units and 220 hotel rooms. The proposed mixed-use would also house 34,731 square feet of commercial space, and 1,162 parking spaces, including an underground garage.

Three-Tower Luxury Development | Brickell
Developer: Mast Capital and Boston-based Rockpoint Group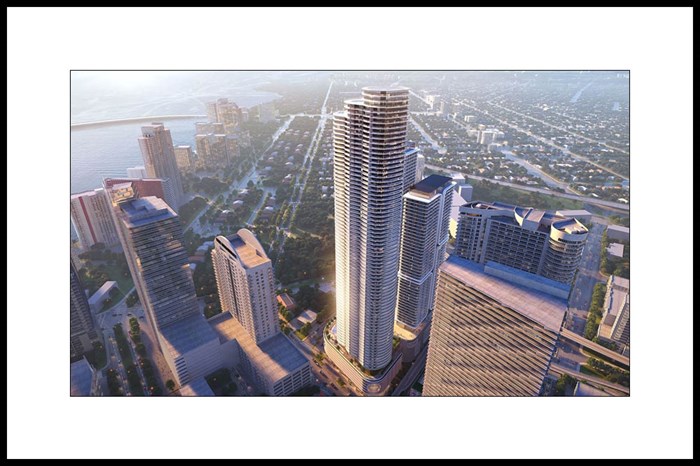 Planning to bring three new towers to the site of the former 'Capital at Brickell' project, the southern end of the Financial District is set to gain over 1,000 residential units. The 2.8-acre parcel will be home to an 80-story condo tower, two 50 and 60-story apartment towers, ground-floor retail at 1420 South Miami Avenue, and 1,650 parking spaces. The two multifamily buildings will offer a total of 850 apartments, while the 400-unit condo tower with resort-style amenities will be managed by a luxury lifestyle brand.

1,049-foot Supertall Condo Tower at 609 Brickell Avenue | Brickell
Developer: 13th Floor Investments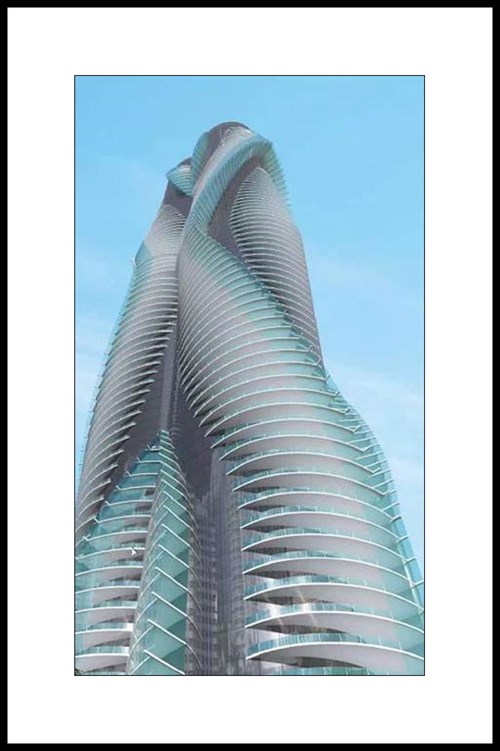 Replacing the surface lot and school at 609 Brickell Avenue, developer 13th Floor Investments plans on building an 80-story supertall next to the First Miami Presbyterian Church. If approved, the waterfront site could gain a 1,049-foot-tall condo with plenty of green spaces and a lavish pool deck by the bay. The church members are still in discussion regarding approval of the sale. 

1428 Brickell 1,049-foot Supertall | Brickell
Developer: YTech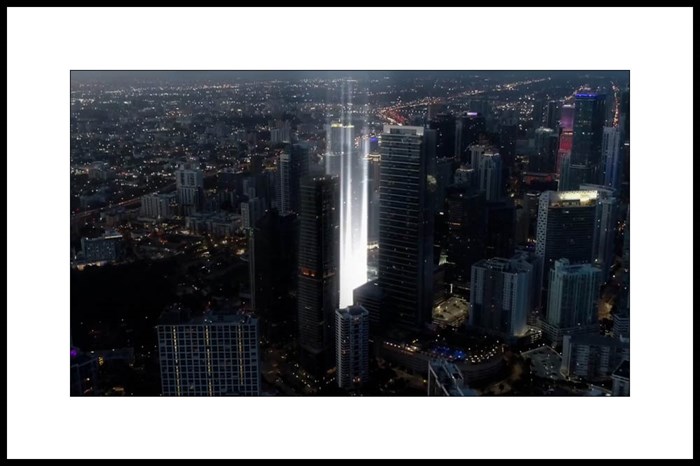 Looking to give the Waldorf Astoria Hotel & Residences stiff competition as the tallest in Miami, developer YTech seeks approval to build a 1,049-foot tower at 1428 Brickell Avenue. Replacing a 100,762-square-foot office building built in 1971, the supertall will be a luxury residential project offering hotel-like services.


---
NEW MIAMI RIVER CONDO PROJECTS 
---
Developer: Kar Properties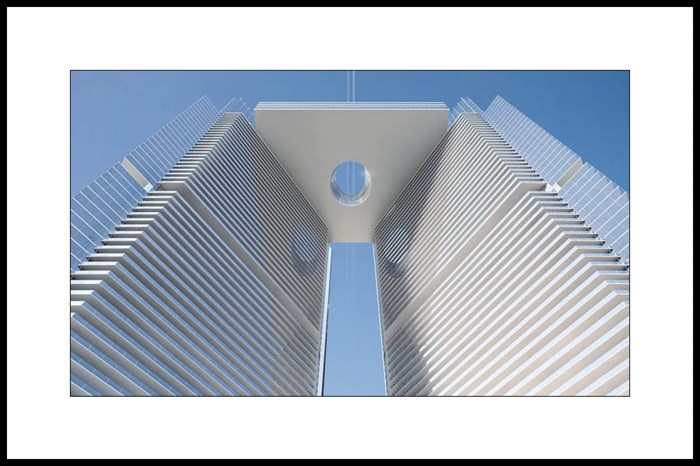 After filing its first building permits in 2015, One River Point is back in the building review process with the City of Miami. Designed by Uruguayan architect Rafael Viñoly, the twin luxury towers of One River Point will be connected by a floating sky bridge and feature a total of 300 condo units. Proposed amenities include an 8,000 square-foot waterfront restaurant and lounge, an infinity-edge oasis pool and regulation-size lap pool, poolside cafe and restaurant, a 6,000-square-foot fitness center, Medspa, children's activity area, rotating art exhibits, and more.

Tower 1 of Miami River 5-Phase Complex | Miami River
Developer: New York-based Chetrit Group (acting through a subsidiary called GC Miami River, LLC)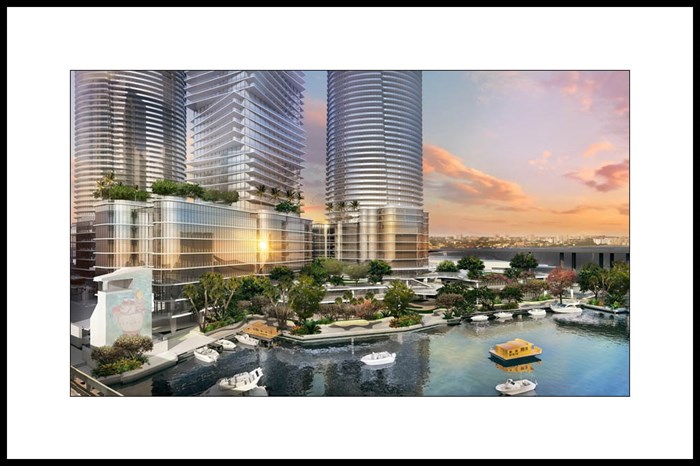 Getting a height approval and submitting documents to the city authorities, developers are pushing to move ahead with the first tower in a 5-phase development. The first phase of this Miami River development will include the development of the westernmost condo tower, rising 54 stories with 632 residential units and 12,305 square feet of ground-floor retail. Designed by the award-winning Kobi Karp, the glass tower will feature a curved façade, an outdoor pool and deck above the glass-clad, cylindrical podium. The unnamed Miami River project at 275 SW 6th Street will feature a total of 1,678 residential units, 330 hotel rooms, 196,882 square feet of retail space, 98,040 square feet of office space, and a 30-slip marina.


---
EDGEWATER NEW CONDO DEVELOPMENT PROJECTS
---
Developer: Melo Group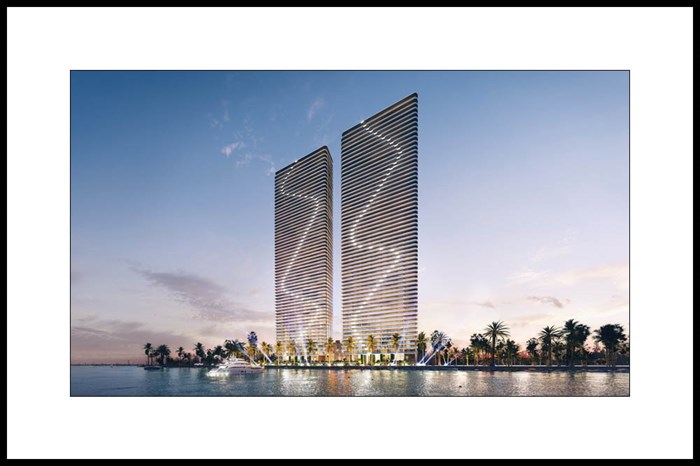 Known as Island Bay during the approval process, these 60-story towers will become the tallest waterfront residential twin towers in the U.S., encompassing a 5.2 acre site. Designed by Arquitectonica to feature a unique zig-zag pattern on their façade, the twin towers will offer a combined 782 units (391 in the recently launched South Tower) with interiors by MORADA Haute Furniture Boutique. 
Looking to offer the best waterfront value to buyers (the project has 547-linear fee of water frontage), the well-priced condos will be accompanied by amenities such as a 2-acre recreation deck with a lap pool and spa, gaming center, tennis courts, basketball courts, paddle courts, miniature golf, playground, teen lounge, a wellness center, meditation garden, 12,600 square feet of retail, and more. 
Prices start at $750,000 to over $2 million, with a choice of one- to four-bedroom residences. To see our exclusive video of Aria Reserve, go here. 
Developer: 170 Edge LLC (inclusive of One Thousand Museum developers Kevin Venger and Louis Birdman)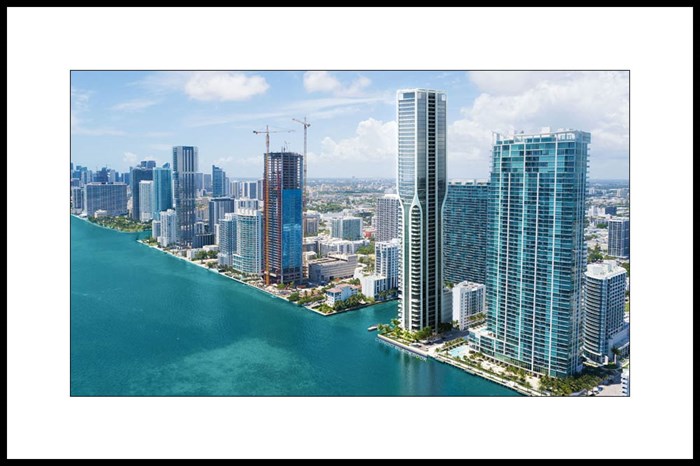 With its demolition permit, FAA & UDRB approvals in place, 710/729 Edge is all set to replace the 15-unit Harbor 29 condo building in Edgewater. Designed by ODP Architecture & Design - an architect of record at One Thousand Museum – the 55-story tower will also have a similarly prominent exoskeleton. Home to 70 luxury residences, the 649-foot tower will feature no more than two residences per floor.
Amenities at this waterfront tower will include 16,489 square feet of commercial/restaurant/retail space above ground level, a dock, top-floor sky lounge, residents' lounge/bar, juice bar, indoor pool, spa, fitness center, theater, business center, salon, and a separate nine-story garage with 193 parking spaces. If approved, the boutique tower could also bring Edgewater its first rooftop helipad.

36-story Condo Tower | Edgewater
Developer: Grupo T&C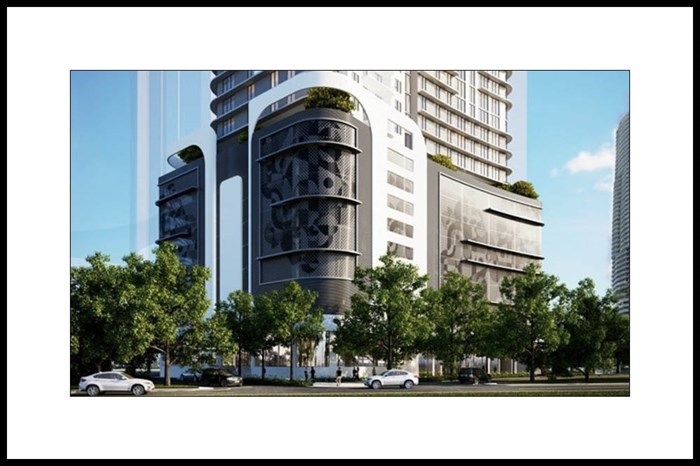 Designed by Kobi Karp and approved by the Urban Development Review Board last March, this Edgewater project will rise 36 stories with 322 residential units, 6,183 square feet of retail, and 372 parking spaces.

38-story Boutique Condo Tower | Edgewater
Developers: New York-based SB Development Group and Hazelton Capital Group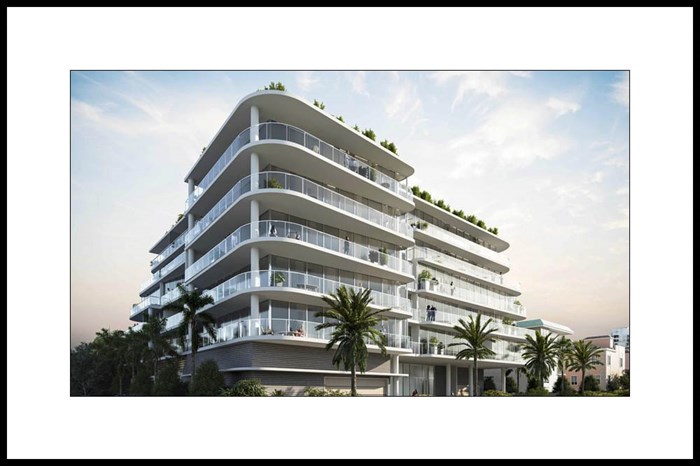 Having purchased three waterfront properties for a total of $12.2 million, a pair of New York-based developers plan on bringing a boutique condo tower to the 0.6-acre assemblage in Edgewater. Designed by Miami's Kobi Karp and Argentina's Dieguez Fridman, the 38-story tower will sit adjacent to the Icon Bay condos. The boutique tower is expected to house a ground-floor restaurant along the bay. Demolition work is already underway, however renderings of the new project have not been released yet. 


---
NEW WYNWOOD,  MIDTOWN & DESIGN DISTRICT CONDO PROJECTS
---
Developer: Bel Invest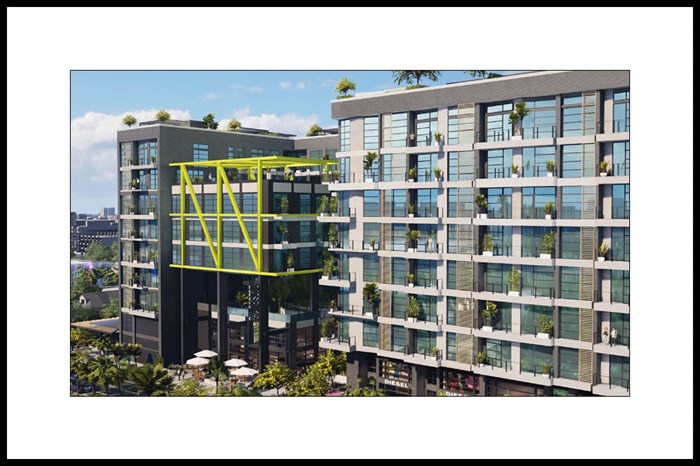 Sales launched for the world's first Diesel-branded condos in November 2021. Designed by Zyscovich Architects, the LEED-certified building will rise 8 stories with a range of WELL-certified amenities such as in-unit, smart-sensing climate control systems. The eco-friendly mid-rise will be home to 159 loft-style condos, complete with extra-high concrete ceilings, luxe European brand finishes, rugged materials, and optional modular walls. Select units would also be delivered turnkey with custom furnishings by Diesel Living. 
In line with the denim brand's image, the condo building will feature playful design elements such as steel pillars, textural treatments, and neon structural beams. Statement amenities will include a 2-story lobby with unusual geometries, an energetic rooftop pool deck/social space, a residents' lounge featuring Diesel Living furnishings, a TechnoGym synced to a wellness app, a European-style spa, a space-inspired Sensory Room, a dedicated Art Studio, and much more.
Find out more about Diesel Wynwood's eclectic lifestyle, location, and other features, here.
Prices range from $320,000 to $4.8 million, with a choice of micro-studio to 3-bedroom residences.
Developer: Carlos Rosso (ex-President at Related Group), New York-based Standard International, and Midtown Development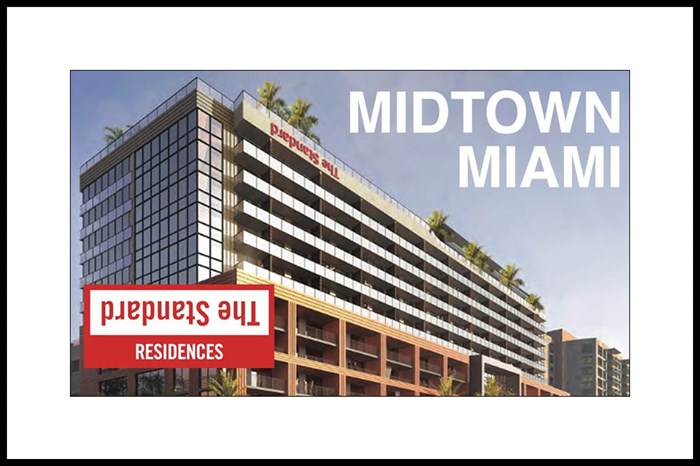 Launching sales during Miami Art Week in December, developers revealed the world's first Standard Hotel-branded condo residences. Designed by Arquitectonica, the luxury condo project will stand 12 stories tall with 228 pied-à-terre-style residences, but no parking. Owners will be allowed short-term rentals 12 times a year, with a minimum stay of 30 days.
Each of the 228 condos at The Standard Residences will come designed by Urban Robot Associates, in step with the boutique hospitality brand's ethos. The plush residences will feature light wood plank tile flooring, gourmet kitchens with custom Italian cabinetry, oversized bathrooms with stone vanities, double-suite rain showers, and more. Equipped with 34,000 square feet of amenity space, residents will gain access to a landscaped rooftop with 60-foot resort-style pool, a signature rooftop restaurant and bar, an infrared sauna, pet spa, karaoke bar with screening room, indoor pickleball court with disco lights, co-working spaces, and much more. Owners will also be given preferential pricing at all The Standard hotel properties worldwide as part of the "Friends with Benefits" program.
Prices expected to range from $329,900 for studios to $659,900 for two-bedroom residences.
Developer: Dacra and Partners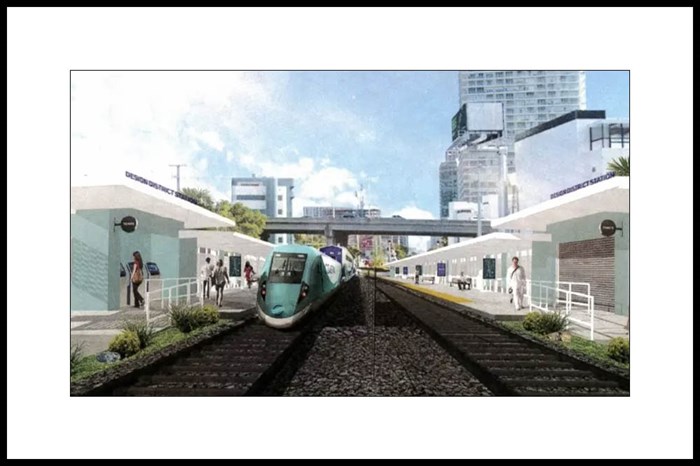 With the vision to bring an architecturally significant development to the Design District, Craig Robins is looking to put a signature tower at the entrance of the neighborhood. The flagship building will come anchored by a 36-story condo tower and sit on 1.8 acres of prime real estate. The mixed-use development will also feature offices, two hotels, and some retail. The site also is adjacent to Brightline's train tracks and a commuter rail station could be built nearby. 


---
New Coconut Grove Condo Development Projects
---
Developer: Terra Group and Mr. C Hospitality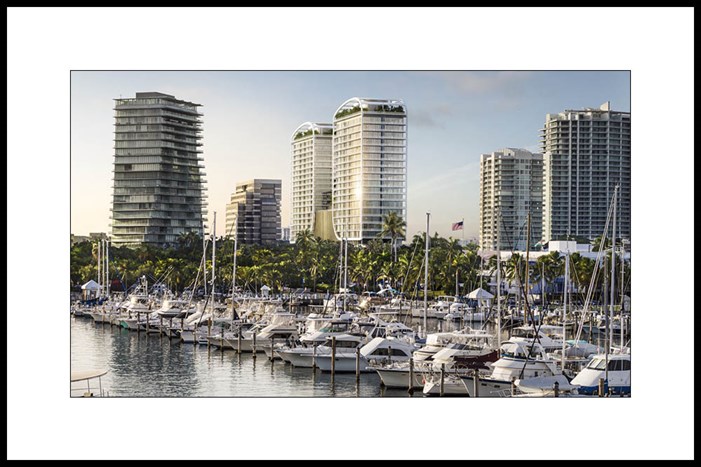 After selling out 98% of the first Mr. C Residences tower, called Bayshore Tower, that was launched in 2020, developers launched sales for the second Mr. C Residences in December 2021. Also designed by Arquitectonica, the Tigertail Tower will rise 21 stories with the same sail-shaped silhouette as the first. The twin tower will house 136 European-style residences with interiors by New York-based Meyer Davis Studio, featuring the same nautical vocabulary and luxurious finishes as the Bayshore tower.
Residents of the Tigertail Tower will gain access to amenities such as a rooftop pool and bar, a garden-level lap pool with private Bellini Bar, cabanas, complimentary towel service, fitness center with access to personal trainers, signature spa, library and billiards room, a Little C's playroom, and business lounge. They will also share in the first tower's amenities such as the art-filled lobby, a La Bottega Café with in-home service, La Bottega Gourmet Market, and the custom Mr. C Residences concierge app.
For more details on Mr. C's Tigertail Tower and comparison to its twin Bayshore Tower, go here.
Developer: Location Ventures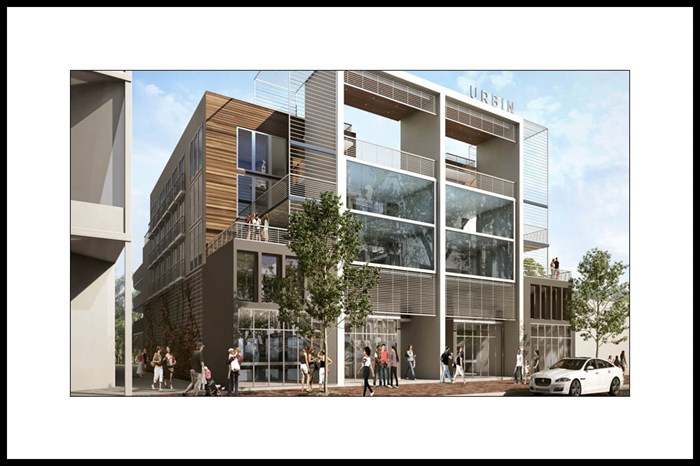 Along with launching sales for Urbin Miami Beach, developer Location Ventures announced plans for Urbin Coconut Grove at 3162 Commodore Plaza. Urbin is a first-of-its-kind, mixed-use brand dedicated to creating spaces where people can live, work, and seek wellness. Every Urbin property will offer a membership-based platform to connect its condos to its all-inclusive co-working spaces, wellness amenities, social activations, and retail offerings. All Urbin properties will offer design-forward, turnkey rental residences with a select number available for purchase. Owners of these private residences will be allowed to use their homes for up to 90 nights per year, while renting them out the rest of the time via Urbin's exclusive lease-back program. 
Designed by Arquitectonica and Paredes Architects, the co-living/co-working Urbin Coconut Grove will sit next to CocoWalk. Units will range from 331-square-foot studios to 2,352-square-foot six-bedroom condos.


---
New Coral Gables Condo Development Projects
---
Developer: Chile-based Ambienta Inmobiliaria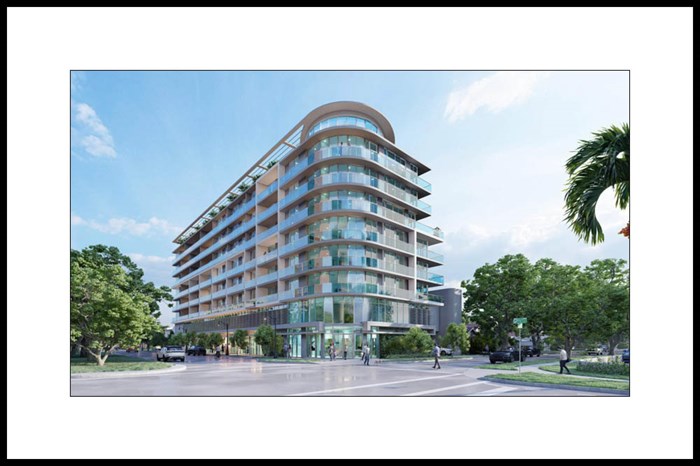 Replacing two old apartment buildings at 3025 and 3051 S.W. Third Ave, Ambienta Coral Way will be an 8-story, mixed-use development. The 0.53-acre site will be home to 79 condos, 912 square feet of commercial space, 1,195 square feet in ground-floor offices, and 120 parking spaces. Designed by Revuelta Architecture, the mid-rise will carry 553-square-foot studios to 1,046-square-foot three-bedroom residences. Planned amenities include a rooftop glass-enclosed observation deck, pool deck with cabanas, 1,435-square-foot gym, 709-square-foot game room, 615-square-foot business center, two retail spaces, and more.
Prices to start at $390,000, with a choice of studios to three-bedroom residences.
Developer: Allen Morris Company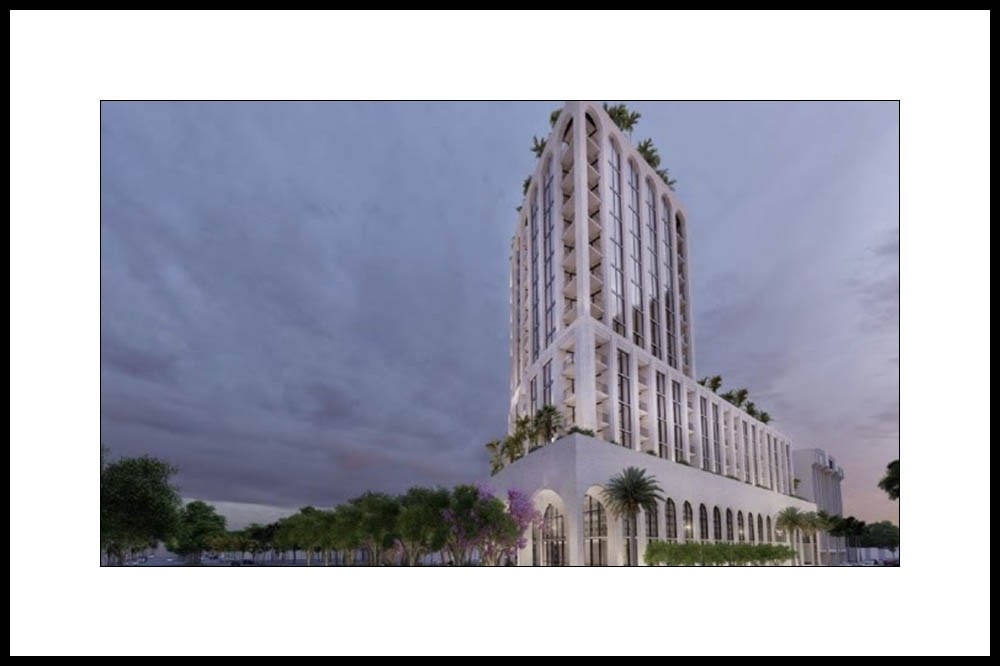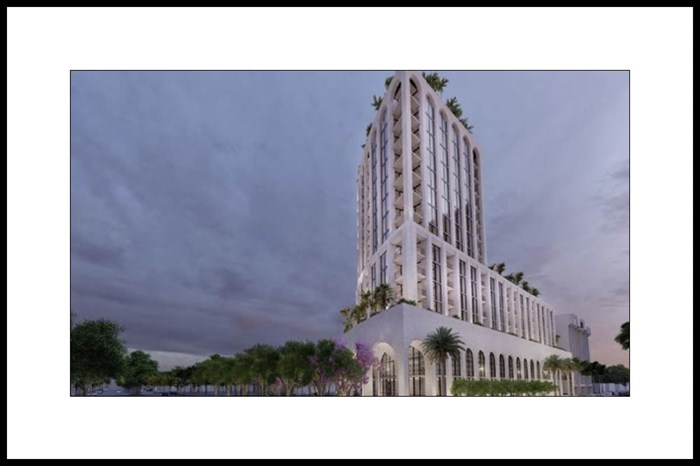 Complementing the architectural vibe of City Beautiful, this 16-story building will feature 171 Mediterranean-style, luxury residences. Designed by Oppenheim Architecture with landscaping by Naturalficial, Inc., the mixed-use development will feature a restaurant and retail-lined pedestrian paseo on its ground floor, an expansive double-ceiling-height arcade (like the one at Hotel Colonnade on Miracle Mile), specimen shade trees, multiple water features, various seating areas open to the public, and a brand-new 0.75-acre open-air space with an urban park dedicated to the City of Coral Gables.

Gables Village with Condos and Townhouses | Coral Gables
Developer: MG Developer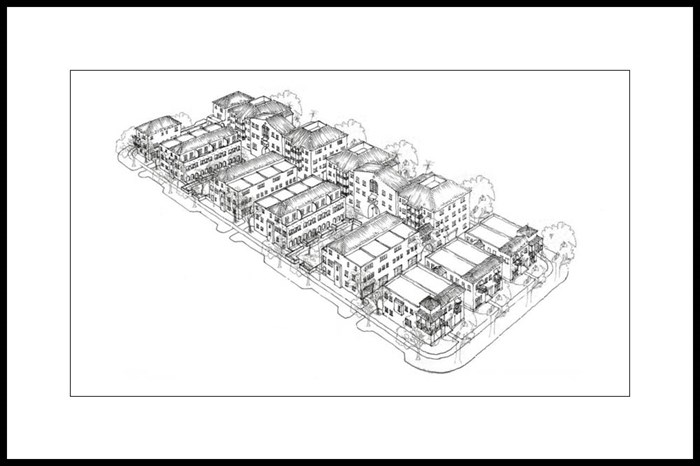 Bringing an entire "village" to City Beautiful as a tribute to George Merrick's legacy, MG Developer plans on building a community occupying 17 lots. The Seville-inspired village will feature tree-lined streets, plazas, fountains, parks, duplexes, 3-story townhouses, and 3-story condos. The $50 million village will be steps from the Coral Gables Branch Library and Coral Gables War Memorial Youth Center.
Designed by De La Guardia Victoria Architects & Urbanists, all 50 residences at Gables Village will feature Mediterranean Revival style architecture underscored by modern-day comforts. The village's community center will feature a pool, gym, yoga room, and a multipurpose room. Each type of residence will come surrounded by lush gardens inspired by the alcoves in Plaza de España, with some building exteriors housing bookshelves.
Prices expected to start at $845,000 for the two-bedroom/two-bathroom + den condo residences, at $1.3 million for the three-bedroom/four-bathroom duplexes & at $2 million for the three-bedroom/four-bathroom + den townhouses.


---
New North Miami Condo Projects
---

Waterfront Condo Project | North Miami
Developers: Related Group, billionaire Teddy Sagi, and BH Group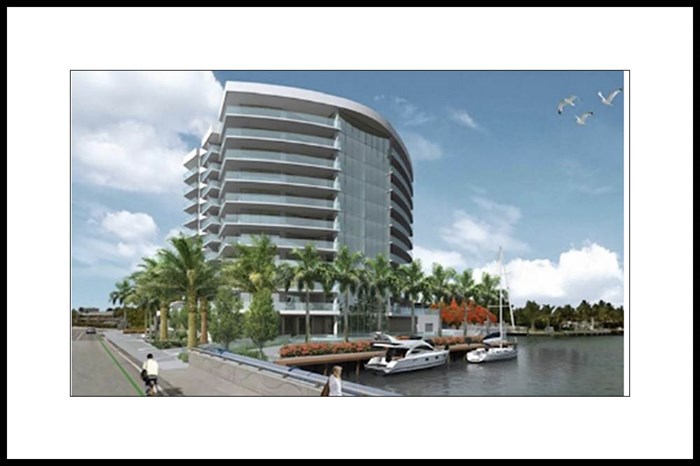 With the 1.07-acre site at 2305 N.E. 123rd St. under contract, the developer trio of Related Group, BH Group, and Teddy Sagi has proposed bringing a brand-new condo project to the waterfront site. Replacing the shut-down White House Inn, the waterfront condos will sit directly across the Causeway from Surfside and Bal Harbour.
Developer: Echad Holdings LLC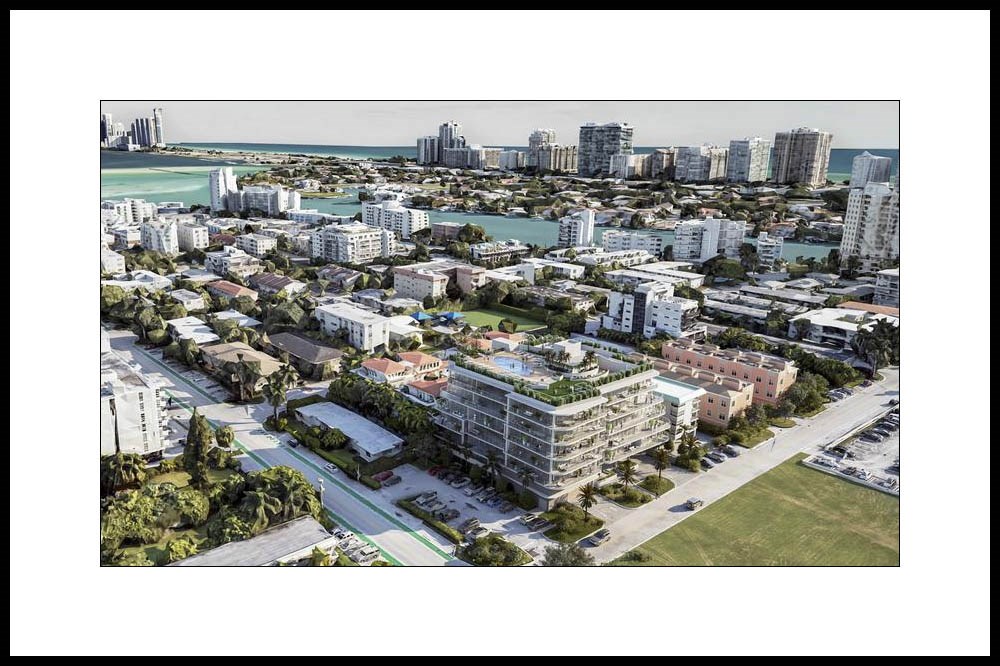 Replacing the 1973-built office building at 851 N.E. 167th St./Golden Glades, developer Echad Holdings LLC proposed to build a three-tower project. Designed by Kobi Karp Architecture, the site will include two 15-story towers and a 10-story tower. If approved, the 2.1-acre property will be home to 223 condo-hotel units, 12,258 square feet of retail, 3,866 square feet of restaurants, 77,856 square feet of office space, and a 526-space parking garage. There could also be a 10th-floor amenity pool deck.



---
New Miami Beach
& Sunny Isles Condo Projects 2021
---
Developers: Russell Galbut of Crescent Heights and David Martin of Terra Group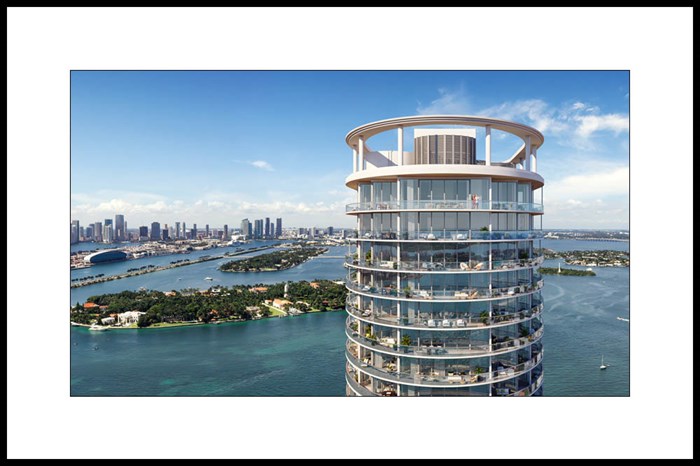 After launching sales for the condo residences in June, developers Crescent Heights and David Martin quickly wrapped up phase one of the 3-phase mega-development by year-end. The first phase included developing the 3-acre, public access Canopy Park with native shade trees, pedestrian and bike paths, public art displays, children's playground, outdoor gym, dog run, and more.
Phase two will include development of the 44-story Canopy Club condo tower. Designed by Arquitectonica with interiors by Gabellini Sheppard, the 546-foot-tall tower will be Miami Beach's tallest ever. The high-rise will feature 98 condos (on floors 30-48) and 180 "park residences" (which could be rentals or condos).
The 40,000 square feet of amenities at Five Park's Canopy Club will include a 5th-floor pool deck, lounge areas, a 26th-floor clubhouse, two fitness centers, a spa, a grand lobby with gourmet cafe, restaurant, screening room, library, co-working spaces, short-term rental suites, electric car charging stations, and more. Phase three will include building a pedestrian bridge over 5th Street, connecting the park to the Baywalk, South Pointe Park, and beachfront. 
Prices start at $2.5 million, with a choice of two- to five-bedroom residences
Developer: Location Ventures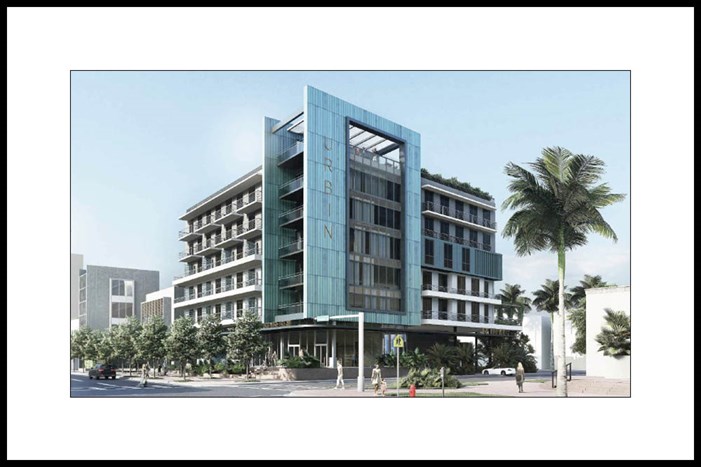 Launched in October 2021, Location Ventures' mixed-use, co-living condo project Urbin for 1260 Washington Avenue was 60% pre-sold in the first 30 days of marketing. Designed by Touzet Studio, the development will comprise of a renovated 33,488-square-foot building plus a newly constructed 44,000-square-foot building. Carrying less than 100 units, interiors and common spaces in the building will be designed by New York's Meyer Davis Studio. 
Urbin is a first-of-its-kind, mixed-use concept dedicated to creating live, work, wellness spaces. All of the brand's properties will feature design-forward, turnkey rental residences, with a select few available for purchase. Condo owners will be allowed to use their homes for up to 90 nights per year. The remainder of the time, Urbin will manage rentals of their property via an exclusive lease-back program.
Amenities at Urbin Miami Beach will include a rooftop pool deck with green spaces and lounge areas; a wellness center with programs for mindfulness, movement, nourishment, and healing; along with a host of service-driven amenities such as housekeeping, room service, and valet. 
Prices start at $400,000 with a choice of studios, two- and four-bedroom residences.

Ritz-Carlton South Beach Condo Tower & Renovated Sagamore Hotel | South Beach
Developer: Di Lido Beach Resort LLC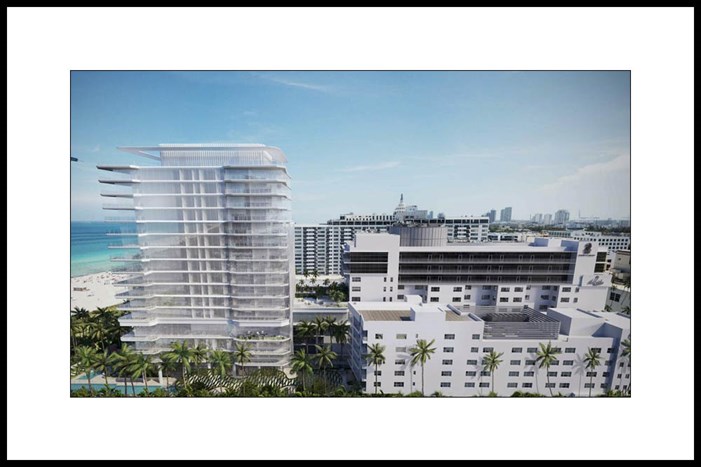 Pending approval from the city's Historic Preservation Board, the historic Sagamore Hotel will be revamped and merged under the branding of its neighboring Ritz-Carlton. The 5-story cabana building and pool behind the historic hotel will be demolished to make way for a 17-story, 50-unit condo tower. The Ritz-Carlton-branded condo tower will feature a 5th-floor amenity and pool deck, with units averaging 1,733 square feet in size.
According to filed documents, the Sagamore will gain a renovated lobby (restored to its historic glory), new pools and water features surrounding the building, a beachfront outdoor dining area behind the hotel, plus 60 extra-large Ritz-Carlton suites replacing the current set of 103 rooms. A 3rd-floor pedestrian bridge connecting the Sagamore and Ritz Carlton has also been proposed. No parking will be added to the property.

Shore Club Hotel Restoration with New Condo Tower | South Beach
Developers: New York-based Witkoff and Chicago-based Monroe Capital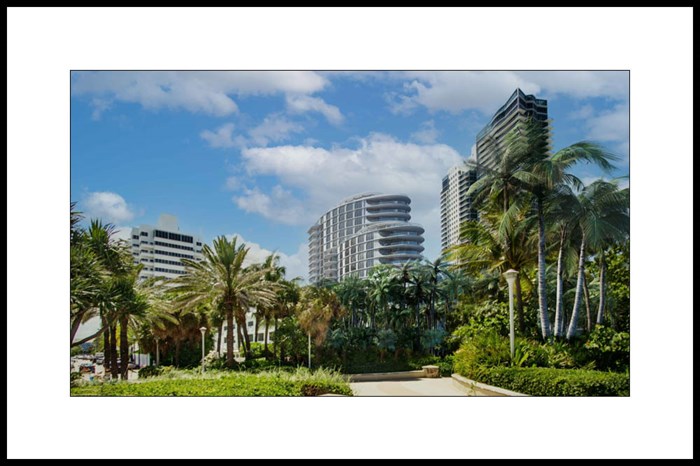 Pending approval from Miami Beach's Historic Preservation Board, developer duo Witkoff and Monroe Capital is looking to restore and redevelop the iconic Shore Club Hotel and the Cromwell Hotel next door. New York-based architect Robert A.M Stern will be handling design duties for the historic preservation of both the MiMo-style hotels.
Kobi Karp Architecture will be overseeing design duties at the new 17-story condo tower with 80 custom-designed residences. The development will also gain a 6,258-square-foot private villa, 3 pool decks for residential and hotel use, plus a completely remodeled exterior dining area with café.
Developer: Vlad Doronin and Len Blavatnik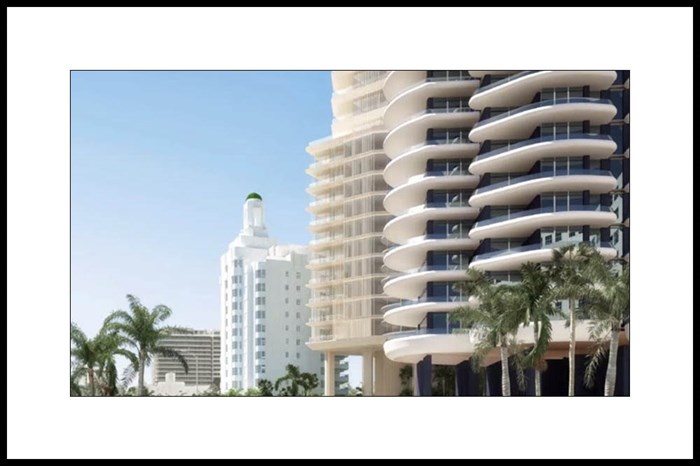 Bringing Aman's world-renowned, signature hospitality to Miami Beach, this ultra-luxury project will feature 41 condo units (separate 16-story tower), 23 condo-hotel units and 56 hotel rooms in the restored version of the historic Versailles building. While Jean Michel Gathy will be designing the hotel side, Japanese architect Kengo Kuma will be designing the residences. Amenities will include a rooftop pool deck with a restaurant and bar, a world-class spa, and a ground-floor restaurant in the separate condo tower.
Developer: Mast Capital and JV partner Rockpoint Group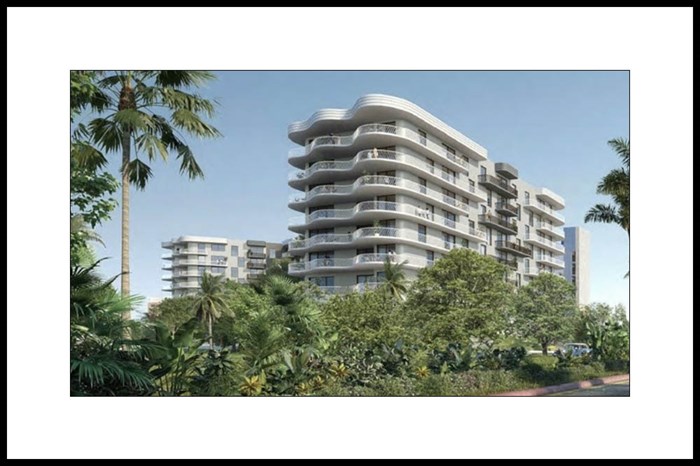 Pending approval from the Miami Beach Design Review Board, Mast Capital and Rockpoint Group's joint venture will rise 85 feet at the entrance to Mid-Beach via the Julia Tuttle Causeway. Designed by Arquitectonica, the 8-story condo building will rise as a modern, curvilinear tower with east and west wings.
Home to 175 condos, the two towers will be connected by a recessed central tower, affording neighbors expansive views corridors and residents a sun-soaked amenity deck. The towers will offer a mix of 28 studio units (550-600 square feet) plus 148 one-, two-, and three-bedroom residences ranging from 575 and 1,440 square feet. Proposed amenities include pedestrian walkways to the lobby level, ground floor bicycle storage, and 269 parking spaces.

Rem Koolhaas-designed Condo Tower on Ocean Drive| Mid-Beach
Developer: Mast Capital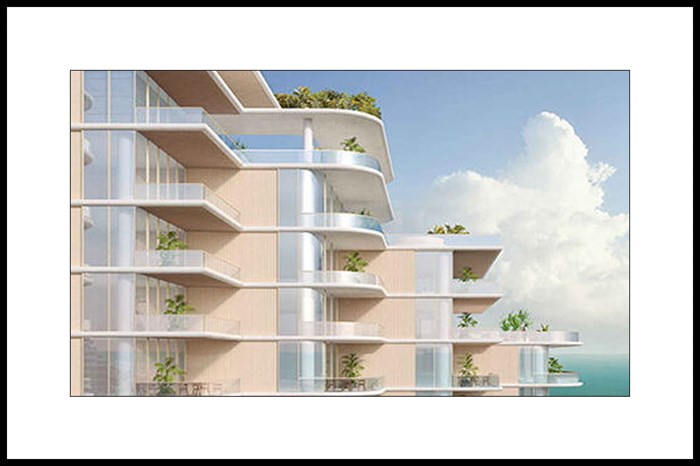 Replacing the oceanfront La Costa condos at 5333 Ocean Boulevard after the building has been ordered to be evacuated, Mast Capital announced plans to replace the La Costa building with a 100-unit luxury condo tower designed by renowned Dutch architect and urbanist Rem Koolhaas. Once the bulk buyout is complete, developer Mast Capital will move ahead with plans to bring this 19-story luxury project to life, inclusive of a pool deck, and 183 parking spaces. The development is planned to look like a series of slender towers angled towards the ocean with landscaping by Gustafson Porter + Bowman and Architectural Alliance Landscape.
Developer: Ocean Terrace Holdings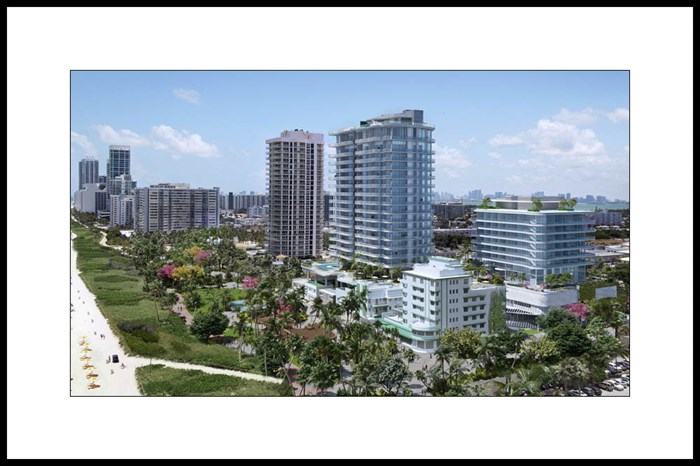 Previously approved for construction in 2019, this 20-story condo-hotel project was recently revived with an approval from the City of Miami Beach Historic Preservation Board. Developer Ocean Terrace Holdings plans on building a 75-unit luxury condo, renovating the historic Broadmoor and Ocean Surf hotels, and putting a $15 million park in North Beach. 
Coral Gables-based RJ Heisenbottle Architects will handle hotel renovations. The revitalized hotel will feature 55 rooms, while 72 hotel suites will be housed in a separate, brand-new 11-story building with rooftop pool. The hotel will also feature a 480-seat restaurant, 1,640-square-foot bar, and 2,020 square feet of meeting spaces.
Expecting to launch sales in 2022, the 20-story condo building will include 75 luxury residences, an outdoor pool and deck, spa, plus access to a 5-acre oceanfront public park. Designed by Revuelta Architecture International, the condo tower will feature a curvilinear façade reflective of the MiMo style of architecture. There will also be 17,474 square feet of retail space .

36-unit Residential Project | North Beach
Developer: Matis Cohen and Russell Galbut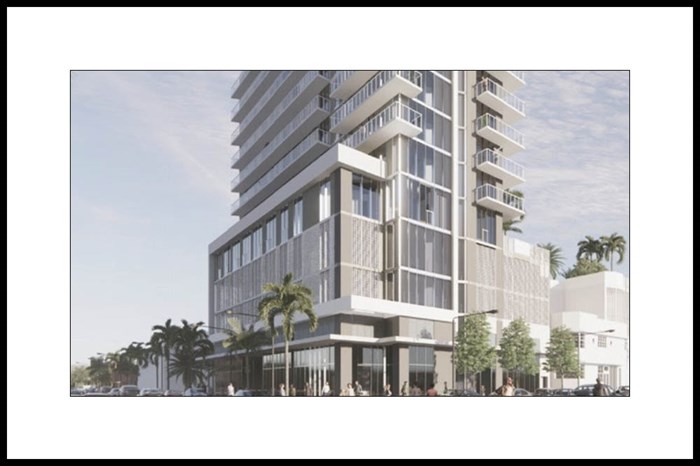 After Eighty Seven Park, North Beach could be welcoming a mixed-use development proposed for 880 71st Street, Normandy Isles. The 19,414-square-foot waterfront lot will house a 36-unit tower designed by Built Form Architecture. The 4-story building will also feature 3,650 square feet of ground-level retail space.
Developer: Shoma Group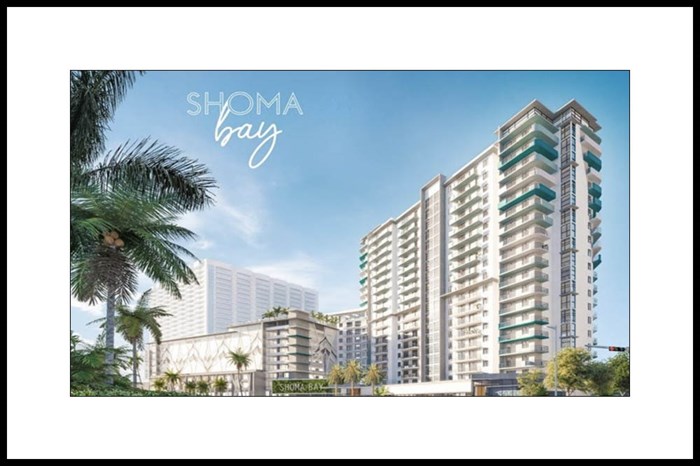 Previously planned as a rental, the Coral Gables-based Shoma Group decided to transform its 2.8-acre project to a condo, owing to heightened market demand. The 19-story building will feature 333 residential units, a pool, amenity spaces, a 36,068-square-foot grocery store, 6,315 square feet of retail, and a 666-space parking garage. 


---
NEW FISHER ISLAND CONDO PROJECTS 
---

6 Fisher Island Drive Ultra-Luxury Boutique Condo | Fisher Island
Developers: Related Group, billionaire Teddy Sagi, and BH Group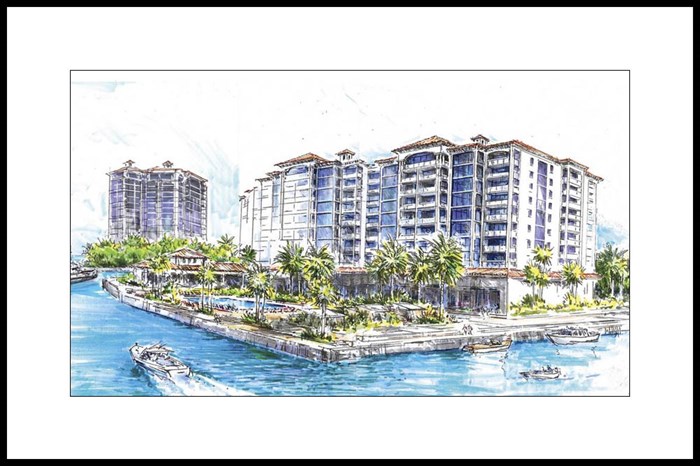 After a favorable ruling by Miami-Dade Circuit Court Judge Michael Hanzman, the last available development parcel in Fisher Island is set to get an ultra-luxury boutique condo. Developer trio Related Group, Teddy Sagi, and BH Group purchased the 6.5-acre Parcel 7 at 6 Fisher Island Drive, which is pre-approved to carry a 10-story, 57-unit condo.


---
NEW BAY HARBOR ISLANDS CONDO PROJECTS
---
Developer: CMC Group and Morabito Properties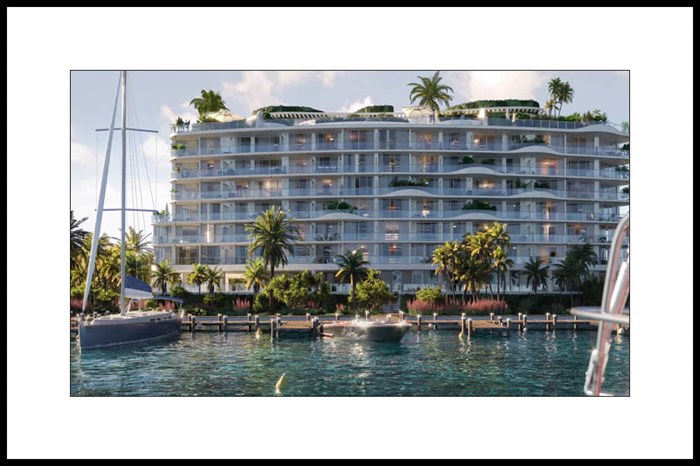 Developed by CMC Group and Morabito Properties, the 8-story Onda Residences are scheduled for a 2023 completion. With an Italian name translating to "wave," this boutique condo building will be making a splash on 300 linear feet of Bay frontage in the highly desirable, family-friendly neighborhood of Bay Harbor Islands.
Designed by Bernardo Fort-Brescia of Arquitectonica, the waterfront mid-rise will feature only 41 impeccably-styled residences. These tech-forward homes will come outfitted with luxurious interiors by A++ Human Sustainable Architecture. Each high-end residence (with den) will feature mid-century style furnishings, exquisite Italian flooring throughout, fully-accessorized Snaidero kitchens, as well as stone and marble accents.
Highlight amenities will include direct ocean access via the Haulover inlet, a private marina with 16 boat slips, water sports launch dock with rentable gear, rooftop pool deck and lounge area, lush landscaping by Enzo Enea, fitness center with Technogym equipment, indoor yoga studio, steam bath and sauna rooms, electric vehicle charging stations, and more.
Prices range from $1.8 million to over $9.5 million, with a choice of two- to four-bedroom residences. 
Developer: Ian Bruce Eichner of Continuum Condos, South Beach

Sales were launched for the waterfront, ultra-luxury La Baia residences in 2021. Rising 8 stories with 68 high-end residences, the one-acre development will stand a class apart with its 30,000 square feet of resort-style amenities and a private, 20-boat marina.
Designed by Revuelta Architecture, all residences will feature interiors by New York's Durukan Design. Delivered completely finished, each stylish residence will include 10-foot-high ceilings, custom Italian cabinetry by Snaidero, Miele appliances, wide-plank European wood flooring, large walk-in closets, Hansgrohe fixtures, and glass-railed private balconies. 
Complementing Bay Harbor Island's tranquil waterfront lifestyle, La Baia's impressive amenity package will include a 6,000-square-foot rooftop deck with separate kids' and adult pools, a rooftop bar, a 3rd-floor deck with outdoor lounge seating and stretching/meditation lawn, a ground-floor wood deck with hammock coves, a residents' club room, pet grooming center, and much more.
Prices start at $810,000, with a choice of one- to four-bedroom residences.
Developer: Continuum Company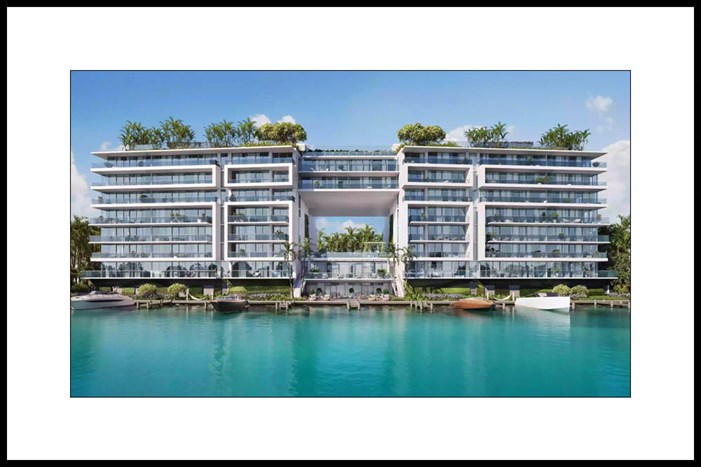 After a long hiatus, the developer behind the iconic Continuum Condo towers is back with two, 7-story luxury condo towers proposed for Bay Harbor Islands. Recently securing the final parcels of land at 9201 and 9461 East Bay Harbor Drive, Eichner will be bringing a total of 142 residences to the quiet coastal neighborhood. Designed by Luis Revuelta, the first building is expected to feature 70 units while the complex will be served by 34 boat slips.
Developer: BH Group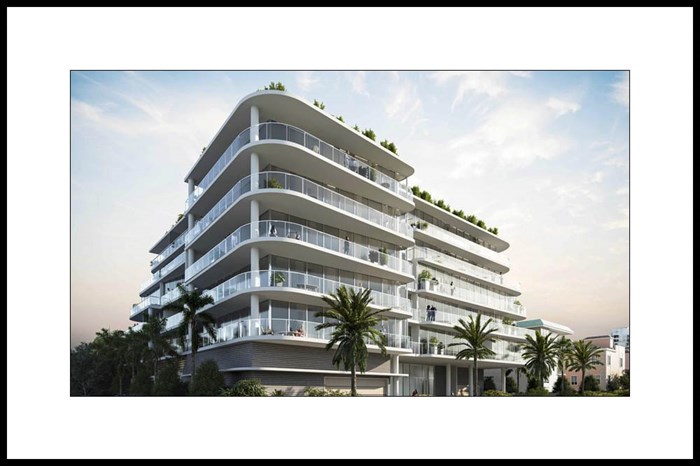 Making the most of a booming luxury housing market, developer BH Group announced plans to build two luxury boutique condo buildings in Bay Harbor Islands:
Designed by Miami-based Studio Baigorria, the first condo tower will rise 7 stories with 31 luxury residences at 1165-1175 97th Street. With a choice of 2 one-bedroom units, 10 two-bedroom units, and 19 three-bedroom units, the boutique building will feature a pool, rooftop fitness center, and 64 parking spaces.

Designed by S & E Architects, the second condo tower will rise 6 stories with 28 luxury residences at 10281 West Bay Harbor Drive. With a choice of two-bedroom to four-bedroom units, the boutique building will feature a pool, rooftop fitness center, and 56 parking spaces.
Developer: Clara Homes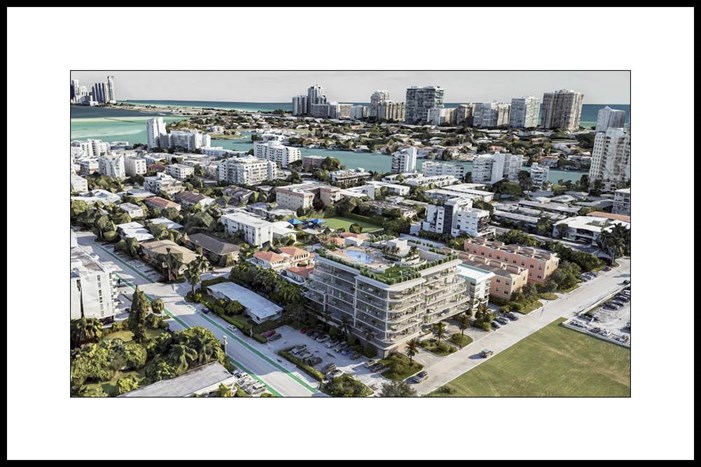 Developer Clara Homes  submitted plans to the city last year for a boutique condo project at 10281 West Bay Harbor Drive. Designed by S&E Architects, the six-story project will feature 28 condos ranging from 1,235 to 2,240 square feet. The modern building will also feature 56 parking spaces, and a rooftop pool and fitness center.


---
NEW SUNNY ISLES BEACH CONDO DEVELOPMENT PROJECTS
---
Developer: Dezer Development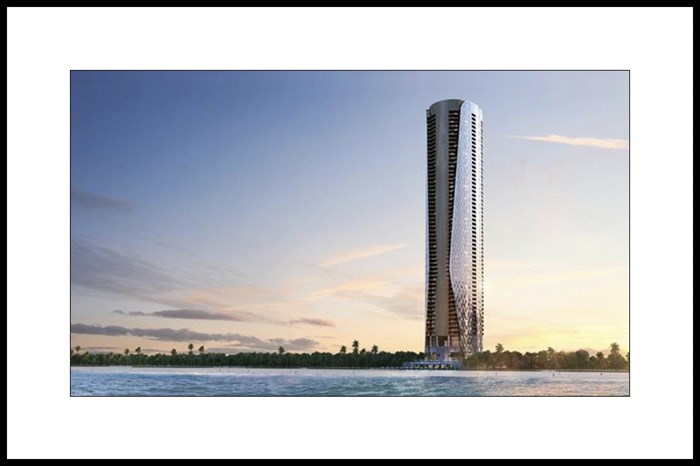 Gil Dezer's love of luxury car brands is bringing the first-ever Bentley residences to Sunny Isles by 2026 – an apt follow-up to the runaway success of the Porsche Design Tower. The Porsche tower's famous (patented) "Dezervator" – a car elevator that allows owners to drive into their units – will also feature in this Bentley-branded luxury tower. 
Approved for a height of 749 feet, the 60-story high-rise will be the tallest ever built on a U.S. beachfront. Designed by Sieger Suarez, the cylindrical tower will house more than 200 luxury condos along with bespoke touches including Bentley's diamond motif, sumptuous leather, and sustainable materials. Residents will be treated to ultra-luxury amenities such as a restaurant and lounge, cinema, whisky bar, cigar lounge, pool, spa, cabanas, and beautifully landscaped gardens.
Twin-Tower Condo Project (formerly Varadero) | Sunny Isles Beach
Developers: Chateau Group and Fortune International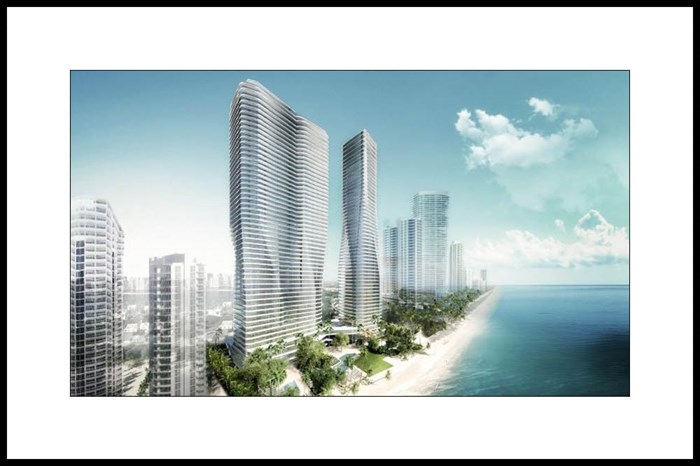 Reviving the project once floated as Varadero, this developer duo revised plans for the prior project to bring twin luxury condo towers to Sunny Isles Beach by requesting a height increase, as well as changing the architect and design. Once approved, the project's north tower will be built to a height of 744 feet, while the south tower will rise 739 feet above ground. New design and project details are expected early this year.





Looking to invest or buy a home in Miami? It's the perfect time to invest in a new Miami development project. Call, chat, or e-mail and we will be more than happy to assist you in your purchase. If you know of a project not listed, please reach out to us for inclusion.



Share your thoughts with us
Sign up now
Get news and updates delivered to your inbox